Many tourist spots in Japan are known as "kawaii," but few bring the word to life as much as Sanrio Puroland in Tama New Town, Tokyo. Sanrio Puroland was founded in 1990, a three-story indoor theme park created to honor all things Sanrio. Think Disneyland for hello kitty fans and friends instead of Mickey Mouse.
Even though it is a tiny theme park, the vibrant colors, kawaii culture, and Sanrio-inspired building give it a lot of impacts. Explore the park's pastel-hued landscape to find a surprising array of characters, rides, shops, cafés, parades, and events. Get to know cute characters like Cinnamoroll, My Melody, Hello Kitty, and more!
Particularly, Sanrio Puroland is a remarkably accessible and fun place to visit in the western area of Tokyo.
Best Time to Visit Sanrio Puroland in Tokyo
Unlike many other top destinations in Japan, Sanrio Puroland is a wonderful stop all year round. Since the amusement park is entirely indoors, tourists can schedule their visit anytime, regardless of weather, season, or other natural factors. Usually, summer is more crowded during shows, parades, and other special events. 
It should be noted that while it's a year-round park, Sanrio Puroland isn't always open all days of the week. To ensure the park is open when you visit, it's always best to check Sanrio Puroland's official park schedule online.
Things to Remember Before Going To Sanrio Puroland Theme Park
Check the online calendar before you go.
Unlike Disneyland or other theme park in tokyo, Sanrio Puroland isn't open daily. Although they are typically closed on Thursdays, they occasionally close for maintenance or other reasons on other days.
Check the online schedule before going for shows and parades.
Like Disney Sea and Tokyo Disneyland, Sanrio Puroland has regularly scheduled performances and shows, such as the Memory Boys musical or Kawaii Kabuki show. Some of these happen daily, and some are only held on special occasions. It's worth checking their website to time your visit accordingly.
They do special things for anniversaries and birthdays.
When visiting Puroland on someone's birthday or anniversary, head to the information counter on the third floor. Get a card and see secret special things. Go and be surprised.
Buying a 'Fastpass' at Puroland.
This JPY500 pass gives priority access to attractions and rides. However, if it's on a weekday, tourists seldom have to wait for a ride other than the Sanrio Character Boat Ride. Unless it's pressed for time, don't bother.
How to Get to Sanrio Puroland
The simplest route is to connect from your starting point and take the subway to Odakyu Tama Center Station.
From Shinjuku Station to Sanrio Puroland, take the Express or regular line towards Hashimoto on the Keio line or the Odakyu line towards Karakida and get off at the Tama Center Station. It will take about 45 minutes one way. You can use your prepaid Pasmo or Suica card to pay for the fare.
After leaving the subway, it will take you around 10 minutes to reach the entrance. The Sanrio themes are everywhere as you leave the Tama Center station, from the platform station signage to the character-themed stained glass ceiling art. You can already feel the tension from the decor.
Afterward, walk on a set of stairs and turn left when you see the small shopping and restaurant area. Look for a McDonald' to see if you're going in the right direction. Continue walking straight, and you'll finally reach the entrance.
Sanrio Puroland Layout
Upon entering the hello kitty theme park, you'll be on the third floor and welcomed by a giant Hello Kitty-themed statue with flags of her friends. There was Hello Kitty, Little Twin Stars, and My Melody. It's too cute!
The park has four floors but is a bit of a maze. Have a map handy at all times.
First Floor: This is where many shows occur: at the Marchen Theater, Entertainment Hall, Fairyland Theater, and Discovery Theater. You will recognize it with the Wisdom Tree in the center of the area. Sanrio Town is another section that has a food court, My Melody & Kuromi ride, and Gudetama Land in Strawberry Hall.
Second Floor: This floor has the Sanrio Characters Boat Ride and Sanrio Town with Lady Kitty's House.
Third Floor: It's the entrance and exit location. Stop by the information counter for a special surprise if you're celebrating a birthday or anniversary.
Fourth Floor: Go crazy with shopping and restaurants. Explore a seasonal menu in sanrio rainbow world restaurant, and character food court.
Additionally, the rainbow hall, including the whole park, has accessible free wifi.
Attractions and Shows
Some of the highlights of the kitty theme parks include:
Charaguri Residence
Short for "Character Greeting Residence," this area opened in July 2022 and is Sanrio Puroland's first new attraction in six years. Here, tourists can explore five themed rooms with the chance to meet and greet your favorite Sanrio characters mascot on rotation to make an appearance at the residence! 
Visit Lady Kitty House
Hello Kitty is an educated and classy lady of refined taste, and her living quarters reflect that. Step into her residence, complete with a rose garden, dress tower, and Japanese tea room. Take a photo inside the lady kitty house with the statue at the end.
~My Melody & Kuromi~ Mymeroad Drive
Hop aboard the ~My Melody & Kuromi~ Mymeroad Drive and relish a trip to Maryland. This 5-minute trip is loaded with life-sized statues and paper-like structures. So, brace yourself for an amusing adventure.
The Wisdom Tree and Hello Kitty's Bell of Happiness
One thing that is noticed on the first floor is the Wisdom Tree. Tourists shouldn't overlook this tree-like structure because it's Sanrio Puroland's symbol. Enter the place and navigate around its large atrium. This is where most free performances are held.
Mini Factories and Plants
Explore Sanrio Puroland to find some adorable little factories and plants. From candy to chocolates and ice cream, there are a variety of exhibitions to look forward to. So be sure to stop by these areas and take pictures of all the displays.
Bread Factory
Visit the Bread Factory to witness its adorable character food in their daily baking routine. Each figure is molded from combining ingredients to shaping the dough with its respective activity.
Though the finished goods may appear delectable, resist the urge to sneak one! These are exclusively for tourists seeing. So, this region of Sanrio Puroland is the spot to observe a cute baking process.
Chocolate Factory
The Chocolate Factory, where you can see treats presented more realistically. View the variety of Easter eggs up close while catching a peek of several clowns giggling.
The manufacturing itself combines excitement and thrills. So, get around and take in the hypnotic energy surrounding the location.
Candy Factory
Behold the animated candy machine at the Candy Factory. Although some people might find this location a little unsettling, the vibrant stick candies come to the rescue!
The stick candies feature Hello Kitty and her other pals' adorable faces. You'll also get to interact with a variety of charming designs.
Mini Photo Plant
Spend some time in this compact yet really fun space. A huge photographic roll of film is here, surrounded by funny figures.
Tourists will appreciate the visit much more when they pay close attention to the movie being screened. And try to capture the characters' amusing faces since they add to the interest in this area.
 Juice Factory
Wander inside the juice factory, and you'll see several colorful fruits. Watch as some adorable characters convert them into drinks.
The cute equipment also gives the overall set adds color to understand more about the juice-making process and attempt to invite your friends.
Ice Cream Factory
At the Ice Cream Factory, take in a fun demonstration of how ice cream is made. Despite not receiving any genuine treats, this segment is entertaining!
Find the funny expressions on the pots, the machine buttons, and even some of the animals as you watch the procedure. This is a lovely place to lift your spirits.
Hello Kitty Fan Collections!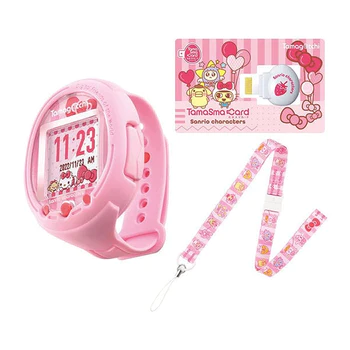 Sanrio Bluetooth Earbuds Hello Kitty