Instant noodles are not just a staple food item in Japan but have also gained enormous global popularity. The concept of an instant noodle dinner is almost global, and some nations even have their own unique variations of particular flavors and cuisines, leading to regional specialties and limited-edition products. There's a good probability that you've had Nissin's Cup Noodles firsthand while reading this wherever you are. Although instant noodles may appear to be a common, daily item, the infinite diversity, tastes, and convenience associated with instant noodle culture today result from many brilliant innovators. It really shows how huge and diverse Instant noodle culture is, and it all began with Nissin Foods and Momofuku Ando in Ikeda-city, Osaka Prefecture..
Inventor of Nissin cup noodles
Momofuku Ando, a Japanese businessman and former chairman of the World Instant Noodles Association founded the Japanese food company Nissin in the 1950s, is the sole inventor of the world's first instant noodles or cup noodles. Ando is a Japanese-Taiwanese raised in Taiwan, and lost both of his parents when he was a little child. Ando was nurtured by his grandparents, who managed a textile shop in Tinan City. When he was 22 years old, he started his own textile business. After relocating to Japan and obtaining Japanese citizenship, Momofuku Ando established his business there.
After World War 2, many Japanese were suffering from severe food scarcity towards the conclusion of World War II, and Japan was dependent on food aid, primarily bread provided by the U.S. Ando observed people in line waiting to buy cheap bowls of noodles from vendors in underground markets in war-torn Japan. The United States provided wheat flour to produce bread, a more full but less prevalent item in the Japanese diet used to manufacture the noodles. Although there was a demand for noodles, the noodle manufacturers at the time could not provide them since they would have needed to produce fresh noodles in large quantities to feed the people.
Chicken Ramen: First Invention
Momofuku Ando believes that noodles contain considerably more nutrients than pieces of bread provided by the food aid. So Ando wanted to promote the usage of more noodles rather than bread among Japanese consumers. He started making instant ramen and created a preservation method so that fresh noodles could be kept. He spent a full year working alone in a little shed, getting just four hours of sleep each night and not taking any days off. Chicken Ramen, the result of numerous unsuccessful efforts, was given the moniker magic ramen and become an instant popular sensation. On August 25th, 1958, Momofuku Ando finally succeeded in marketing his first pack of instant noodles, Chicken Ramen, after months of trial and error. To keep the noodles fresh until they were needed for cooking, they were briefly fried along with powdered soup and other ingredients.
Ando decided to flavor his instant noodles with chicken as it looked rich, wholesome, and uniquely American, which he called, the Chicken Ramen. However, his instant noodles were six times expensive as a bowl of fresh noodles, and Momofuku Ando struggled to get investors. He decided to join tasting events where he could sell his product directly to customers, resulting in the Chicken Ramen gaining popularity. However, the market in Japan in the mid-1960s experience saturation, and the sales of Chicken Ramen fell. The United States was then sought after by Ando as a new market for instant ramen.
Cup Noodles Rise to Popularity
Momofuku Ando saw that foreigners eating noodles would cut them in half before adding boiling water. Ando try to use a Styrofoam food container that resembles a cup in place of bowls after realizing that many European and American nations do not have this tradition. Thus, the final packaging of the Cup Noodles brand was formed. This cup retains the flash-fried noodles so that hot water can be poured over them to rehydrate them and warm the soup. The cup would retain heat effectively, allowing the noodles to be consumed quickly. Because of this, instant noodles are sometimes referred to as cup noodles.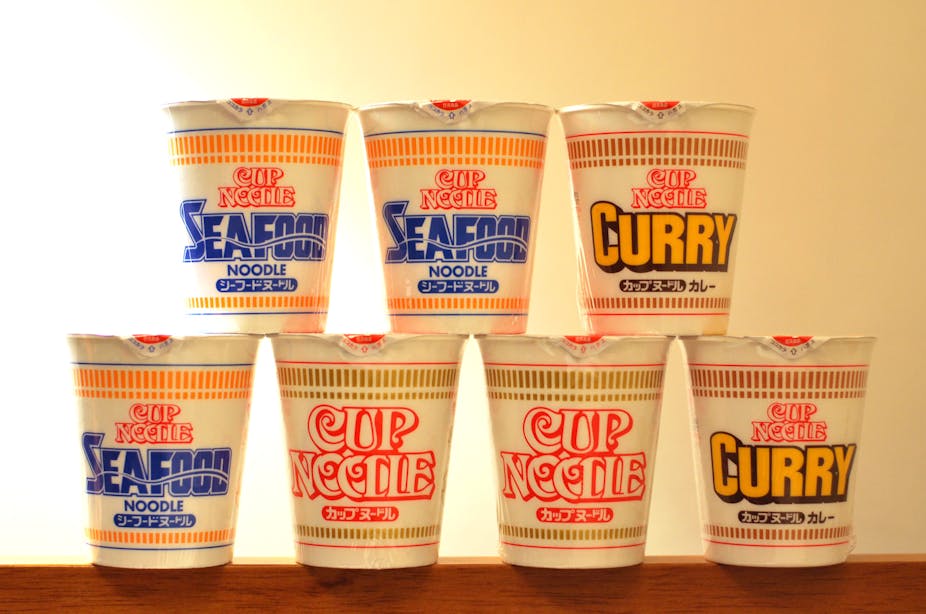 The Nissin team devised a method to wrap a plastic foam cup around dry noodles placed in the center for simple expansion after much trial and error. Various seasonings and many other flavors were sprinkled on top of them to aid in the better cooking of the noodles and provide the appearance of a larger meal. The pull-back cover of the cup was modeled from a container of macadamia nuts that Ando had consumed on his transpacific flight.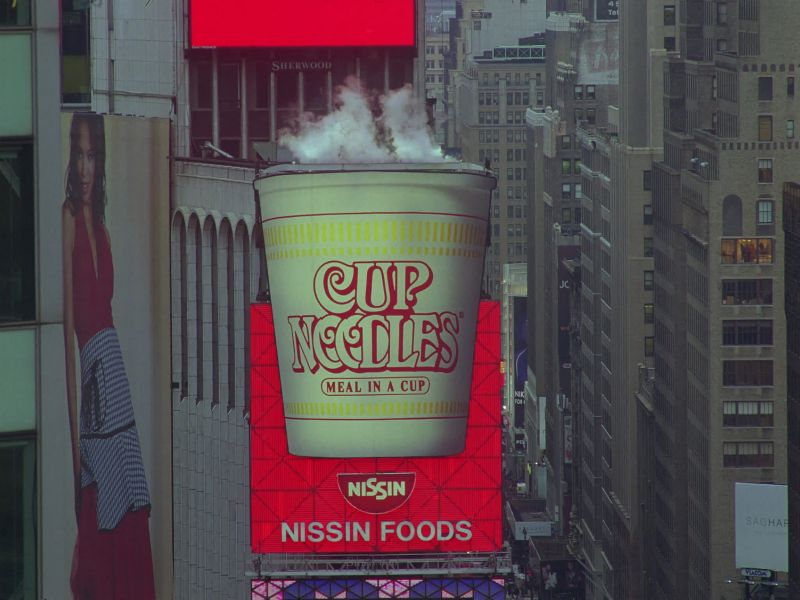 Cup Noodles: Second Invention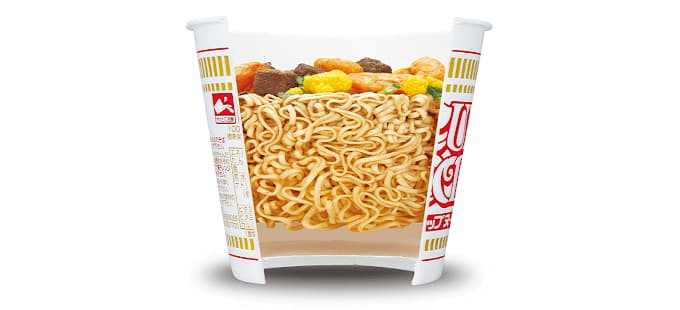 The cup was designed by Otaka Takeshi and features large English words in a red psychedelic font over small Japanese ones and gold rings that resemble pricey dinner plates. Although Cup Noodle cost four times as much to produce, it contained roughly the same amount of ramen as the dried packs. Cup Noodle appeared luxurious and in line with the price. Additionally, a tiny plastic fork was included with each cup of noodles, as using chopsticks is very challenging. To advertise Cup Noodle and demonstrate how to consume it, Nissin held tasting sessions in Japan. On November 21, 1971, the most prosperous event was staged in Tokyo's Ginza shopping area. It targeted young adults walking down Japan's most fashionable street, "Pedestrian Paradise." In just four hours, more than 20,000 Cup noodles were sold. Cup Noodles expanded to the United States in 1973 as Cup O'Noodles. Shrimp, beef, and oriental were the initial three tastes available. Three flavors of chicken, beef, and onion & vegetables have been included on the menu.
Space Ramen: Third Invention
Momofuku invented Space Ram to fulfill his lifelong ambition to create ramen that can be consumed in space. Space Ramen is based on the hot oil quick drying technology that Momofuku pioneered in 1958 and incorporated several methods for eating in weightless situations. With Space Ramen, Momofuku's creative thinking transcended and develop a top ramen that people might consume even in space by thinking outside Earth's boundaries.
Nissin Food Products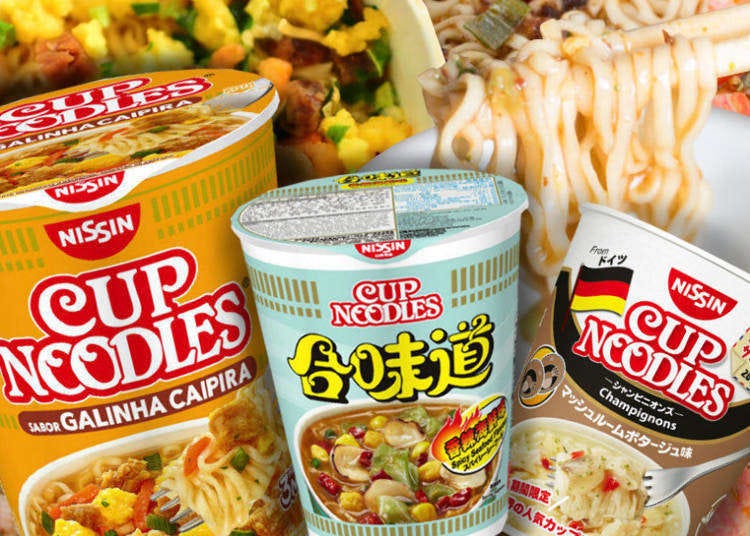 The pinnacle of creative concepts that made Japanese instant ramen a popular global food was the development and the story of nissin cup noodles. With more than 150 types already available around the world, including regional specialties like Mazedaar Masala in India, Galinha Caipira in Brazil, and Chilli Crab in Singapore, it has inspired a wide range of instant products nowadays
There is no turning back once you've tasted this Nissin cheese curry. The thick and flavorful beef curry liquid coats the noodles as they cook and imparts flavor. Along with ground beef, chopped mushrooms, and carrots, melty mozzarella and cheddar cheeses are also included. Every mouthful is more delicious than the last, thanks to the subtle spice, hints of sweetness, and flavorful broth.
You might not be aware that Nissin sells refillable packs. The amount of packing is decreased and is better for the environment by switching to less complicated packaging than the usual cup-type noodles utilized. Pour the contents into a bowl, then fill it with boiling water. Not only can you enjoy the Eco-Friendly Nissin Cup Noodle: Chicken Ramen, but you can also take part in saving the planet.
Despite its simplicity, the greatest instant ramen with a chicken flavor is Nissin Original Chicken Ramen. It tastes excellent and has a straightforward yet seductive chicken flavor. Both the traditional Nissin cup noodle flavor and the well-liked chicken flavor are included in this cup noodle.
Popular Mini Cup products in a package (Cup Noodle Mini, Cup Noodle Curry Mini, Chicken Ramen Donburi Mini, Donbei Kitsune Udon Mini, and Donbei Tempura Soba Mini). Fill your stomachs with these amazingly delicious east flavor Mini Nissin Cup noodles.
Get this elegant flower bouquet of 7 standard-size cup noodles to express your love with Nissin! Standard Shoyu, seafood, curry, chili tomato, smoky and spicy sio, cheese curry, and Thai Tom Yum Kong are among the different flavors available.
Who would have imagined that Nissin Cup Noodles is not just available as food but also as a toy young people would enjoy? From Bandai Nissin 1:1 super detailed and realistic cup noodle figure to a Dream Tomica car inspired by Cup Noodles by Nissin!
Nissin and Bandai collaborated to create this 1:1 scale, incredibly realistic cup noodle figure! Purchase this figure and assemble it to decorate your desk or to amuse your loved ones.
Similar to Hot Wheels, Tomica is a fairly well-known brand of toy automobiles and vehicles. They are renowned for their Dream Tomica series, which features imagined automobiles for many well-known figures, and this car takes its inspiration from Cup Noodles from Nissin!