The Japanese have a thing for collecting stuff if there is one thing. They'll fight to get the full set; if those items are tiny, adorable, or eccentric figures, that is a bang for the buck! And one Japanese company knows how to join and amp up this crazy trend. Furuta Confectionery is well known for its Choko Eggu (chocolate egg) series, which includes a collectible toy inside. These chocolate eggs are one of the best chocolate easter eggs in Japan. In fact, easter has grown in importance in Japan with many releases of a vast variety of Easter egg chocolates, Cadbury caramel eggs or Cadbury mini eggs, unique activities and festivities targeted towards Western tourists, and much more.
What is Furuta Confectionery?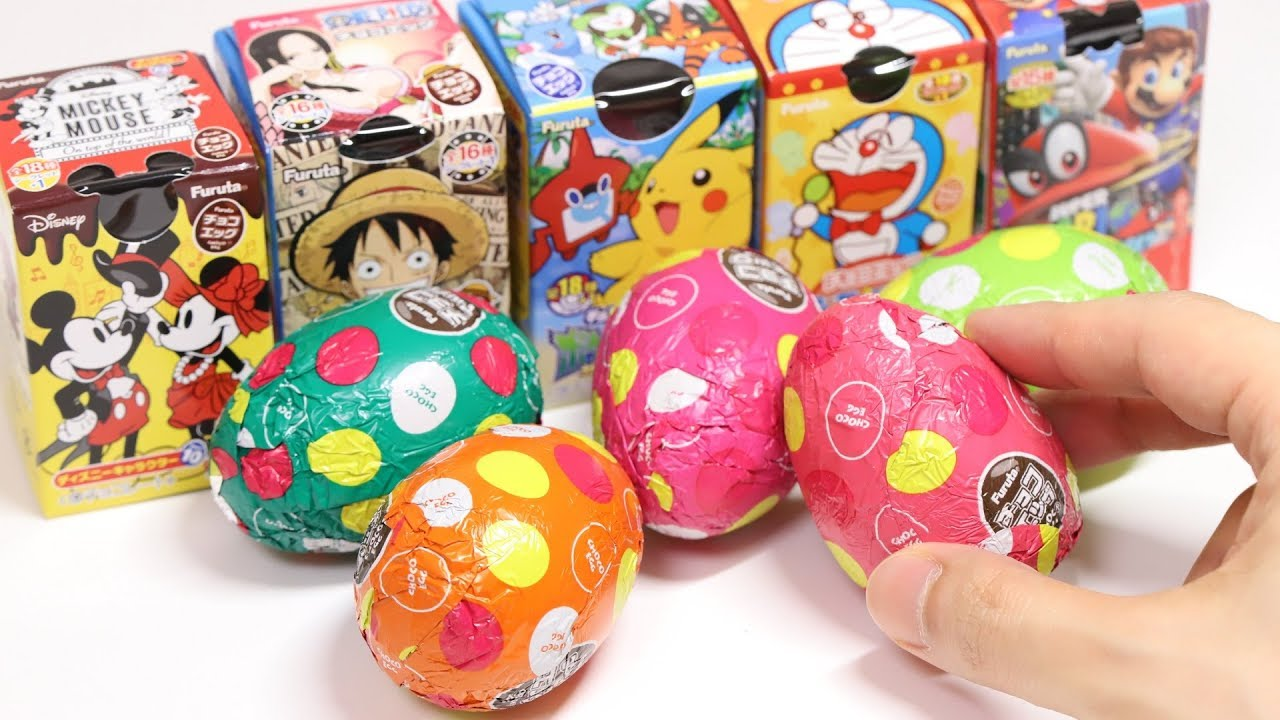 Furuta Confectionery Co., Ltd. is a Japanese confectionery and chocolate, brand producer. Three Furuta brothers established this company in Osaka on August 1, 1952. Four years later, they built a new chocolate and cookie factory. When they inaugurated the Tokyo branch on January 10, 1961, those brothers established Nisshin Seika Co., Ltd. with 9 million yen in capital and Otohiko Furuta as president. The business changed its name to Furuta Confectionery Co., Ltd two years later. Furuta Confectionery sells the Japanese equivalent of Ferrero's "Kinder Eggs," the famous "Choco Eggs" in Japan. They are foil-wrapped chocolate eggs with a plastic capsule inside that contains a toy.
Since 1999, the company has created scale models of cars and trucks as well as collector figures of Disney, Marvel, and Nintendo characters. The figures are always of the highest caliber, and given that the chocolate eggs only cost a few hundred yen each, both kids, teenage boys or girls, and adults love them.
What are the Toys inside Furuta's Chocolate Eggs?
1. Pokemon Chocolate Eggs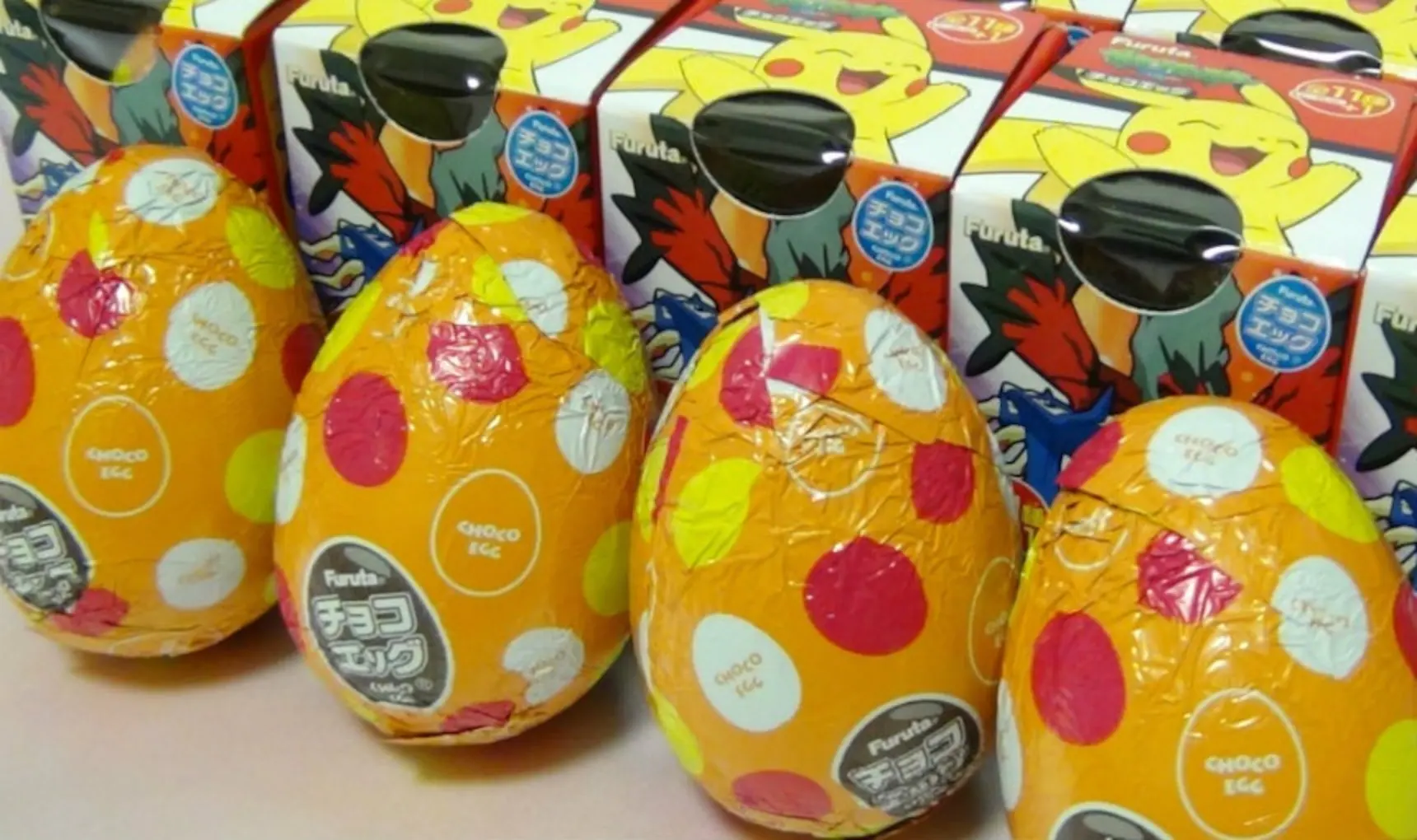 Japanese convenience stores and supermarkets are now offering the Choco Egg Pocket Monster XY & Z Plus series in honor of the currently showing Pokémon XY & Z TV anime, in which each palm-sized chocolate includes one of 14 different Pokémon. Break the chocolate wrapper to expose the figure's container. Many of your favorite characters are present, including Blaziken, Eevee, Latias, Mega Lucario, Wobbuffet, Latios, Shedinja, Pikachu, Sylveon, Umbreon, and many others.
These Pokemon collectibles are just one of the most limited edition toys you can get in Furuta chocolate egg, as only Japan had access to these figures. They were produced in very small quantities and were only available for a very brief period of time. Moreover, since finding stronger Pokémon is more challenging in the franchise's video games. It is not a surprise that Choco Egg versions of those Pokémon are also rare. The rare Pokemon collectibles are reported to be found in only one in every fifty candies. The miniature plastic figure is packaged within an openable chocolate egg.
2. Animal Crossing Chocolate Eggs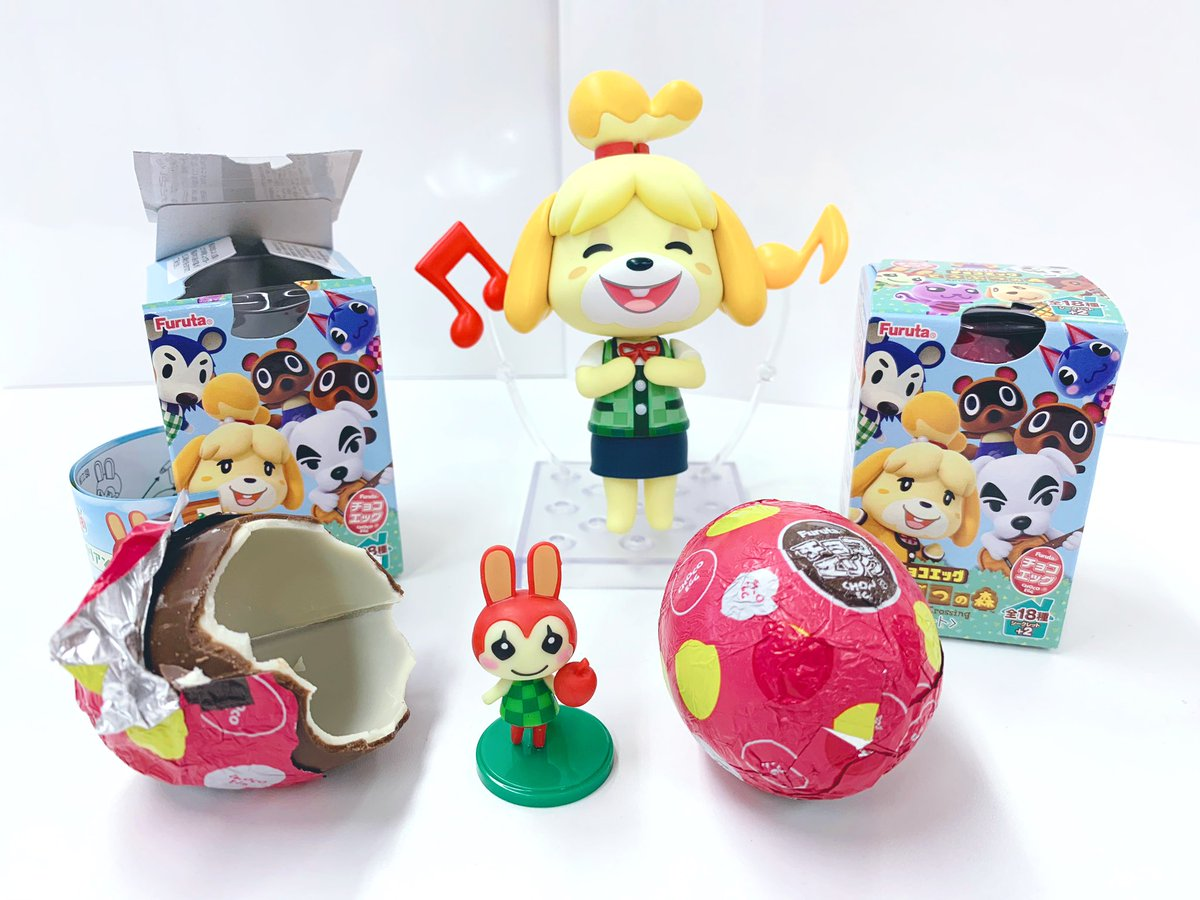 Furuta confectionery also makes a solution to simultaneously sate our heightened desire for Animal Crossing entertainment and our perpetually satiated sweet tooth. Moreover, the Japanese toy and hobby company Furuta unveiled a sweet set of chocolate-egg-paired Animal Crossing mini figurines! There are 20 different figurines available for collection, including some of the game's most popular villagers and recurring characters. Isabelle, Timmy and Tommy, Tom Nook, KK Slider, Sable, Blathers, Apollo, Marshall, Goldie, Julian, Bunnie, Fauna, Peanut, Stitches, Rosie, Fang, Hamlet, Molly, and two surprise figurines are among the figurines you can find within the eggs.
Each purchase is a guessing game. After all, you can't buy the eggs knowing which character would be inside because some of these are plainly rarer than others. More than 350 different villagers have appeared in the Animal Crossing series. And these collectibles are only a small portion of the villagers you can have on your island, but they are the most well-known ones.
3. Super Mario Chocolate Eggs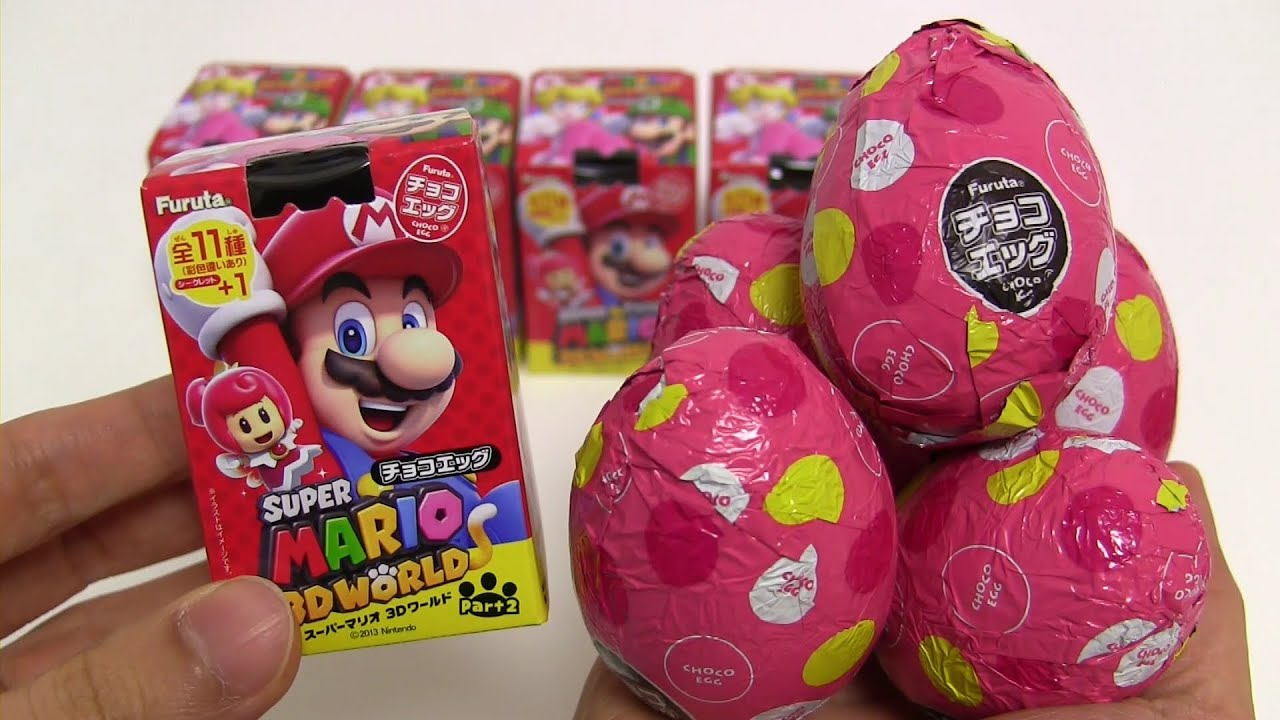 With its Choco Egg series, Furuta has previously and successfully lured us by hiding Pokémon and Animal Crossing figurines within the chocolate candies. They are currently ascending to the top of the Nintendo video game hierarchy by appealing to the global demand for sweets and the Super Mario series. The Choco Eggs contain a total of 16 unique designs that span 32 years of gaming history, from the first NES Super Mario Bros. up to Super Mario Odyssey, Mario's most recent core game for the Switch.
Super Mario series figures range from the original Mario, who used to wear red overalls and a blue shirt, Tail/Raccoon Mario from Super Mario Bros 3, Cape Mario and Yoshi from Super Mario World, Wing Cap Mario from Super Mario 64, and even Builder Mario from Super Mario Maker are among the classics. Additionally, as is frequently the case, Furuta keeps a final, classified version a secret. You won't know which figure you get until you purchase the Choco Egg and bite into it, much like with capsule toys. Even if there is a small amount of unpredictability, you can be absolutely assured that you're getting chocolate and a Mario figure.
Furuta Choco Egg Collectible Figurines
Enjoy a delicious treat from the renowned Japanese confectionery Furuta while experiencing the wonder of Disney, Nintendo, and many other brands! This assortment of Surprise Choco Eggs is coated of dark chocolate on top layer and filled with sweet Furuta milk chocolate on the bottom. You can find a cute mini-figure inside the capsule. Aside from the abovementioned themes, there is also Disney Frozen which has 13 different figures and one secret type, Furuta Chocolate Egg Toy Story, which has nearly all the main characters, a series of Nissan eggs that contains 17 different Nissan models, and one of the most famous Japanese figures, Chocolate Egg Crayon Shin Chan, which has 18 different characters plus one secret figure.
Disney Frozen Chocolate Eggs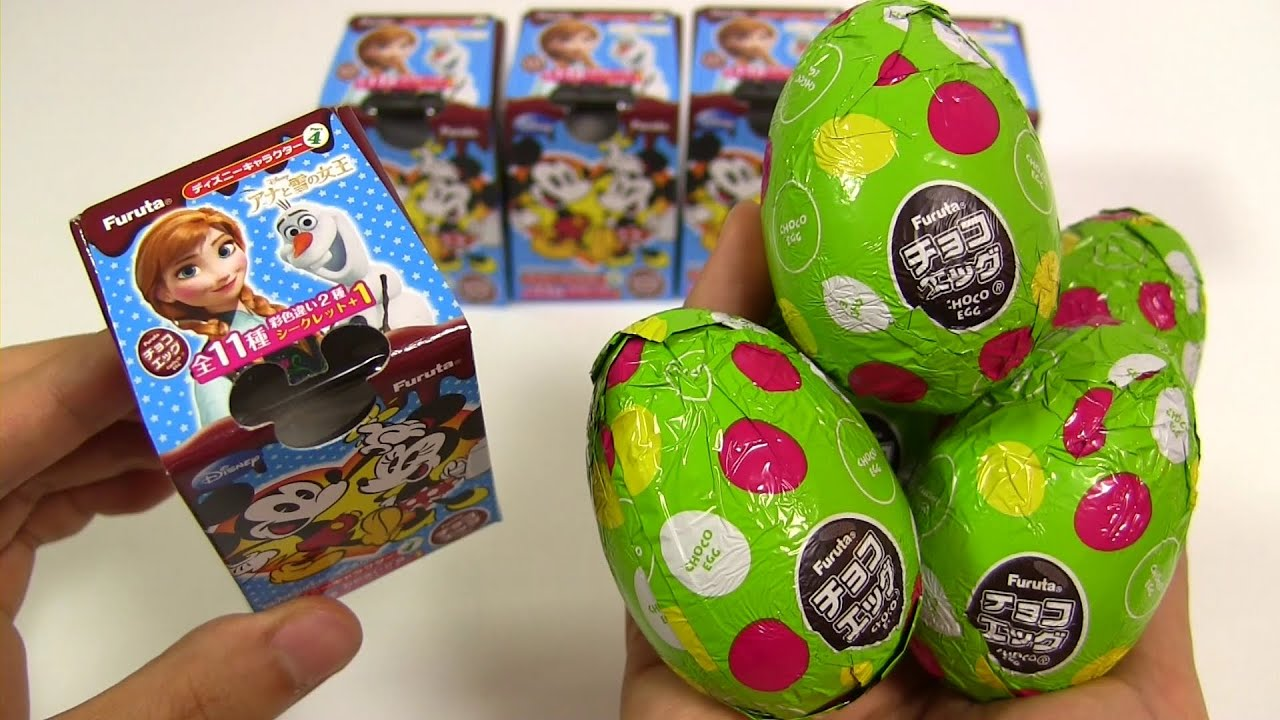 Toy Story Chocolate Eggs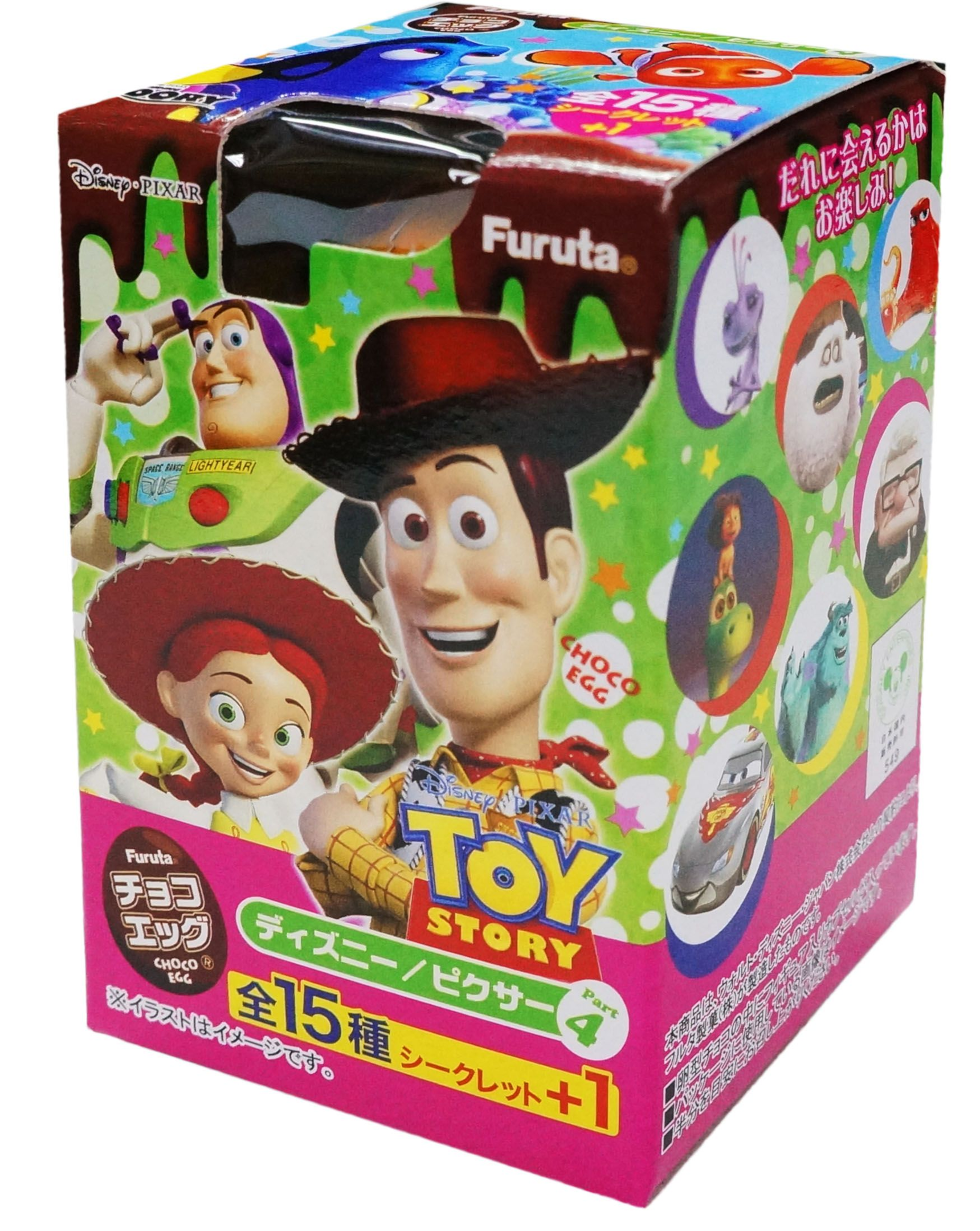 Chocolate Egg Crayon Shin Chan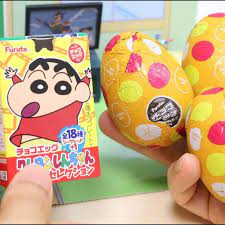 It's difficult to tell whether the wonderful chocolate or the surprise within this egg is the greatest part. Take the chance to get your favorite character. Catch them all up at the Sugoi Mart chocolate collections now!