Looking for a great, reasonably priced, quick, and simple restaurant? There is one fast-food restaurant among the many that particularly captures the hearts of Japanese people. Japanese dish with beef is also called Gyudon. In Japan, beef rice bowl restaurants are particularly a weeknight favorite for both eating in and taking out. A bowl of rice is topped with thinly sliced beef that has been cooked in a savory sweet sauce with onions simmered in pickled red ginger, soy sauce, and mirin mixture to make the classic Japanese fast meal known as gyudon. This dish is so popular in Japan that there are famous restaurants serving mostly gyudon and the best among the rest is the Yoshinoya!
What is Yoshinoya?
Yoshinoya is a word derived from the kanji characters for "old" and "field." The name Yoshinoya still plays a significant role in the popularity of fast food restaurants, even though it is not often associated with the food they serve. The founder of the restaurant company resided in Yoshino, a town. Yoshinoya no gyudon, or Yoshinoya's beef bowl, is the genuine source of the name's initial inspiration. Later, Yoshinoya no gyudon was shortened to Yoshinoya. The popular fast food chain's motto is "Tasty, Low-priced, and Speedy." It gained enormous popularity throughout the world, not only in Japan.
While they currently offer a range of items to pick from, Yoshinoya is known to be highly particular about the taste of their beef bowl due to the emergence of other competitors' beef bowl chains, such as Matsuya and Sukiya. You never get sick of the taste, no matter how much you consume. Their sauce is produced with fermented seasoning based on white wine and ground sweet ginger and is patiently cooked with beef and white onions. Over a century has passed since this sauce was first studied and passed down. Of course, the recipe is a secret!
History of Yoshinoya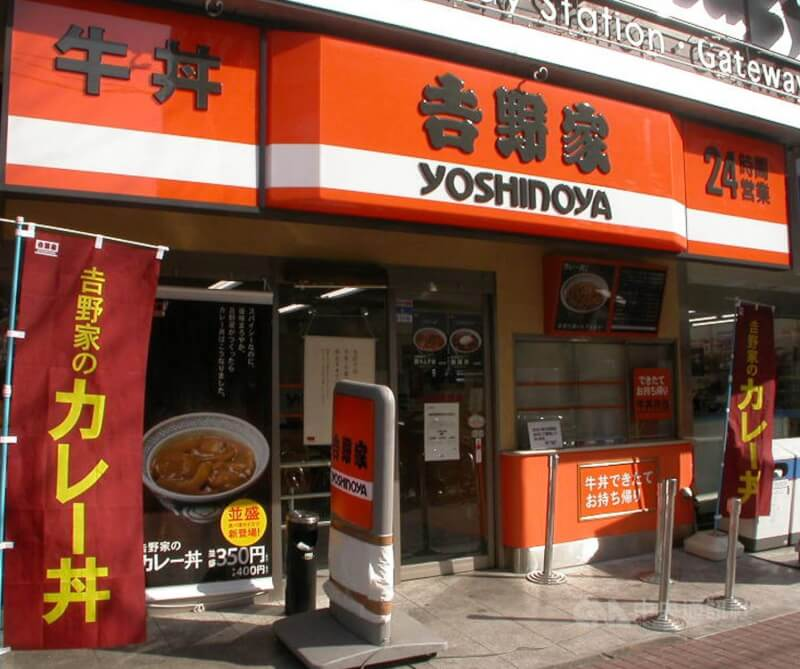 The history of Yoshinoya began in 1899 in a modest business selling Gyudon at Nihonbashi Fish Market (Beef Bowl). The fisherman and fish market vendors enjoy the authentic gyudon Japanese beef bowl, seasoned with a blend of herbs and spices that is kept a secret, together with sweet sliced onions, when served over a bowl of fluffy Japanese rice. Yoshinoya was established by Mr. Eikichi Matsuda and is called after his native Yoshino-Cho, Osaka.
Moreover, the timeline since Yoshinoya's first store opened contains many significant dates. One was that it relocated to the Tsukiji Fish Market (today known as the flagship restaurant) in 1926 after the Great Kanto Earthquake destroyed the first business. In 1952, more than 25 years later, they established their first 24-hour branch. The expansion continued after then, outside of Tokyo. In 1975, the business began to grow abroad and established its first foreign location in Colorado. Yoshinoya has been steadily growing ever since. Although there might be some ups and downs, they are still one of the best. With over 3000 locations worldwide, Yoshinoya is the first and largest brand of beef bowl restaurants.
Where to Find Yoshinoya?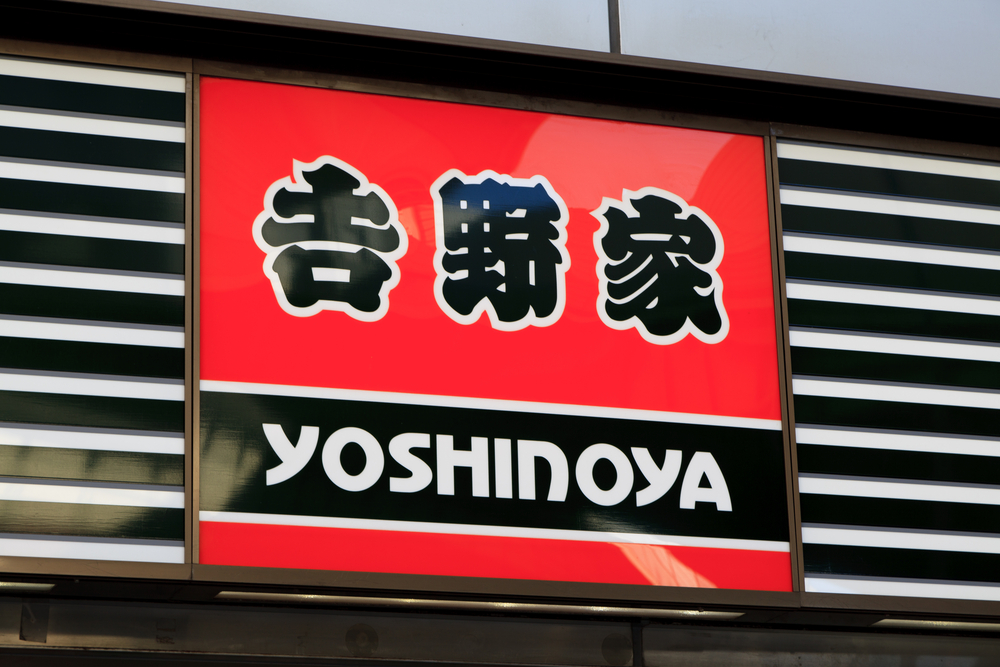 There are several Yoshinoya restaurants spread out around Japan, with Tokyo having the most locations. There are also locations in Harajuku and Shibuya. A steaming bowl of rice with a big helping of thin beef is always nice during the chilly days of December, making this Yoshinoya location one of the most well-liked ones. Moreover, the mouthwatering Yoshinoya flavors have been satisfying the Japanese people's hunger for over a century and have spread worldwide. There are branches in nations like China, Malaysia, the Philippines, Cambodia, Thailand, Singapore, Thailand, and even on the US's western coastlines.
The Best of Yoshinoya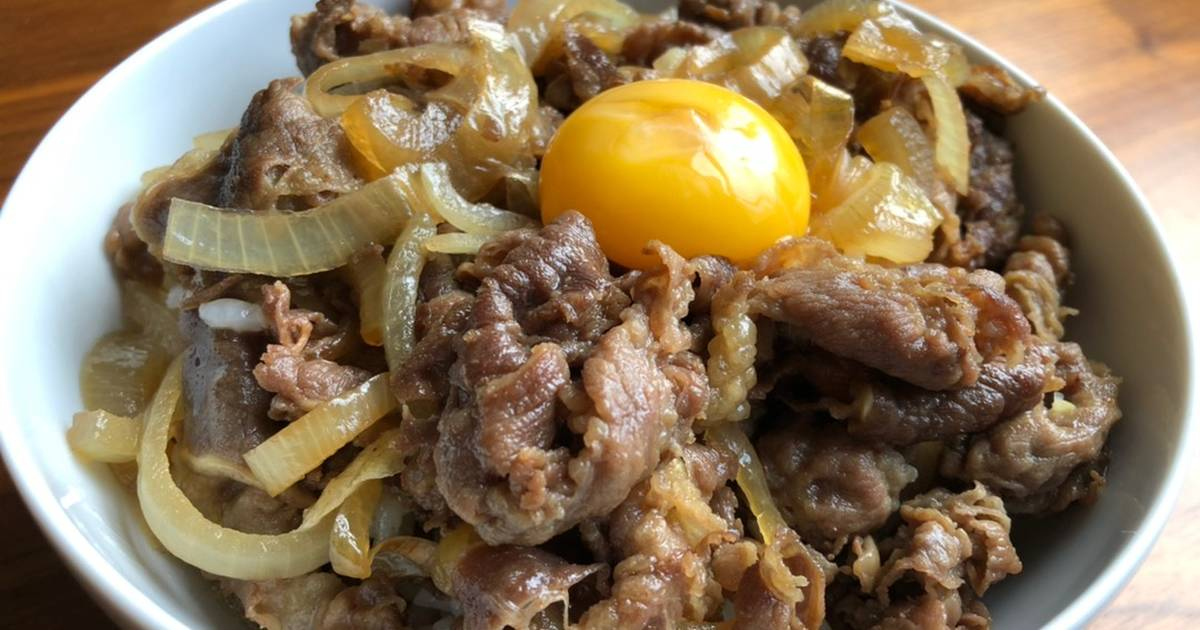 Yoshinoya offers unique menu items available at some branches around Japan. One is the namimori, which consists of numerous bowls of beef and pork. There is also the Butadon, which serves a raw egg yolk, which is one of the special dishes on the Yoshinoya Japan English Menu. Unadon, or eel bowls, are another option. They are served seasonally in July every year. Typically, a typical dish holds 490 yen worth of food. The cost might increase to 550 yen for special toppings, including Tamago, teriyaki sauce, and mixed toppings.
Additionally, the most frequently ordered dish is the gyudon beef bowl which features thinly sliced beef cooked in soy sauce and topped with sesame seeds, bonito flakes, and caramelized sliced onions. In fact, the Yoshinoya fast food restaurant first made this dish popular worldwide.
What is Gyudon?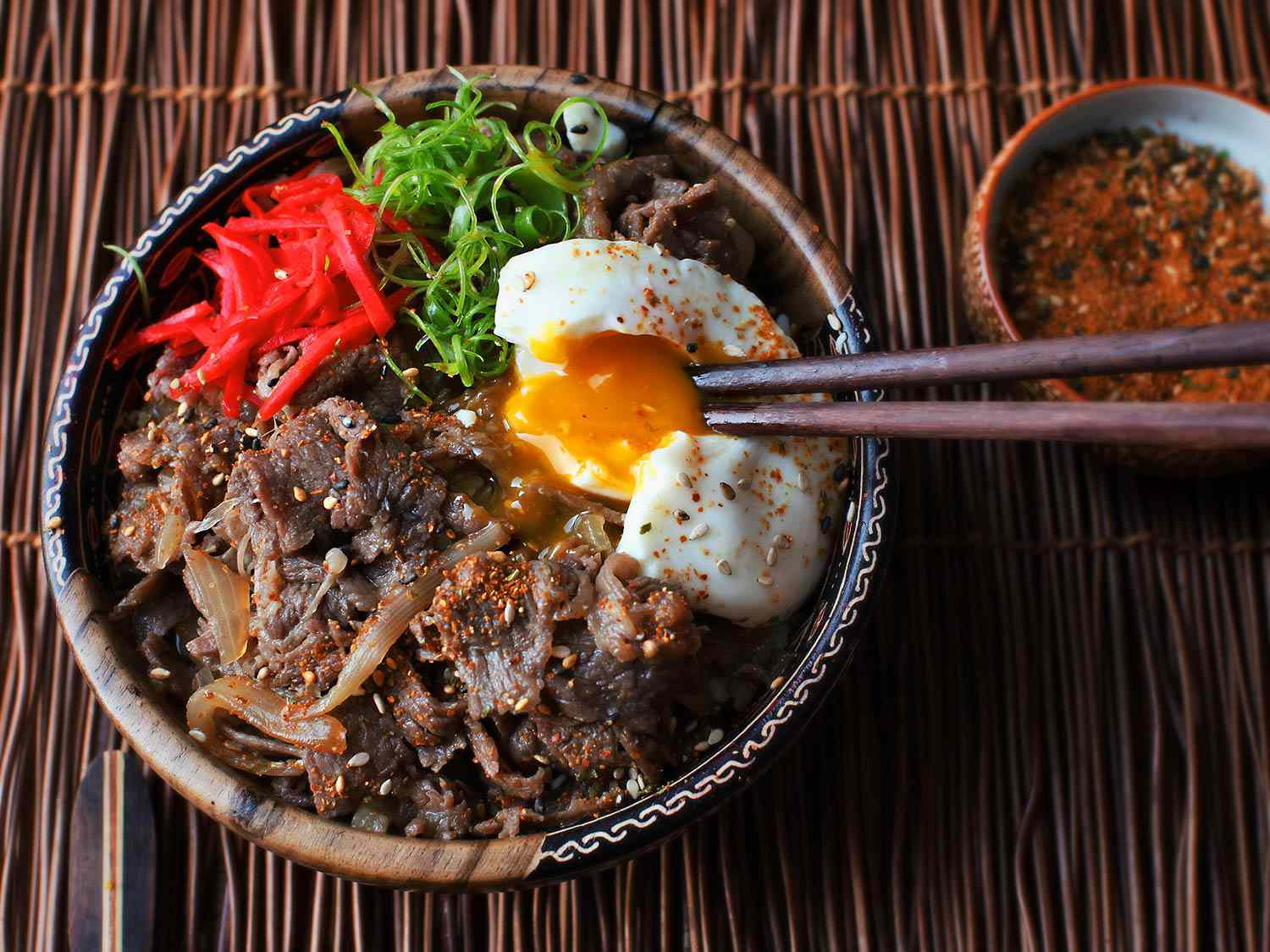 The Japanese name "gyudon" comes from the word gyu, which means beef, and don is a kind of porcelain bowl. Gyudon, also known as Japanese beef and rice bowls, is thinly sliced beef and onion slices simmered in umami-rich sauce ingredients comprised of soy sauce, mirin, sake, instant dashi, and sugar. This well-liked Japanese cooking recipe may be prepared in a matter of cooking time since the beef and onions cook so rapidly over medium heat. Only a few ingredients are required to prepare this hot pot meal at home.
How to Make Gyudon?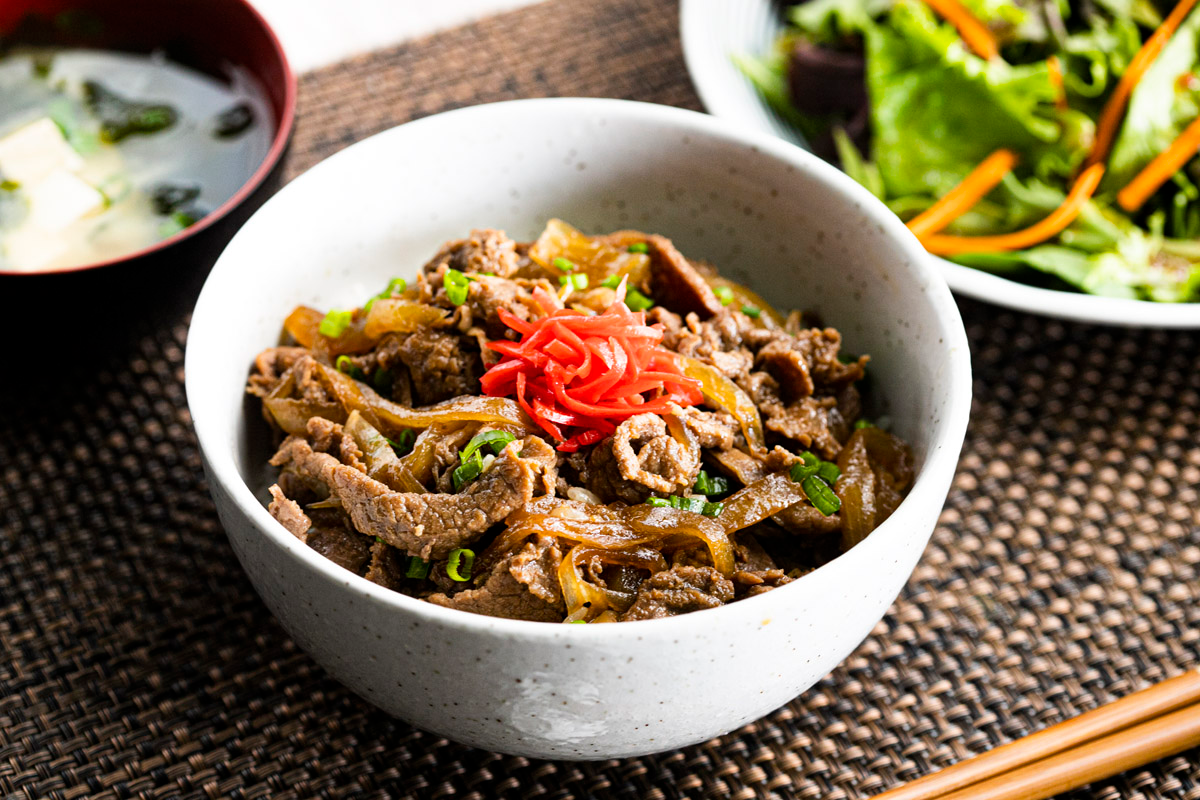 Ingredients:
Thinly sliced beef or thinly shaved beef ribeye

Green onions

Toasted sesame seeds

Pickled ginger

2 tablespoons soy sauce

1 tablespoon sugar

Salt

2 cups cooked white rice

poached egg

Sliced scallions
Cooking Instructions:
Combine the sliced onion, dashi, sake, soy sauce, and sugar in a medium saucepan. Over medium-high heat, bring to a simmer. Cook for about 5 minutes while stirring occasionally until the onion is tender.

Next, thinly slice the beef using a sharp knife or meat slicer. Then, add the thin slices of beef, wait for about 5 minutes and reduce the liquid to a strong flavor beef mixture while stirring the meat until it is well cooked. Add the ginger and cook for a further minute. To taste, add salt and sugar to the seasoning.

Divide the steamed rice, beef, and sauce mixture into two to three bowls. Add sliced scallions and a poached egg to each bowl of beef rice as a garnish, if desired. Serve right away.
This delicious Japanese staple Gyudon, or "beef bowl," is indeed a mouthwatering dish with thinly sliced beef and sweet onions over a bowl of steaming rice. It just takes a few minutes to prepare. While there are many traditional and contemporary cuisines to sample in Japan, gyudon should be at the top of the list for anyone looking to get a glimpse of what a typical Japanese lunch looks like. Try gyudon now in the Yoshinoya branches near you! Check out these products and experience the best of Yoshinoya!