One of Japan's delicious and local cuisines is yakisoba. Much like donburi, ramen, sushi, and its other siblings, yakisoba's popularity extends outside Japan. Aside from restaurants that provide real Japanese cuisine in other areas of the world, yakisoba's success is attributed to the rise of the multi-million firm Nissin. It is made Japanese-style noodles easily accessible to anyone.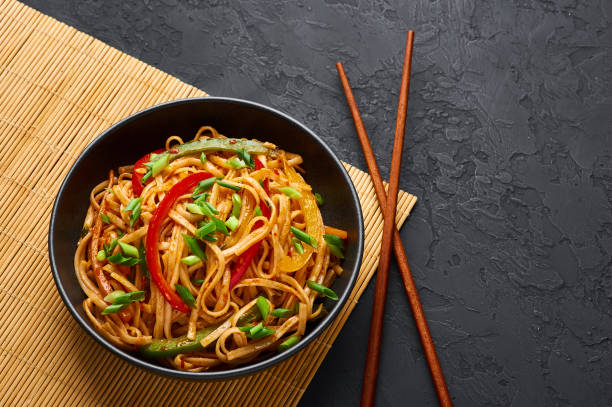 These are stir fry cooked noodles for those unfamiliar with what yakisoba is. "Yakisoba" means "fried buckwheat noodles" in Japanese keyword. However, the noodle dish used for yakisoba are not at all made of buckwheat; they are mushi chukamen, or steamed Chinese style noodles. At the same time, yakisoba is one of the most popular Japanese dishes. Its predecessor was an immigrant from Japan's neighboring country, China. Before arriving in Japan, the Chinese have already been making noodles out of udon, and immigrated to Japan around the fourth century. However, it was only around the eighth century when Japan started growing its crops of buckwheat. In time, Chinese soba evolved into what is now the yakisoba, veering away from the original soba, which is similar to "chow mien."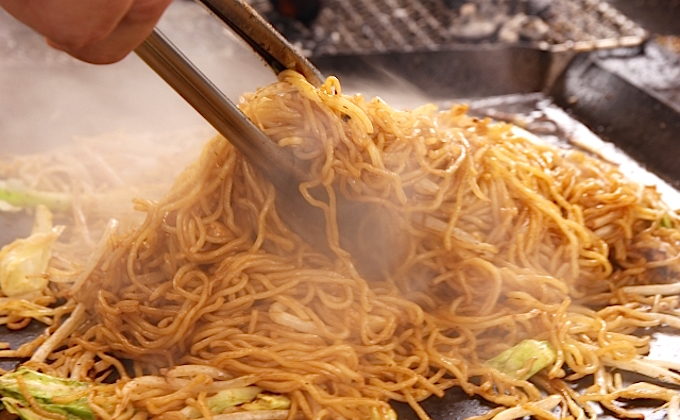 At the dawn of the 20th century, yakisoba gained its popularity as a Japanese street food when it started to dominate small-scale food cart businesses. It is still one of Japan's most popular street food like takoyaki and yakitori. Additionally, its complimentary yakisoba sauce that is based on oyster sauce has dominated the hearts of millions all over the world.
What is yakisoba?
Yakisoba is a classic stir fried noodle that's one of Japan's best-known Asian foods dish, next to yaki udon, fresh ramen noodles, and soba. It's a portion of well-loved street food made at home and served in different restaurants in Japan. If you love fried noodle dishes, you'll love yakisoba. Contrary to the name, yakisoba is not cooked with soba noodles. Yaki soba is a Japanese version of Chinese noodles and is often made with precooked thin strips of wheat noodles from the grocery store.
What's Inside Yakisoba?
Yakisoba toppings, condiments, and vegetables can vary based on the season, location, and shop. Common vegetables include thinly sliced carrots, bean sprouts, green onions, shiitake mushrooms, and green cabbage. Japanese green peppers are also common, although many businesses avoid them since they can be a polarizing vegetable food in Japan.
Protein can also vary, the most common being sliced chicken thighs, sliced beef, ground pork, and thinly sliced pork belly. However, if you visit Okinawa, you may get a fried egg, sliced ham, fried spam, and chopped hot dogs in your yakisoba. Besides, it uses its own thicker Okinawa soba for this dish. 
Generally, toppings also vary. Red pickled ginger is a common topping, usually put on the side for those who may not like pickles. At the same time, Katsuobushi and Seaweed powder are common toppings that add to the Japanese tangy flavor. And, of course, Japan loves mayonnaise. It is a common final topping for yakisoba, adding a bit of creaminess to the dish. 
Yakisoba Recipe
Yakisoba is extremely easy to make, and you can add any stir-fried ingredients your heart desires. It is classic saturated fat noodles with peanut oil, Perrins Worcestershire sauce, wheat flour, pork, and cabbage, but if you're asking out on meat, you can easily substitute add more vegetables or adding firm tofu as the protein. It's the perfect quick meal and great for meal prep!
Yakisoba Sauce Ingredients
Chicken

Yakisoba Sauce

Yakisoba noodles

Worcestershire Sauce

Oyster Sauce

Ketchup

Soy Sauce

Brown Sugar

Vegetable Oil
Yakisoba Calories and Nutritional Content
People who enjoy eating yakisoba often ask if it is healthy and what the advantages and disadvantages of eating yakisoba are. The answer to that question is dependent on the sort of yakisoba consumed. Knowing that yakisoba comes in two varieties: quick and yakisoba, created from scratch, is vital. This is what determines whether the yakisoba being consumed is healthy or not.
Real yakisoba, or yakisoba made from scratch, is significantly healthier than instant yakisoba. Many Japanese fast food companies and restaurants provide yakisoba, which has lower health hazards. A single serving of yakisoba should roughly contain 200 calories if it has stir-fried veggies and chicken as toppings. Of course, the calorie content will be larger if there is red meat.
A Unique Way To Eat Yakisoba Pan With Bread
The history of the yakisoba pan is quite uninteresting. It was common practice in the early twentieth century for restaurants to give a side dish of bread to clients who ordered yakisoba. This is quite similar to the western tradition of eating pasta with garlic bread on the side. For many years, it was traditional in Japan to serve yakisoba with a side of bread. After all, the bread suited the yakisoba's slightly sweet and savory sauce flavor from the oyster sauce and low sodium soy sauce.
The yakisoba pan was created in 1950 after a yakisoba restaurant proposed to their customers to combine the two. This advice was made since it was easier to eat the yakisoba with the bread this way, and it was correct. The Japanese embraced the concept of the yakisoba pan, which has grown in popularity over the time of its seventy-year existence.
This idea is genius for tourists who want to eat yakisoba from street stalls. Eating all the noodles while walking is in no way an easy task. However, with the yakisoba pan, eating yakisoba became as easy as eating a hotdog, which is extremely portable. Aside from being tasty, this dish is also convenient, making it a sure win for anyone's stomach.
Find Yakisoba Noodles When You Visit Tokyo
This yakisoba specialty restaurant is located beneath the Tokyo Skytree in Tokyo Solamachi. Their specialty is tsukemen-style Yakisoba, which comes with a dipping sauce. This meal has springy, flat yellow noodles, slow-cooked beef braised until it melts in your mouth, and crispy onions. The items are stir-fried in sauce and served with a dipping sauce prepared from dashi.
Three sauces are available: a white sauce created with "sudachi" citrus fruit, a black sauce produced from black sesame paste, and a red sauce prepared with hot miso and kimchi. Toppings such as green onion, sesame seeds, and cooked egg noodles can be added to your order. Tokyo Yakisoba is ideal for anyone looking to explore a unique taste in classic yakisoba.
Mikasa is popular in that people often wait for a seat before opening. The curly Japanese noodle has a chewy, springy feel and are manufactured with Hokkaido-grown wheat. The only options on the menu are Yakisoba in sauce or salt flavors. Both are stuffed with spring onion, cabbage, bean sprouts, and pork topped with a soft fried egg. When you eat, break the egg yolk and wonder how it softens the richness of the Yakisoba.
Fukuchan is established in 1964, a long-running izakaya located in Japan's oldest underground shopping mall, Asakusa Underground Shopping Street. Their renowned Yakisoba is a simple dish consisting of only cabbage and chewy, slightly thick noodles. The Yakisoba is served on aluminate dishes, lending the restaurant a retro and Showa-era atmosphere. When you've finished sightseeing in Asakusa, come and enjoy the nostalgia of this old-fashioned spot.
Yakisoba no Marusho: Hongo 3-chome Branch
Yakisoba no Marusho offers over ten variations of Yakisoba, including soy sauce, salt, and Neapolitan tastes. Their handcrafted yakisoba oil noodles have a deep wheat taste and a chewy noodle texture. The Marusho Distinctive Sauce Yakisoba is the most popular food, a classic dish created with a big number of noodles and yakisoba toppings cooked in their special secret sauce. The vast side menu, which includes additional gyoza and karaage, is also tempting.
Guests can enjoy fresh meat, seafood, and teppanyaki dishes with a great choice of drinks at Celona. They are famous for their Luxury Additive-Free Yakisoba, a decadent take on Yakisoba made with carefully selected ingredients. Their specially-made fresh noodles are somewhat chewy with a slippery texture. This Yakisoba is grilled until crisp on the bottom, giving guests a savory crunch and a springy texture to enjoy.
Yakisoba Products To Try
If you want to learn more about Japanese food, check out this Top 25 Japanese Foods You Need to Try Out by Chef's Pencil.