Everyone adores the moon. The moon has caught the attention of many, and Japan is no exception. In fact, moon viewing or "tsukimi" has historically been used in Japan as a method to thank the moon, express appreciation for a successful harvest, and express wishes for further bounty. The Harvest Moon will appear soon if the season starts to experience chilly morning and evening breezes after spending the long, hot summer days. The moon appears bigger and more beautiful as it rises at dusk on the horizon. During tsukimi literally translates to "looking at the moon," families come together in Japan during this time of year to celebrate the harvest and marvel at the changing seasons. The Harvest Moon Festival "Tsuikimi" is also called Chushu no Meigetu or Mid-Autumn Moon Festival, but much like Japan's Cherry Blossom season, tsukimi is much more than meets the eye.
What is Japanese Moon Viewing?
The Japanese tradition moon-viewing holiday is known as tsukimi, or occasionally "otsukimi." Both months of September and October are dedicated to celebrate tsukimi. Susuki, or pampas grass, is frequently used in Japanese houses and temples around this time to mark special occasions because of its understated beauty and resemblance to the full moon. Autumn brings the appearance of Japanese pampas grass, which is thought to be a symbol of the moon god, who protects the crops and drives off evil spirits. Praying for a prosperous crop and protection from evil spirits goes hand in hand with pampas grass decoration.
History of Tsukimi
Tsukimi celebration originated in the Nara era, but it wasn't until the Heian era that it was recognized as a formal holiday. According to legend, tsukimi originated with the Tang Dynasty Chinese practice of jugoya moon viewing. The 15th of eighth month, August in the old lunar calendar was the time for harvest moon festival viewing, or jugoya, which translates to "the night of the 15th." In the current calendar, Jugoya varies from year to year and typically falls in September or October. Although the moon isn't always full on Jugoya, legend has it that the moon appeared in its brightest and most beautiful that night, in addition to the best night of the year for viewing celestial bodies.
It was then adopted by the Japanese elite, who would perform music and write poetry at moonlit gatherings. Additionally, they would often take boats out at night to see the moon's reflection in the sea. Over the ages, the custom of "moon viewing" gained popularity, and by the Edo era, it was practiced by all. By this time, the event had grown more closely linked to autumnal customs, particularly giving thanks to the gods for a bountiful harvest and asking for a prosperous new year.
Celebrating Tsukimi: Moon Viewing Festival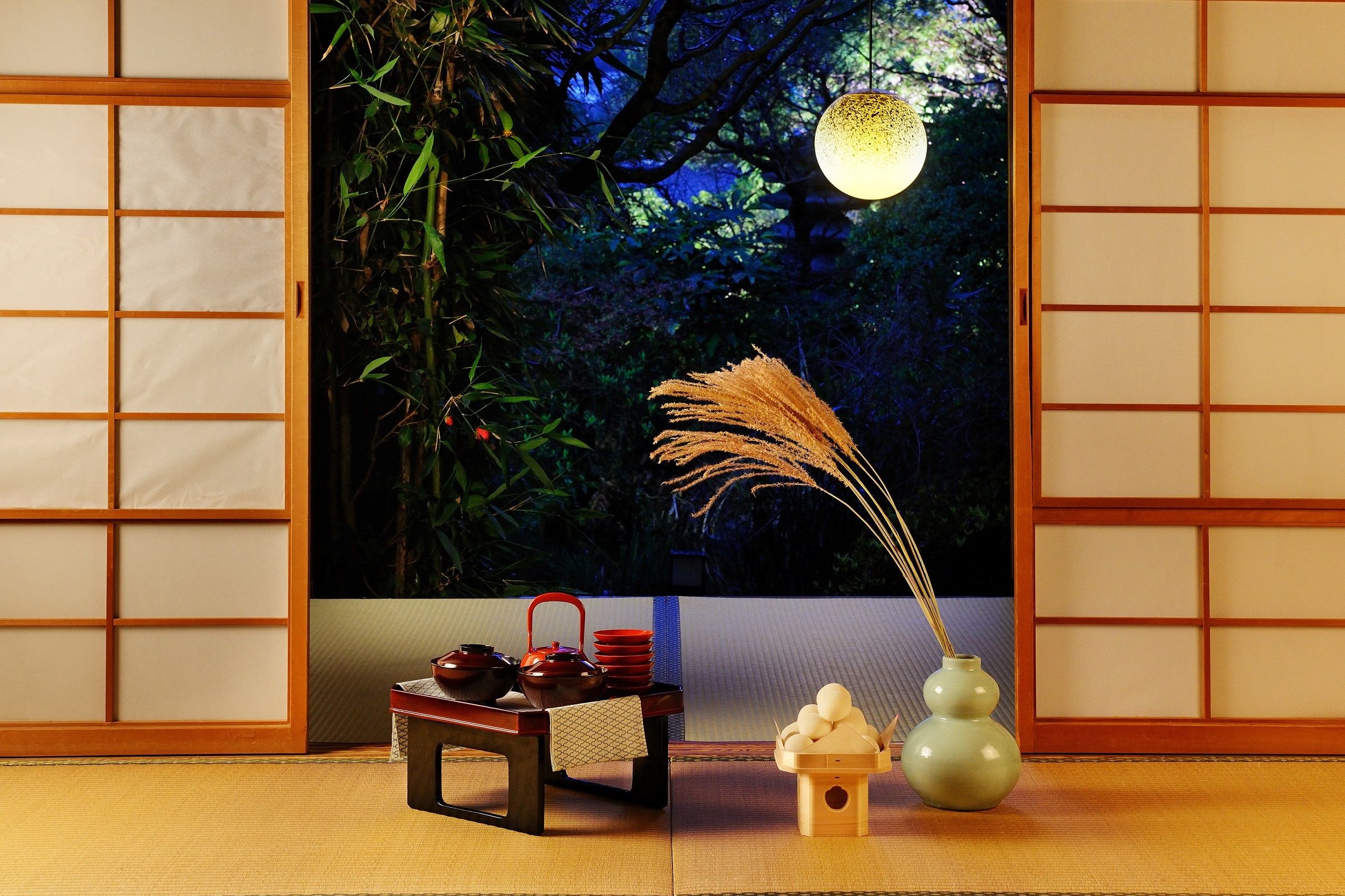 Tsukimi traditions was in traditional Japanese calendar celebrated by listening to music and poetry and admiring the moon's beauty. Later, tsukimi dishes offerings of rice were presented to express gratitude for an abundant harvest. These tsukimi foods traditions are combined at today's full moon viewing parties and festivities. When Japanese people assemble outside a window or balcony to observe the full moon, it is referred to as a tsukimidai and is embellished with seasonal foods and seasonal produce offerings like edamame, sweet potatoes, chestnuts, and Japanese pumpkin, as well as taro bulbs and pampas grass to symbolize the rice harvest. These offerings are the source of the some celebrations' various names, such as Imomeigetsu (potato harvest moon), Mamemeigetsu (bean harvest moon), and Kurimeigetsu (chestnut harvest moon).
Furthermore, people frequently host moon viewing party at their homes since it is regarded as a social event. In addition, moon viewing events involving traditional dancing, music, and poetry readings are held throughout Japan at temples, shrines, gardens, castles, and outdoor locales.
The Traditional Tsukimi Food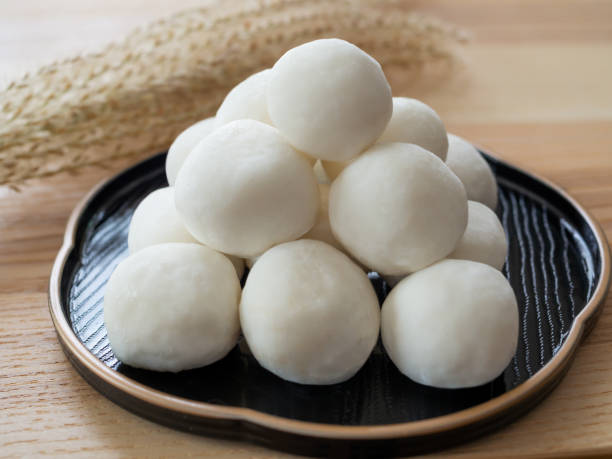 Tsukimi Dango is a traditional Tsukimi ryori found at Japan's Autumn Moon Festival ceremony. Dango is kept quite simple, with no added colors or flavors. 15 Tsukimi Dango are stacked in a pyramid form on a plate and placed near a window beneath the moonlight to commemorate Tsukimi. To signify the harvest moon, one or two yellow Dango are sometimes created and set atop the pyramid.
Japanese mochi is a popular festival snack, and Tsukimi is no exception. In celebration of the moon, Japanese mochi is cooked in the shape of a rabbit for Tsukimi. This adorable Tsukimi ryori is inspired by the Japanese legend of two rabbits kneading mochi on the moon. The rabbits are said to be kneading mochi during Tsukimi's full moon viewing, with the moon's craters producing the shapes of the rabbits and the mochi mallet.
Seasonal meals are also great options to celebrate Tsukimi, thus, Japanese autumn vegetables like sweet potatoes, kabocha, and Japanese pumpkin, are ideal Tsukimi ryori. These foods can be eaten savory, like miso-glazed sweet potatoes,  roasted kabocha, candied sweet potatoes, and kabocha Dango. They also serve raw quail egg, tsukimi soba, rice dumplings, egg yolk, and tsukimi burger in related lunar festivals or in mid autumn festival.
Taro, a Japanese festival root vegetable grown in the fall, is another great Tsukimi ryōri food.  Taro looks like a mix between a kiwi and a coconut, but once peeled, it looks and feels like potatoes. Taro is most commonly consumed by cooking the peeled vegetable in a soy sauce-based sauce, letting it absorb all of the delightful flavors.
Why Japanese People Celebrate the Arrival of the Full Moon
The moon's adoration in Japan dates back to the 8th century during the Heian Period, when aristocrats gathered on boats to drink and celebrate the arrival of the mangetsu, or full moon in Japanese. They would sing songs and have fancy bands perform for them while admiring the moon alone.
The tradition is claimed to have originated in China, but it has been carried on in Japan to this day. It booms in popularity around the Edo Period in connection with the September Harvest.
Hearing about aristocrats observing the moon shimmering impressed people as romantic and elegant at the time. They took this lovely concept and applied it to their harvest celebrations. It takes place from the end of September to the beginning of October, making tsukimi offerings a means to both pray for and appreciates the year's harvest.
Japan's Most Famous Tsukimi Events
Tsukimi observes Harvest Moon celebrations taking place around Japan. Some of the most famous include:
Tokyo Tower
The Tokyo Tower is lit yearly during the Tsukimi Harvest Moon celebration. With 600 steps to the top, you'll need to be in good shape to enjoy the best views, but it'll be worth it. Even if you don't want to go inside, there is a beautiful sight from the outside, lit up in red against the dark sky and dazzling white moon. The tower is a popular location for marriage proposals in Tokyo.
Sankeien Gardens
These picturesque gardens in Yokohama light up their historic buildings yearly for tsukimi and are well known for their moon-viewing events. Sankeien garden is a 10-minute bus ride from JR Negishi Station in Yokohama.
Ise Shrine
Among the thousands of Shinto temples in Japan, the Ise Grand Shrine in Ise City is one of the most renowned. The ancient shrine was created to honor the sun goddess Amaterasu and is claimed to have been established 2000 years ago. But the exact date is uncertain. It's a popular shrine to visit annually and conducts yearly tsukimi celebrations with poetry readings and music each September. Nagoya is the closest major city to Ise. If you have a JRailPass, take the train to Kameyama and connect to Iseshi Station.
Tokyo Skytree
Like Tokyo Tower, the Skytree in Sumida, Tokyo, boasts impressive aerial views and observation decks hundreds of meters in the air, providing one of the highest vantage points for an even closer look at the moon's beauty. The Skytree also features jazz music to enhance the atmosphere further.
Himeji Castle
Known as the White Heron for its distinctive color and architecture, Himeji Castle in Hyogo Prefecture has regularly voted the most beautiful castle in Japan. The castle stages moon-viewing events each year with tsukimi-dango, sake, oden, taiko drumming, and performances. This year might be slightly different due to social distancing, but nothing can take away from the beauty of the moon in the night sky above the castle. 
If you are into full moon or Tsukimi, make sure to check our Tsukimi collection on Sugoi Mart.