What is the story behind Rilakkuma?
The San-X Family's most well-known members are Rilakkuma and his pals. One of Japan's biggest manufacturers of stationary and gifts with a character focus is San-X. Aki Kondo created Rilakkuma, which was released in 2003. He likes to watch television and listen to music. His favorite pastime is to lounge around and take things as they come.
On his back, Rilakkuma possesses a secret zipper. When you open it, white fabric with blue polka dots is what you see. He stands 165 cm tall and is unidentified in terms of age. One day, Rilakkuma appeared in the apartment of a young woman by the name of Kaoru; it was evident that he had decided to settle there. He enjoys purchasing suits that resemble him.
Is Rilakkuma a girl or boy?
Rilakkuma has no gender. A fun fact about Rilakkuma is that they don't have a designated gender! They frequently appear dressed in both conventionally male and female attire.
What does the Japanese word Rilakkuma mean?
Rilakkuma means relaxed (rilak) bear (kuma) in Japan. A brown bear named Rilakkuma magically emerged one day in Kaoru's room. Rilakkuma is always relaxed and lies down any place. With a passion for music, hot springs, and eating pancakes and dumplings. Rilakkuma is a good example of how to unwind and enjoy life without distress or worry. The zipper on Rilakkuma's back is its most enigmatic feature. Is Rilakkuma a genuine animal, plush toy, or stuffed toy? Or is there another creature inside?
Why is Rilakkuma's zipper there?
Rilakkuma is interesting since its back has a zipper that opens to reveal light-colored fabric with blue polka dots. It seems to suggest that Rilakkuma is only a costume rather than a real one.
What inspired the creation of Rilakkuma?
Now that you know the true creator of Rilakkuma and the universe, you may wonder where the concept originated.
A chihuahua living the good life—being fed, dressed, and taken care of to the point of being spoilt rotten—was depicted on television by Kondo. Kondo began to consider how pleasant it would be if she were a pet herself, even if it meant — and this is essential — donning a full-body animal costume! After all, it was a busy period at work, and being exhausted might make you want to use whatever means necessary to get away from it all.
Personality of Rilakkuma
As mentioned above, Rilakkuma combines "relax" and "kuma." Rilakkuma translates literally from Japanese to English as "relax bear" or "bear in a relaxed mood." The little Rilakkuma's most crucial characteristic is thus already revealed by his name. He enjoys lounging around and never has a problem or requires anything. In keeping with its moniker, its pastimes consist of lounging around, sleeping, watching TV, listening to music, and bathing in hot springs. Additionally, it enjoys "omurice," Japanese omelet rice, dumplings, pancakes, and pudding.
Spicy food and summer, however, are things that it most definitely dislikes spicy food and summer, maybe due to the amount of physical effort required to deal with both. However, it also dislikes the rainy season since the fungus that grows within its clothing can flourish in ideal climatic circumstances. Rilakkuma may be slothful, but he frequently seems to grow emotionally involved. It has a strong loyalty to its pals, as evidenced by how it treats Korilakkuma like a younger sibling or reacts when it has to say goodbye.
Rilakkuma's Friends
Korilakkuma
Korilakkuma means little (ko), relaxed (rilak), and bear (kuma). Rilakkuma's cheeky young companion, Korilakkuma, also visited Kaoru's house. Korilakkuma enjoys head banging and hardcore music. We assume it might not even be a bear because of its little red button.
Korilakkuma's Personality
When it comes to energy, mischief, and having its favorite toys (a radio-controlled duck and a teddy penguin) by its side, Korilakkuma is like a beloved youngster. It's quite possible to argue that Korilakkuma is the ideal antithesis to neat-freak Kiiroitori. Rilakkuma is frequently the victim of pranks by Korilakkuma, who draws on him, puts headphones on him, and sews strange-colored patches onto his bear suits while he sleeps. Korilakkuma doesn't say much often, but she does imitate what Rilakkuma says. While Korilakkuma resembles a bear, she also has a red button fastened to her chest, leading some to believe that she is not a real bear. She does not have a zipper on her back, unlike Rilakkuma. Strawberries, apples, and cherries are among her favorite foods.
Chairoikoguma
Chairoikoguma is a brown honey bear introduced in 2016. One day, Korilakkuma discovers it in the forest and befriends it before bringing it to meet Rilakkuma and Kiiroitori. Chairoikoguma has distinct fangs when it opens its mouth and bear-shaped honey patches on its feet and back.
Chairoikoguma's Personality
Chairoikoguma is a very interesting real bear that lives in the Honey Forest. Koguma loves honey (and even smells of it!) and has a bear-shaped honey pot to hold the special honey.
Kiiroitori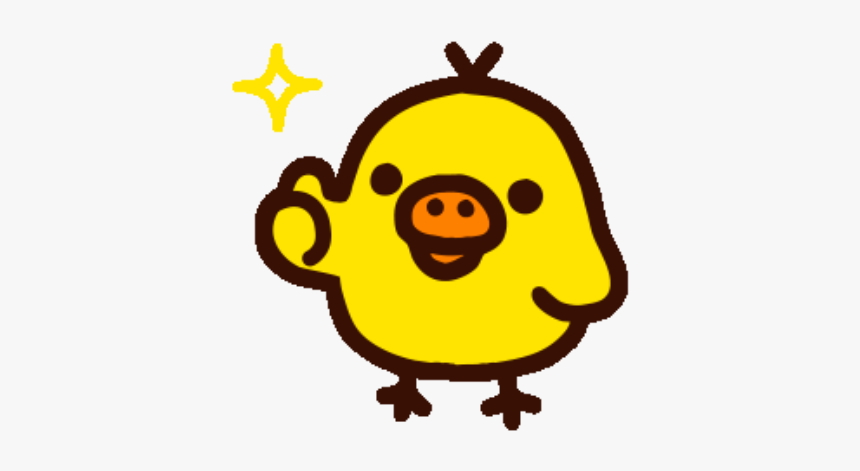 Kiiroitori means "yellow bird" in Japanese. Kiiroitori was Kaoru's pet before Rilakkuma and the others arrived. Kiiroitori used to be confined to a birdcage, but he can now roam freely. Every day, Kiiroitori chastises Rilakkuma for lying around and fights with the mischievous Korilakkuma.
Kiiroitori's Personality
Kiiroitori, the little yellow bird, is a neat little chick who enjoys cleaning. Kiiroitori scolds Rilakkuma frequently but ends up cleaning up his mess after him because he is lazy and messy. Kiiroitori is the polar opposite of Rilakkuma due to the bird's hardworking character. Rilakkuma throws broccoli in his face because he likes it. He enjoys and loves cleaning, and as he finds work as a cleaner in "Getting A Job." Kiiroitori takes on the role of a "tsukkomi" who is considered the smarter and more logical one who criticizes others for making mistakes.
Who invented San-X?
San-X was founded in 1932, thirty years before Sanrio. The company's original name was China Handler, after its founder, Kyozo China. Until the 1970s, China Handler produced generic stationery products aimed at adults. Based on their logo, which featured three Xs in a row, Chida Handler changed their name to San-X in 1973. One of the leading stationery companies in Japan, San-X, is the creator of the endearing and humorous Tarepanda, Sumikko-Gurashi, and the famous Rilakkuma character.
Is San-X the same as Sanrio?
Sanrio and San-X are the two biggest names in the Japanese character goods industry. They've made us love many of the cutest characters for many years. Their creations have become an iconic part of Japanese history, connecting many people's lives worldwide. Despite having the same theme, San-X and Sanrio are two completely separate companies with very different lineups of signature/mascot characters. San-X Characters are typically humanlike depictions of animals or inanimate objects like the character Tissue-san which was created using the design of a simple box of tissues. In Japan, Rilakkuma is a very strong rival to Sanrio's Hello Kitty, even though San-X may not be as well known internationally as their main rival, Sanrio. But in Japan, it has a plethora of promotions, train partnerships with the popular Netflix series, and even comparable floor space in the Harajuku Kiddy Land flagship store.
Where can I buy Rilakkuma products?
If you're looking for Rilakkuma kids merchandise, kids and adults costumes, and many more, you can leave it to Sugoi Mart! There are many choices you can choose from. You'll get the chance to enjoy the fun in Rilakkuma's world - just click here. For costumes, click this link.