Japan's springtime is a panorama of surreal landscapes. Visitors and natives alike are mesmerized by the famed cherry blossoms of Japan, known as sakura, as they light up the country in delicate pink magnificence from early March until May. It is viewed as a representation of beauty, vigor, and regeneration. Hundreds of people travel to Japan throughout the spring to witness the magnificent beauty of beautiful white or pink blossoms blooming in great numbers each year. Read on and get ready to be amazed by the grace of the Sakura tree blooming in Japan.
Cherry Blossom Trees in Japan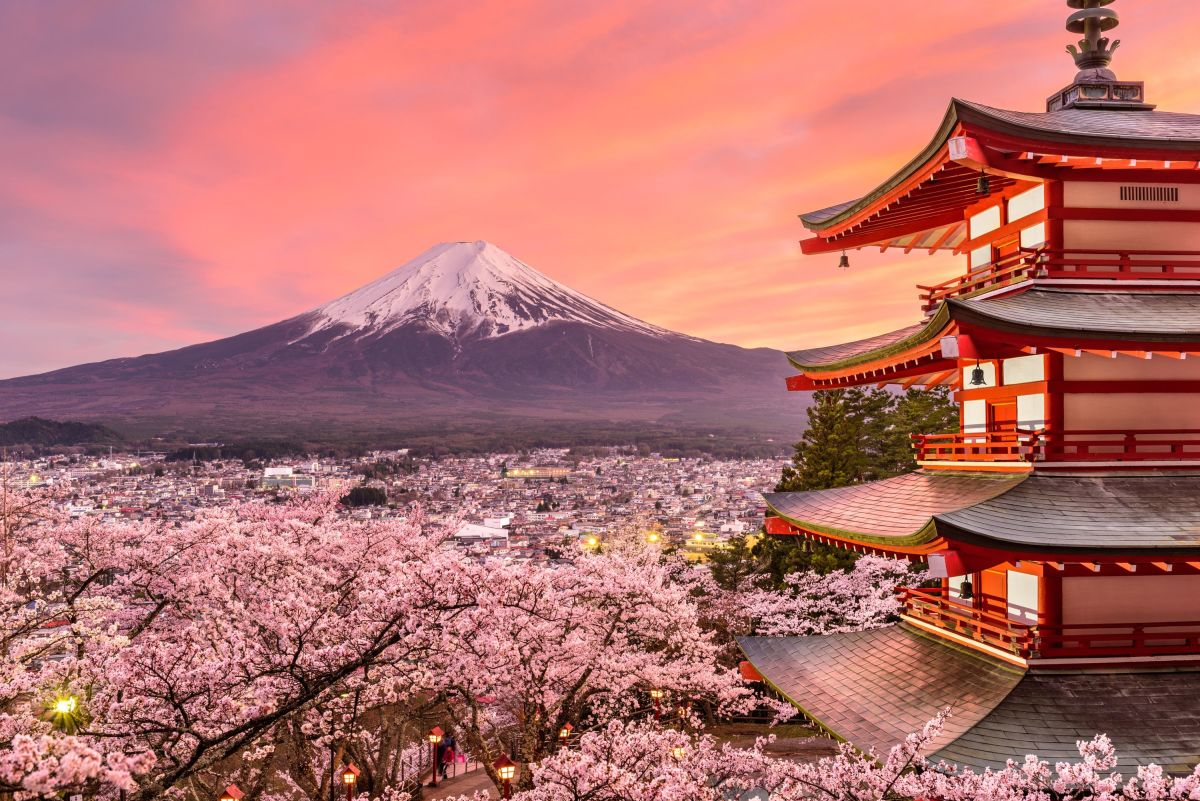 Cherry blossoms are trees that don't bear fruit. Instead, each spring, they blossom with lovely pink or white blooms. The trees sadly only flower for a week or two. However, they are also a representation of rebirth and the transient aspect of life. In Japan, cherry blossoms typically begin to bloom from the south to the northern hemisphere, and the best time to see cherry blossoms bloom in well-known tourist destinations like Tokyo, Kyoto, and Osaka is generally between the end of March and the beginning of April when they typically reach their peak season.
Additionally, according to the Japan Meteorological Corporation's official estimate for 2023, most cherry blossom trees are expected to bloom in Tokyo (March 18), Kyoto (March 24), Osaka and Hiroshima (March 26), Fukuoka (March 21), Aomori (April 18), and Hokkaido (April 29). Depending on where you are, the weather, between March and May, is the greatest time to see the lovely early bloomer pink hues in Japan. The flowering phase is only expected to last two weeks on average.
Symbol of Cherry Blossoms in Japan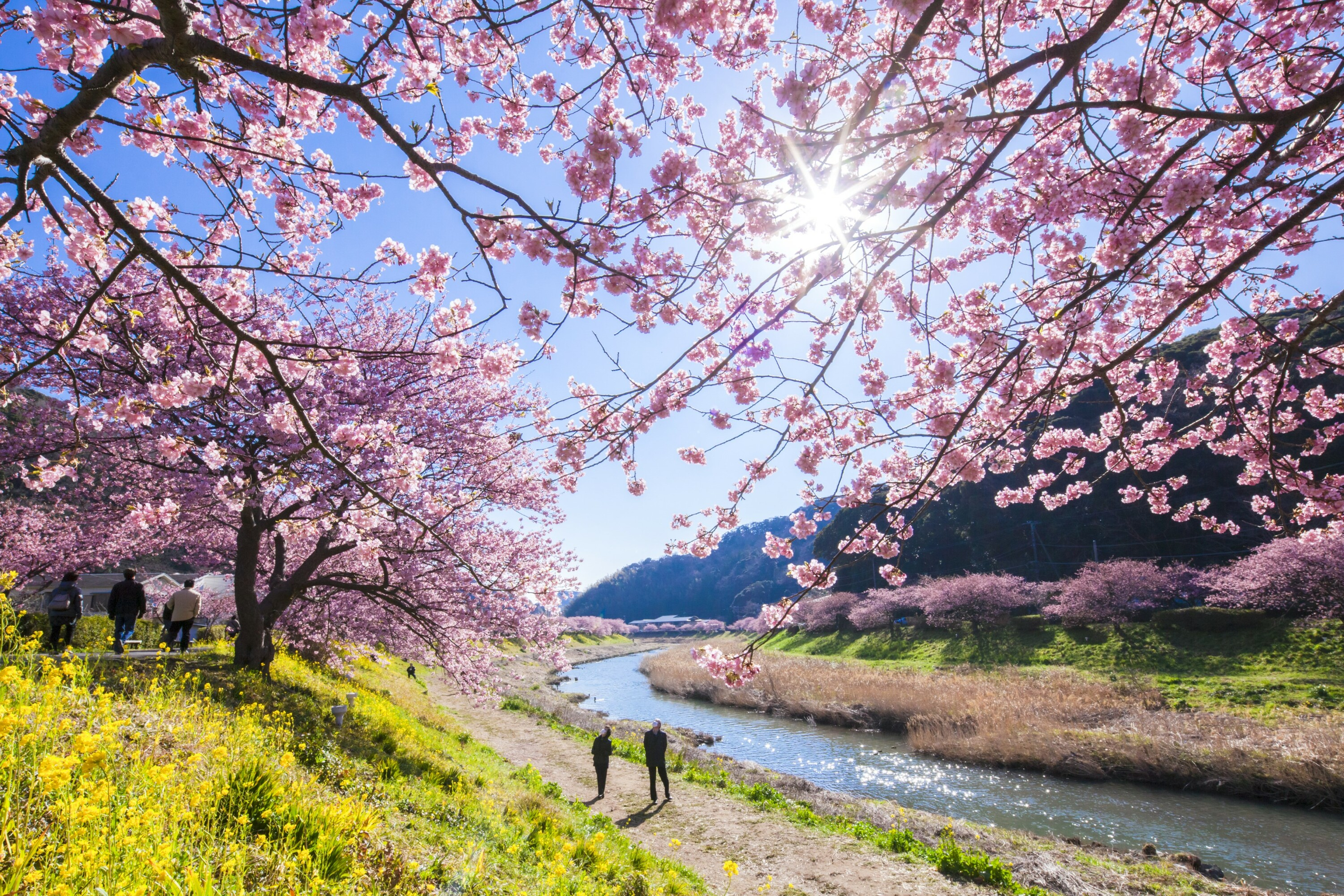 The cherry blossoms' symbolism is one factor contributing to their appeal. One of the most well-known symbols of Japanese culture is the cherry blossom beauty. Many statements have been written about these tiny flowers to honor the beauty they add to the landscape and to express the awe of those who appreciate them each spring. Japanese cherry blossoms are an eternal metaphor for human existence because they are connected to the Buddhist ideas of mortality, mindfulness, and living in the present. Flowering season is forceful, gorgeous, and intoxicating but tragically short-lived, a visual reminder that our lives, too, are transient.
That said, a fallen cherry blossom or petal is thought to represent the end of the samurai's fleeting life. The samurai or the warriors of feudal Japan who adhered to bushido ("the way of the warrior"), a stringent moral code of respect, honor, and discipline, was the best example of this historical metaphor connected to cherry blossoms. They were responsible for upholding these ideals in death and accepting that death was inevitable since, for the samurai, death came far too soon in war.
In Japanese traditional religions, cherry blossom trees were thought to symbolize the mountain deities who changed into the gods of the rice paddies. During this time, the Japanese began on springtime pilgrimages to the mountains to revere the trees before relocating them into settlements. They also instill optimism and fresh aspirations at a time when children begin their first day of school year and employees begin their first day of a new job because the blooming season coincides with the start of the Japanese calendar year. Future possibilities are as plentiful as cherry blossoms in their prime. Sakura has thus traditionally served as a harbinger of the arrival of spring, a season of rebirth and hope.
Cherry Blossom Festivals in Japan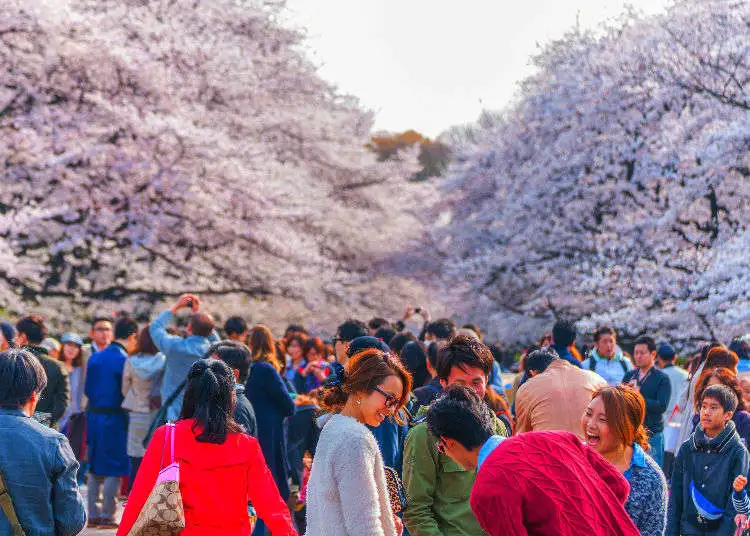 Japanese people monitor the progress of the cherry trees' blossoming each year. They refer to it as the cherry blossom front or sakura zensen. The blossoming slowly moves north as the climate gets warmer, and by the beginning of April, it has moved from Okinawa to Kyoto and Tokyo. Thousands of people take in the trees during the National Cherry Blossom Festival each spring in each region. This is the custom of having a picnic beneath stunning pink and white cherry blossom trees bloom vibrantly. Cherry blossom festivals and celebrations are held in honor of the cherry blossoms during this period in many places, and as the delicate petals sparkle through the darkness at night, the festivities create an ethereal mood. Sakura is customarily grown on castle grounds, and tourists throng to snap photos of the white castle and exquisite cherry trees bloom against the clear blue sky.
Every April, people congregate beneath the cherry blossom trees for a purpose more than simply flower appreciation. A blue plastic sheet is typically used as a mat. Everyone removes their shoes and settles into a comfortable chair under the flower. Each person brings their own food and beverage to share with the group. They are grabbing the day over tables covered with bento boxes, delicious mochi, and sake-filled glasses. They are shedding the past to herald in a bright, promising new year while remembering loved ones who have passed away and reflecting on their own precious lives.
Different Types of Sakura Trees
Many people's minds immediately gather up images of the stunning cherry blossom season while discussing Japan. Sakura is a lovely, symbolic flower that celebrates the arrival of spring and warmer weather in Japan. While the cherry blossoms bloom may appear to be identical to those without any prior sakura expertise, there are really about 200 different varieties of ornamental cherry trees in Japan. Each has subtle color and shape variations that make it difficult to tell one from the other. Here are six different types of cherry blossoms in the different parts of Japan.
1. Somei Yoshino Cherry Tree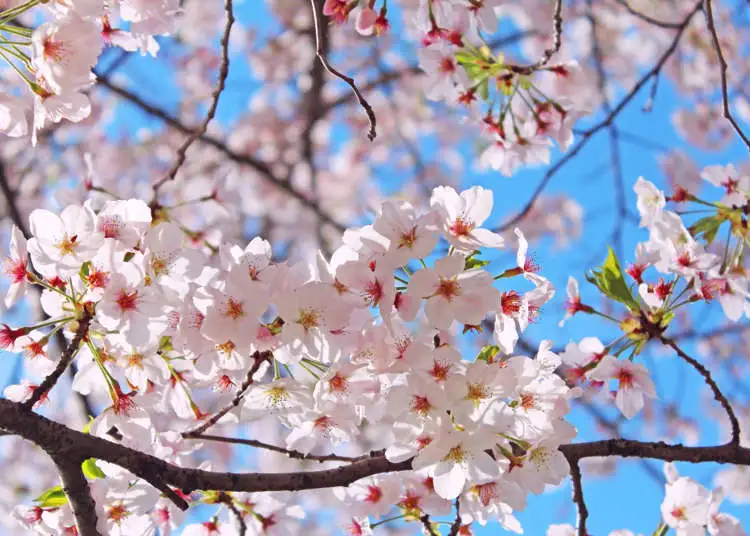 The Somei Yoshino Cherry tree is arguably the most well-known in Japan. They are widely distributed throughout the nation and makeup about 80% of the Sakura trees in Japan. When forecasters talk about cherry blossoms, they talk about the Somei Yoshino Cherry kind. Back in the Edo period, they were initially created as a hybrid variation between "Edo-zakura" and "Oshima-zakura" (1603-1868).
Each Somei Yoshino flowering cherries consists of five small petals, which is the classic shape of a conventional sakura flower. We may enjoy the lovely blossoms for a week to ten days after they begin to bloom, which usually happens in late March. The lovely green leaves begin to emerge later after the flowers have bloomed. Flowers' hue gradually changes from light pink to dazzling white as they approach full bloom.
2. Yaezakura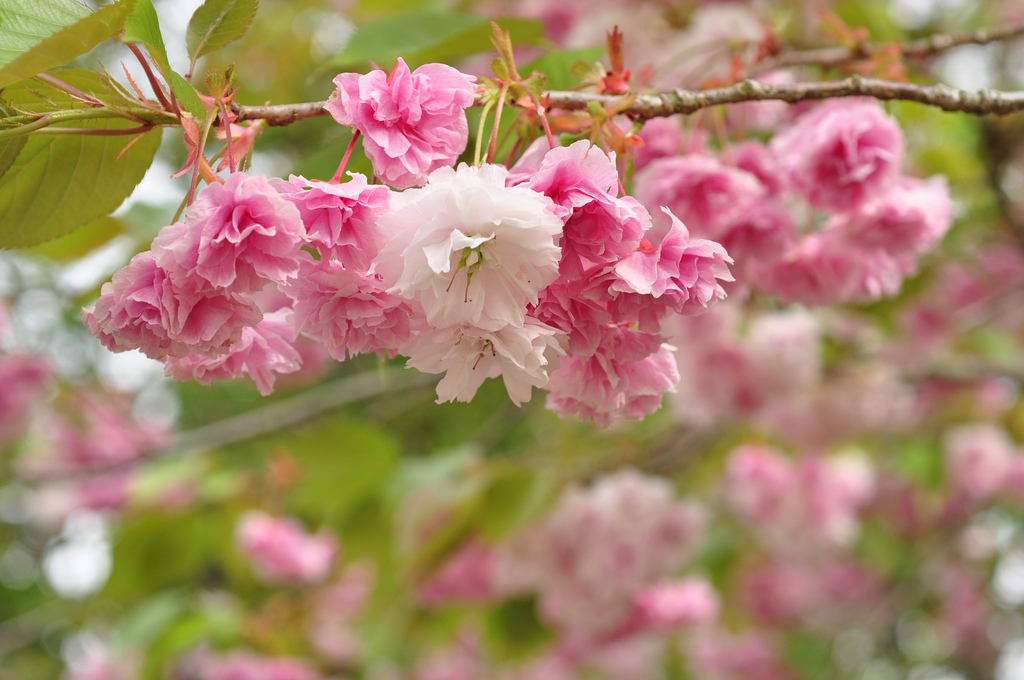 Yaezakura, also known as double-flowered cherry blossoms, have distinguishable characteristics that are exclusive to these Sakura trees. The blooms often have between 10 and 50 petals, which is more than 6 petals. They bloom 1-2 weeks later than Somei Yoshino, but they are available for longer (generally for a month from mid-April to mid-May). The blooms come in a variety of colors, including white flowers, mild pink small flowers, and deep pink blossoms. In contrast to Somei Yoshino, leaves emerge simultaneously with the opening of the flowers.
3. Yamazakura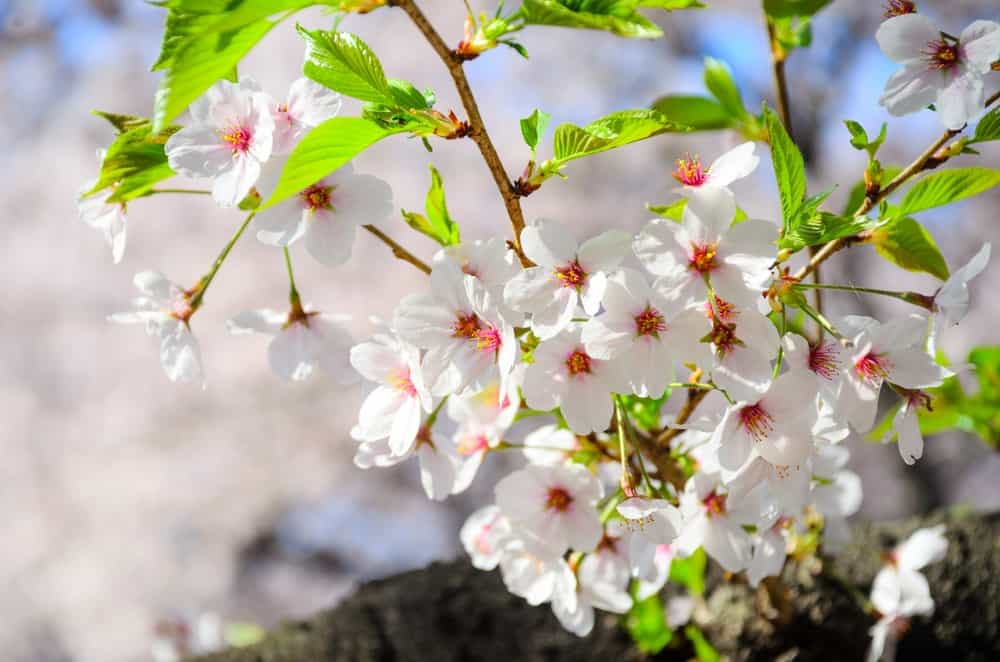 Yamazakura is another notable sakura tree that is unique to Japan. They often flourish naturally in the mountainous regions of Honshu, Shikoku, and Kyushu (apart from the northern Tohoku region). Similar to Somei Yoshino flowering trees, the flowers are pale pink and white and have five tiny petals. Beginning in late March, flowers and leaves with a brown hue start to emerge simultaneously, creating a stunning clash of colors! The dark leaves turn a beautiful green tint when the weather warms.
4. Shidare Zakura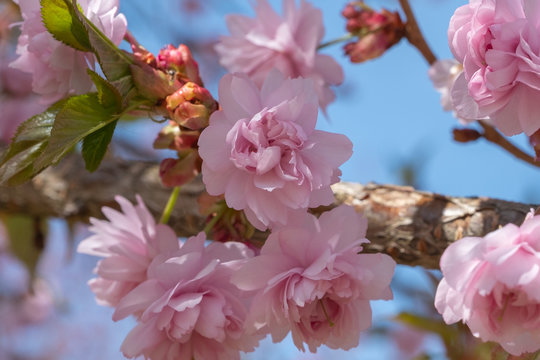 Shidare Zakura is commonly translated into English as "weeping cherry trees." They have delicate, supple limbs that sag down to the ground. Japanese people have been captivated by the lovely appearance of Shidare Zakura for many years. Shidare Zakura blossoms usually start to bloom in late March and can be enjoyed through early April. The blossoms come in a variety of colors, including white, light pink, and intense pink. In addition, the Shidare Zakura, which has teeny, charming blossoms, is the symbolic drooping branch of Kyoto Prefecture. They are renowned for having a lifespan of roughly 300 years, which is relatively long. In fact, there is a Shidare Zakura tree in Fukushima that is thought to be about 1,000 years old!
5. Shikizakura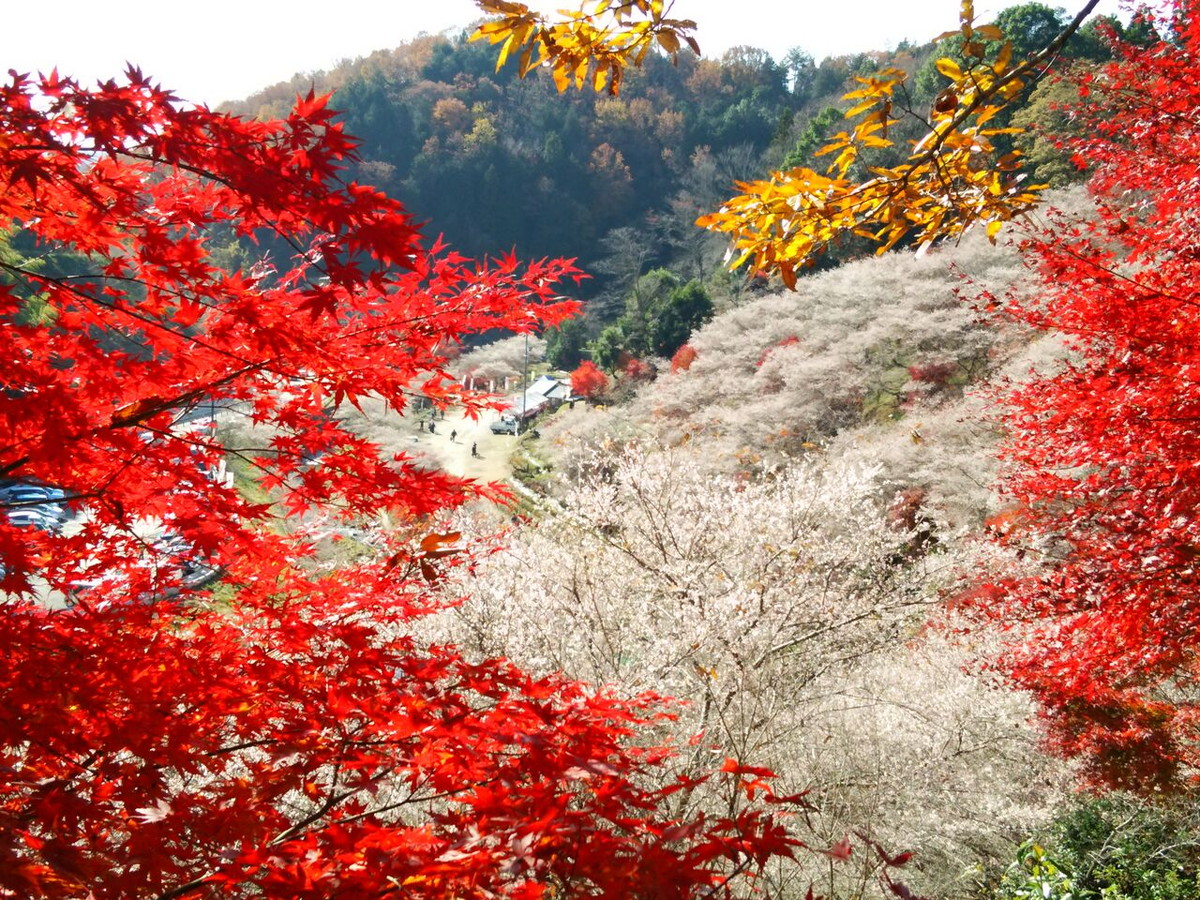 There is a location in Japan where you may simultaneously see the two well-known seasonal phenomena of sakura and koyo! Given that sakura is a spring blossom and the stunning autumn leaves only appear in the fall, you might be perplexed about how this is possible. This is due to the unique Shikizakura cherry blossom, which blooms twice a year in the spring and fall. The Shikizakura can be seen near Obara, Aichi Prefecture, adorning the hills in vivid shades. The small town has made a useful map that shows the best spots to see the cherry blossoms, fall foliage, and other local attractions like museums and temples. Mid-November to early December is the ideal time to visit the region.
6. Gyoiko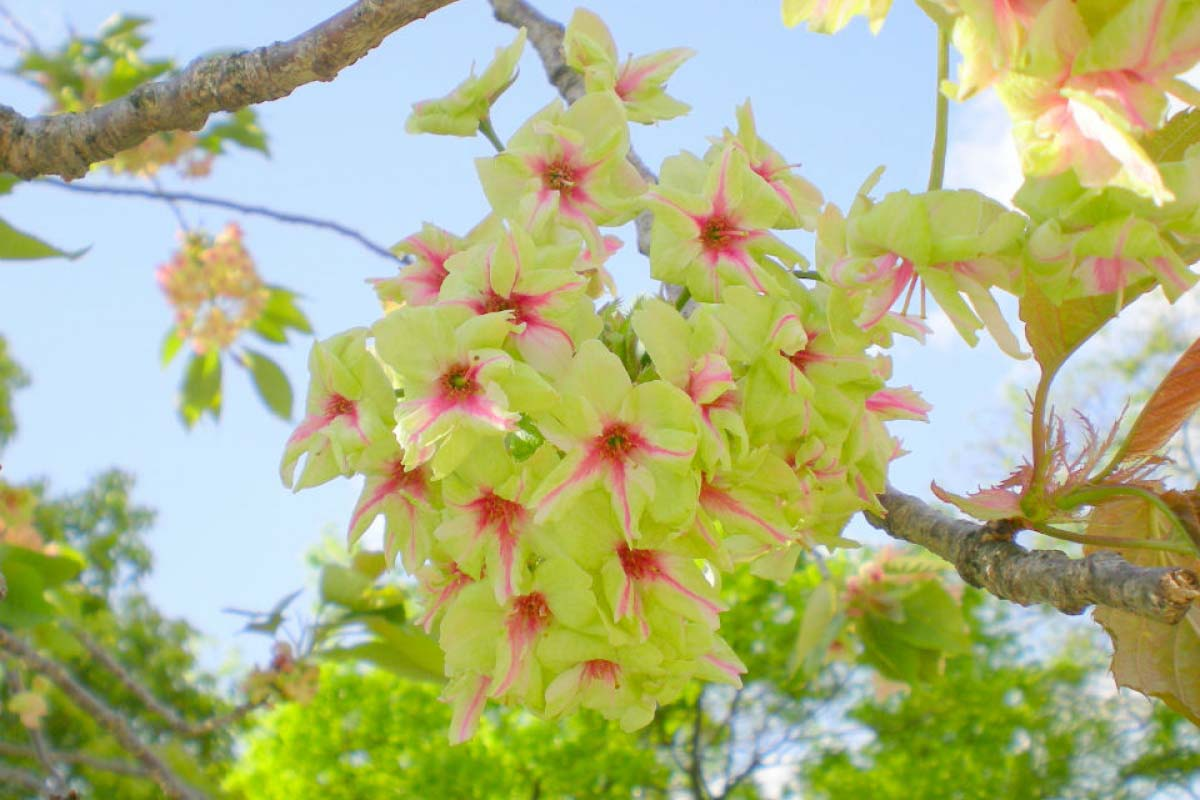 A less popular variety of sakura trees called a gyoiko has lovely yellow blossoms, but some people also describe the color as light green. This species of sakura often blooms in the latter part of the sakura season, from mid to late April, unlike well-known sakura trees like Somei Yoshino and Yamazakura. Beautiful pink stripes can be seen in the middle of each yellow bloom as it begins to expand bigger. In Japan, there are about 100 places where you can see Gyoiko in bloom and take in its distinctive yellow blooms.
Where to Find Sakura Trees in Japan ?
Japan has the best cherry blossom season in any country. If you were to ask most, if not all, visitors what they would most like to see in Japan, they would likely all answer cherry blossoms. Here is a list of places in Japan where you may see the beloved national flower of the country and enjoy the sakura season.
1. Hirosaki Park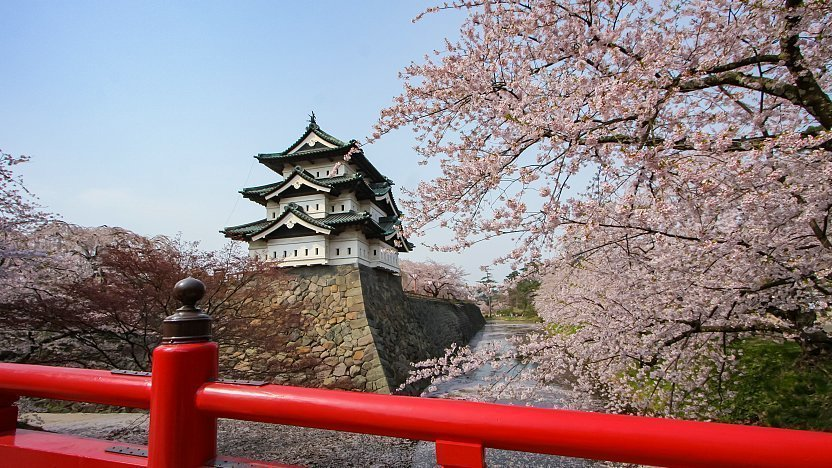 The view from Hirosaki Park is stunning, especially in April when the cherry blossoms are in peak bloom. It is situated next to Hirosaki Castle Park in Aomori Prefecture, home to one of the few existing castles in Japan. Renowned for its expansive cherry blossom trees, the area hosts the Hirosaki Cherry Blossom Festival yearly, which is well-known among locals and visitors. When the area is covered in flowers and appears pink, it is typically hosted in late April to early May. Hirosaki Park offers many other activities in addition to seeing the cherry blossoms. Therefore, tourists frequently visit the Hirosaki Castle Botanical Garden, the Fujita Memorial Japanese Garden, and other popular attraction.
2. Mt. Shiude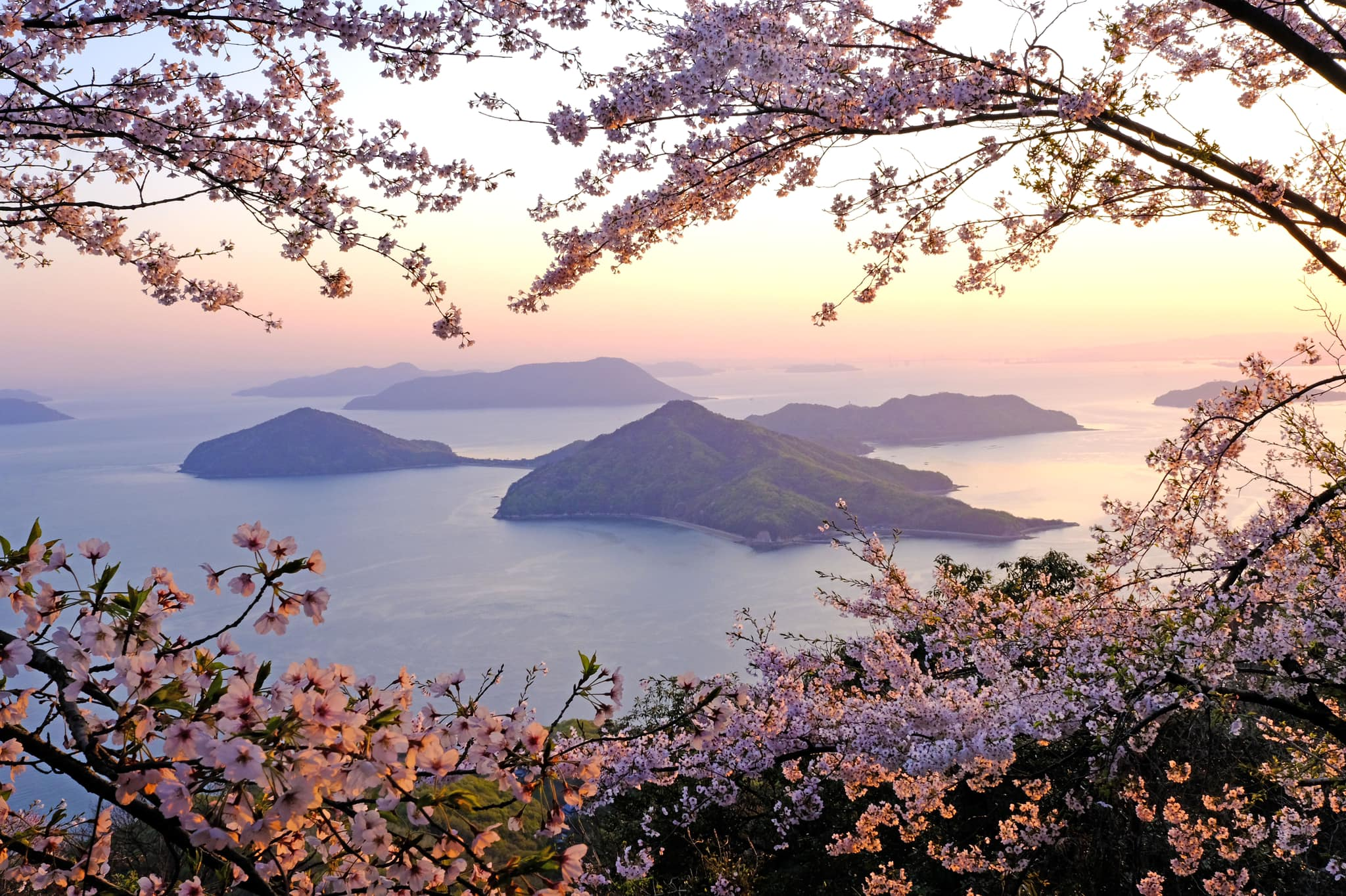 Mt. Shiude, which rises 352 meters above sea level, dominates Kagawa Prefecture's Shonai Peninsula. A thousand cherry blossom trees are reported to surround the Seto Inland Sea and the other nearby islands, making it a fantastic place to sightsee. Just picture a cloud of soft pinks and waves of blue; it would be lovely. Additionally, when the cherry blossom petals are fully bloomed in the spring, you may anticipate an even more breathtaking spectacle. Late March to mid-April would be the ideal time to travel.
3. Takada Castle Site Park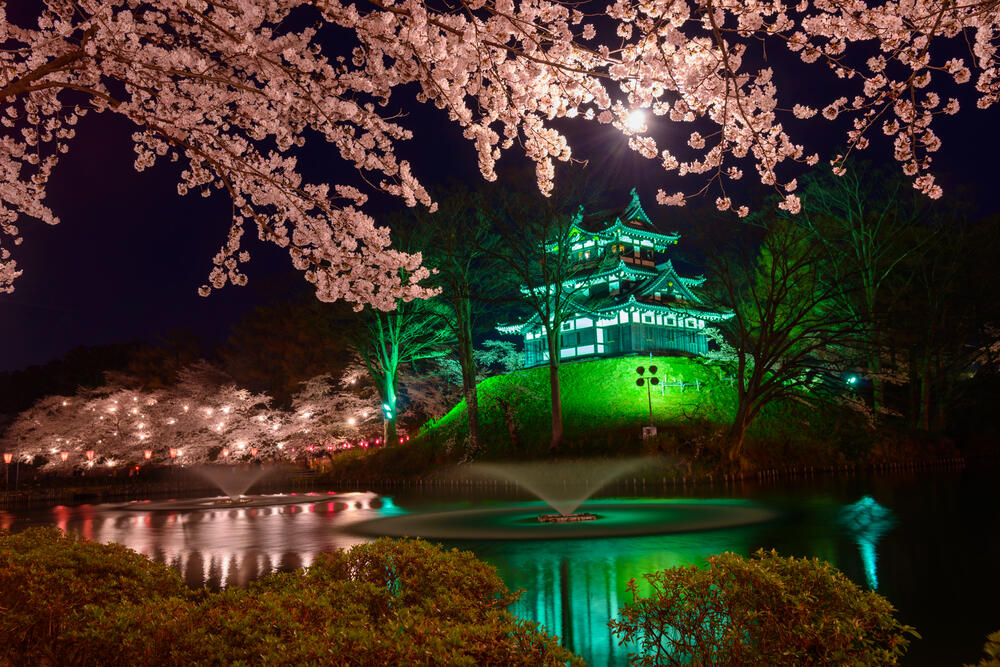 The Chubu region of Japan's Niigata Prefecture is home to Takada Castle Site Park. It is also a top location for cherry blossom watching, with an estimated 4,000 cherry blossom trees blooming in the spring, making for a tranquil and romantic nighttime experience. Similar to the Takada Castle Cherry Blossom Festival, many visitors travel there to observe the "Sakura Road" of illuminated cherry blossom trees decorated with over 3,000 paper lanterns. Due to the abundance of kiosks selling food and beverages, the festival is also a vibrant sight to see at night. What a great way to spend the evening with loved ones.
4. Chidorigafuchi Green Way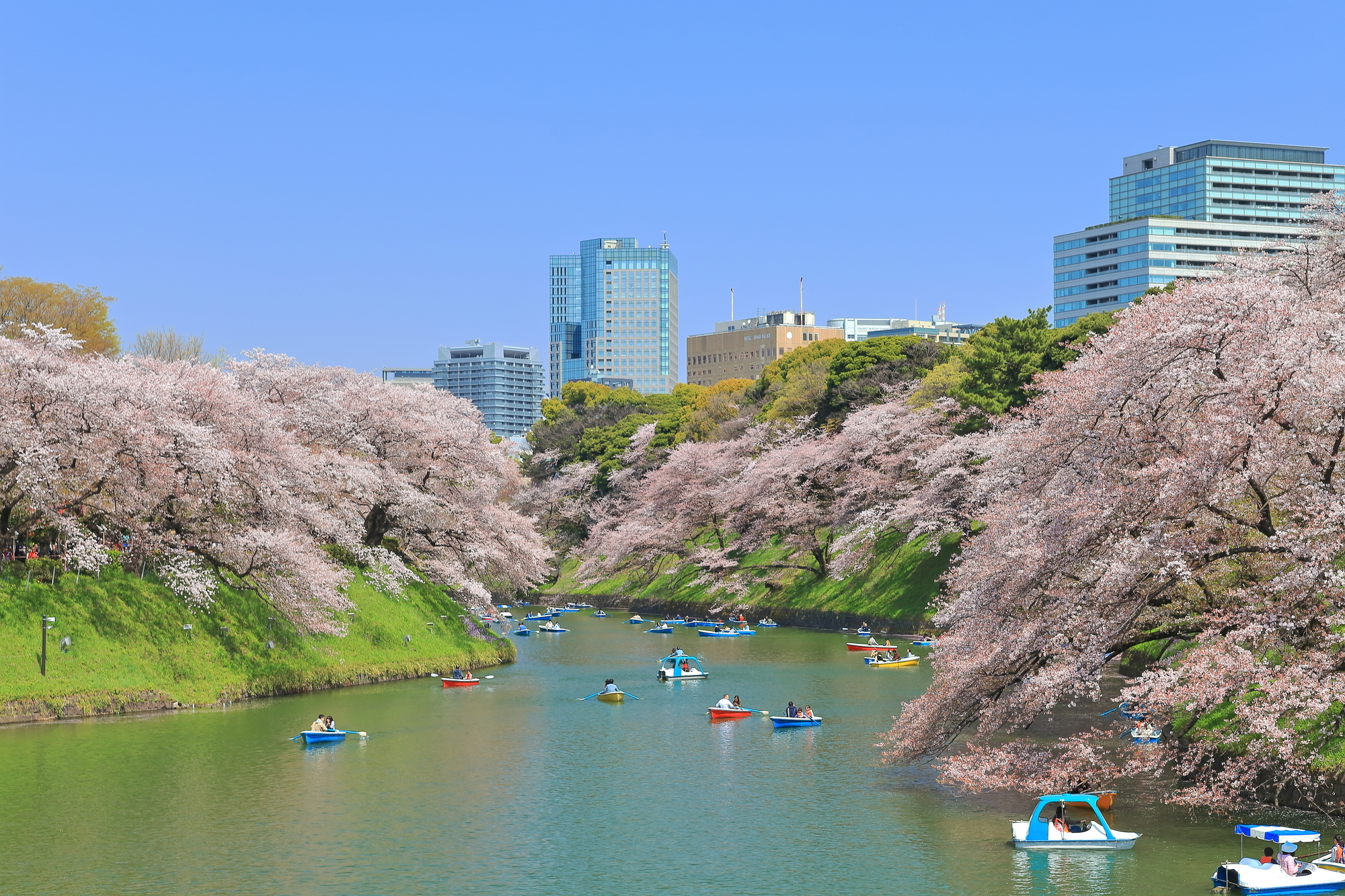 Tokyo's cherry blossom season, which coincides with the start of the new fiscal year, lasts from late March to early April. One of the greatest places in Tokyo to see cherry blossoms is from Chidorigafuchi Green Walk, a 700-meter route near a moat on the west side of the Imperial Palace. Locals frequent it after work because Metro Kudanshita Station is only a 5-minute walk away. On the other side of the river, at Kitanomaru Park, there are 330 trees in addition to the 260 trees that line the route. Cherry blossoms in gorgeous blooms make for some amazing vistas. During cherry blossom season, there are also nighttime illuminations, which you may take while relaxing on a rented boat.
5. Fuji Kawaguchiko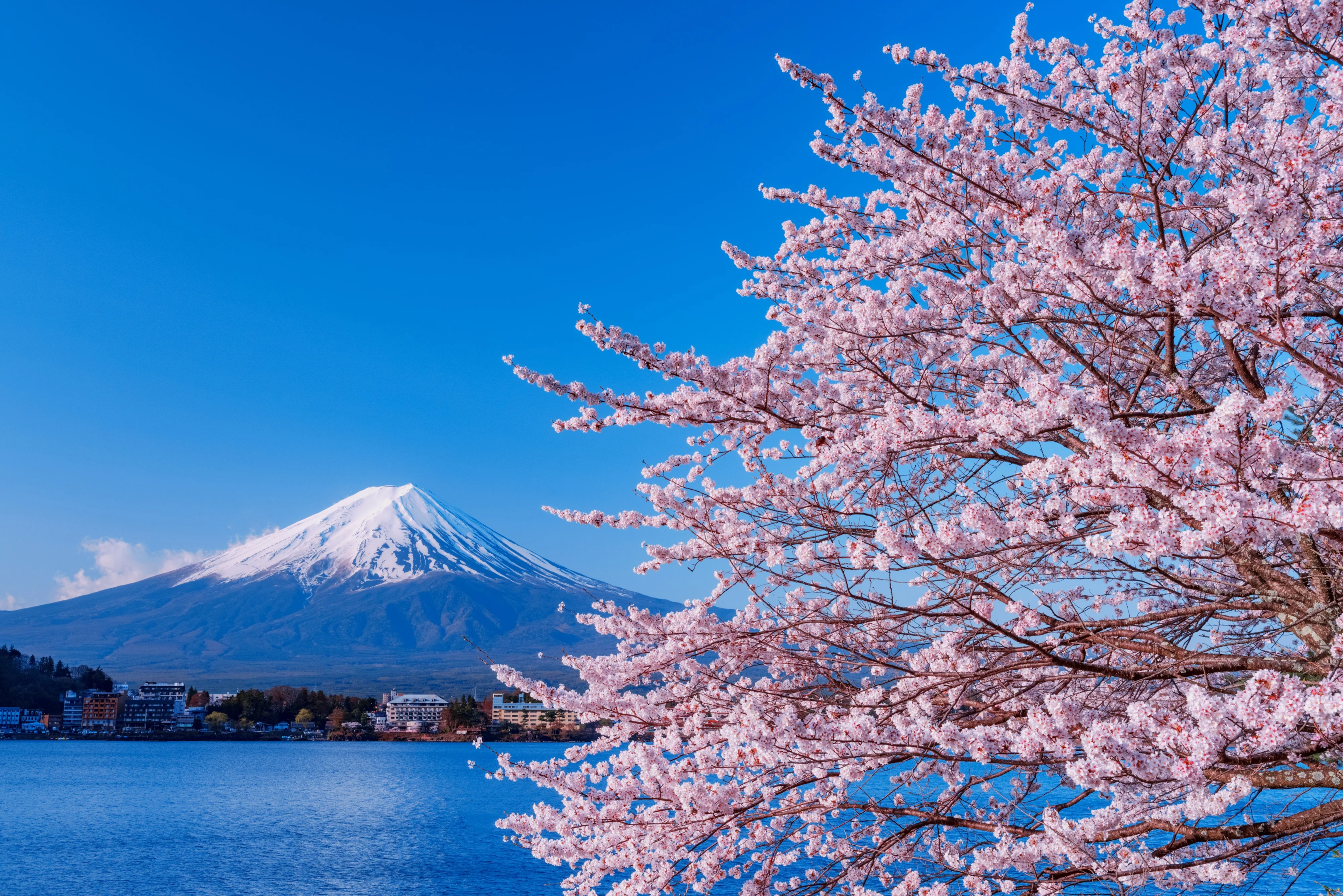 The trees along Lake Kawaguchiko's northern shoreline offer a breathtaking view of Mount Fuji with the lake and cherry blossoms. The lakeside promenade around the Kawaguchiko Music Forest and the little Ubuyagasaki peninsula next to the Kawaguchiko Ohashi Bridge are two of the best locations. A standout is a path that leads from Kawaguchiko Enkei Hall on the lake's northern bank to Lake Kawaguchi Ohashi Bridge. There are several picturesque locations along the walk, but a 1-km length of the lakeside lined with 200 Yoshino cherry trees, with Mount Fuji in the distance, standout the most. Early in the morning is typically when Mount Fuji is most visible.
How to Grow Cherry Blossom Trees?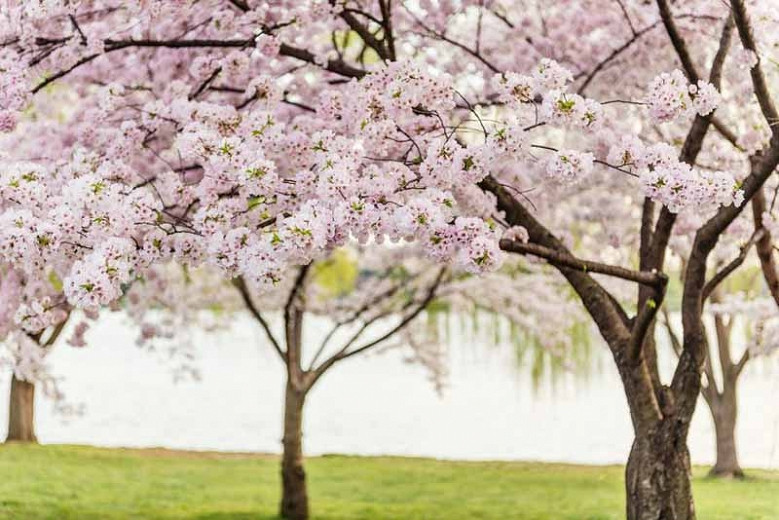 While delicate and colorful, cherry blossom ornamental trees are often challenging to grow. The name "cherry blossom tree" refers to the tree's delicate flowers, which can be hot pink to creamy white in hue. Here are some suggestions to bear in mind if you want to cultivate and take care of a cherry blossom tree:
1. Choose the right location
The appropriate location is important since cherry blossom trees like full sun, some shade, and well-drained soil. Places with standing water should not be used to plant these flowers. Even while cherry blossom trees can grow in sandy and clay soil, they prefer acidic, moist, well-drained soil. Mulch should be placed all the way around the tree's base to help the tree retain moisture without encouraging excessive water collection. Moreover, cherry blossom plants thrive in full sunlight for at least six hours daily. Some plants can endure a little shade. Plant the tree where it will receive some shade and mulch around the base to keep moisture in.
2. Planting
The best time to plant is in the early fall, using container nursery specimens. This tree cannot withstand prolonged periods of drought, so keep the soil uniformly moist. Dig a hole twice as large as the root ball when planting, and add compost or other organic materials to the soil. After planting, give the tree plenty of water.
3. Watering
Cherry blossom trees should be routinely watered, especially during dry seasons. To assist young cherry trees in establishing themselves, water them once a week or twice a week during dry weather. Watering every two weeks after the first two seasons is acceptable, with additional watering needed during droughts. For these trees, prolonged soaks are preferable to brief showers; however, avoid overwatering to avoid root rot.
4. Fertilizing
Provide a balanced fertilizer to cherry blossom trees in the spring. Check the soil to check whether your tree needs fertilizer because of any inadequacies. A slow-release fertilizer made specifically for cherry or ornamental blooming plants can be administered once every spring if modification or enrichment is required. Overfertilization can cause excessive leaf growth at the expense of flowering plants.
5. Pruning
Pruning cherry blossom trees are usually not very necessary. However, if you must prune for any reason, do so in the spring after the flowers have bloomed. By doing so, you can shape the tree and get rid of any damaged branches or unblooming buds. Cut away any unhealthy or broken branches to form the tree as desired.
6. Defending against pests
Although flowering cherry trees require little upkeep, they are vulnerable to pests and diseases that can harm or even kill the trees. You need to be cautious of these possibly dangerous garden wild species. Aphids, spider mites, caterpillars, Japanese beetles, and borers are examples of common pests that can be problematic. Use a water hose to spray them off the leaves of your cherry blossom tree if you find them there. You should get rid of any caterpillar nests you find since they will devour the leaves and leave holes behind. Use soap or oil that is insecticidal to get rid of these pests.
Best Sakura-themed Products
Hanami, or cherry blossom season, is more than simply a visual treat! This yearly phenomenon also brings in a ton of limited-edition merchandise dedicated to the delicate pink flower to help you experience the early spring season wherever you are. Here is a list of Sugoi Mart cherry blossom-themed products you'll definitely love to have.
1. My Beauty Diary Sakura Lavender Scent Face Mask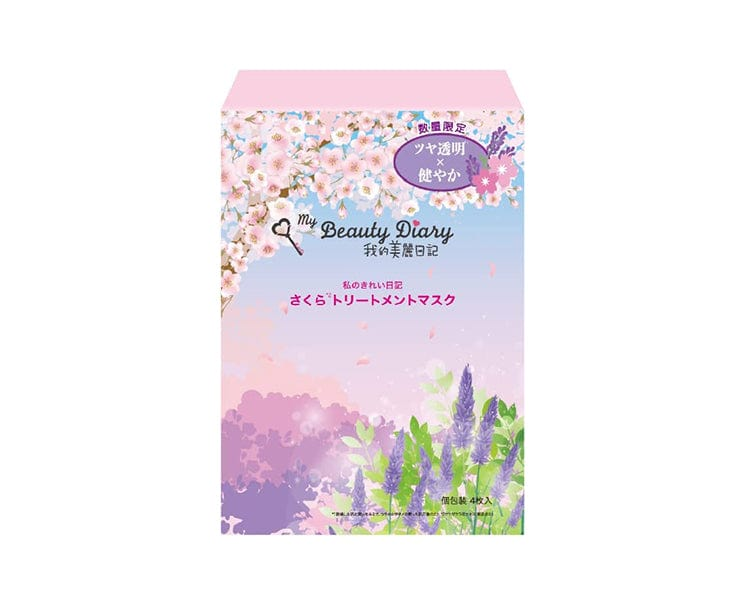 Face masks appropriate for all skin types and seasons are My Beauty Diary's specialty. Two distinct mask collections from My Beauty Diary are both targeted at enhancing the youthfulness and radiance of the skin. Your skin is covered in the soothing perfume of lavender, which creates a calming environment that resembles an aroma bath. Kanhi cherry blossom extract, which infuses the skin and psyche with plant power, hydrates the skin while also shielding it from environmental stress and restoring shine to skin that tends to become dull with time. Moreover, My Beauty Diary Sakura Lavender Scent Face Mask promotes smooth skin, offers the appearance of healthy skin, and makes skin appear clear and transparent, like a brilliant cherry blossom.
2. Vaseline Sakura Scent Moisturizing Cream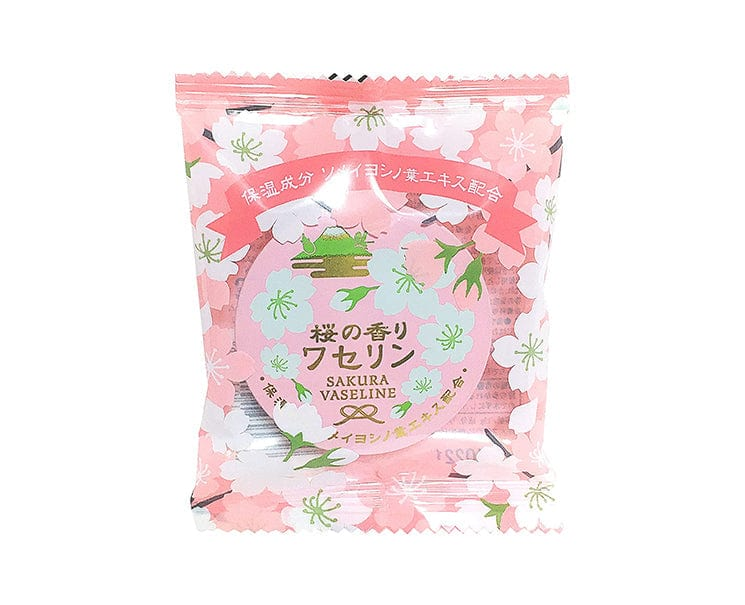 This Vaseline Sakura Scent Moisturizing Cream has a delicate cherry blossom smell. Vaseline scented with sakura, adds a touch of elegance to a necessity for beauty! It contains cherry leaf extract, which has moisturizing qualities and makes it easier for you to focus on dry hands, lips, legs, and other areas. Take it with you or keep it nearby on your desk; it's the ideal size and comes in a lovely tin!
3. Lux Sakura Dream Shampoo & Treatment Set
Here is a hair care set with a sakura cherry smell called LUX Luminique Sakura Dream Shampoo & Treatment. Use this shampoo and conditioner for supple, lustrous, and elastic hair. Sakura extract gives hair the ideal amount of moisture, strengthening and nourishing it. Strengthening elements are integrated into the shampoo's light, delicate lather, which softly cleanses and leaves hair smooth. Ylang Ylang Oil and Squalane effectively reduce roughness and dryness.
Although Japan's four distinct seasons offer unique festivities, advantages, and disadvantages, spring is still a favorite among locals and visitors alike. Spring is one of the nicest times of year to visit Japan because of the weather and celebrations. Book your trip now in Japan or collect all sakura-themed products in the Sugoi mart and experience the magnificent blooming cherry blossoms. Enjoy!