Demon Slayer: Kimetsu No Yaiba's anime adaption rapidly rose to fame following its initial airing. Its plot is intriguing and heartbreaking, its characters are tremendously deep and varied in their motivations, and its animation, by studio Ufotable, is stunning and, at times, absolutely magnificent. The series is also praised for its intriguing depiction of demons inflicting havoc on humanity and Demon Slayers seeking these nasty demons to stop them from extending their tyranny.
That said, it is no surprise that Kimetsu No Yaiba excels at its foreshadowing and finer cultural details. In fact, every aspect of Demon Slayer refers to Japanese cultural history and traditional representations, from the places to the outfits, weaponry, rituals, and more. At first viewing, some of these hidden details are easy to overlook, like the mask Tanjiro used and many more. Despite the fact that masks play a minor role in the larger plot, their relevance is still formidable in the series. Here's why.
What is a Demon Slayer Mask?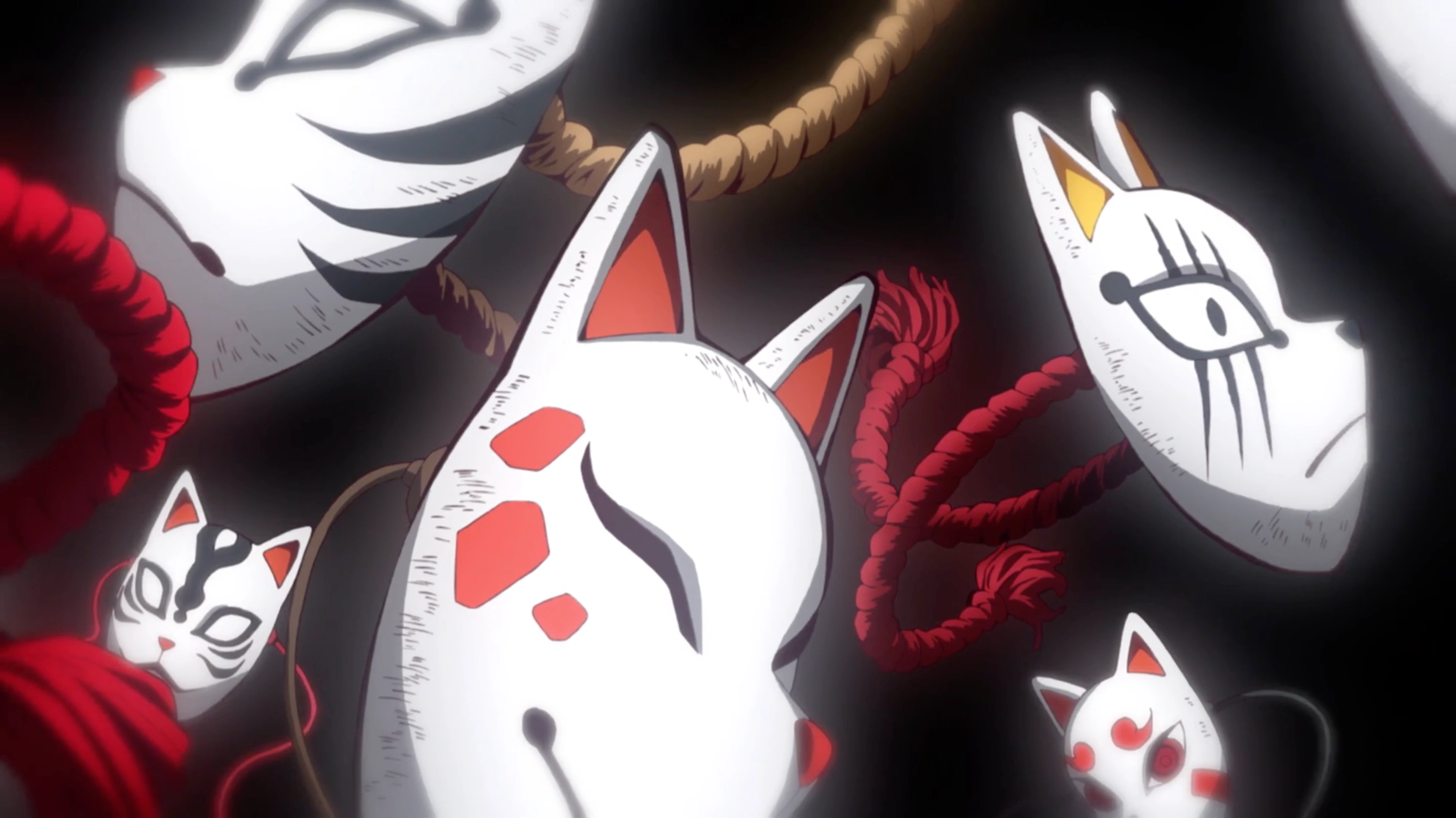 The Demon Slayer Masks or Warding Masks are hand-carved Kitsune masks from wood. The former Water Hashira himself hand-carved each of these warding masks, and he made sure to perform a protection spell on the wooden fox faces at some point during their construction before personalizing and giving them to his apprentices before sending them to the Final Selection. The Hand Demon from Demon Slayer episode 4 points out how easy it is to recognize Urokodaki's trainees by their distinctive Kitsune masks. Every mask is different and has a design that is particular to the user. Makomo's mask had flowers that mirrored the flowers on her kimono, whereas Sabito's mask had a light scar in the same location as the scar on his cheek. At the same time, Tanjiro's mask features a crimson emblem in the form of a sun over his scars.
Who is Sakonji Urokodaki?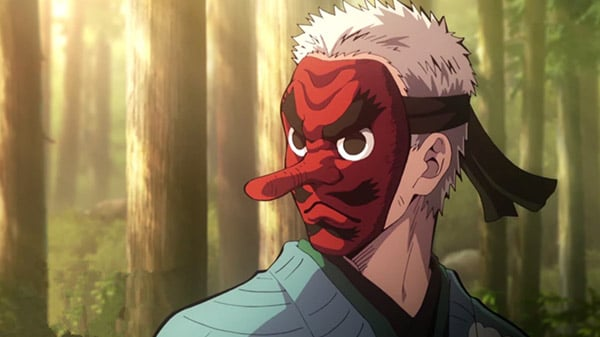 Sakonji Urokodaki, who once served as the Water Hashira, is a retired member of the Demon Slayer Corps. He has trained Giyu Tomioka, Tanjiro Kamado, Sabito, and Makomo, making him the primary practitioner of Water Breathing. He is dressed in dark blue slacks with white kyahan guards buttoned on the shins and a light blue shirt with a white cloud pattern on it. He wears traditional black socks called tabi and sandals that look a lot like Tanjiro's, with the exception that his straps are dark blue. He also wore a white cloth that wrapped over his neck and covered his head when he was gone.
Sakonji's face has never once been displayed or portrayed in the entire final manga; he is always portrayed with a tengu mask that totally conceals his face. Given the vast number of students he has taught and his silver-colored hair, he appears to be an elderly man. Despite first giving the impression of being a gruff, cranky old guy, Sakonji Urokodaki's personality is incredibly caring. He pushes his trainees hard but also loves them and sees them as family. He is one of the few Demon Slayer Corps figures to fully trust Nezuko to never eat a human. Likewise, he has complete faith that Tanjiro will discover a means to bring back her humanity.
Why Sakonji Urokodaki Wears a Mask?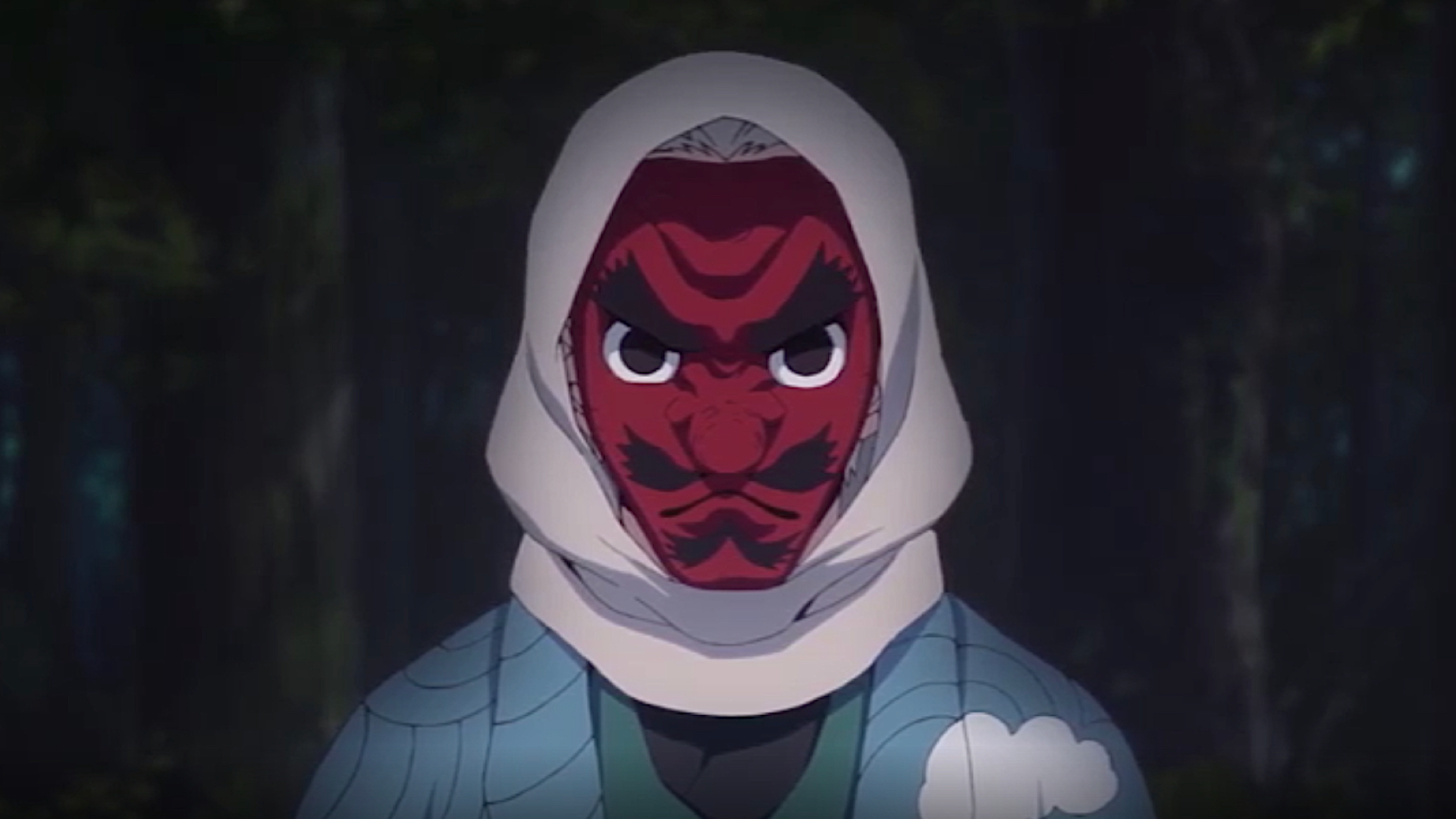 The first ex-Hashira introduced at the start of the series was Urokodaki Sakonji. Every fan of Demon Slayer is simply interested in learning why he wears a mask. Former Water Hashira Urokodaki Sakonji has received little information to date. It remained secret even after he joined the Corps and became a Water Hashira. Even after the first manga was finished, Urokodaki's face remained a mystery, and some fans even argued that the character's creator and illustrator, Koyoharu Gotouge, had neglected to give him a face. It can be seen in the anime that he was wearing a crimson Tengu mask during his initial confrontation with Tanjiro Kamado and his demon-turned-younger sister Nezuko.
He then admitted that the main reason he wore the Tengu mask was that he loathed having his lovely and gentle visage made fun of by demons. When Tanjiro revealed the Taisho mysteries of the Demon Slayer universe at the conclusion of Season 1, episode 3, he said that Urokodaki has a warm and comforting look. Additionally, the traditional Japanese masks worn by Urukodaki have significant symbolic significance. The Tengu mask represents the formidable swordsmen known as the Tengu in Japanese folklore.
Why Sakonji Urokodaki makes Masks?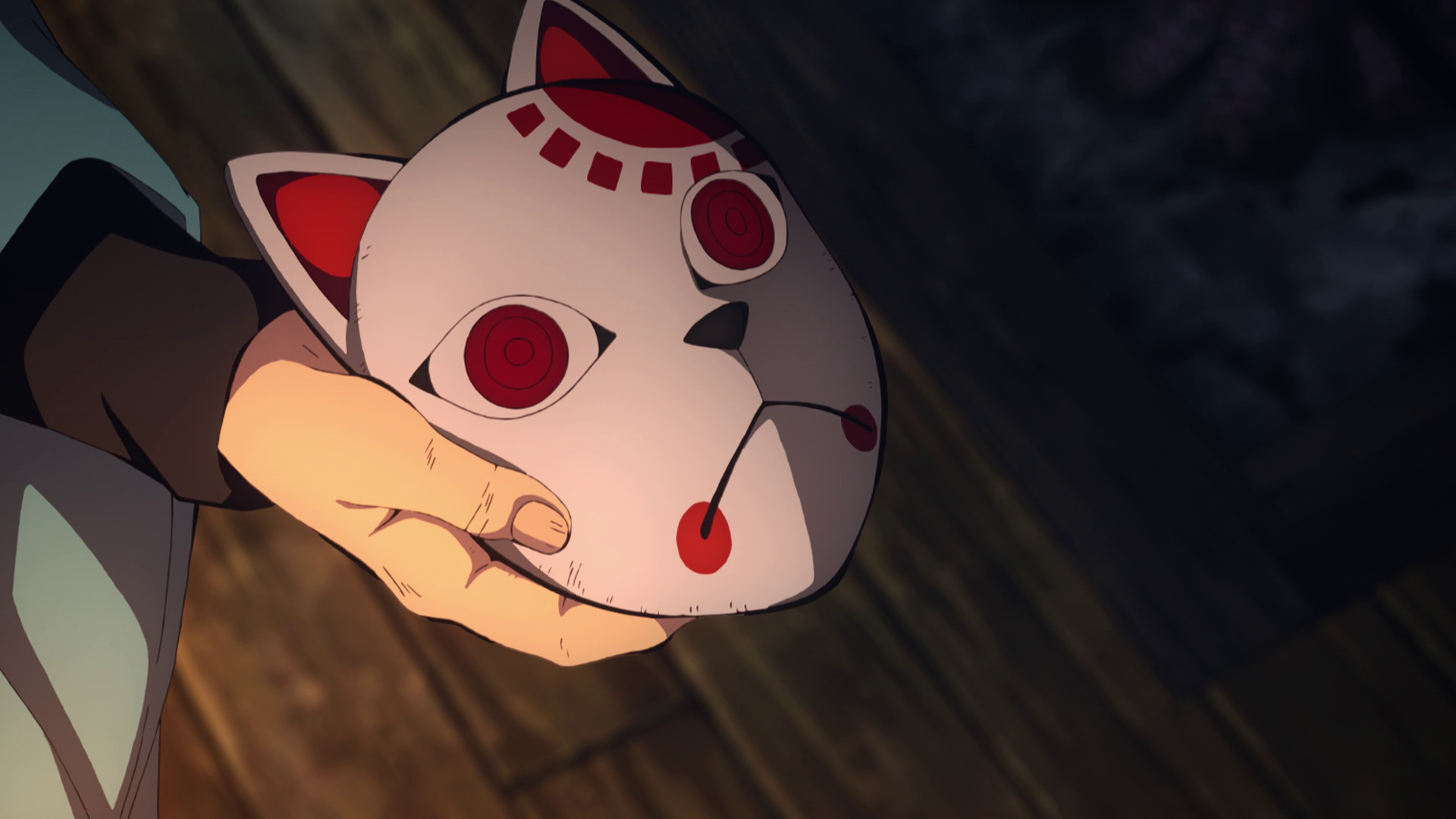 Making masks is another pleasure of Urokodaki's, which he enjoys sharing with his beloved pupils. These masks, which he has imprinted with a protection spell and refers to as "warding masks," are not your typical masks. Since Urokodaki really enjoys foxes, Kitsune masks make up the majority of his creations. The only former Urokodaki pupils that are depicted in the series wearing Kitsune masks are Sabito and Makomo. Like Sabito and Makomo, most of Urokodaki's students did not make it through the final selection arc, and Urokodaki also didn't want to lose Tanjiro. But after observing Tanjiro's tenacity, Urokodaki bestowed his blessings and he carves them a fox-themed warding mask to wear during their Final Selection. These Kitsune masks are charged with a protection spell.
Tanjiro Kitsune Mask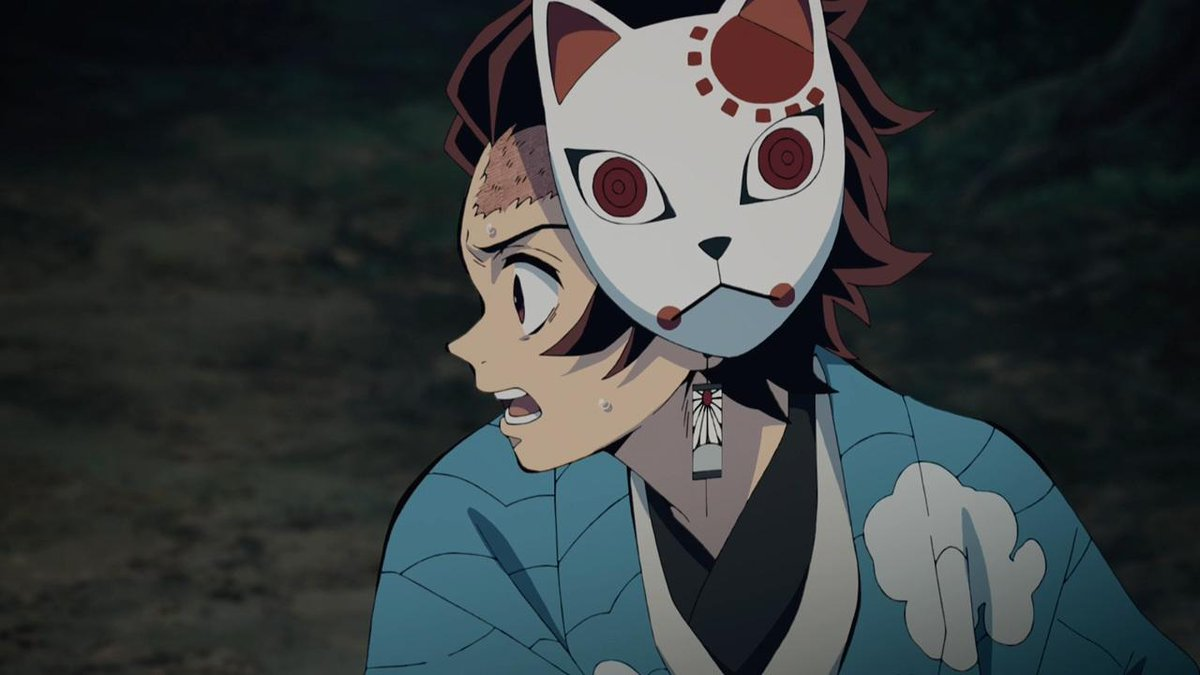 Tanjiro wears a white mask that resembles a fox's face. The eyes, ears, and spots on each corner of the mouth of the mask are highlighted in red. A sun-shaped pattern can be seen on the upper right corner of the mask, which most likely represents Tanjiro's forehead scar. Tanjiro is wearing the mask on the left side of his head, covering his full face.
A fox face is frequently chosen for a Kitsune mask because the wily mythological animal is supposed to be a shapeshifter and has been used in Japanese plays since the 14th century. It is known that foxes are paradoxical animals capable of both sincere and crafty actions, which does not suit Tanjiro Kamado. Tanjiro's auspicious pitch-black Nichirin Sword, which is believed to be a bad omen, contrasts sharply with his mask, which depicts a white fox and denotes a good omen. It might, however, be the ideal fit given the deeper meaning of the Kitsune. This myth and Tanjiro and Nezuko's story have similarities that can't just be coincidental. Innumerable demonic beings might be cured if Tanjiro successfully recovers his sister, ending the necessity for bloodshed and warfare.
Sabito's Mask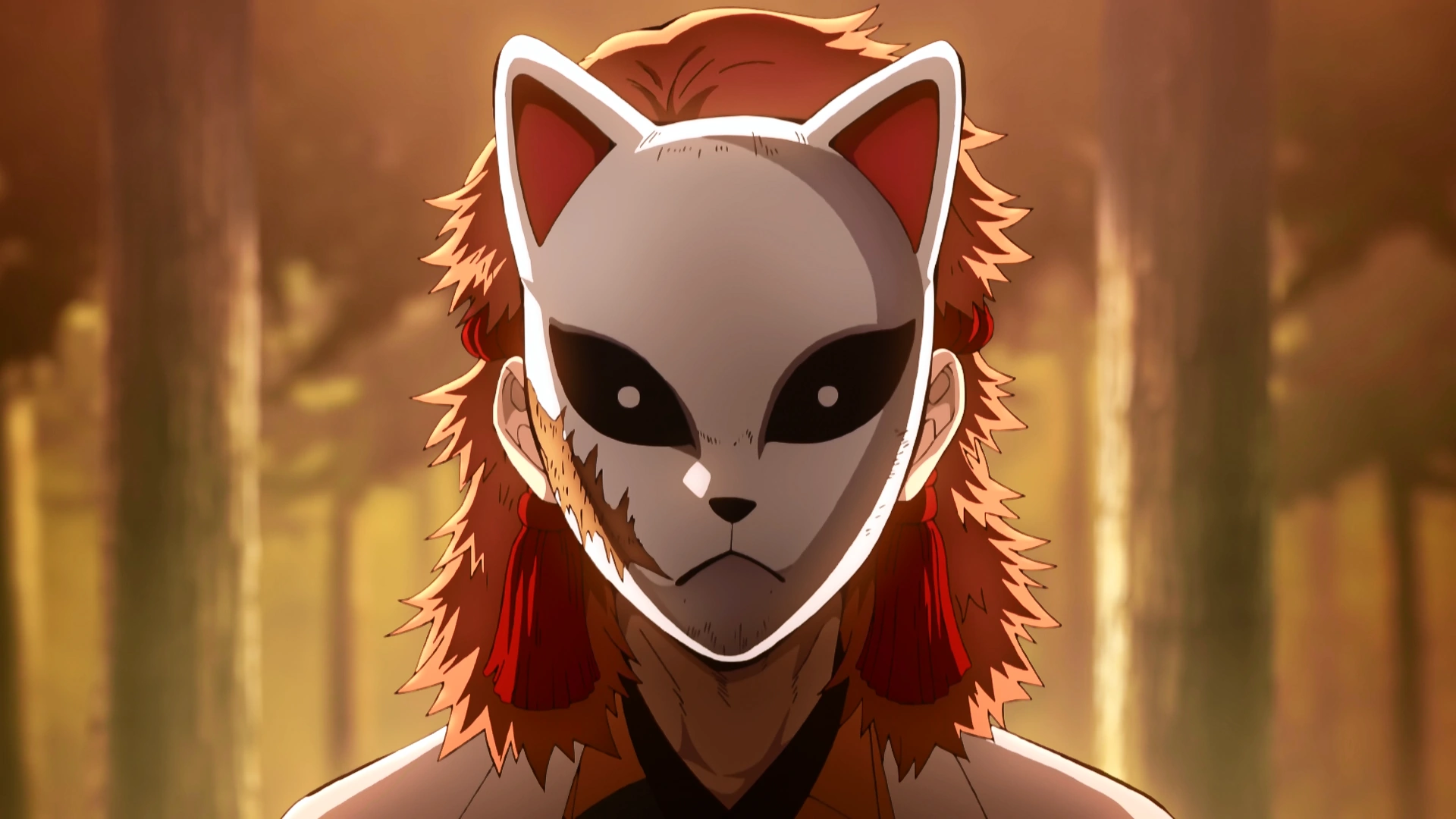 Sabito's mask is a white mask in the form of a fox's face, embellished with a sizable scar in the same spot as Sabito's facial scar. The ears of the mask are gray-red, while the eyes and nose are black. Sabito was wearing a mask that covered his entire face and was fastened to his head by a thick crimson rope, the ends of which dropped down from behind each of his ears.
Additionally, Sabito and Giyu were actually part of the same group of applicants for the Demon Slayer Corps. Giyu was truly a candidate for the Demon Slayer Corps when Sabito risked his life to save the Hand Demon from claiming any more victims. As a homage to his fallen buddy, Giyu now wears Sabito's mask in the Demon Slayer manga, while the green-patterned portion of his haori in the anime is made of the same material as Sabito's.
Makomo's Mask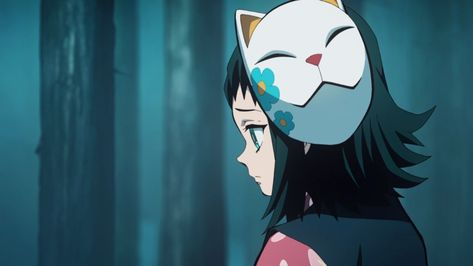 Makomo's mask is a white mask painted in the likeness of a fox's face that is also embellished on the left side with two blue flowers. The ears are yellow, while the nose of the mask is red. Closed eyes are present. The mask covers Makomo's full face and is worn on the left side of her head.
Get your Demon Slayer Mask Now!
Looking to expand your Demon slayer collection with a new sword or these masks? A new collection of swords, masks, and other merchandise from the wildly famous series Demon Slayer: Kimetsu no Yaiba has just been added to Sugoi Mart Demon Slayer Collection. You can get all the Demon Slayer stuff you could possibly want!
You can also purchase the Sugoi Mart Demon Slayer Lucky Bag. Each bag contains 10 unexpected Demon Slayer collectibles from plushies, toys, character bath towels, bath bombs, blind boxes, demon slayer official Japanese manga, snacks, candies, drinks, and stationeries. Get this Demon Slayer lucky bag from Sugoi Mart for all the Japanese-only Demon Slayer collectibles. Grab one while they're still available!