Japan is a country that works according to the seasons. Whether it be seasonal activities or seasonal products, it might be challenging to avoid coming across "in-season" items. Starbucks Japan is no different each year. They follow the seasonal trend and offer merchandise inspired by different seasons, especially the much-anticipated Sakura Collection. Every year in Japan, Starbucks honors the splendor of cherry blossoms in the spring and consistently demonstrates creativity by introducing us to fresh, distinctive flavors that complement the primary cherry blossom motif like the recent sakura strawberry shiratama frappuccino, sakura blooming milk latte, and Starbucks reserve roastery Tokyo. In fact, every sakura-themed good release is usually met with long lines from both locals and tourists who eagerly anticipate these launches. Read on and discover the 2023 Starbucks Japan Sakura Collection.
Starbucks Japan Cherry Blossom Releases
Starbucks Japan fans eagerly await the news about what is about to happen in Starbucks Sakura when it is sakura season. They are uncontrollably excited to sample the newest drink concoctions and flavors. That said, Starbucks Japan's sakura collection blooms earlier than the cherry blossoms. You can expect a cherry blossom experience through unique beverages and snacks as part of its Sakura traditional series this year.
Additionally, Starbucks Japan enhances its augmented reality system to produce a brand-new, distinctive experience that differs from last year's. You can't really deny that Starbucks Japan deliberately created its pink and cherry blossom collections so that locals and even visitors would fall in love with them. Let's experience the vibrant and lively cherry blossoms with a sense of vitality this spring at Starbucks Japan. Here are the newest Starbucks foods, drinks, and merchandise to level up your Spring 2023 experience.
Starbucks Japan Cherry Blossom Merchandise 2023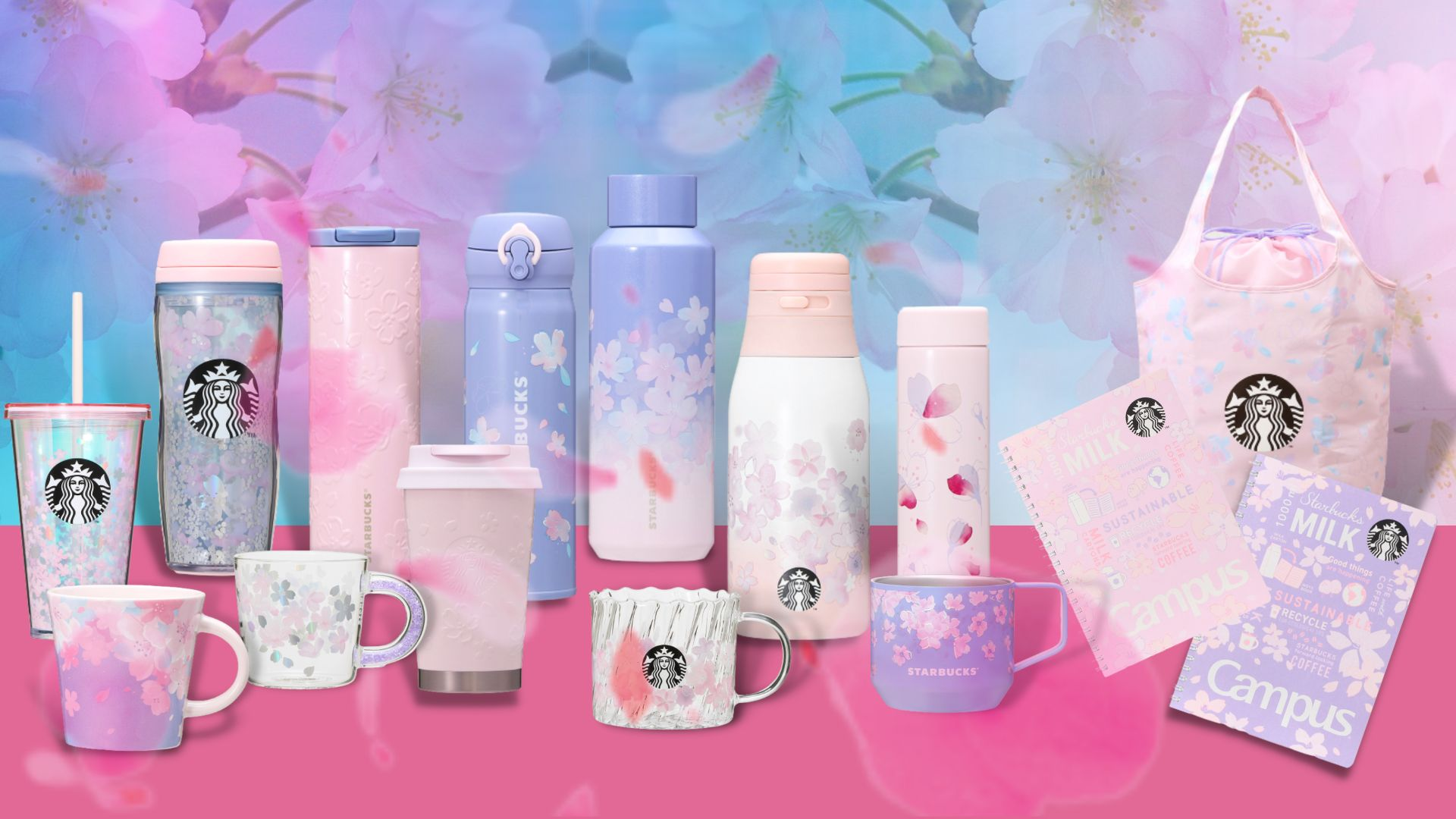 Starbucks Japan offers mugs and tumblers with a subdued cherry blossom season design that comes in lovely pink and baby blue hues. There are also furoshiki, or traditional wrapping cloths, as well as reusable cotton gift bags, stationery, and notepads. Who wouldn't want this lovely Starbucks cherry blossom merchandise? Here's the list of the new Sakura 2023 merchandise:
SAKURA 2023 Color Changing Tumbler 355ml

 

SAKURA 2023 Handy Stainless Purple Bottle 500ml

 

SAKURA 2023 Stainless Petit Bottle 180ml

 

SAKURA 2023 Stainless Steel Gradient Bottle 473ml

 

SAKURA 2023 Handle Lid Stainless Steel Bottle 355ml

 

SAKURA 2023 Stainless TOGO Embossed Logo Tumbler 355ml

 

SAKURA 2023 Stainless Steel Cylinder - Embossed Tumbler 473ml

 

SAKURA 2023 Shining Blue Bottle 355ml

 

SAKURA 2023 Cold Cup Shining Tumbler 473ml

 

SAKURA 2023 Stainless Steel Blue Mug 340ml

 

SAKURA 2023 Color Changing Purple Mug

 

SAKURA 2023 Heat Resistant Twist Line Glass Mug

 

SAKURA 2023 Bead Handle Heat Resistant Glass Mug 355 ml

 

SAKURA 2023 Starbucks Japan Pink Campus Ring Notebook

 

SAKURA 2023 Starbucks Japan Purple Campus Ring Notebook

 
Starbucks Japan Cherry Blossom Beverage 2023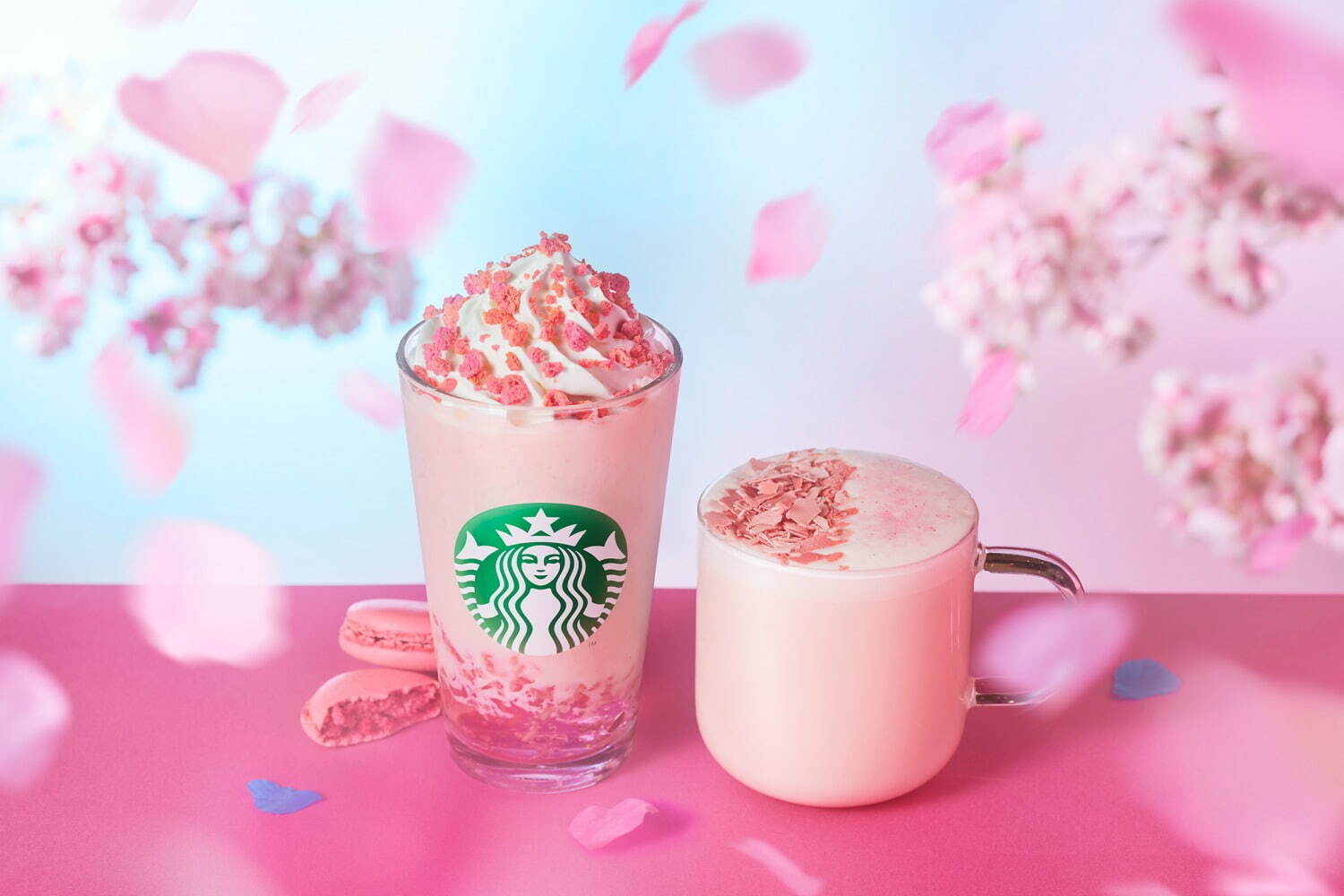 Every year, Starbucks Japan releases spring-only cherry blossom-flavored drinks, which is one of the events that both Japanese and foreigners look forward to. Starbucks will launch two new Sakura-flavored drinks in the spring of 2023, a cold frappuccino and a hot latte which will exclusively be sold in Japan.
Sakura Blooming Saku Saku Frappuccino

This spring drink was created as a tribute to cherry blossoms in full bloom. The terms "saku," which means "to blossom," and "saku saku," which means "crisp," are combined in the Sakura Saku Saku Frappuccino. This Sakura Blooming Saku Saku Frappuccino is a Sakura Strawberry flavored Frappuccino produced with cherry blossom jelly in the bottom of the cup blended with cherry blossom petals and with cherry blossom flavored pearl sugar.

Moreover, this drink focuses on the texture. Cherry blossoms are depicted as being in full bloom on the top of the cake using whipped cream and adorable strawberry-flavored macaroon crumbs. Every sip of this drink is created with strawberry-flavored Frappuccino and pearl sugar with a sakura taste that will surely make your heart dance with happiness.

 

Sakura Soy Latte

Sakura Soy Latte is a non-caffeinated beverage made with steamed soy milk, cherry blossom strawberry shavings, and pink silver sugar. In each cup of the Sakura Soy Latte, steaming soy milk is added to a sakura strawberry sauce creating a spring taste to start your cold morning. This hot beverage is decorated with sakura strawberry chocolate shavings and pink sugar to evoke the full bloom of cherry blossoms and make you eager for spring.
Starbucks Japan Cherry Blossom Treats 2023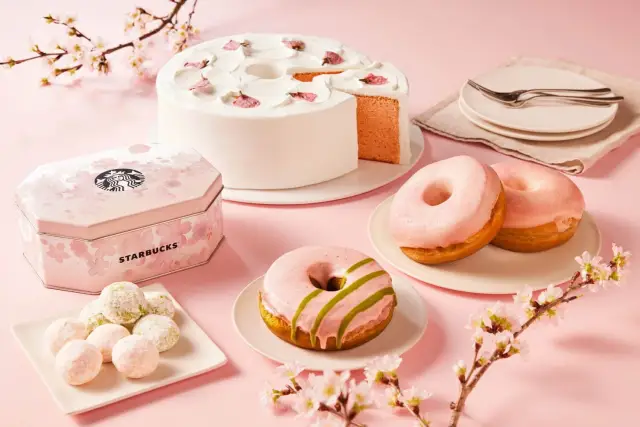 Starbucks Japan also has this year's selection of delicious sakura treats with cherry blossom themes to look forward to. A unique combination of flavors, such as the Sakura and Green Tea Donuts, springtime treats with the delicate aromas of cherry blossoms and matcha green tea will be made available for the first time in Spring 2023. There will also be other classics, such as the beloved Sakura Chiffon Cake, which is served every year.
Sakura and Matcha Doughnuts

Sakura and Matcha Doughnut has a chewy matcha dough and is filled with matcha cream coated with a cherry blossom and matcha flavor. You can taste the ideal balance of sweet and salty cherry covering and matcha flavor from this Sakura and Matcha Doughnut dough and cream.

 

Sakura Doughnut

The popular Sakura taste and fairly salty balance of the Sakura Donut will be revived and launched this year. Two kinds of cherry blossom powder, each with a distinctive flavor and color, are sprinkled on top of the dough for the sugar donuts. The cherry blossom coating is mildly sweet and melts in your mouth while keeping the cherry blossom taste and the dough's moist and chewy texture.

 

Sakura Chiffon Cake

Here's a special cherry blossom-scented chiffon cake available only during this time of year. This cake has a very chewy, springy, and moist cherry blossom chiffon dough mixed with sakura leaf powder and salted cherry blossoms sprinkled on top to give you the best cherry blossom flavor to the very last bite.

 

Can of Sakura and Matcha Cookie Balls

Here's a soft-textured ball cookie that lets you savor the tastes of Sakura and Matcha in a can box. The cherry blossom-themed can box is the ideal present for your loved ones. It features cherry blossoms in full bloom.
Sakura Starbucks Japan In-store AR Experience
Every year during the Sakura season, Starbucks Japan offers an early cherry blossom viewing experience through AR experience. Customers may get a delightfully immersive augmented reality (AR) experience through their cellphones in Starbucks locations around Japan for a brief period of time without installing a specific app. During the campaign period, a unique QR code printed on a poster will allow you to access a hidden miniature world with magical cherry blossom scenery and cute bearistas with macaroons.
In addition to the limited-content Starbucks store posters, QR codes are printed on store receipts, shopping bags, and the packaging for online stores, among other places. The only way to access this limited-time content is through the smartphone's camera function; no extra software needs to be downloaded. Enjoy an early spring while engaging in a unique augmented reality experience with a Sakura beverage in one hand.
Sugoi Mart's Starbucks Collection
The merchandise and drinks from Starbucks Japan's 2023 Sakura line will go on sale on February 15, 2023, and last through March 14, 2023. Due to its high level of popularity, quantity will be very limited.
So, if you're thinking about trying cherry blossom-flavored beverages and food, be sure to remember the release date and visit the Sugoi Mart Starbucks Collection, and selection results in a full page refresh. Keep an eye on this post for the announcement of cherry blossom-themed special merchandise!