There are only two months left in the year as of today, which means that Christmas will be coming up in less than two months, and Starbucks is known for putting up with its Christmas special offers and merchandise right away. Each year is really worth the Christmas spirit with the well-known Starbucks holiday cup and the reintroduction of a full menu of festive food and handmade beverages.
Christmas Cups in Starbucks Japan Throughout the Years
1997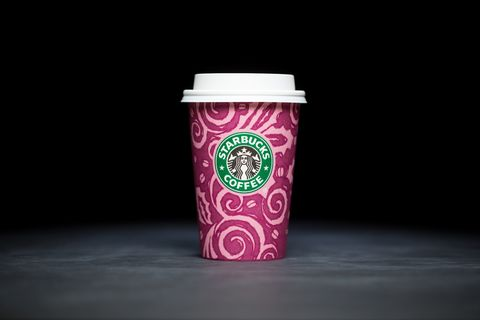 These inaugural holiday cups will make each customer enjoy a Christmas Blend brewed coffee in one of four jewel-toned hues.
1998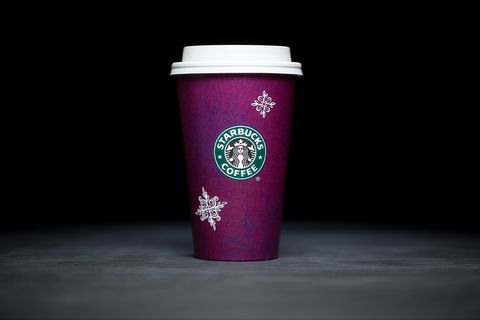 Deep purple and sepia hues were used to decorate these 1998 cups. Also, this classy Christmas cup features a swirling snowflakes design.
1999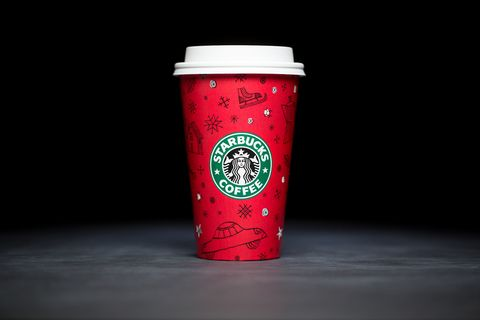 This colorful design features black line drawings of snowflakes, stockings, and winter parties, and it introduces the iconic candy-apple red Starbucks holiday cup.
2000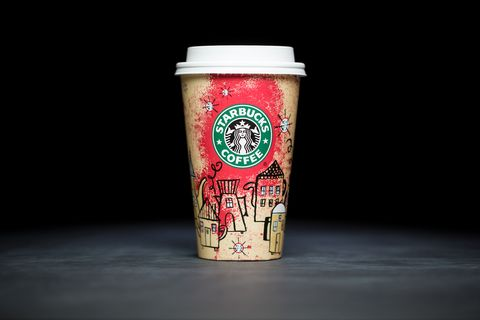 This 2000 Starbucks cup's "Coffeetown" design featured a whimsical community of coffee pots against a sparkling night sky.
2001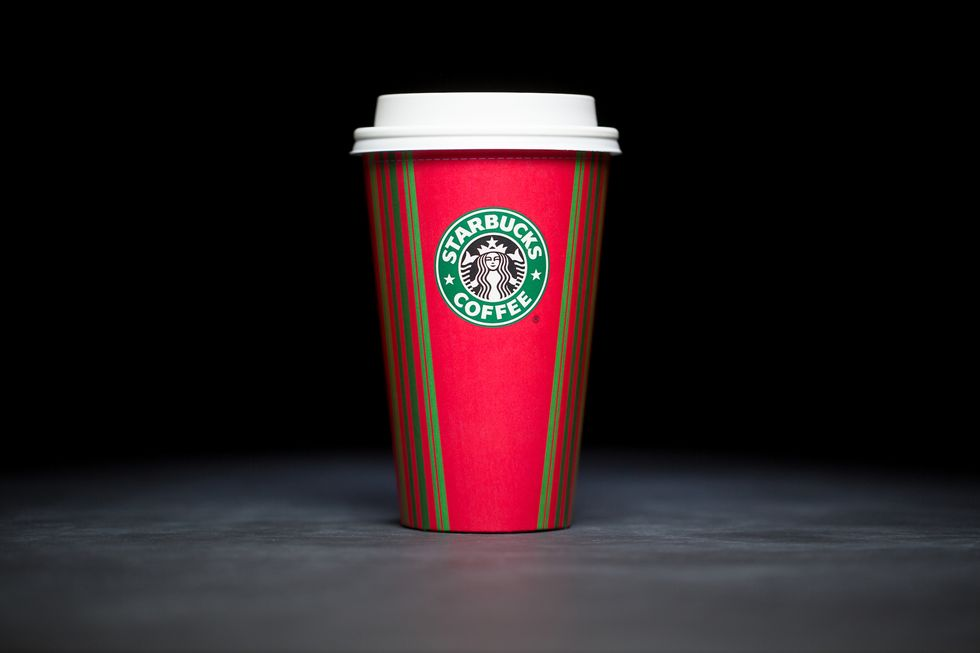 With the launch of the first Starbucks Gift Cards, giving the gift of coffee was made simpler than ever for this holiday season. The cups themselves are styled to resemble gifts, and they are finished with vintage postage stamps and green and red ribbons.
2002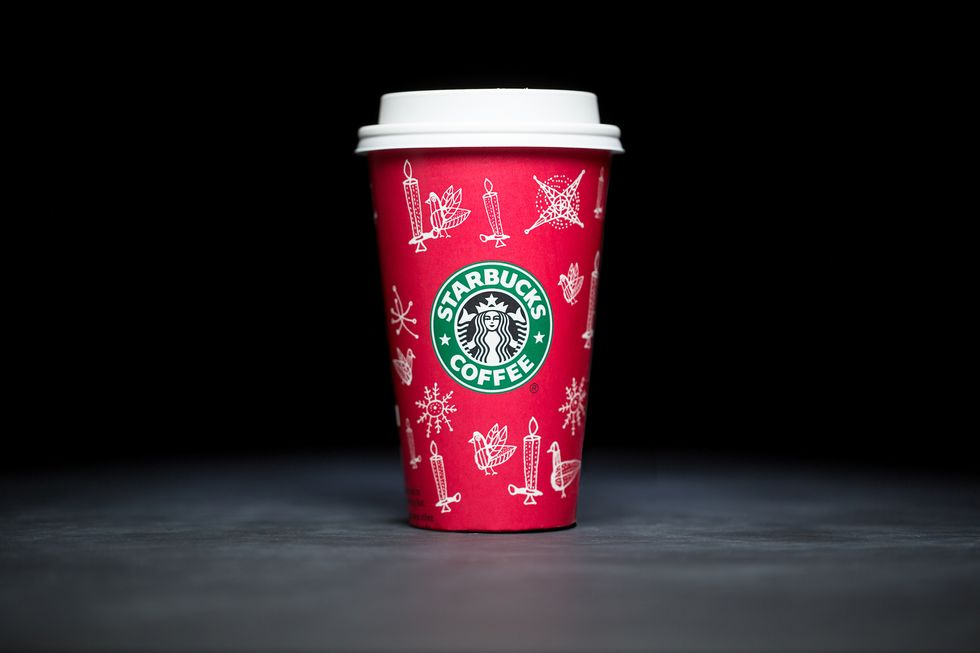 In 2002, adorable pictures were included in the cup design. White line art, an illustration style that reappeared in 2005 and 2016, was used in a cup design this year.
2003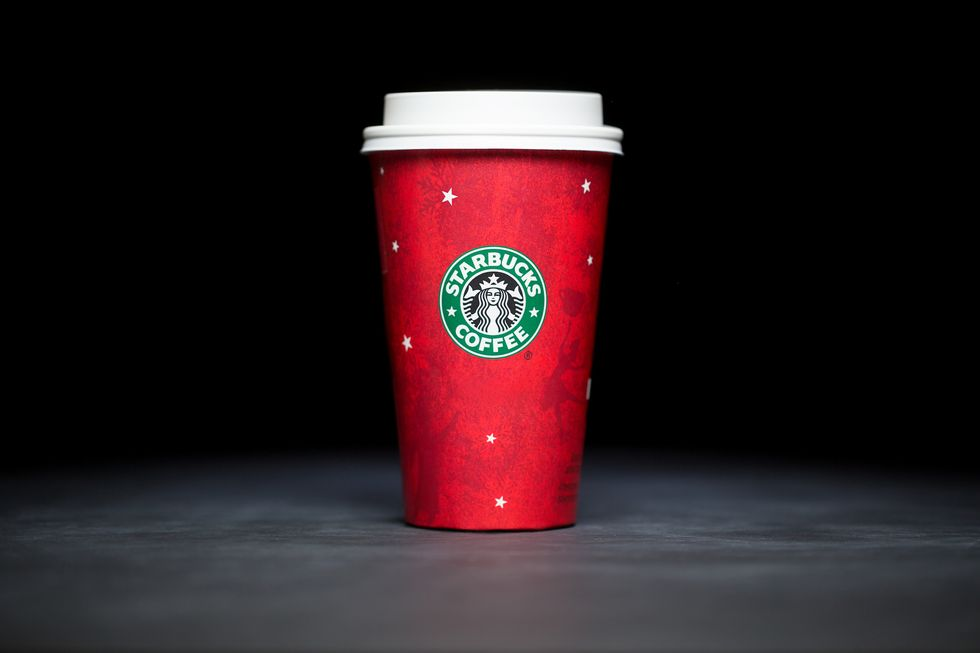 The cup from 2003 featured a lovely snowflake pattern. It also features an unbelievable scene with twinkling stars and snowflakes covered in shadows.
2004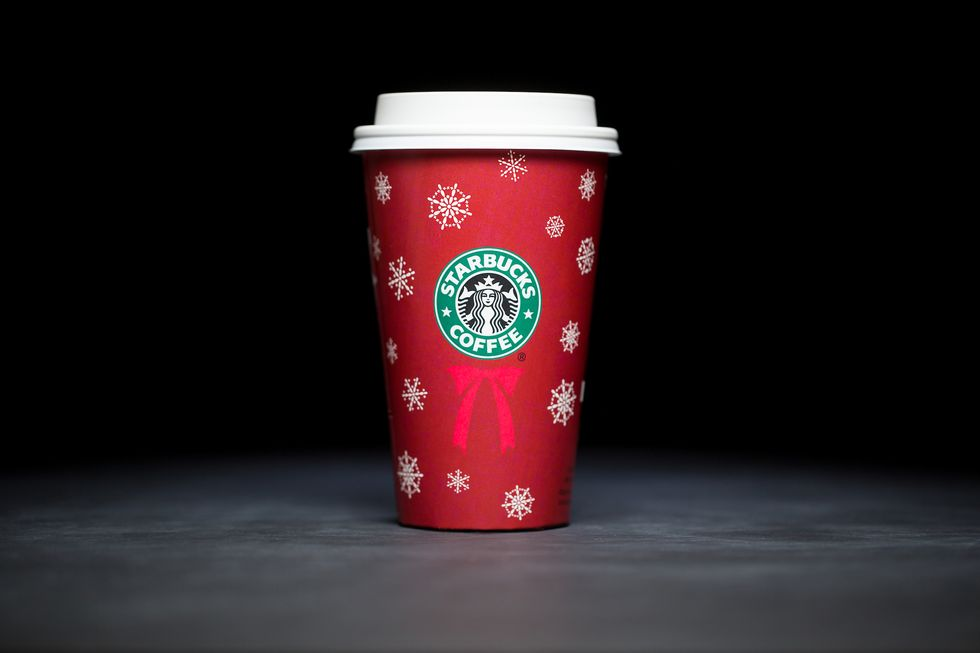 In this year's cup design, the Starbucks emblem is reminiscent of an evergreen wreath. The cup was also the focus of a Starbucks advertisement, appearing mounted on the roof of a yellow cab that was zooming through San Francisco's streets.
2005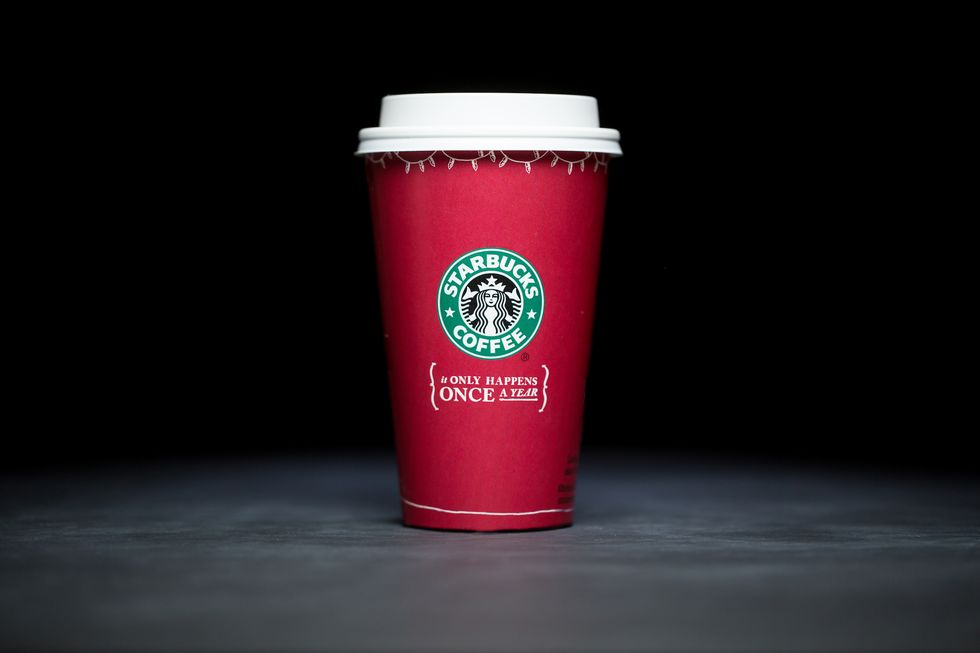 This cup is one of the best holiday cups that Starbucks has introduced. This cup has taken the attention of all customers, even without the existence of social media. People eagerly anticipated the introduction of these holidays' disposable coffee cups as the artwork has white paintings in the manner of woodcuts, a string of holiday lights flashing along the rim, and the phrase "It only happens once a year."
2006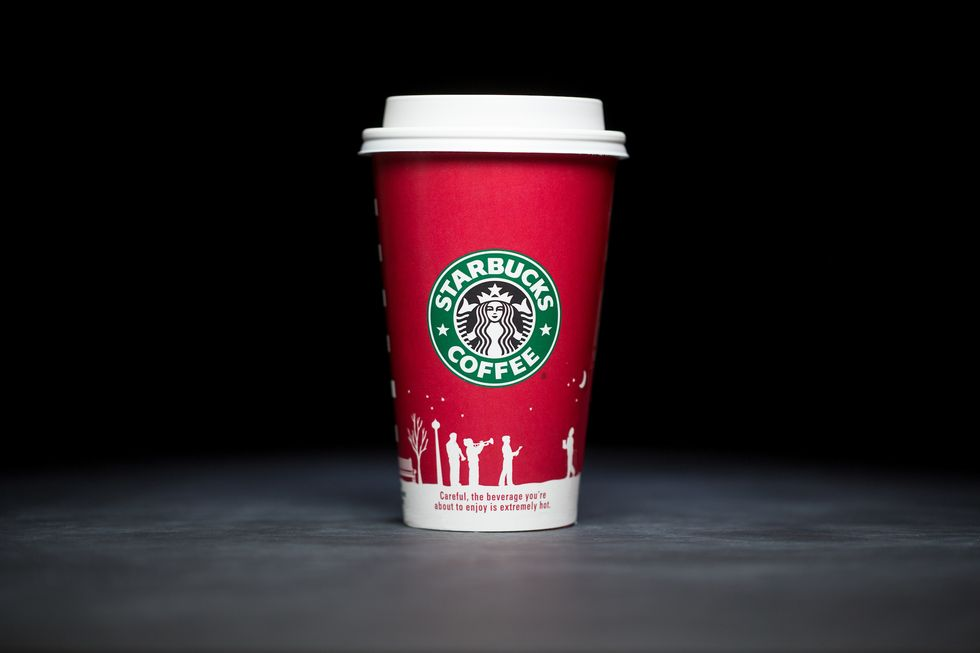 This cup features a classic holiday vignette, and illustrations that resemble elaborate cut paper shapes come together. Moreover, the bottom of the 2006 red cup features holiday shoppers and ice skaters for a festive trim. Business on top, party on the bottom.
2007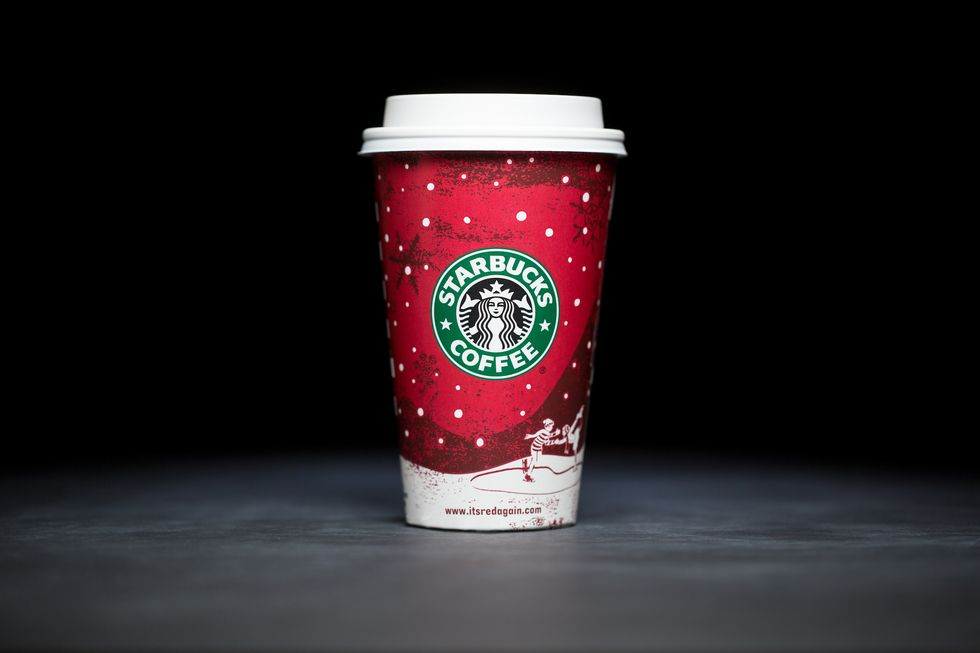 In this serene winter image, ice skaters spin on a frozen pond as snowflakes softly fall. The motto "Pass the cheer" was printed on the coffee sleeves for the 2007 red cup campaign, which had a snowflake-filled background.
2008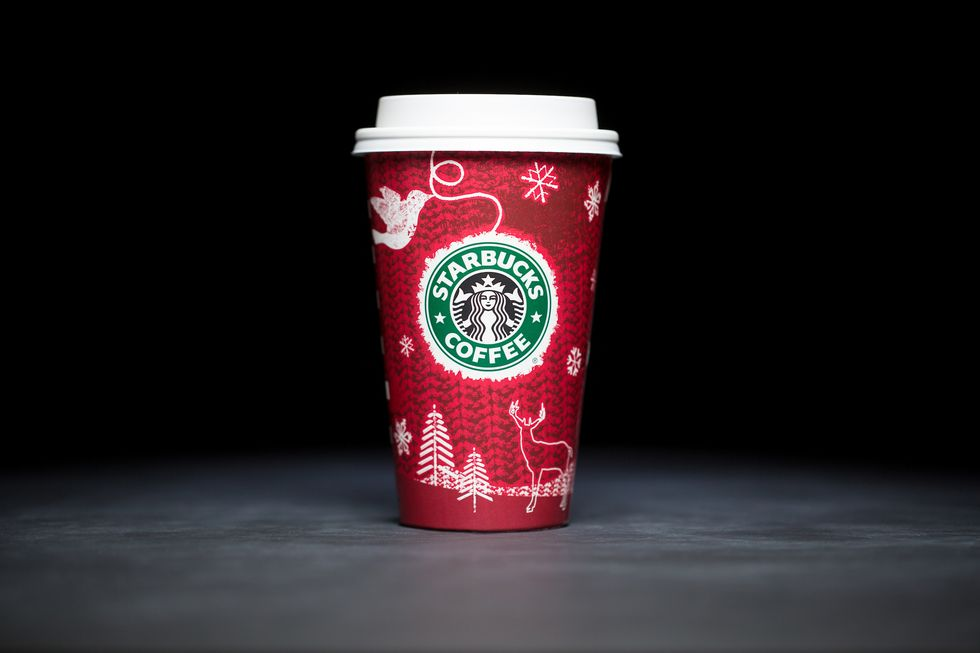 This cup boasts an overlaid, cozy crocheted pattern that depicts a field of reindeer and a lone white dove in a moonlit woodland scene. Everyone also adores the understated picture that turns the Starbucks logo into an ornament.
2009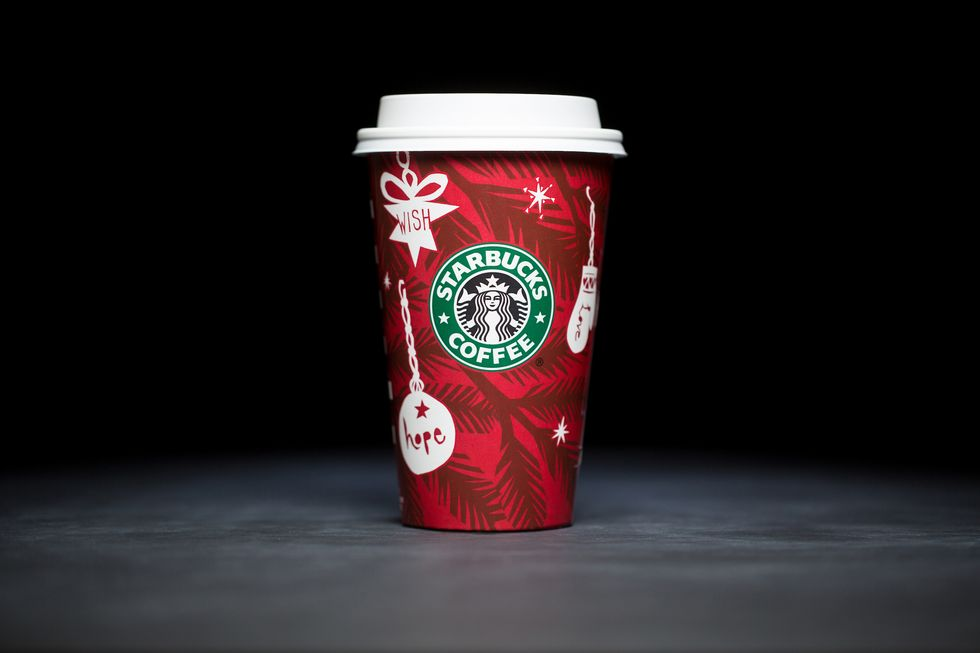 This year's cup design incorporates different red cup ornament dangling from evergreen branches, bearing the "joy, hope, love, light, peace" imprinted on them. The words and decorations were accentuated in this red cup, along with other traditional holiday buzzwords.
2010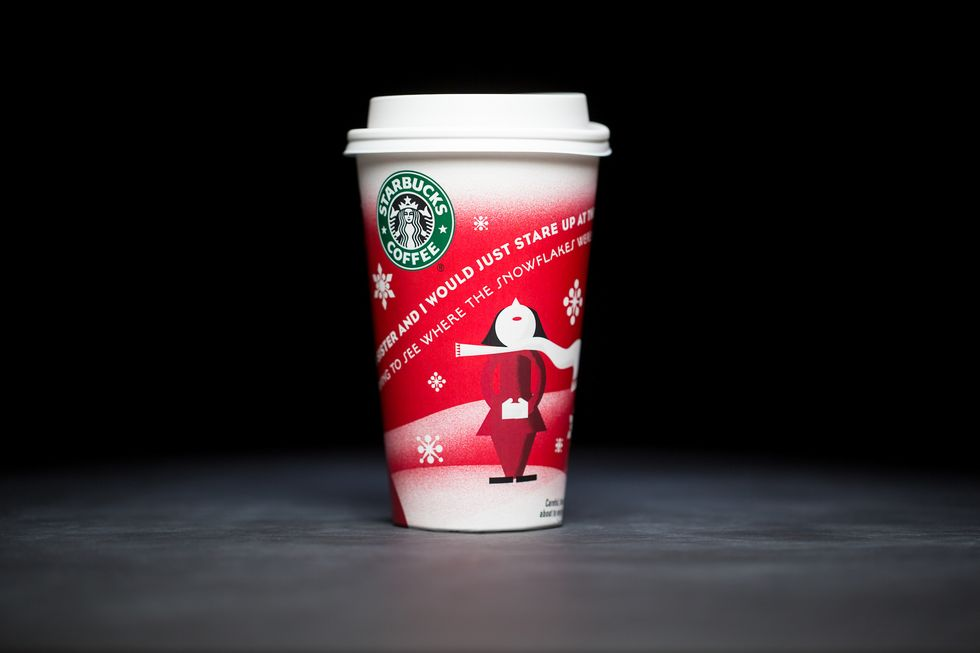 Christmas will never be complete without carolers, and because of that, Starbucks included them in their 2010 holiday cups. The new decade's first designs began with individuals singing and some Christmas lyrics with new festive creatures catching snowflakes in a color scheme of red, white, and gray.
2011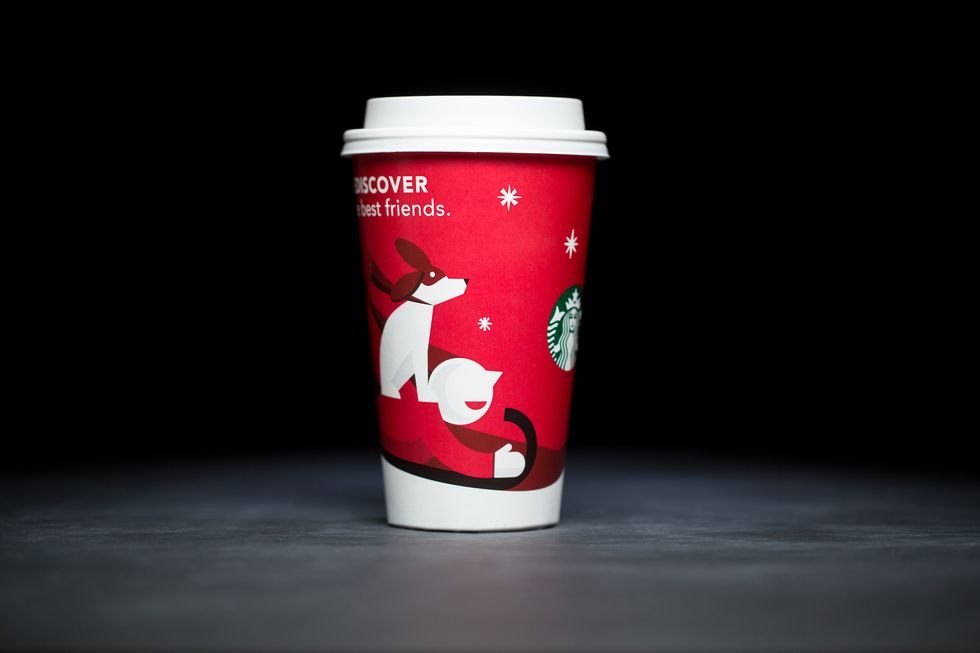 This year, Starbucks offers three holiday cups, including carolers singing, an ice skater spinning, and a dog sled sliding down a slope. Starbucks Cup Magic allows customers to bring these joyful scenes to life.
2012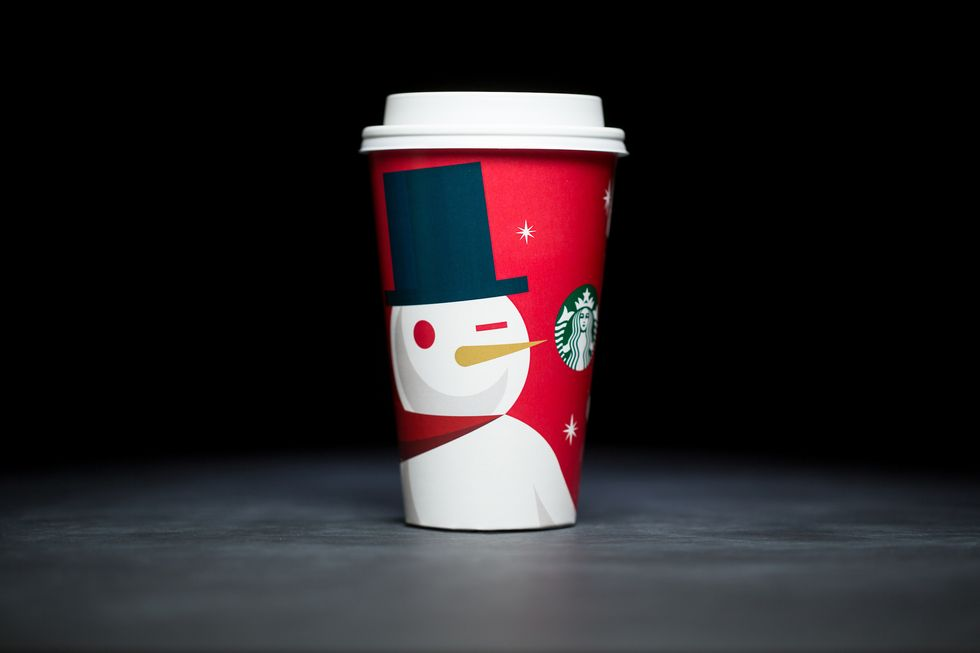 This cup is loved by many, with incredible striking accents of navy and gold. The Christmas characters, including a cheery snowman, get their close-up in this design series.
2013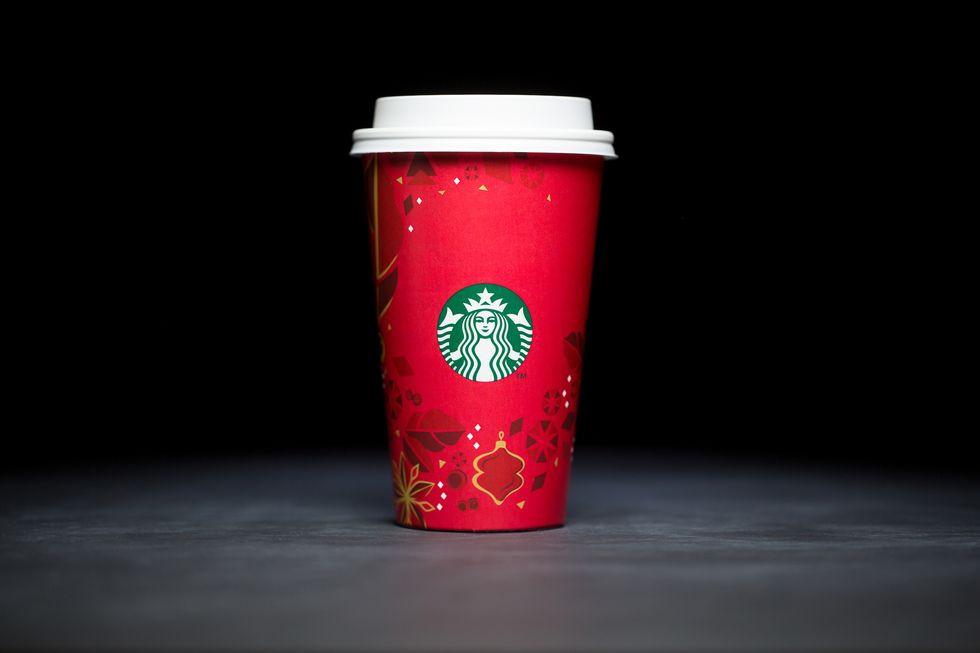 Everything about these red cups was ornamental. Coffee cherries, coffee flowers, and vintage ornaments painted in a rich garnet with hints of gold adorn the cup.
2014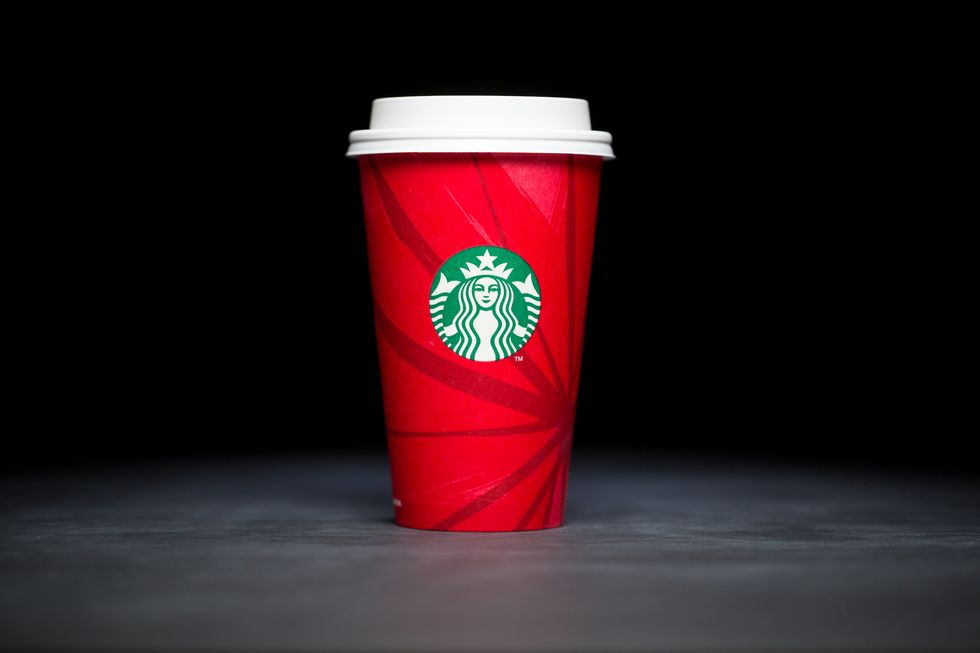 The holiday's theme this year is "Let there be bright," and it has colorful designs in vivid hues. This crimson cup was plain and elegant, with brushstroke trees and snowflakes.
2015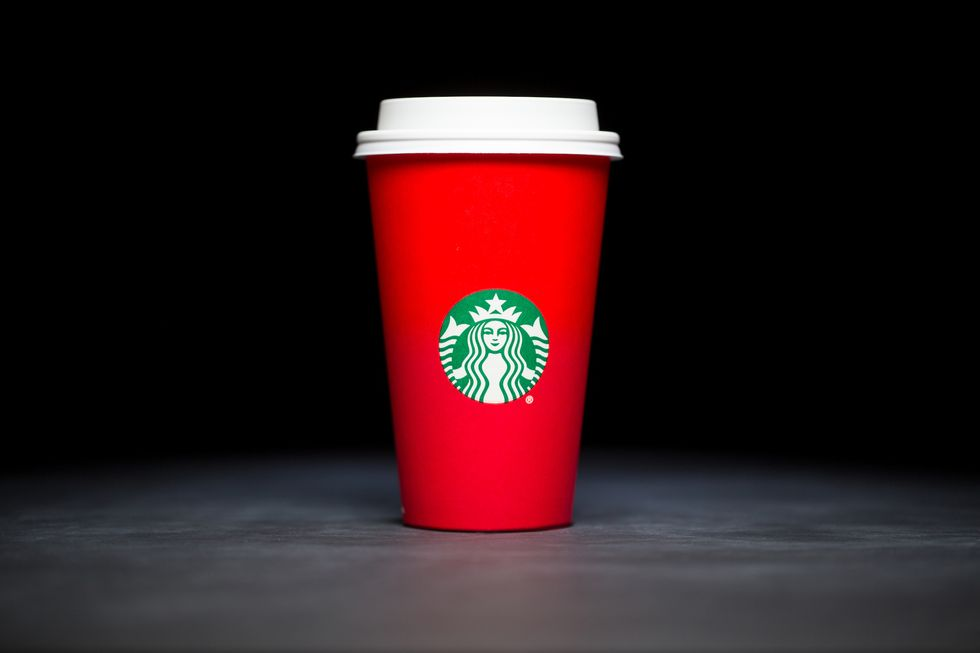 The cup has a two-toned ombré pattern, with a bright poppy color on top and a deeper cranberry shade below. This simple design is made to provide customers of all backgrounds and religions worldwide with Christmas experiences that embody the spirit of the season.
2016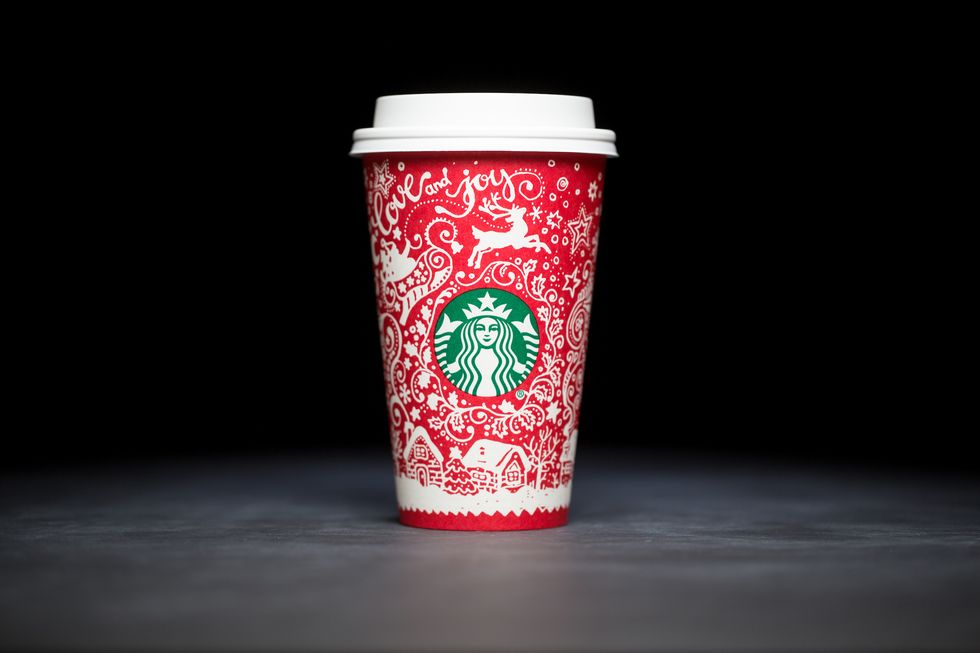 Last 2016, Starbucks' holiday season was marked by 13 cups with personalized designs made by consumers. For the first time, Starbucks is offering holiday cups made by customers. There are 13 different designs, each featuring hand-drawn white against a red background, and they come from six different nations.
2017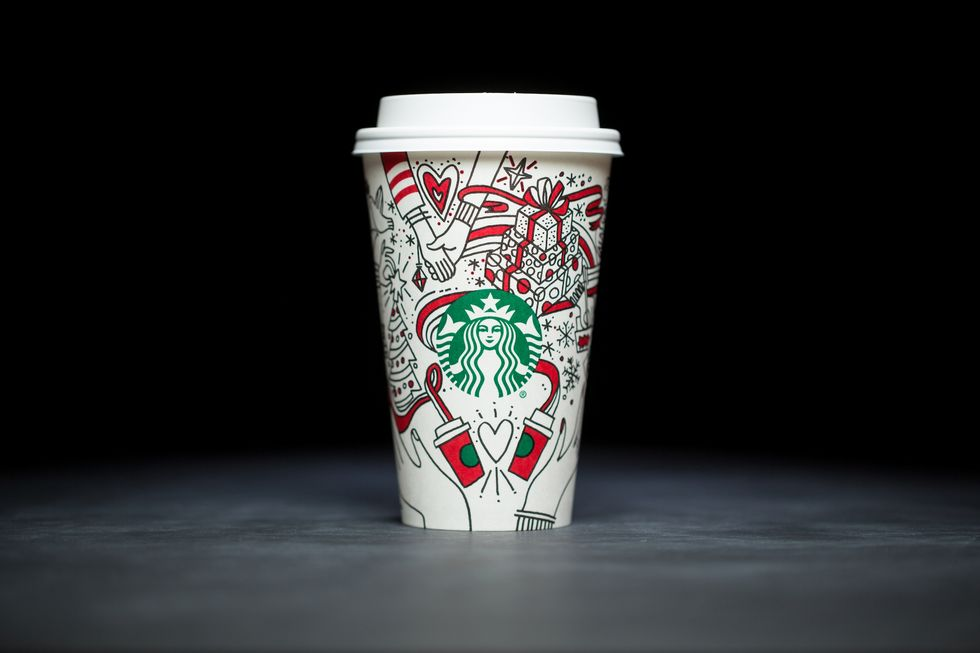 Starbucks introduces its first white Christmas cup with a pair of hands joined by wavy ribbons and splashes of red and green that customers may color themselves. Starbucks stated that the holiday cup for that year was specifically created to invite their customers to add their own colors and designs. It was all about customer customization.
2018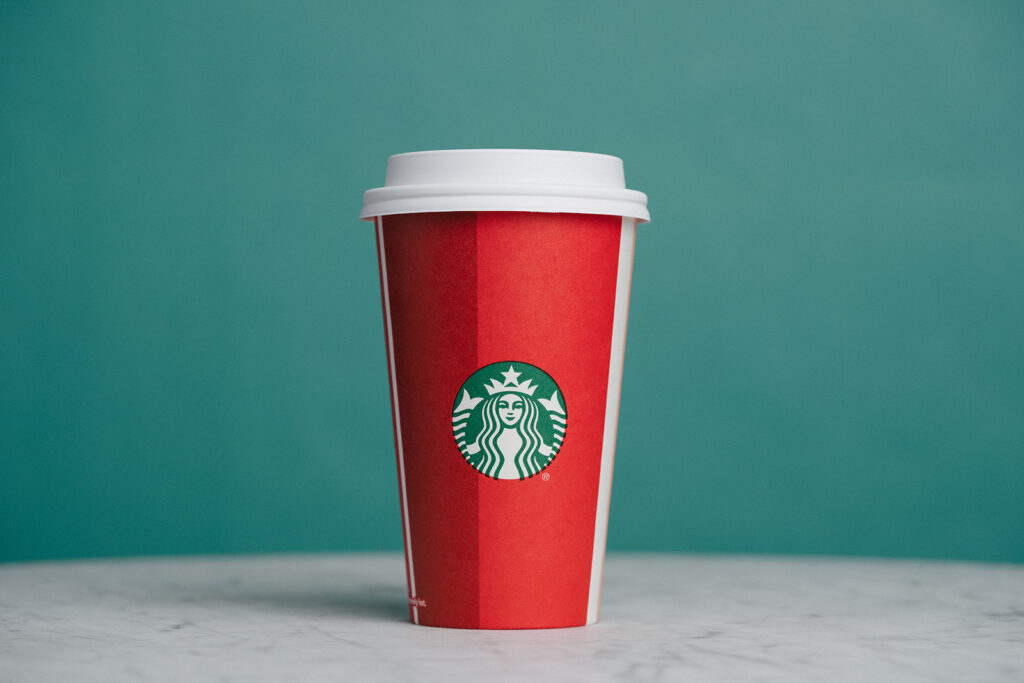 Starbucks introduced four designs for its seasonal cups, receiving largely positive feedback. The designs paid respect to earlier design components but had a retro touch by utilizing old hues and patterns.
2019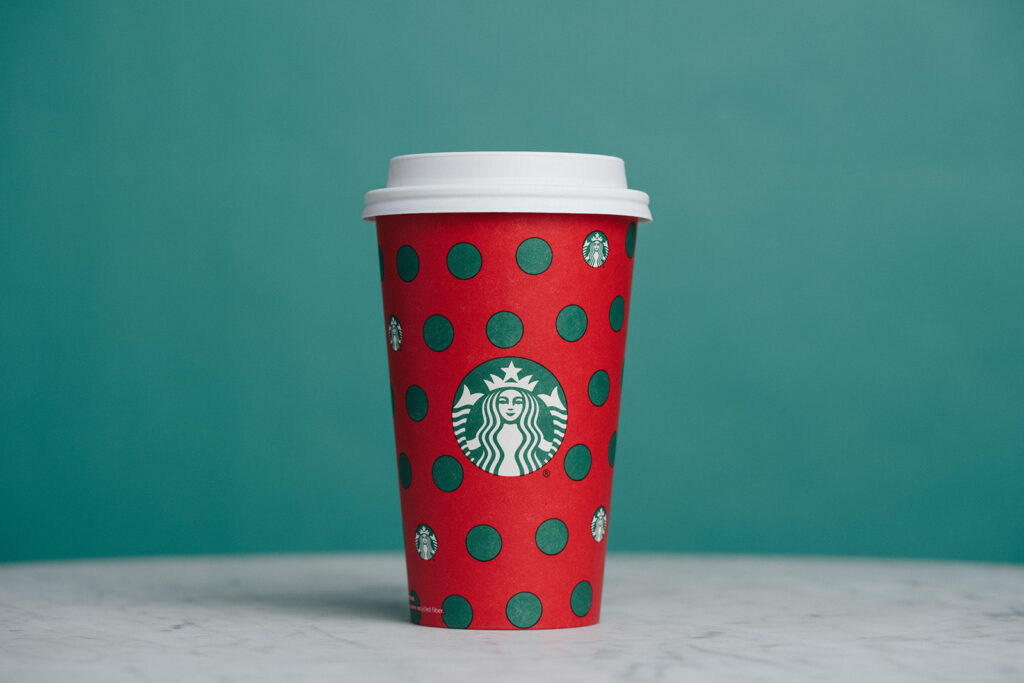 With the four cups sporting polka dots, joyful dance, merry stripes, and candy cane stripes, Starbucks cups were definitely more extra in 2019. Starbucks noted that the fashionable style and cheery hues were intended to evoke tiny moments of delight for customers and partners with its fun, festive, and distinctly Starbucks.
2020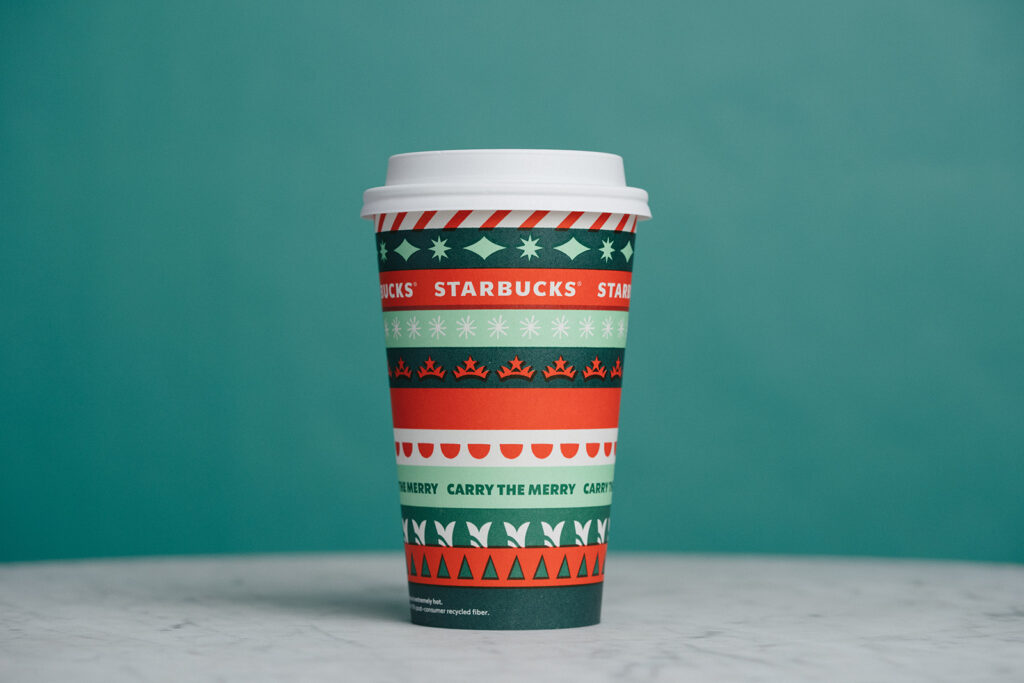 To give it a bit more pop, they added greens and a red that is a little brighter than the red that Starbucks may be known for. The 2020 theme for the brand, "Carry the Merry," was inscribed on two of the samples, and it was represented by the four primary designs of Ribbon, Dot, Sparkle, and Brand Wrap.
2021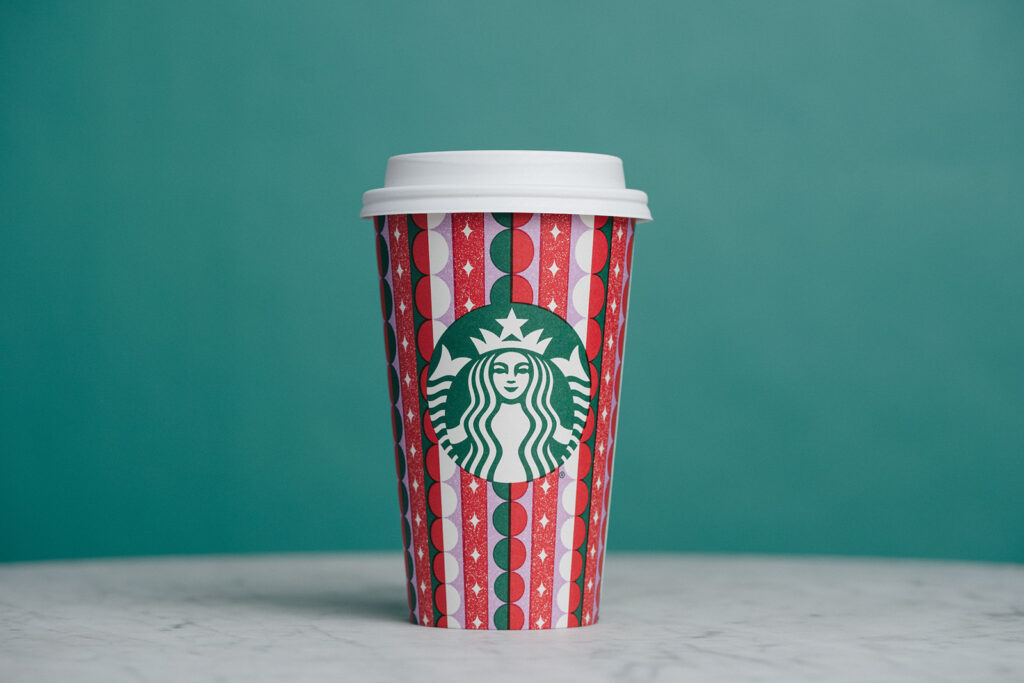 The cups from the previous year were made in traditional red, green, and white hues with traces of frosty lilac. And in maybe Starbucks' most heartfelt effort yet, each one had tiny gift tags that made space for a positive note.
These cups were the face of Starbucks during the Christmas season, in addition to the best-limited hot drinks, snacks, and merchandise. All Starbucks stores in Japan will serve festive drinks, including a frappuccino, a hot beverage, and sweets. Let's encircle ourselves in the Christmas magic while enjoying Starbucks Japan's delectable food, beverages, mugs, and tumblers!
What to Look for Starbucks 2022 Christmas?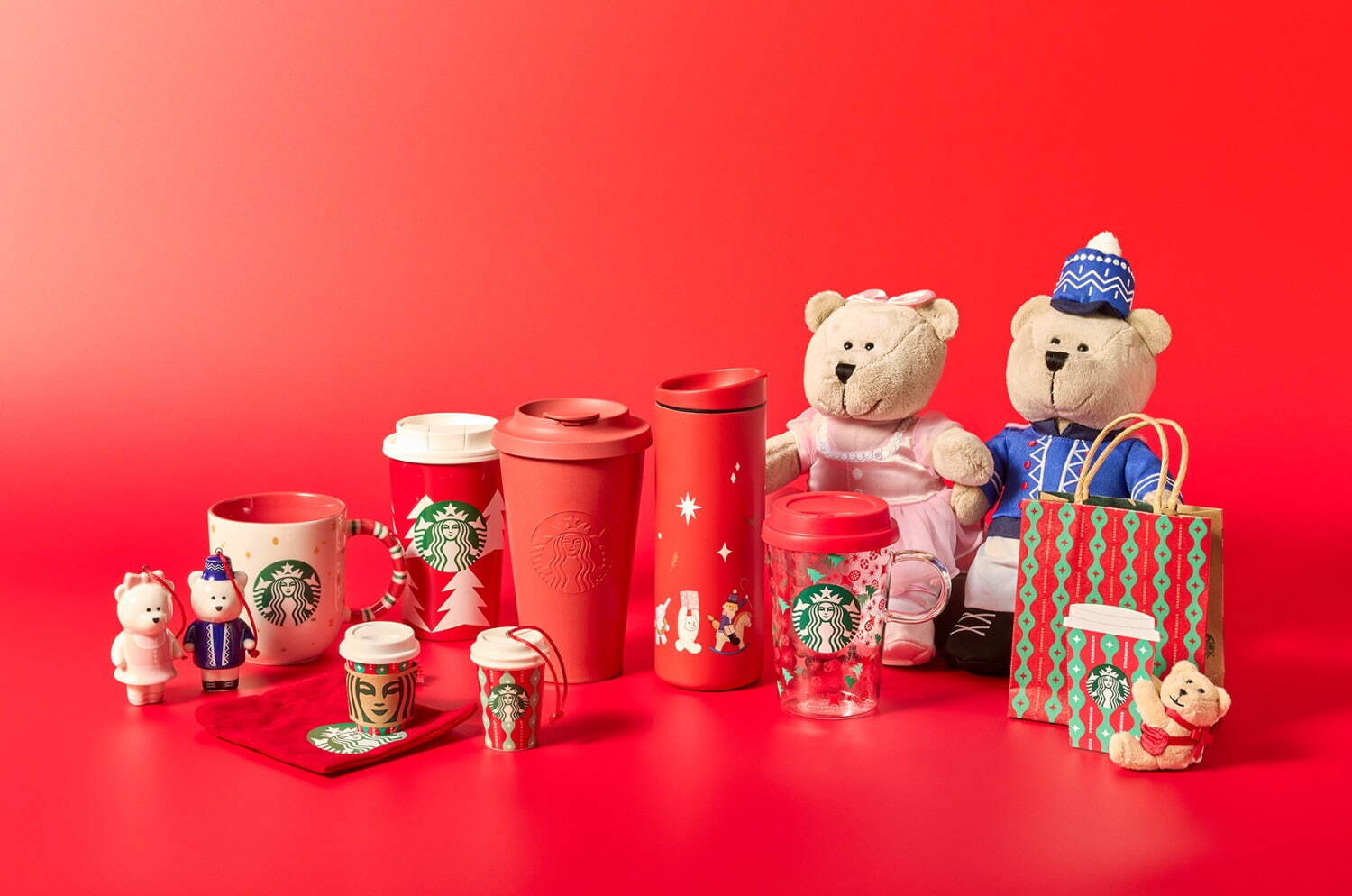 As Christmas approaches, Starbucks is always one step ahead, announcing its holiday Christmas specials early. The Starbucks Christmas collection offers a variety of products, including teddy bears, tumblers, and even mugs. It includes the Velvet Brownie Frappuccino, Nutty White Chocolate Frappuccino topped with whipped cream, Creme Brulee Latte, Joyful Medley Tea Latte, Gingerbread Latte, red velvet cake, caramel chocolate cake, strawberry mochi-mochi crepe cake, Bearista Ballerina, Bearista Nutcracker, Rice Husk Tumbler, Red Cup Heat Resistant Glass Mug, Bearista Message Gift, and Red Cup Mini Cup Gift. Immerse yourself in the Japan-limited Starbucks products in the Sugoi Mart shop now!