Nothing catches a nation's imagination like Japan's "sakura" season. They are famous, the focus of admiration at picnics, are poetry's obsessions, and even sprinkled in Starbucks lattes. The Sakura is very closely linked to Japan, and it even has its own festival that is more about gathering with loved ones to partake in food and drink and celebrate the start of spring. This is the time of year when cherry blossoms, or "sakura" as they are known in Japanese, make for a delightful sight as they briefly appear around the nation.
Cherry blossom season, or hanami, offers more than just beautiful scenery. This seasonal sensation also brings in a ton of limited-edition goods devoted to the delicate pink bloom to help you literally taste the season. Read on to discover everything you need to know about sakura season and what's inside the limited Sugoi Mart's sakura lucky bag!
What is Cherry Blossom Hanami Festival?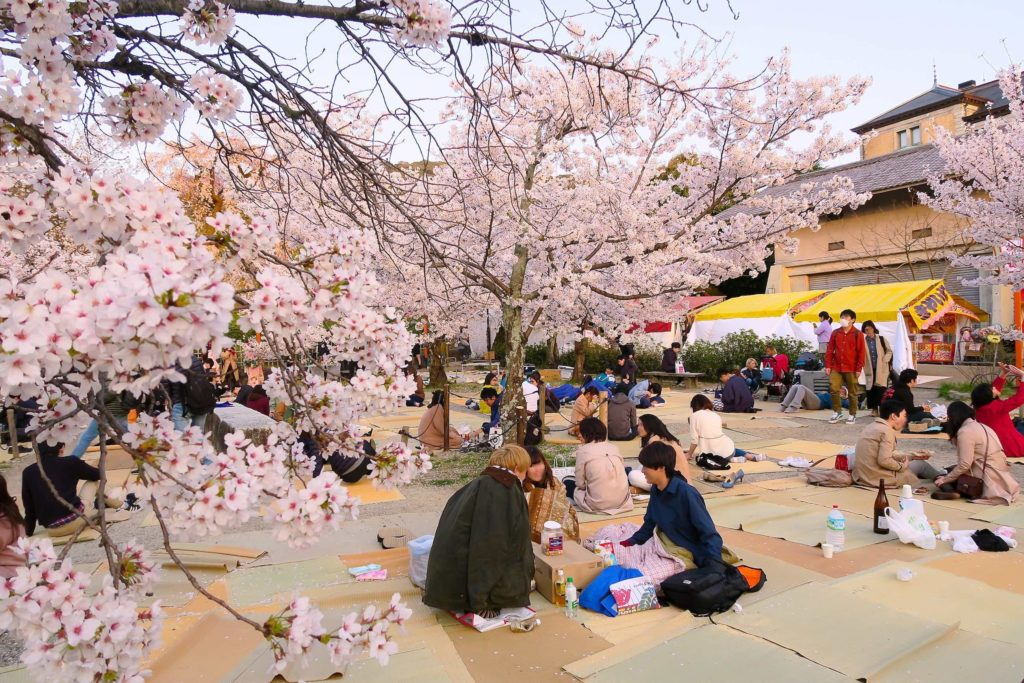 Hanami means "viewing flowers," but it generally signifies cherry blossom viewing. Japan's well-known cherry blossom festival season lasts for approximately two weeks, depending on where you are. Dedicated cherry blossom watchers can travel north to enjoy even more sakura sightings because cherry trees can bloom all the way through to May the further north you go. Some of the greatest places to see the blooms include Maruyama Park, Mount Yoshino, Himeji Castle, and Fuji Five Lakes. Additionally, the Japanese take advantage of this period to picnic in parks and gardens while the weather is still cool, while for visitors, this is a unique experience with countless photo opportunities, including trees that are exploding with color and typically complement majestic temple settings and picturesque parks.
History of Cherry Blossom Hanami Festival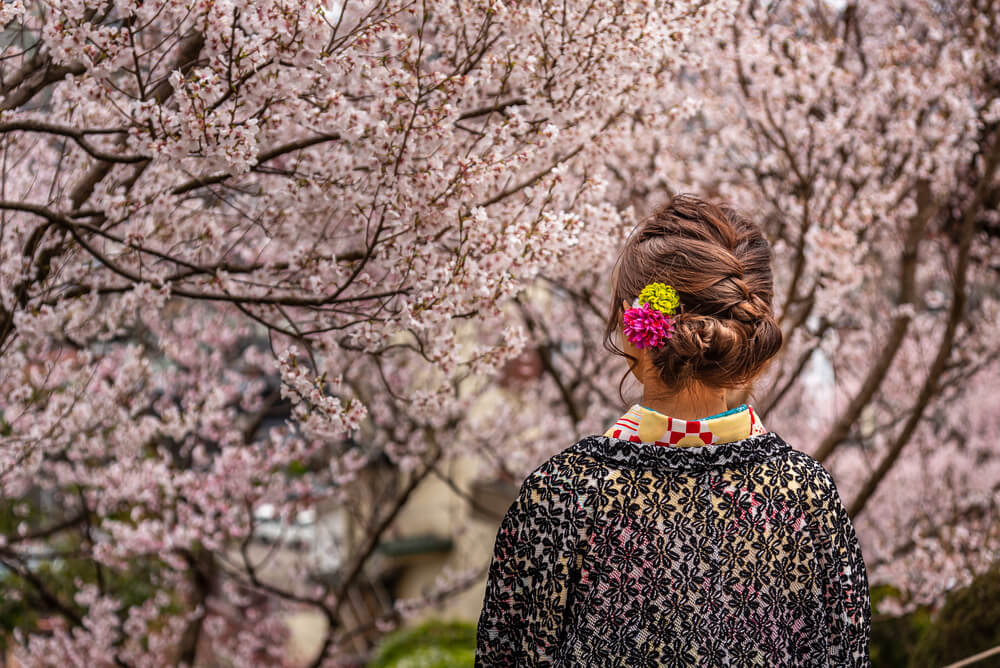 Hanami is a long-standing Japanese tradition that dates back to the Nara Era 1300 years ago. Aristocrats who visited Nara, the capital of Japan at the time, to witness the "ume," or plum trees, in bloom are credited with starting it. Around 1200 years ago, cherry blossom trees were thought to have taken center stage in hanami during the Heian Period. In fact, many of these trees are given to American countries in honor of American Independence by the Japan America Society.
Furthermore, during the Edo Period, this hobby moved from the emperor and aristocrats in Kyoto to the common people of Tokyo. The cherry blossom festival started when people gathered and opened stores. Street lights and lanterns were gradually added, allowing people to eventually enjoy the cherry blossom features even at night. Since 2000, there have been an increasing number of locations with nightly lighting displays at the temples and shrines. In fact, hanami was once a celebration that was only held at the Japanese Imperial Court. But with time, the custom spread throughout Japan's culture as a whole and beyond.
How Cherry Blossoms Hanami Festival is Celebrated in Japan?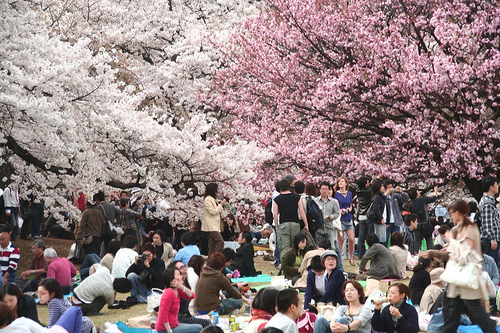 The Japanese make a habit of admiring the blossoms transformed into a picnic beneath the trees as they eat and drink. They prepare home-cooked meals, grill food, or order takeout to celebrate. As enormous masses of people flood parks, seizing the prettier sites for picnics and meetings in open areas, it may turn highly competitive. Several people will visit a potential place early in the morning or even the day before.
By the time nightfall comes along, sake has been flowing all day, so the celebrations frequently become more of a lighthearted celebration. This could be a fantastic opportunity to brush up on your Japanese and local drinking customs. While these locations are frequently less crowded and raucous, elderly Japanese will occasionally choose to visit Japanese plum parks to enjoy plum blossoms instead.
When Cherry Blossom Festivals Take Place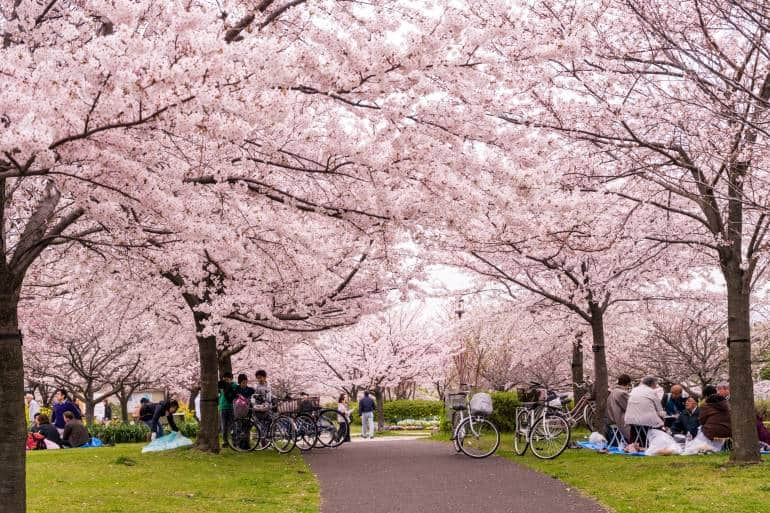 Cherry blossoms normally begin to bloom in Okinawa in January and reach their height in the Honshu region in late March or early April. In Hokkaido, the cherry blossom season normally starts around May. Predicting cherry blossom dates far in advance might be difficult, making it difficult to plan a trip just to see the flowers. The JWA (Japan Weather Association), Weather Map Co., Ltd., and Weathernews Ltd. publish forecasts for cherry blossoms in Japan each spring. Depending on the weather earlier in the year, the cherry blossoms often bloom in Tokyo and Kyoto during the months of March and April.
Moreover, in various locations, the peak travel season in Japan, known as Golden Week, frequently falls during the cherry blossom blooming season. Golden Week, which includes four straight Japanese public holidays, occurs between the end of April and the first week of May. There are cherry blossom celebrations held across the nation. The majority of them take place between March and May; however, depending on where they are, other regions hold festivals like Sakura Matsuri in January, February, and June. Festival dates might change from year to year and are typically chosen based on predictions for cherry blossoms, which makes it more difficult to plan your trip to coincide with a particular festival because of the uncertainty.
Best Hanami Spots in Japan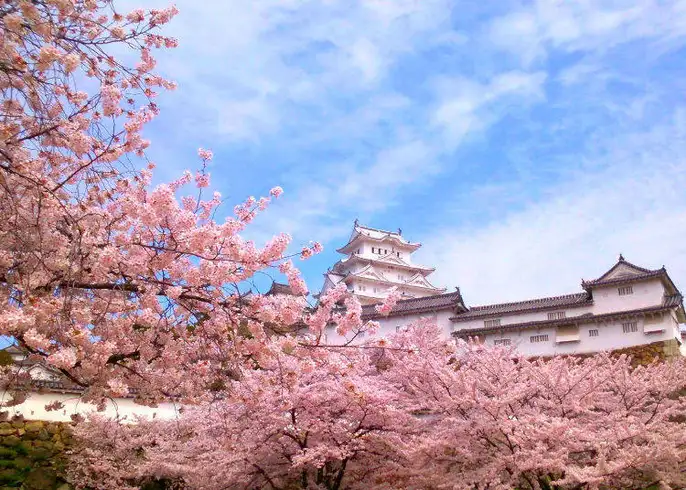 Japan is home to cherry blossoms, so traveling during this time fits wonderfully into a wide tour of the entire nation. The most crucial thing to remember is to make early plans because cherry blossom season is by far the most popular time of year to visit Japan. Accommodations in large cities, like Kyoto, typically sell out 8 to 9 months in advance. The same is true for intercity travel; shinkansen bullet train schedules between Tokyo, Kyoto, Osaka, and Hiroshima fill up quickly during the most convenient times.
That said, some of the best spots to see flowers in full bloom include the Chidorigafuchi Moat in front of the Imperial Palace, Shinjuku Gyoen, and Ueno Park streets in Tokyo. All the great buildings in Kyoto, such as Nijo Castle or Kiyomizudera, are framed by blossoming cherry trees, but viewings are especially lovely in the Botanical Gardens and along rivers like Philosopher's Way and Nakanoshima Park close to Arashiyama.
Best Cherry Blossom Festival Snacks
The lovely cherry trees transform into a sea of pink throughout the spring, and Japanese snacks are no different. Since the full, lovely blossom of cherry flowers only lasts approximately a week every year, cherry blossom season is a huge event in Japan. In parks across Japan, under the pink trees, both locals and visitors congregate to partake in hanami parties where they can socialize with family and friends while drinking and eating. Of course, when the hanami season approaches, sakura-themed snacks that are flavored or inspired by the lovely blooms overwhelm the market. Bring these sakura treats with a floral motif to your hanami picnic this year to get thrilled about the stunning views.
1. Sakura Mochi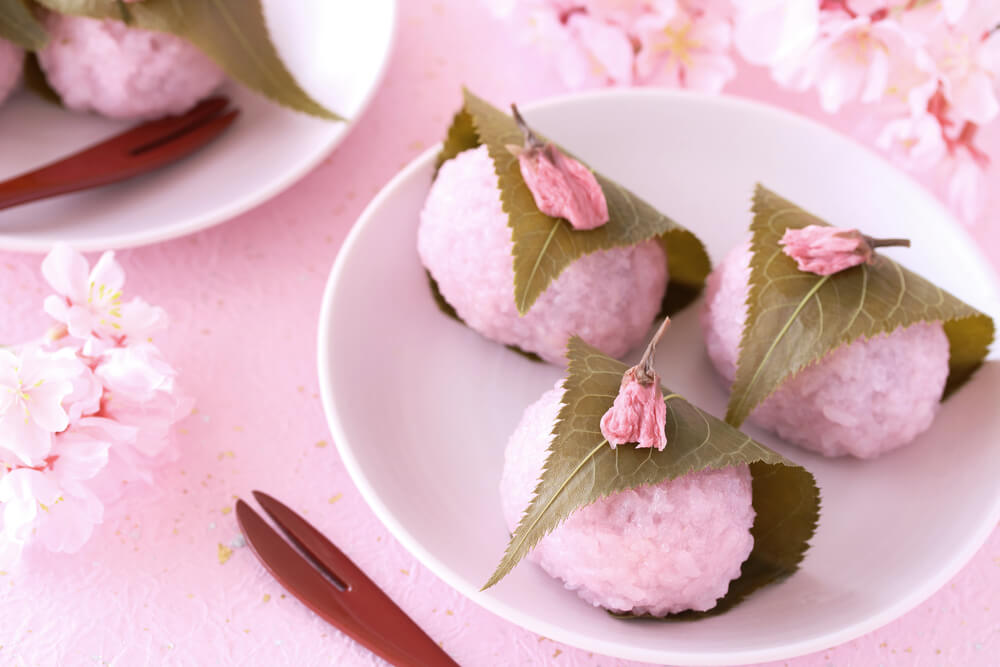 Sakura mochi, a pink-hued rice cake that is sweeter than conventional daifuku mochi, is one of the symbolic delicacies of springtime in Japanese culture. This snack is a delicious chewy mochi with sweet red bean paste (Anko) filling! Around the outside, a salty, pickled sakura leaf counteracts the sweetness of the cake, and its fragrance takes spring to the next level!
2. Hanami Dango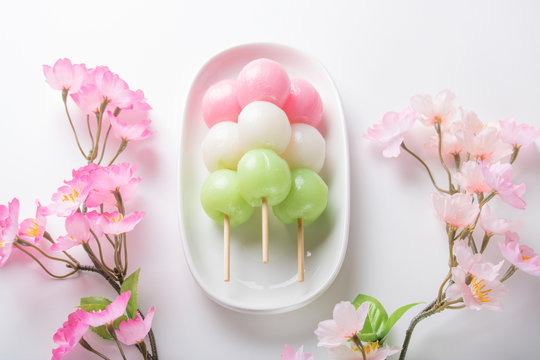 Another type of rice ball you can get in Japan is called a hanami dango, which is most common in the spring. Hanami Dango is a traditional Japanese tricolor confection served during cherry blossom viewing. Three white, pink, and green balls make up these chewy, sticky Japanese candies. Pink stands for the springtime blossom, white for winter snow, and green for the summertime grass. Rice flour, or sometimes with a combination of glutinous rice flour that has been sweetened, is used to make these dumplings. They look festive and are simple to prepare.
3. Sakura Onigiri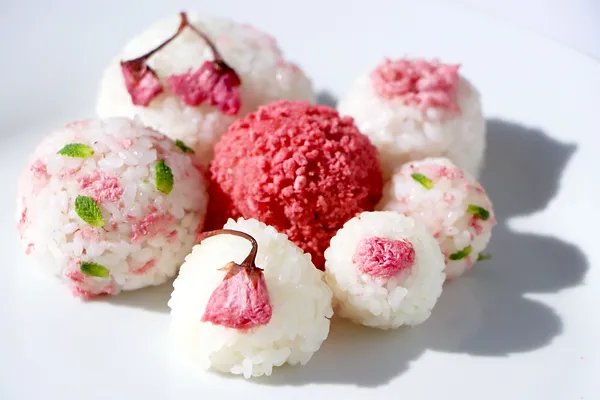 Sakura onigiri is created with cherry blossom-infused rice and water. It is a pretty salty and delectable food that has a pickled sakura leaf on the outside, the same kind that is wrapped around sakura mochi. Sakura leaves and petals are preserved by being pickled in salt and vinegar, extending the time you may enjoy them throughout the year.
4. SakuraTea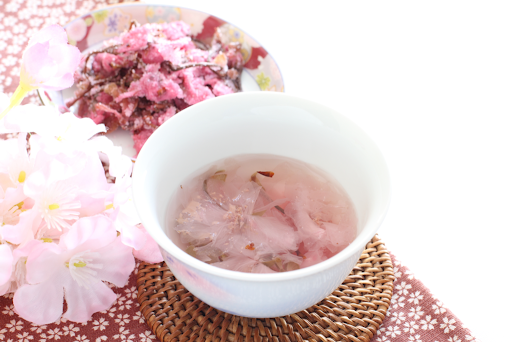 The first sakura cocktails were made from the straightforward cherry blossom tea "sakura cha" or "sakura yu," made from pickled cherry blossoms. The flavor of this tea is highly salty, with a very light floral aftertaste. Sipping this distinctive sakura tea is a seasonal delight that is widely enjoyed at special occasions like weddings. Mix some sakura flowers with your matcha green tea for a different flavor.
5. Sakura Sake and Beer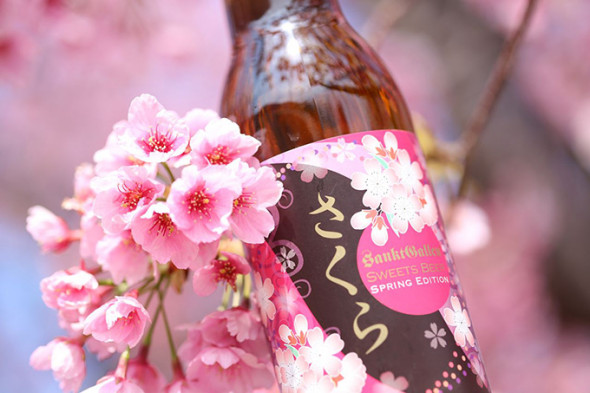 Sakura sake is made by a variety of producers in Japan to help with celebrations during your hanami gathering beneath the sakura trees. Beer cans with sakura themes are also regularly produced; however, despite their glitzy exteriors, they frequently only contain normal beer. But do not worry! Sakura sake typically has a light pink hue that is similar to a cup of hazy cherry blossom tea.
6. Limited Edition Sakura Drinks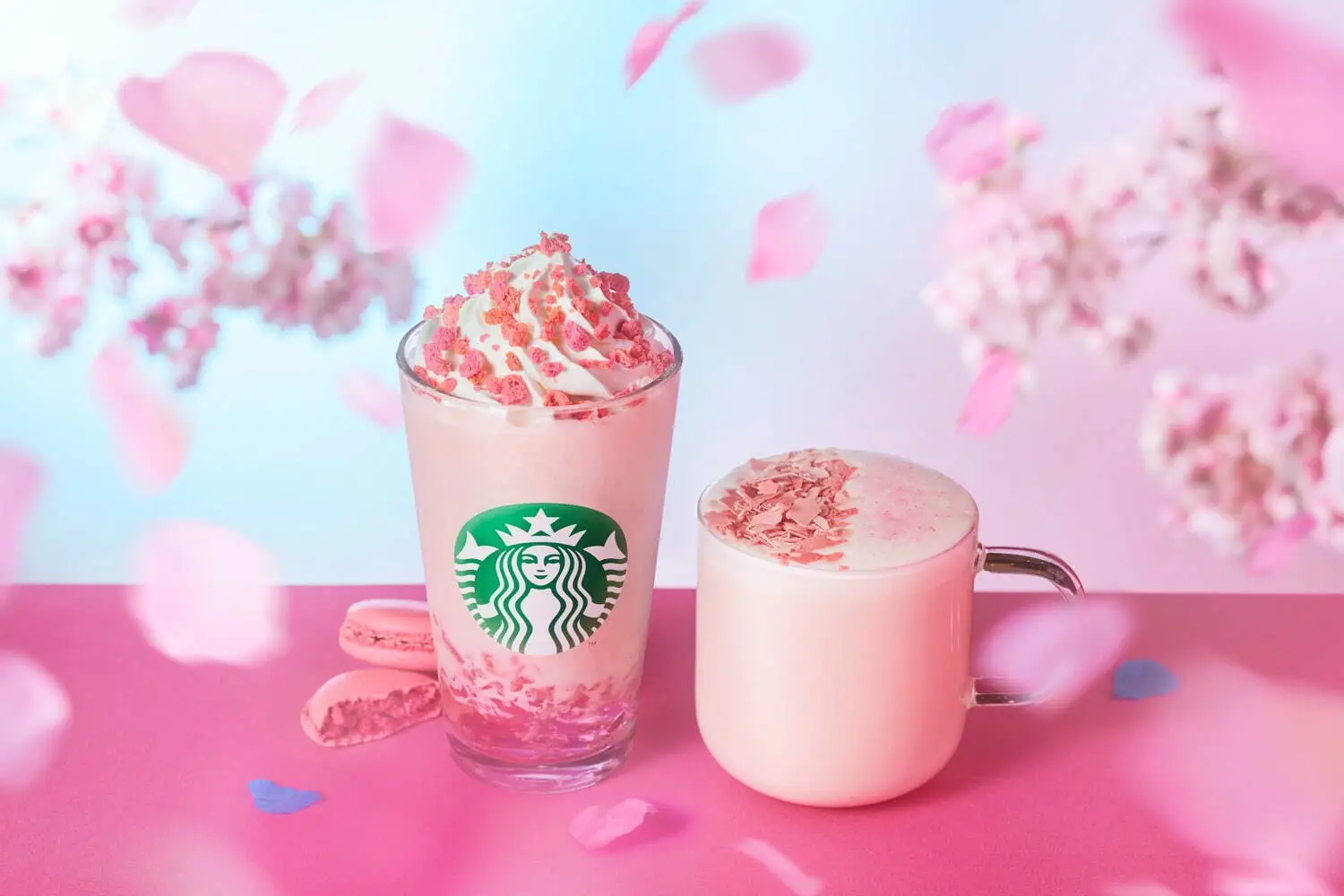 Naturally, sakura drinks pop up in every Japan's seasonal drink market, including cherry blossom Coca-Cola. Each year, Lipton and Starbucks both make sakura milk tea and miniature sakura milk beverages that you may buy at the convenience shop to take with you. The highly sought-after sakura latte and sakura frappuccino typically grab attention when Starbucks releases its annual limited edition seasonal drinks.
7. Sakura KitKat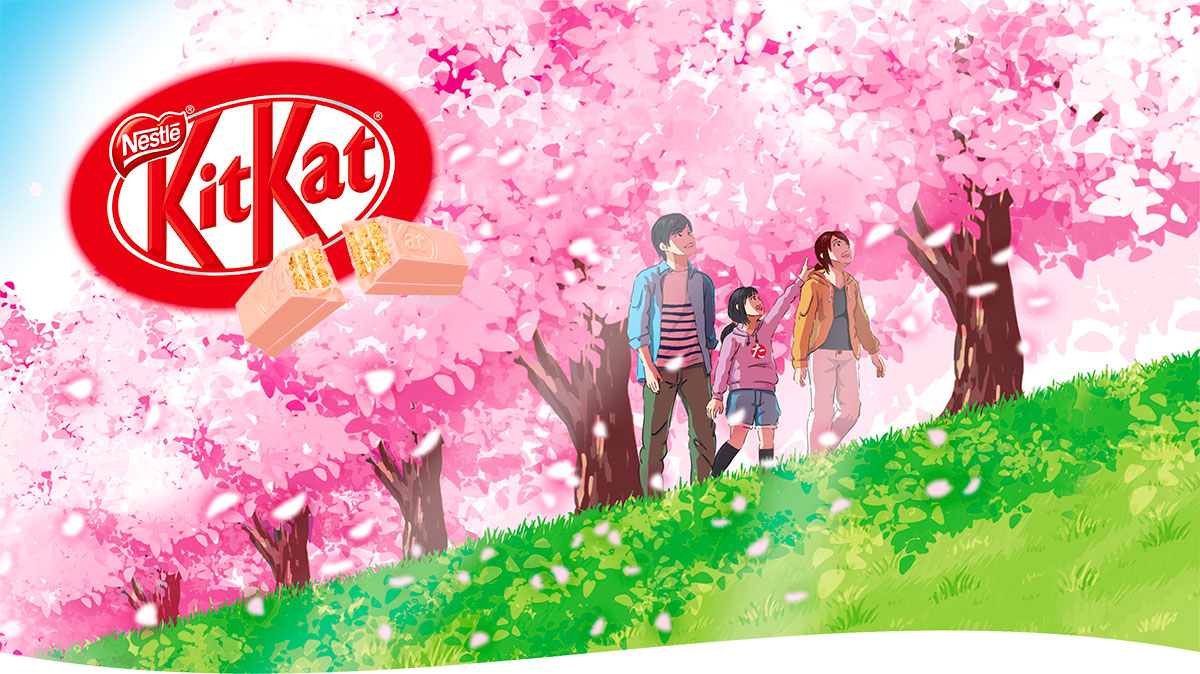 Sakura-flavored Kit Kats are among the most common souvenirs to carry home for your friends and family and to consume yourself. Even though they appear to be an American import, flavored Kit Kats are a national fixation in Japan. They have been converted into countless variations, including wasabi, peach parfait, and red bean! In the spring, you can pretty much always find a variety of Sakura-flavored Kit Kats in stock. They frequently provide flavors, including Sakura matcha, Sakura sake, and Sakura mochi. They are widely available in convenience stores.
Experience Sakura Wherever you Like with Sugoi Mart
Lucky Bags are closed to mystery bags or blind boxes loaded with products. You won't find out what's inside one until after you've bought it. You often do receive a theme for the things. Examples of themes include anime, cosmetics, clothing companies, and even fictional characters like Pokémon. The mystery of a fortunate bag is half the joy. And everyone's favorite lucky bag is set to bloom in a whole new way as spring approaches. You're in for a delicious treat and adorable surprise sakura items this year since Sugoi Mart will be releasing not just one but two extremely limited Sakura Lucky Bags!
1. Deluxe Sakura Lucky bag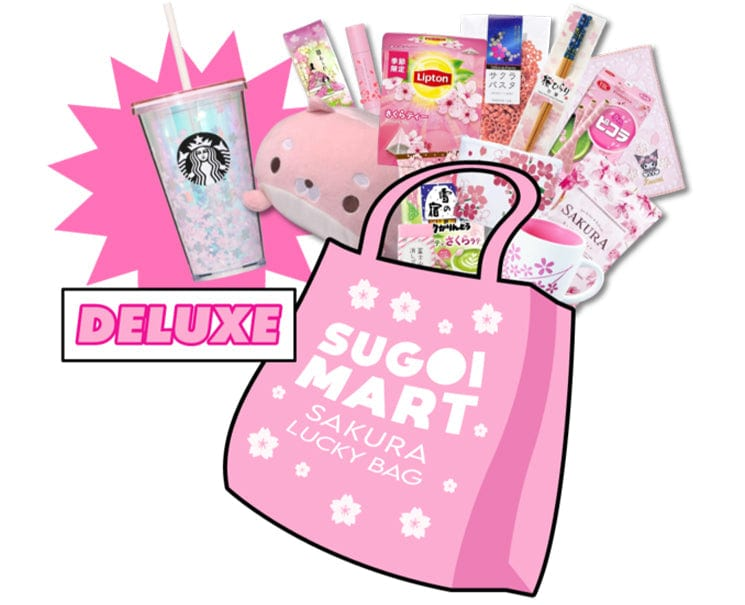 This Deluxe Sakura Lucky Bag is literally heaven in a bag of cherry blossoms. Sugoi Mart includes a ton of Japan-only goods, mysterious treats, and a guaranteed Starbucks Sakura 2023 mug or tumbler inside the NEW 2023 Deluxe Sakura Lucky Bag! This bag also contains premium Japan-exclusive items from any of the following categories: Plushies, Snacks (Kit Kats, Pocky, etc.), Drinks, Home goods, Toys & games, Stationery items, Daily care, beauty, and cosmetic sakura-style items. A very tiny quantity is left, and it won't be refilled. So act quickly and grab your deluxe mystery bag with Sakura-themed surprise items!
2. Regular Sakura Lucky Bag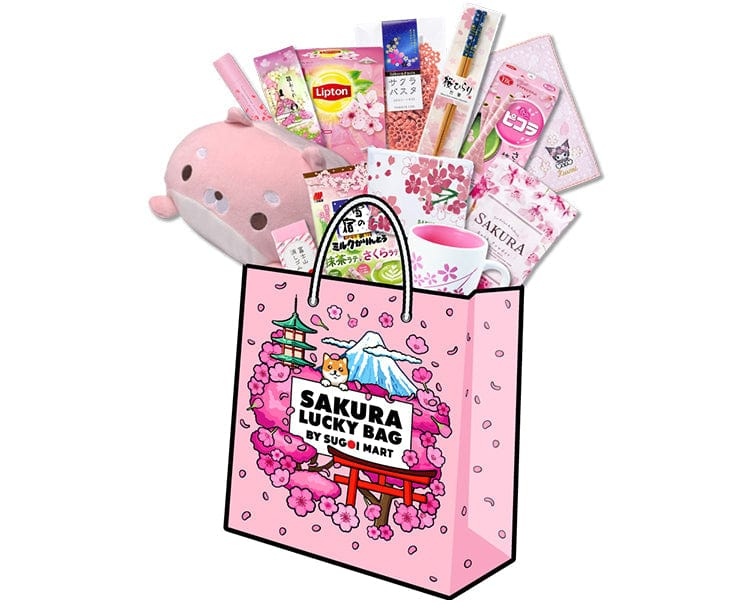 Get yourself a bag full of sakura-inspired items to feel the Japanese sakura season wherever you are with Sugoi Mart's regular sakura lucky bag. Celebrate the breathtaking sakura season by adding just the right amount of floral touch to your blooming collection with this lucky bag. Each lucky bag contains Japan-exclusive items like Plushies, Snacks like Kit Kats and Pocky, Drinks, Home goods, Toys & Games, Stationery, Daily care, beauty, and cosmetic items. This Sakura Lucky Bag is the most popular product on Sugoi Mart and is season limited. Get yours now and take in the beauty of spring with this Regular Sakura Lucky Bag!