Are you shivering from the cold? Keep your spirits up because sakura season is just around the corner. Sakura, or cherry blossoms, are a traditional Japanese symbol of life that signify both birth and death. Since the tree and its blossoms are so embedded in the history and culture of Japan, you can nearly always find them there. In fact, the blossoming and budding of cherry blossoms are one of the most well-known phenomena in Japan. Cherry blossom season is a famous tourist destination in Tokyo and many other regions that receive millions of foreign tourists drawn by the breathtaking cherry blossoms. Read on and learn everything you need for the breathtaking Sakura Season you'll surely love.
What are Cherry Blossoms?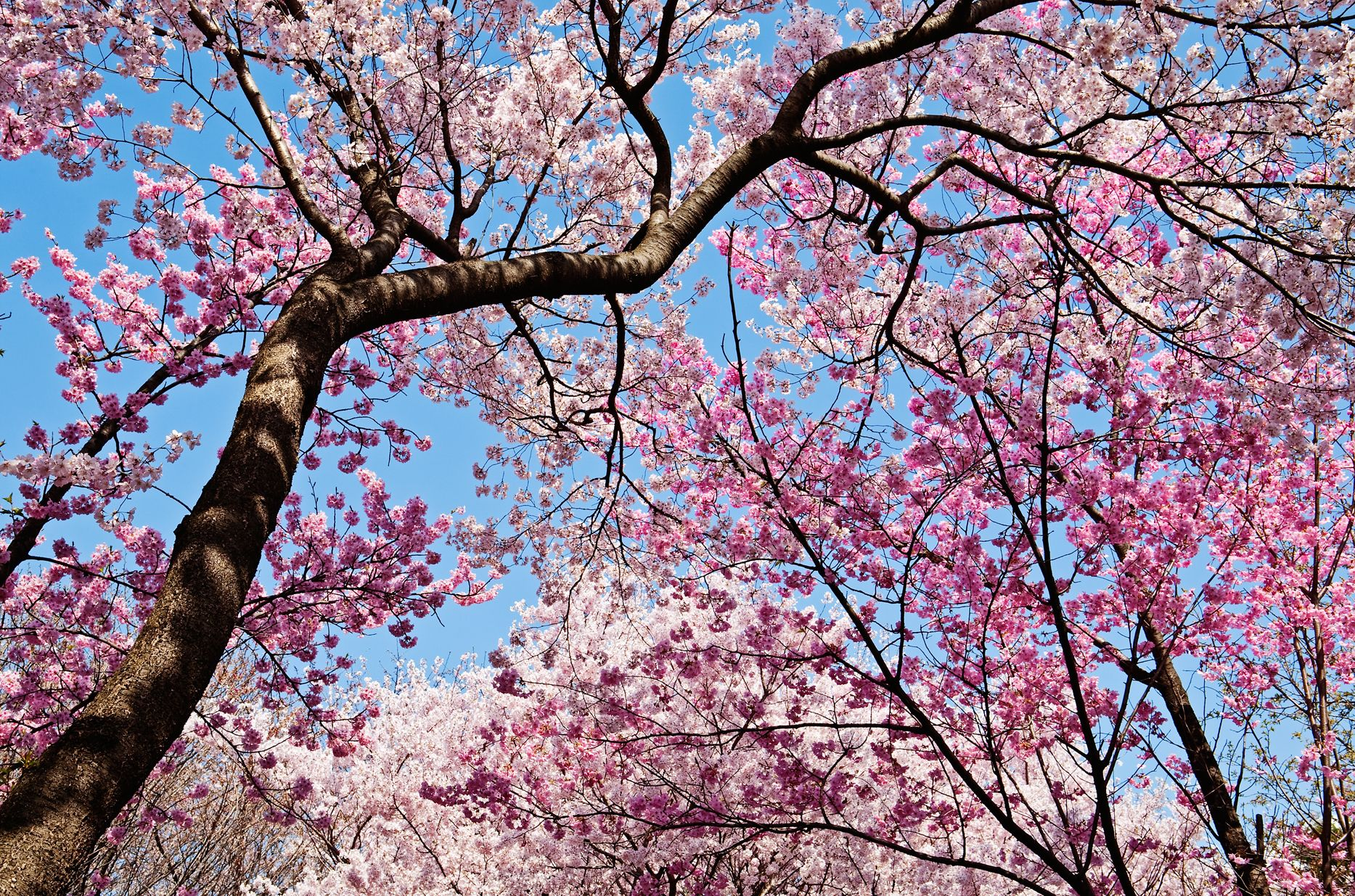 The cherry blossom is the flower of the Prunus tree, which comes in a wide variety. All around the world, there are many species of cherry blossoms, but those in the Northern Hemisphere with temperate conditions, like Japan, China, and Korea, are the most common. Japan is particularly well-known for its Japanese cherry blossoms due to the variety of the blooms and the numerous festivals that occur during the blooming season. In Japan, the word for cherry blossoms is sakura, and they are regarded as a national obsession.
Even though different varieties of cherry blossoms full bloom at varying times, the majority bloom in Tokyo between the end of March and the start of April. The atmosphere changes during this season. Just as early spring time ushers in the promise of new life and fresh begins, the sweet scent of blooms enlivens the streets. As the flowers become a topic of everyday conversation, it is common to see people standing still in the street, shooting a lot of pictures of a tree in bloom.
Symbolic Significance of Cherry Blossom in Japanese Culture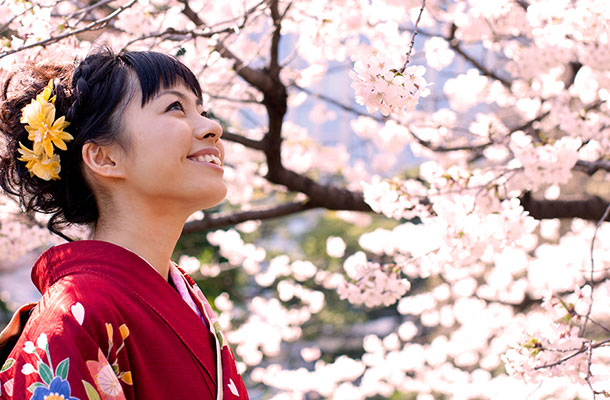 The nation's national flower, cherry blossoms from sakura trees, are associated with traditional Japanese cultural beliefs as symbols of beauty and rebirth. The flower has come to represent human existence in Japan due to its frequent association with Buddhist ideas of mortality. Sakura blossoms, which only bloom for a short time in the spring, represent the fleeting nature of life and urge the locals to savor each moment because nothing lasts forever, and life is ultimately fleeting.
Moreover, these representations of beauty and mortality are also linked to the Japanese samurai tradition. The Japanese samurai culture is also linked to these themes of beauty and mortality, with the sight of a fallen cherry blossom or petal symbolizing the untimely death of a samurai who lived by a moral code known as bushido, which translates as "the way of the warrior." Overall, the sakura cherry blossom season is a welcomed and joyous time of year because it represents a time of rebirth, renewal, and optimism. The arrival of spring ushers in a fresh new year with countless opportunities. Students start over in April as they return to school, and corporations begin a new school year. Many businesses and institutions express their optimism by planting cherry blossom trees outside their buildings.
Cherry Blossoms in Japan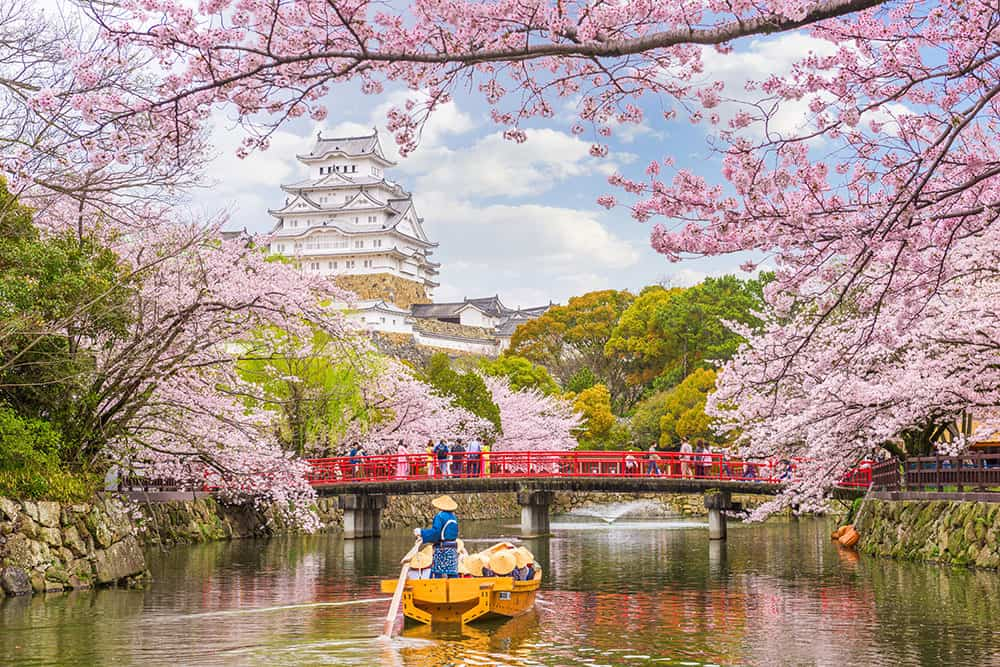 It is a national tradition in Japan to admire and celebrate Japanese cherry blossoms, and predictions for their blossoming in Tokyo and other towns on the main island of Honshu start to be released as early as January. There will be heated debates about the best places to see the flowers, from well-known locations to top-secret locations. The cherry blossom season in Japan is typically referred to as running from late March to April. However, given the size of the nation, the blooming time lasts for roughly 4 months.
Cherry trees start to bloom in the middle of January, with the finest viewing occurring in the early days of February towards the southern subtropical islands of Okinawa. Then, during the final week of March, the southern cities of Kagoshima, Kumamoto, and even Fukuoka in Kyushu begin to bloom, with their bloom peaks in early April. Then, as March goes into April, blossoms begin to bloom in Kansai, where Osaka, Kyoto, and Nara are located. For Tokyo and Yokohama, cherry blossoms bloom typically start in the final few days of March, reaching their peak bloom in the first week of April. Long into April, the northern cities of Tohoku begin to blossom, with Hirosaki on the northernmost tip of Honshu beginning to bloom and reaching its peak in the final week of the month. Lastly is the northern island of Hokkaido. Flowering frequently begins in the first week of May in Sapporo and Hakodate, culminating a few days later.
Japanese Cherry Blossom Viewing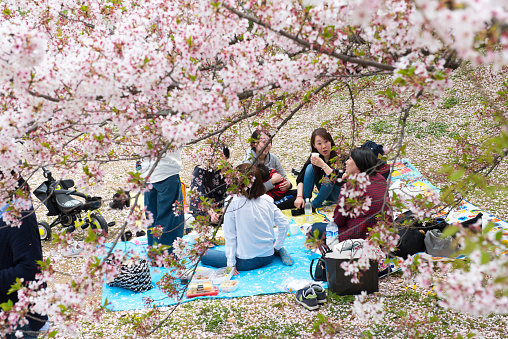 During the spring, folks enjoy living in the moment with a traditional Japanese ceremony called hanami. This ritual dates back to the Nara Period in Japan, which began in the year 710, and is defined as "to view flowers." Hana means "flower," and mi means "to view," which together indicate "to observe flowers." Locals gather beneath the tree branches during this time of year to "watch blooms" after the blossoms are in full bloom.
Hanami or "flower-viewing" gatherings are conducted throughout Japan to celebrate the arrival of spring or perhaps occasionally just as an excuse for a good time. These are frequently unofficial get-togethers of friends and family, but businesses also host their own celebrations, frequently in parks around their workplaces. These typically entail picking a location for a picnic where there are a lot of sakura or some yoshino cherry trees; in Tokyo, Yoyogi Park is a very popular location where people arrive very early to reserve their seats. Everyone removes their shoes and settles into a comfortable chair under the flower. Each person brings their own food and beverage to share with the group. Popular bento lunch boxes with pink decorations or food in the shape of blossoms are those with a sakura theme. Another popular food is Sakura mochi, a rice cake encased in a sakura tree leaf.
On the other hand, cherry blossom festivals are also conducted in many parks, and as the delicate petals sparkle through the darkness at night, the festivities create an ethereal mood. One of Japan's Top 100 Cherry Blossom Viewing Sites and one of Japan's Top 100 Sights of People and Nature, the Hirosaki Cherry Blossom Festival in Aomori draws over 2 million tourists and Japanese people annually. The reflections of the blooms and the light on the canal in Nakameguro, Tokyo, transform it into a magical waterway.
Where is the best place to see the cherry blossoms in Japan?
1. Tokyo
This capital city is the one place where you can experience everything that Japan has to offer. As you pass the world's busiest intersection, Shibuya crossing, renowned fish markets, and the center of adolescent culture and fashion, the Harajuku district, you will be immediately immersed in the local culture. Visit Shinjuku Gyoen, one of the city's most well-liked locations, to celebrate hanami. With a terrific central position and magnificent wide grounds, it's the perfect site for a picnic. Because you may observe over a thousand sakura blossoms and various early and late blooming cherry tree types, it is the ideal location for tourists who miss peak season. You should also visit Ueno Park if you have some additional time to witness the streets lined with more than a thousand cherry blossom trees. Alternatively, attend the Chiyoda Sakura Festival in Kitanomaru Park outside the Chidorigafuchi Moat and rent a boat to see the sakura blossoms light up at night.
2. Kyoto
The primary hanami location in Kyoto is Maruyama Park. There is a weeping cherry tree in the middle of the park that is illuminated at night. The Philosopher's Path is located in Kyoto's Higashiyama district, to the district's north. This stone road, which spans more than 2 kilometers and is bordered by hundreds of cherry blossom trees, follows a canal and passes by some of Kyoto's top eateries, shops, and cafes. Take a quick bus ride west of the city to Arashiyama, where you'll find a lot of cherry blossom trees lining the riverbank and Togetsukyo Bridge. Don't forget to visit the bamboo grove while you're in Arashiayama to cross Kyoto off your bucket list.
3. Osaka
Osaka, the second-largest metropolis in Japan, is known for its various attractions, top-notch cuisine, and, of course, cherry blossom viewing locations. Over 5,000 cherry trees may be found along the riverbank promenade in Kema Sakuranomiya Park, which spans several kilometers. While having some of the largest lawn areas and illuminated trees in the city, Expo 70 Commemorative Park. Additionally, Osaka Castle is one of the most memorable places to celebrate hanami in Osaka. The historical site is surrounded by a moat and a garden with cherry trees, and the castle tower is illuminated at night.
Best Japanese Sakura-themed Products
Hanami, or cherry blossom season, is more than simply a visual treat! This yearly phenomenon also brings in a ton of limited-edition merchandise dedicated to the delicate pink flower to help you literally taste the season. For important festivals in Japan, a lot of businesses produce unique seasonal drinks that capitalize on flavors like cherry and strawberry in the spring. These are not only incredibly tasty because fresh strawberries and cherries are readily available, but many also have charming aesthetics due to the color scheme of red, pink, and white. Here is a list of Sugoi Mart cherry blossom-themed products over the years that you might find on your upcoming trip to Japan for die-hard sakura aficionados!
Kimura Drink Sakura Cola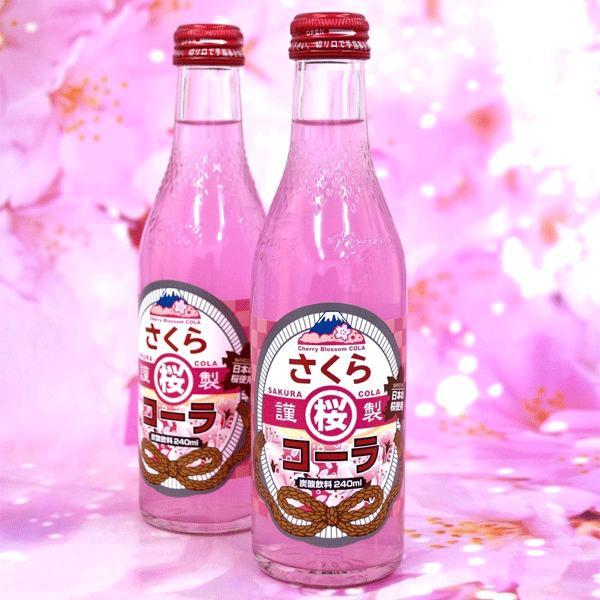 Kimura Drink Sakura Cola is a Japanese cherry blossom extract-based cola with a cherry blossom flavor. It boasts a crisp carbonation and a taste that is beautiful and floral, like cherry blossoms. Cherry blossom scents can be detected on the nose, and the taste is light and crisp. This Kimura Drink Sakura Cola boasts its impressive coolness and refined finish. It has a delicate Japanese flavor that evokes recollections.
Lipton Sakura Tea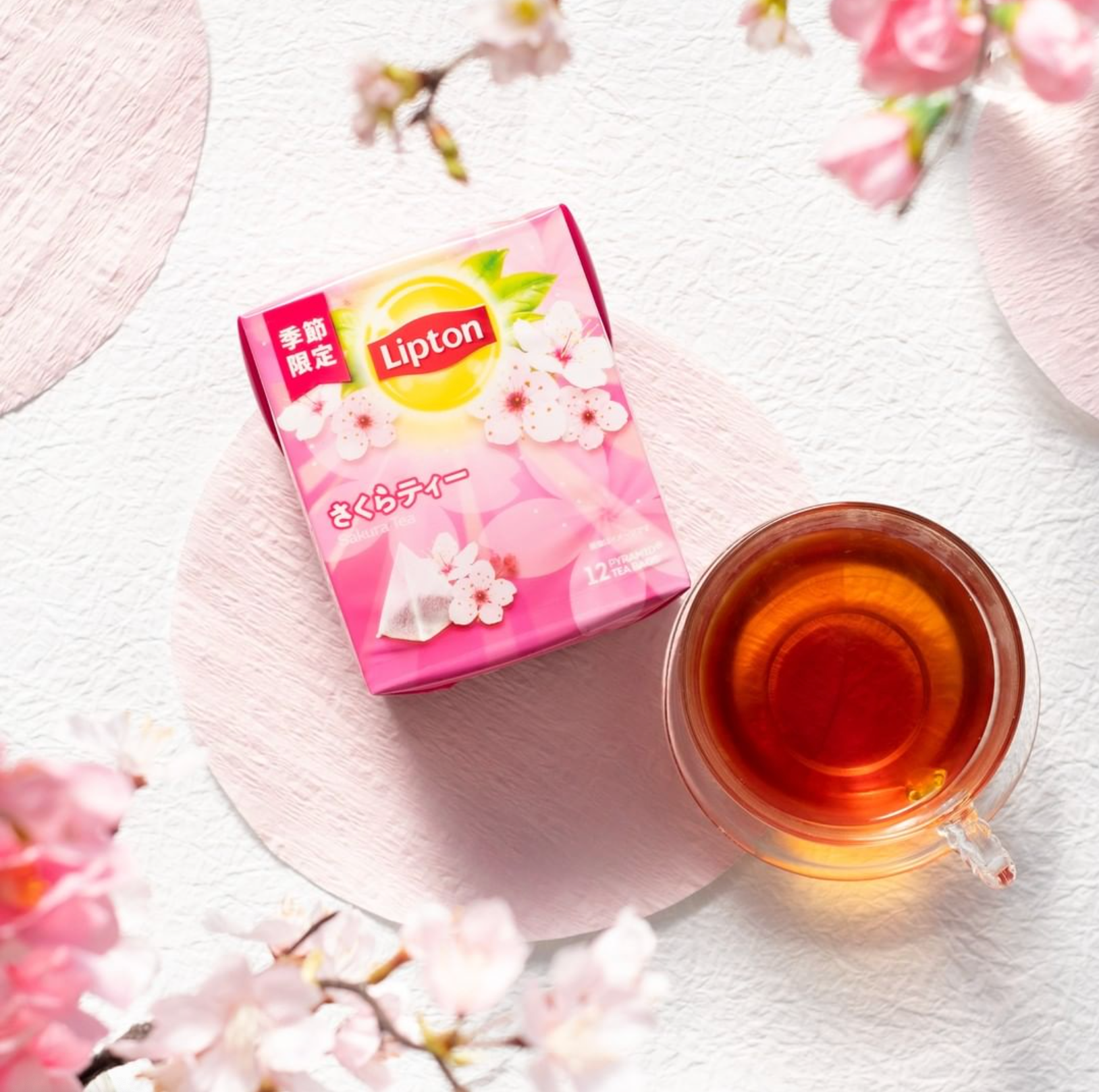 This delightful tea is a Lipton Tea specialty for Japan and is only made available annually. Twelve pyramid-shaped tea bags with sakura tea are included in each box. This sakura tea's flavor is inspired by "sakura mochi," or rice sweets with cherry blossoms. This delicious tea is only offered during the cherry blossom season. The Lipton Sakura Tea smells fantastic in addition to tasting wonderful.
Sakura Incense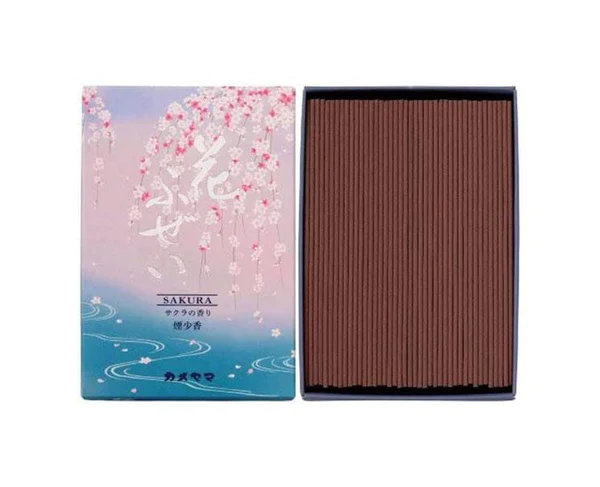 Sakura Incense is based on the cherry tree flower because, in Japan, cherry trees' blossoms signify the beginning of spring. It symbolizes renewal and is the ideal way to welcome guests. With a combination of fragrant cherry blossoms, smoky sandalwood, spicy cloves, and earthy cinnamon, this sakura incense evokes spring's joyful and tranquil scent. It is housed in a magnificent way box with French fashion roots, which is a modern Japanese design. Because it was created according to age-old Kyoto customs, the incense can be used and loved long after it has ceased burning.
Sakura Sour Plum Rice Seasoning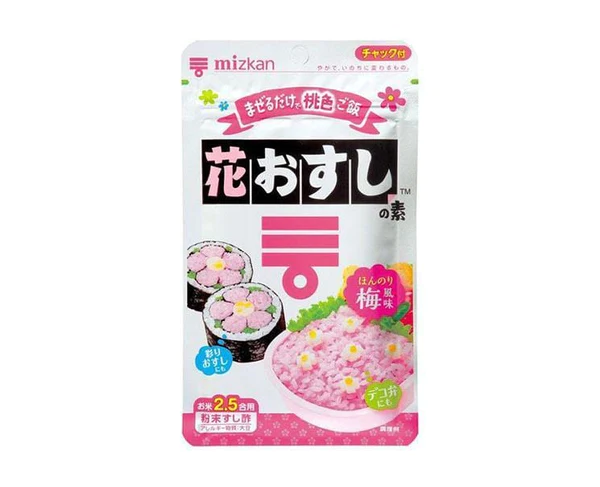 Include one of the most crucial components of Japanese cuisine in your dishes with the aid of this Sakura Sour Plum Rice Seasoning. Here is a packet of spices that you may use to flavor your rice with ume and color it pink when making sushi or bento.
Sanrio Hello Kitty Sakura Kimono Plush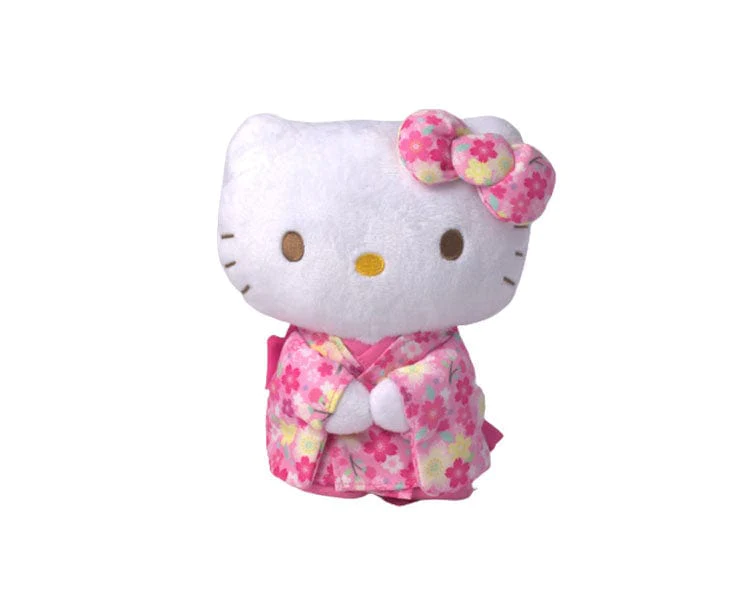 Japan has long adopted the kawaii culture, as evidenced by these beautiful plush toys! This Sanrio Hello Kitty Sakura Kimono Plush is stunning in her cherry blossom kimono. You may either add this adorable plush to your collection or make it your everyday companion serving optimum cuteness.
House of Rose: Fluffy Sakura Hand Cream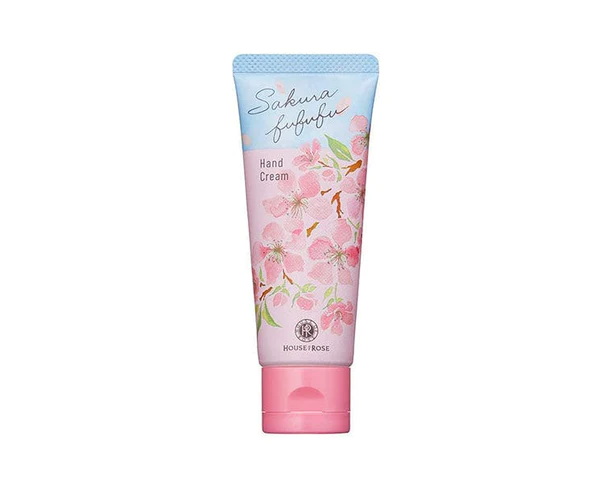 Your hands will remain moisturized all day long with House of Rose's fluffy Sakura hand cream. The exquisite cream is produced with skin-friendly cherry blossom extract from the Japanese sun. The combination of light sweetness and the fresh cherry blossom aroma creates a scent reminiscent of spring!
Disney Japan Spiderman Sakura Clear File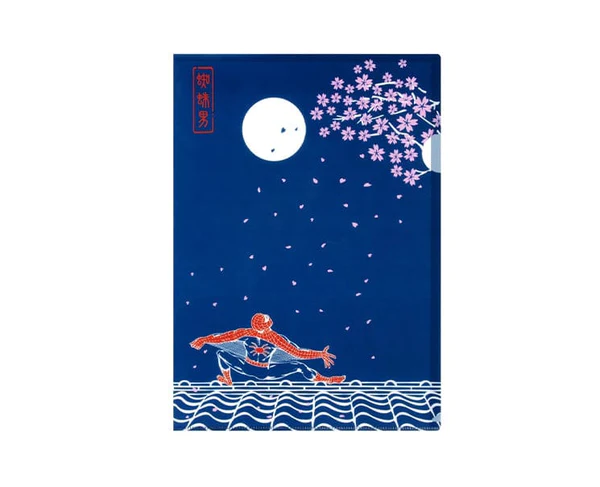 This Disney Japan Spiderman Sakura Clear File has cherry blossoms on a moonlit night background and is a Disney shop Japan exclusive. Marvel characters are introduced to Japanese culture in this limited-edition idea.