The largest and perhaps best arc in One Piece to date is Wano Country, where nearly all of the Straw Hat Pirates fought fiercely during One Piece's Wano Country storyline, possibly for the first time since the Enies Lobby arc. It was partly expected that the Straw Hat Pirates would take the next great step and rise to the occasion with some amazing new powers when they battled the King of Beasts and his crew. And Nami is no different. Here's all you need to know about the Grandline Lady Wano Kuni of One Piece, Nami!
What is One Piece?
One Piece is an animated series created by Toei Animation that airs on Fuji Television and is based on the same-named manga by Eiichiro Oda. It has aired more than 1000 episodes since its launch in October 1999 (along with 15 theatrical films, countless additional TV specials, and OVAs), and it has been released in more than thirty different nations. The plot centers on the adventures of Monkey D. Luffy, a young man whose unintended consumption of a Devil Fruit left him with a body made of rubber. Aside from becoming the next Pirate King, Luffy explores the Grand Line with his pirate crew, the Straw Hat Pirates, in search of the world's greatest treasure, known as "One Piece."
Gol D. Roger, commonly known as the Pirate King, was the most infamous and powerful pirate to have sailed the Grand Line. Roger was captured and killed by the World Government, and this caused change all around the earth. In his last words, before he died, he revealed the location of the greatest treasure in the world, One Piece. The Grand Age of Pirates began during this enlightenment when pirates fantasized about discovering One Piece to obtain the title of the Pirate King.
That is when Monkey D. Luffy, a 17-year-old youngster who defies the pirate stereotype, enters the scene. Luffy's motivation for becoming a pirate is pure wonder who wants to discover One Piece. His motivations for becoming a pirate are the thought of an exciting adventure and meeting new and intriguing people. Luffy and his crew cross the Grand Line in the footsteps of Shanks, having amazing adventures, solving sinister mysteries, and facing formidable foes along the way to One Piece.
Who is "Cat Burglar" Nami?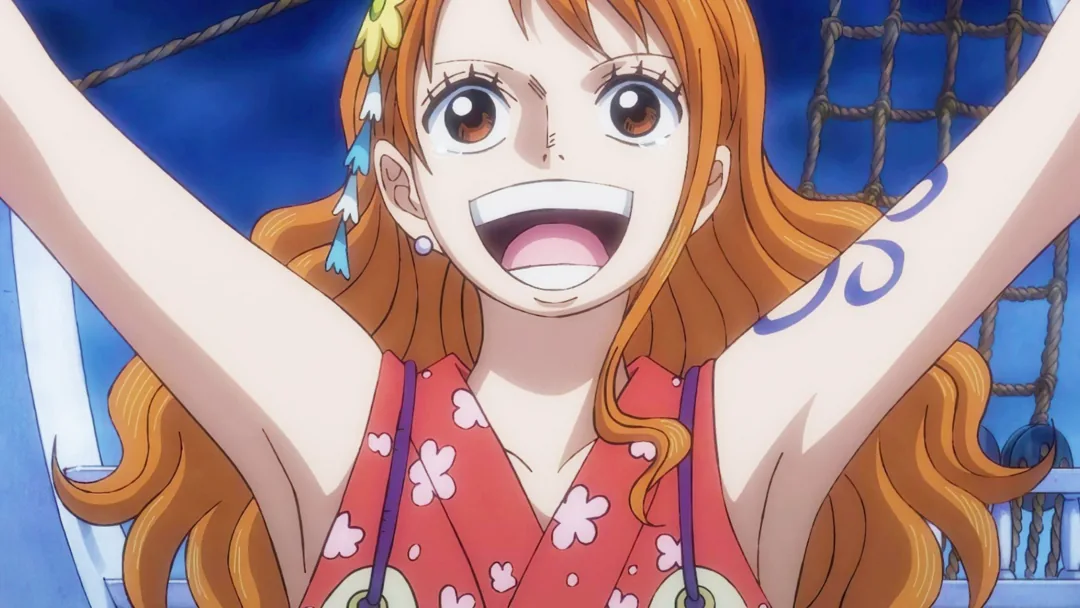 Nami is one of the main characters in the One Piece anime and manga and is portrayed as an intelligent young woman motivated to amass wealth. She and Nico Robin are the only women currently involved with the Straw Hats. She is described as a robber and pickpocket familiar with maps, the weather, and navigation and is regarded as the series' major heroin. She initially works as a servant for fisherman Arlong, but she quickly achieves her freedom from this employment and permanently joins Monkey D. Luffy to fulfill her dream of creating a full world map. She is the second person to join the crew, doing so during the Orange Town Arc. She originally joined the Straw Hats to rob them in order to reclaim her village from the Arlong Pirates, of which she was a former member. However, she formally enlisted in the Straw Hats once they overthrew Arlong.
Moreover, Nami originally views pirates negatively, but after getting to know Luffy and the rest of the crew, she quickly changes her mind. She declared war on the world government after beating Kalifa and was awarded a reward of 16,000,000 berries. She now has 66,000,000 Berries as her second bounty following the events in Dressrosa Arc. Additionally, taking responsibility for Sanji's capture, Nami accompanies Luffy as the pirate crew leaves for Whole Cake Island to rescue Sanji. She went to pick up Sanji after the prearranged wedding he had with Big Mom's daughter Charlotte Pudding with Luffy, Chopper, Brook, Pedro, and Carrot. After they retrieved Sanji and saved his family from Big Mom pirates, she and the others departed Totto land and traveled to Wano Country. Her current bounty is 366,000,000 berries after defeating Ulti in the raid on Onigashima.
Nami's Early Beginnings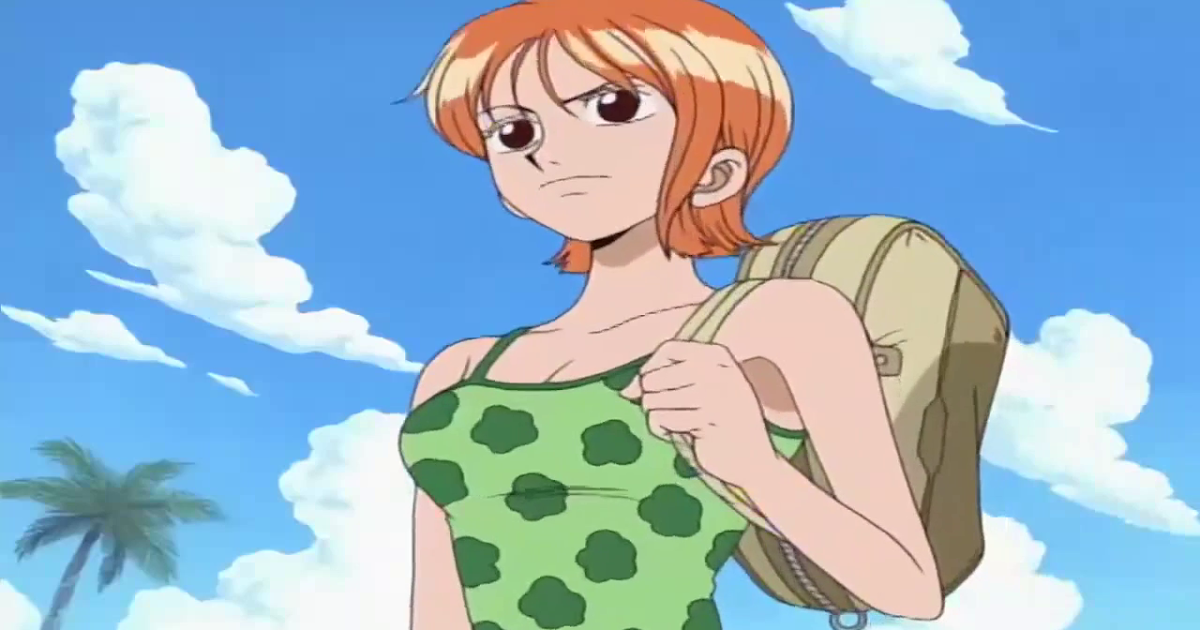 Nami's past is a war rphan who was born on an unnamed island in the East Blue Sea. A separate young girl named Nojiko found her crying as a baby. They were found by a young Marine named Bellemere. She adopted the two and sent them to work on a mikan orange farm in Cocoyashi, where she was born and nurtured. Nami frequently stole books about map-making because she wanted to make a globe map, and they didn't have many resources. When Bellemere was on the point of passing away, Nami occasionally felt like a burden to her, but Genzo, the neighborhood cop, explained to her how it was she and Nojiko (adoptive sister) who gave Bellemere(adoptive mother) the will to live.
However, a violent group of fishermen known as the Arlong Pirates stormed the island and took the residents and Nami hostage, shattering their peaceful existence. The inhabitants were threatened with death unless they paid 100,000 Berry every adult and 50,000 Berries per child which Bellemere did to spare Nami. Moreover, Nami's suffering at Arlong's hands didn't end with this. Hatchan, one of his crew members, discovered Nami's map of the island, and they took her along to create charts for them. The fish man pirate Arlong struck an agreement with Nami as well. He promised to release her community in exchange for her continued production of maps and 100,000,000 berries. Nami was forced to rob pirates for the next eight years to take back her village. Nami learns that Arlong has been buying off the Navy to conceal his wrongdoings when a dishonest Marine steals her bounty. Nami begs Luffy out in a desperate attempt to get help. Luffy and the others defeat Arlong, freeing hamlet in the process. Nami rejoins the party as they set sail for many amazing journeys from Punk Hazard and Fish man island to Grand Line to pursue their goals.
Nami's Appearance
Nami is a thin young lady with brown eyes and orange short hair who is about normal height. She is generally regarded as being highly pretty or even lovely. Nami was first introduced wearing a blue-and-white striped shirt, an orange mini-skirt, and high-heeled sandals. After the Arlong Park Arc, Nami frequently changes into many different kinds of clothes in the series for each arc, and usually pairs her white shirt with skirts that have two rings on the sides.
Throughout the series, Nami is seen wearing a sleeveless clothing or bikini top with blue jeans, a skirt and high-heeled sandals. She used to have a tattoo for being a part of Arlong's crew on her left shoulder, but now it's a black mikan and pinwheels new tattoo paying honor to Bell-mère, Nojiko, and Genzo, respectively. Her general physical development happens gradually throughout the course of the series and drastically during the time skip, where her hairstyle and clothing both change frequently.
Nami's Power and Abilities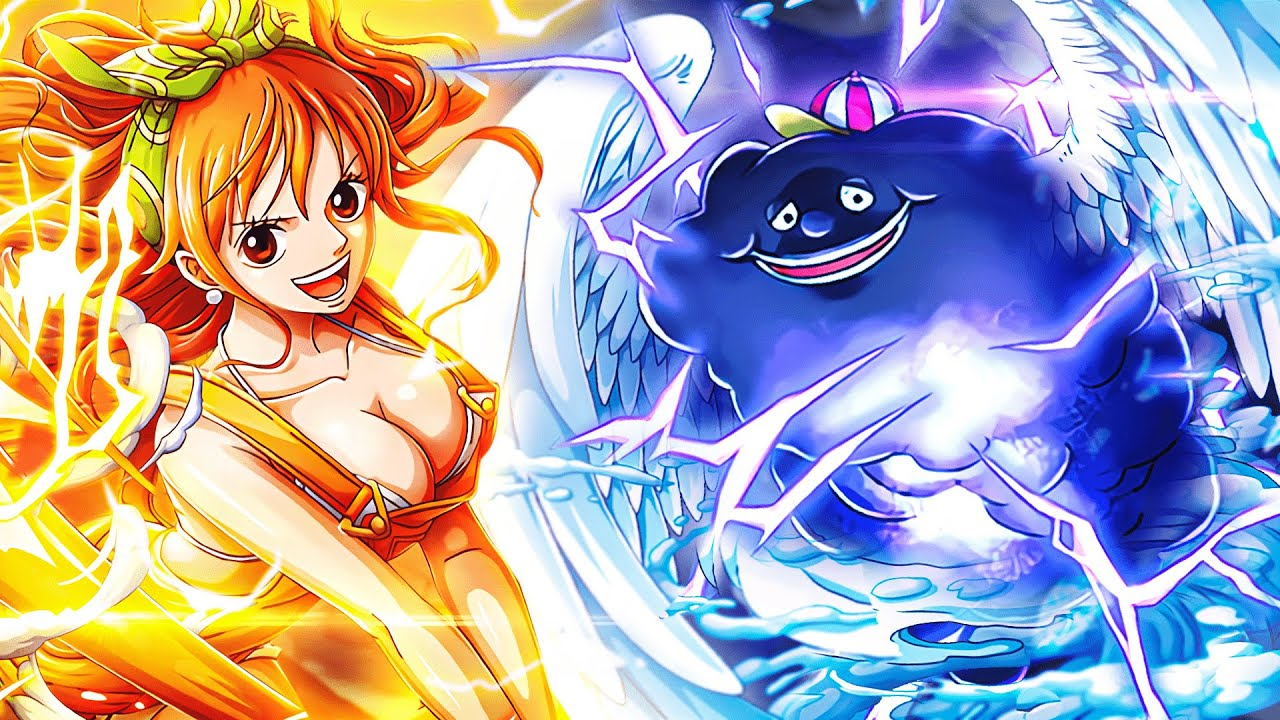 Nami is the Straw Hat Pirates' designated navigator and is in charge of determining the ship's course as it travels farther out to sea. She also frequently serves as the crew's unofficial treasurer. Nami is a skilled navigator who has the ability to pinpoint-accurately read the weather, guide the ship's crew through any storm, and indicate the direction to the next island. Nami isn't as strong as her crewmates, but she uses a weapon called the Nami's Clima-Tact, which was later updated to the Perfect Clima-Tact and is now the Sorcery Clima-Tact, to modify the weather on a smaller scale.
In addition, she also takes on the role of the ship's purser, ensuring that they have enough money to buy food and supplies for their voyages because the crew's interests are more in seeking adventure than actual piracy. Nami's ability to steal has given her a sly and wily personality, and she is also occasionally quite helpful. Through years of being a thief of pirates, Nami developed a great skill for pick-pocketing and greedy personality traits. If within Nami's arms reach, she can normally slip something out of someone's pocket without them noticing.
Best Nami-inspired Products
Nami is the Straw Hat Pirates' navigator. She has one of the most beautiful looks in the anime, with orange hair, brown eyes, and a unique personality. Look at all the gorgeous Nami-related merchandise right away with the Sugoi Mart One Piece Collection!
Fans of anime will like to expand their collection with this one-piece Nami plush. This plushie is none other than the Straw Hat Pirates' navigator and pirate from a comic book named Nami. She comes dressed and ready for action in her iconic blue and white swim top with an orange mini skirt. Her fiery red and orange hair with a devious smile on her face helps to complete her mischievous pose. This soft doll toy is constructed of a durable polyester fabric that can be easily cleaned.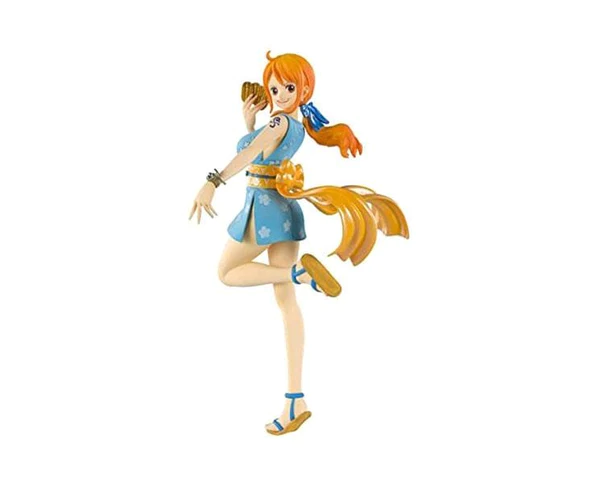 Nine vibrant collectible figurines from Wano Country are now part of the Figuarts Zero collection! Bandai has released Figuarts ZERO "One Piece" figures based on the Volume 91 cover of Jump Comics, which now includes Nami. This display figure, which wonderfully captures the ambiance of the cover picture, shows the Straw Hat Pirates as they explore the mysterious and distant terrain while dressed in Wano Country clothing. Because there are so many pieces, you can rebuild the entire universe of One Piece! This figure also comes with interchangeable face pieces for Nami!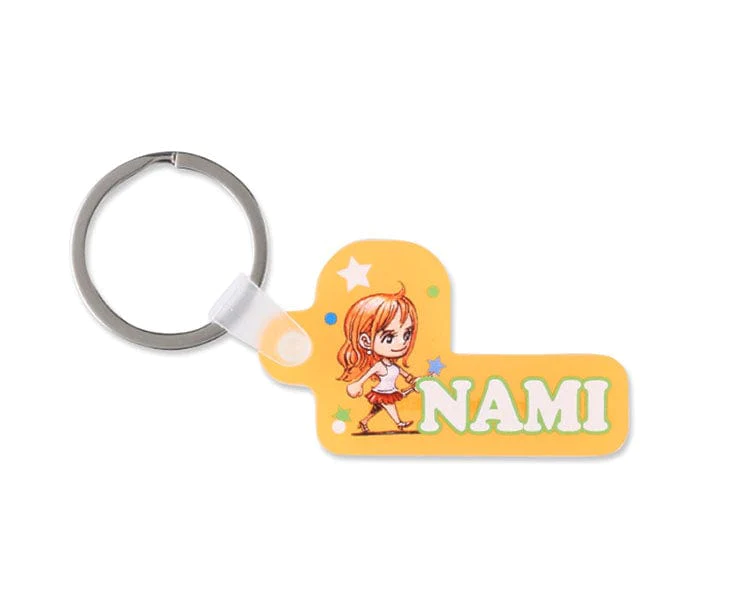 You'll adore this One Piece Nami Keychain if you're a fan of the anime series. The "Cat Burglar" Nami keychain is an adorable chibi jelly design with an orange background. For any One Piece lover, this fantastic keychain is the ideal accessory. You can easily attach the keychain to your keys because it is fastened to a metal ring. Gather your favorite straw hat pirate keychain from One Piece and add it to your keyring or backpack!