Have you seen celebrities wearing Kigurumi? It is onesie is a one-piece themed suit that covers the entire body. By default, these are designed as pajamas, and most people believe they are intended for infants and younger children (onesies). Entirely accurate, they were originally associated with sleeping bags and equipment. However, as time flies, it has literally grown to be suitable for use by adults as well.
Kigurumi is gaining popularity outside of its native Japan, particularly in North America, where celebrities and top entertainers have adopted it as a fashion accessory for public appearances. However, you do not have to be an A-list celebrity to enjoy wearing kigurumi. One of the reasons for the kigurumi's worldwide popularity is its versatility and adaptability to a wide range of activities.
What does Kigurumi mean?
The term kigurumi is pickup from the combination of two words, which are Kiru and nuigurumi. Kiru is a Japanese word that means "to wear." The other term is nuigurumi, which translates as "stuffed toy." Kigurumi is a costumed characters, such as mascots. They're a huge part of Japanese culture, similar to how cosplay is.
History of Kigurumi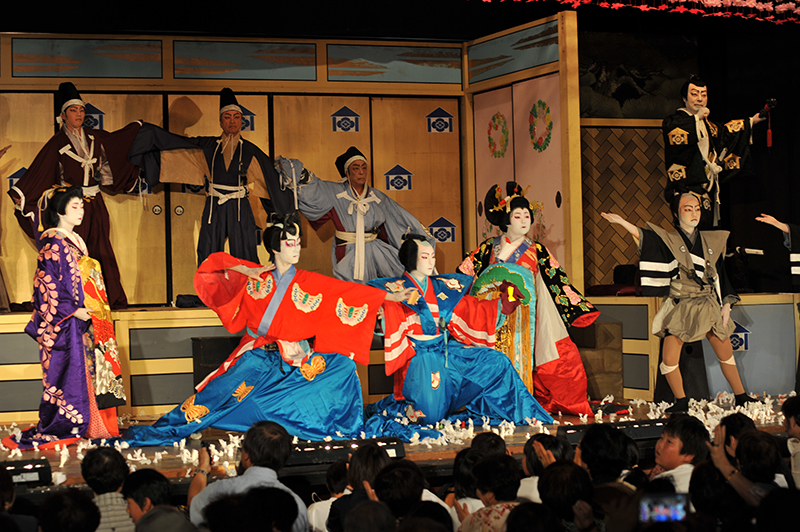 Animegao Kigurumi is a highly stylized form of theatrical acting. Participants wear masks over their faces and then dress in full-body costumes. These costumes typically depict popular characters from Japanese manga and anime. The first recorded performance of animegao Kigurumi was in 1993. It has historical origins that can be traced back to the 1600s. At that time, Japan saw the introduction of the Kabuki theater style. This type of "dance-drama" was extremely stylized and frequently included sword fighting and outrageous costumes.
Also, it is a type of Japanese puppet theater where puppeteers physically control puppets that could be up to 4 feet tall while dressed entirely in black and wearing masks. Additionally, there are other traditional Japanese performance styles that might have served as its historical forebears.
Now, you can add to cart high-quality masks of well-known Japanese characters online and in stores. A niche in popular culture is really opened up if you can afford to purchase a mask from the marketplace. The wearing of Kigurumi as a component of elaborate outfits all of a sudden became cool and trendy. Shibuya's cool kids used to roam the streets on the weekends while wearing animal one pieces. The fashion was so well-liked that Western bloggers and fashionistas started to take notice.
This outfit was largely an underground trend in the U.S. and Europe between 1999 and 2004. In 2005, Japanese comics, manga, and anime were released in the West. Some mainstream Western performers and musicians began incorporating elements of Japanese street fashion into their performances and music videos. The rest, as they say, is history.
Difference between Kigurumi and onesies
It is true that all Kigurumi is typically onesies. However, unlike animal or licensed character-themed fluff balls, onesies can be somewhat more generic. And they are indeed more generic, with designs that do not even have to be inspired by a living or thematic motif (e.g. wavy, checkered, rainbow, plain color, etc.).
The primary source of confusion for onesies being mistaken for Kigurumi is that when you search for "onesies" on search engines like Google, the vast majority of the results is Kigurumi. There are a few "authentic" onesies here and there. However, the general perception after seeing such a result is that Kigurumi and onesies are interchangeable, which they are not.
Other notable differences between regular onesies to Kigurumi are:
They're from Japan - almost all Kigurumi designs, whether licensed or not, originate in Japan.

Creature-themed - remember the word nuigurumi, which means "stuffed toy"? Kigurumi, like regular stuffed toys, are almost always inspired by a living being.

Low-crotch - Kigurumi is also usually loose on all sides. Well, maybe not too loosely, but you get the idea.

Always cute! - It is built on the foundation of adorable designs, Kigurumi is always made to look cute by default, even if the definition of cute varies from person to person.
Is it necessary to wear clothes underneath Kigurumi?
It is not required to put anything underneath your Japanese onesie. It is all made of fleece. Fleece is extremely soft and ideal for keeping warm in cold weather. It's perfect for lounging, snuggling, and general comfort. As a result, if you don't wear anything underneath. You can ensure that it won't harm your skin. This simply means that wearing clothes underneath this onesie is dependent on the person wearing it. It is critical to consider what type of Kigurumi wearer you are. You must also decide what activity you will be performing and then select the appropriate undergarments.
What anime are Kigurumi from?
It does not originate from a single anime. Even the concept of Kigurumi and pajamas, as they are frequently advertised, is not unique to anime. It's actually the other way around. Kigurumi serve as inspiration for anime. Either by introducing characters who wear them outright, featuring them briefly as a character quirk, or showing other derivatives, the word "onesie" is temporarily separated from the definition that we usually accept.
Reasons to wear Japanese Onesies
Across social media, you'll find plenty of photos of entire groups of friends, all hanging out wearing adult onesie before heading out to join a party. A Japanese onesie is warm enough that you don't need to wear a jacket or coat over it. This makes it perfect for an evening pub crawl or a late-night outdoor party.

If you're heading out to the ski slopes, you might want to pack along your Kigurumi. You'll likely see skier and snowboarder dressed in an adult onesie.

Kigurumi is popular among video gamers. The cozy, comfortable onesie is ideal for spending hours in front of the video game console. Furthermore, some of the most popular Kigurumi outfits are inspired by video games.

Instagram is a great place to find new visual inspiration. Photos with the #hellokigurumi hashtag frequently show novel uses of the adult onesie or photos of kigurumi taken in unusual or unexpected places. If you want to gain and create some viral traction with a fun Instagram photo, dress up in your favorite Kigurumi, apply a retro filter, and let the Interwebs do their thing. (It's a strategy that top celebrities and entertainers have used to get their fan bases talking, commenting, liking and even subscribe to their account!)
Is a onesie considered a pajama?
There are some Kigurumi that qualify as pajamas, though not all of them. Onesies for adults are typically worn as sleepwear. Onesies for children, on the other hand, can be regular daytime wear or pajamas, depending on the material used. For instance, a onesie designed specifically for nighttime wear is one made of fleece or occasionally terry cloth.
Adult Japanese Onesie Costume Pajamas
The adult Kigurumi costumes is a fun addition to any attire. The combination of the soft and comfortable fabric makes them perfect for those chilly days when you just want to feel warm but still can create fashionable look. Their unique design will make you stand out in any event. Looks like a regular article of clothing but is really a Kigurumi costume that even an adult can wear! Makes a perfect gift for kids, teens and adults of any age.
Kid-Sized Japanese Onesie
If you want your children to have a happy mood and to be confident, send them a nice Kigurumi outfits. Children wearing kigurumi feel good about themselves and are confident to play and to talk to other children. It also attracts attention from people around them.
Transform your body into a majestic animal with the help of our Kigurumi costumes! Check out their site here: https://sugoimart.com/collections/kigurumi