In Japan, card games were as well-liked as animes and mangas. Card games have spawned more and better things over time, been adapted for new audiences, and discovered new markets as technology advanced. But the traditional Japanese card game that inspired Mario, Pokémon, and Zelda is actually a relic from ancient times. The cards, called Hanafuda, or flower cards, are Japanese-made playing cards used to play several different games. The game play deck is used to play various games known as Hanafuda, most of which are stylistically comparable. Even while playing Hanafuda has decreased in popularity in modern times due to the development of video and computer games, older players still enjoy the games as a customary New Year's family pastime.
History of Hanafuda Games
The origins of Hanafuda games can be dated to Japan's Heian era (794-1185). Initially, the string was used to bind leaves and blooms from various trees for the game. Over time, the game changed and started to be played with cards. Furthermore, Hanafuda is a game that is still popular in Japan today. It is a favorite activity for many Japanese people and is frequently played in gambling establishments like the portuguese decks. Hanafuda cards come in twelve suits, one for each month of the year. Each case has four card suits, for a total of 48 cards. The final four cards are referred to as "joker" cards. The game's object is to assemble specific sets of won cards to get points.
The Hanafuda Cards
Hanafuda playing cards are associated with many standard symbols and meanings in Japanese board games. The 12 flowers used to represent the 12 months of the year are the most fundamental symbols. Every flower has a special meaning, and the game is typically played with a deck that includes each of the 12 flowers.
Each suit has four cards, and the point values range. Every card will fall under one of the 12 suits from different months (January to December), and a different plant or flower symbolizes each suit. Typically, each suit contains two to three "Kasu," or rubbish, cards. These are not ornamental and only have a few points. Usually, they are only the plant or flower on display by itself. Then there are the mid-level point cards, with higher point values and red and blue poetic ribbons, birds, and animals. Moreover, each card is a member of a card type with a certain point value: five cards are designated as Light (20 points), nine as Tane or Animal cards (10 points), ten as Tanzaku or Ribbon (5 points), and the remaining cards are designated as Plain or Flower (1 point).
Symbols in Hanafuda Flower Cards
1. January - Pine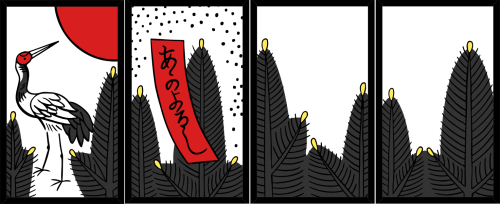 In January, a crane gracefully sweeps the sky in front of the brilliant crimson orb of the rising sun and a mature pine meticulously groomed. Manchurian or Japanese Cranes are other names for red-crowned cranes. They are among the bird species with the longest life spans, with an average lifespan of 30 to 40 years. Additionally, red-crowned and pine cranes are both representations of longevity and fortune in Japanese culture. The pine tree is renowned for its long lifespan and never had a leaf-shedding stage. The pine tree remains green and alive throughout the winter, regardless of how cold it is. Since Red-crowned Cranes are believed to be lifelong partners, they represent loyalty and marital harmony.
2. February - Plum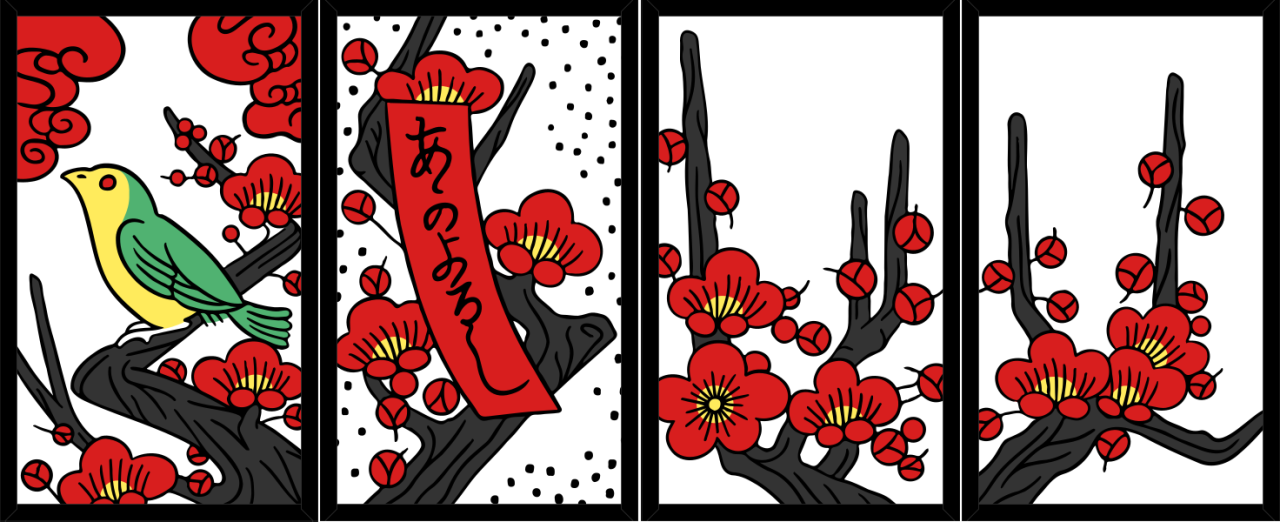 Japanese poetry frequently refers to ume blossoms as a sign of spring. According to Japanese tradition, the Ume serves as a charm that guards against evil. The northeast of the garden, where evil is thought to originate, is where ume is traditionally planted. It is also believed that eating pickled fruit for breakfast may help ward off bad luck. Furthermore, many Japanese can hear the Japanese Bush Warbler breeding cry beginning in the early spring. The bird has a dull color and is alone. Typically, it only appears before the trees' leaves in the spring.
3. March - Cherry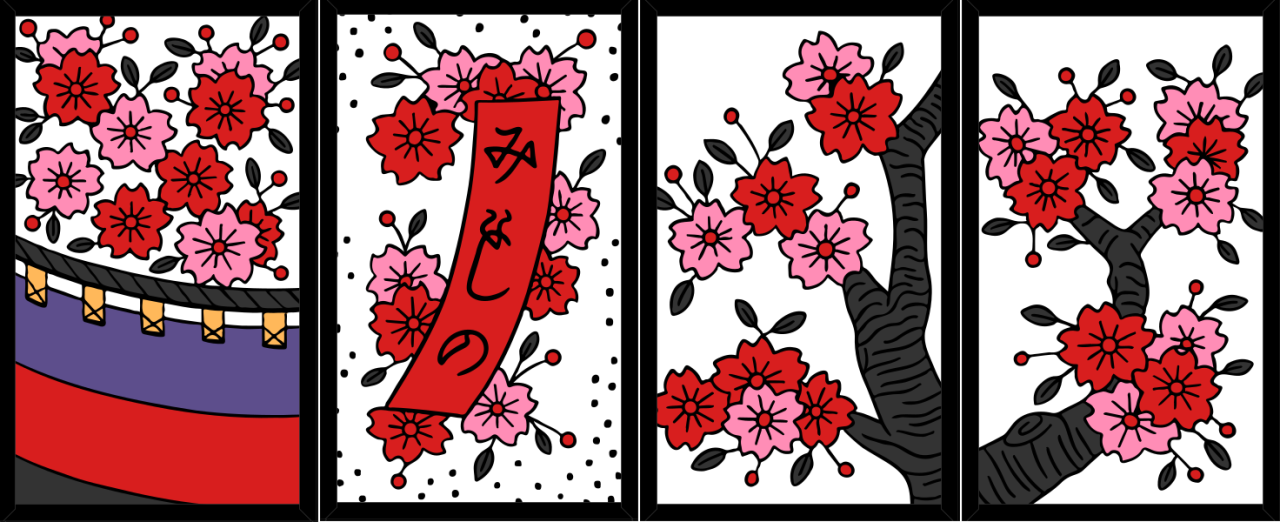 For the Japanese, cherry blossoms have a profound symbolism. A cherry tree in bloom is a lovely sight, but it only lasts a short while. It serves as a reminder of life's transience and unpredictability. Youth, pleasure, and bad luck all experience a blossoming and fading cycle like the fleeting cherry blossom.
April - Wisteria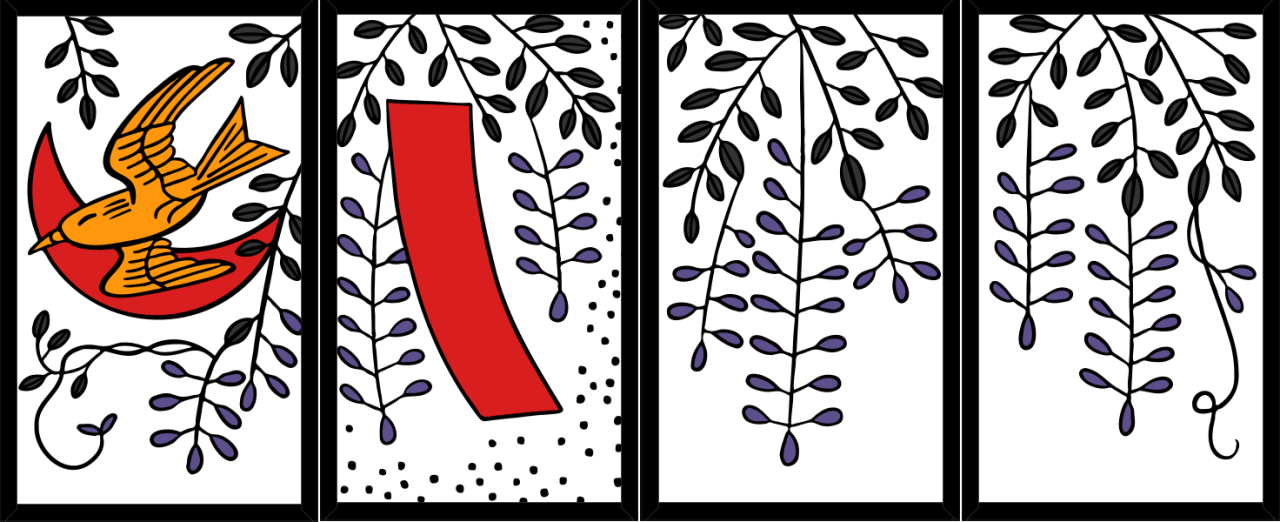 A flowering plant from the family of peas with a lifespan of more than fifty years is called Wisteria floribunda (Japanese Wisteria). It is a woody, deciduous twining climber with a 30-foot maximum height or 9 meters. Given that they can grow to about half a meter in length, Japanese Wisteria has the largest flower racemes. In Japanese culture, Wisteria stands for love, fertility, creativity, and a long life with its rich, warm beauty. It can also represent virtues like endurance and honor.
May - Iris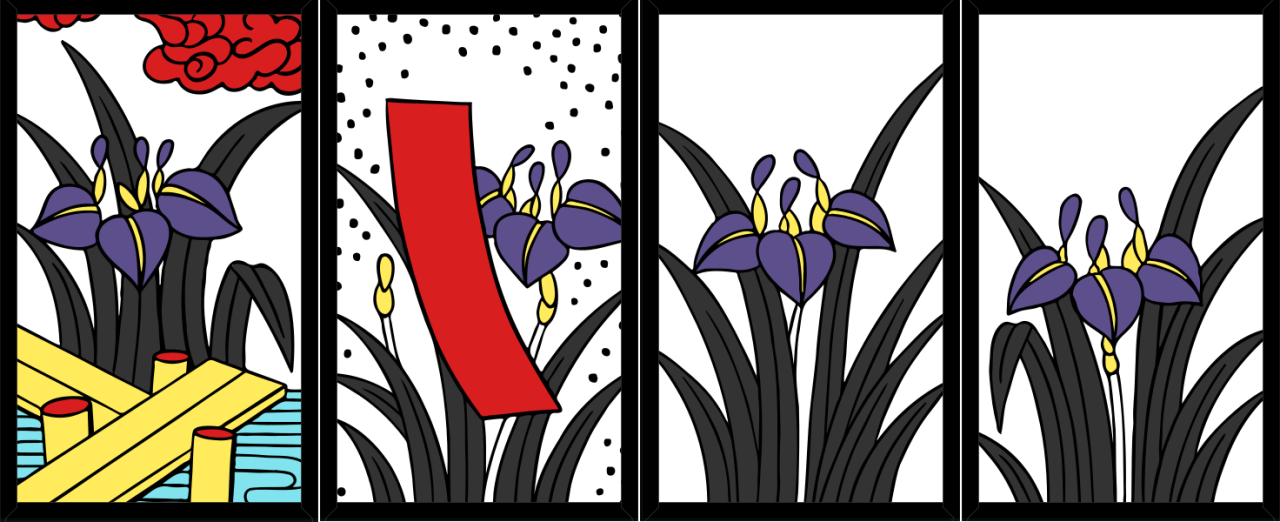 In mourning services, tea ceremonies, holiday festivities, and all forms of art, from literature and paintings to music and fashion, Japanese flowers have traditionally taken center stage. The iris plant, known as kakitsubata in Japan, was frequently employed as a theme in samurai accessories like tsubas and armor because it symbolizes strength and health and wards off evil spirits. The blue bloom represents optimism and faith, while the purple iris conveys knowledge and honor.
June - Peony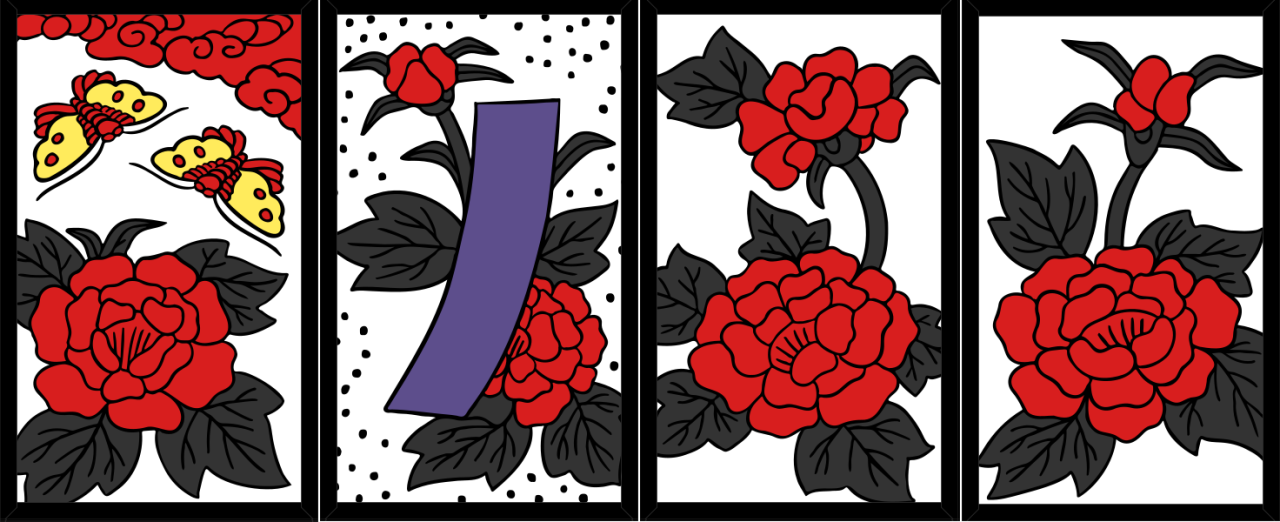 The peony is a representation of wealth, success, and prosperity in China and Japan. Large, aromatic flowers and therapeutic benefits make the peony famous. In Chinese and Japanese paintings, it is frequently seen alongside butterflies. Since the blooms are nectar-rich, many insects are drawn to them.
July - Lespedeza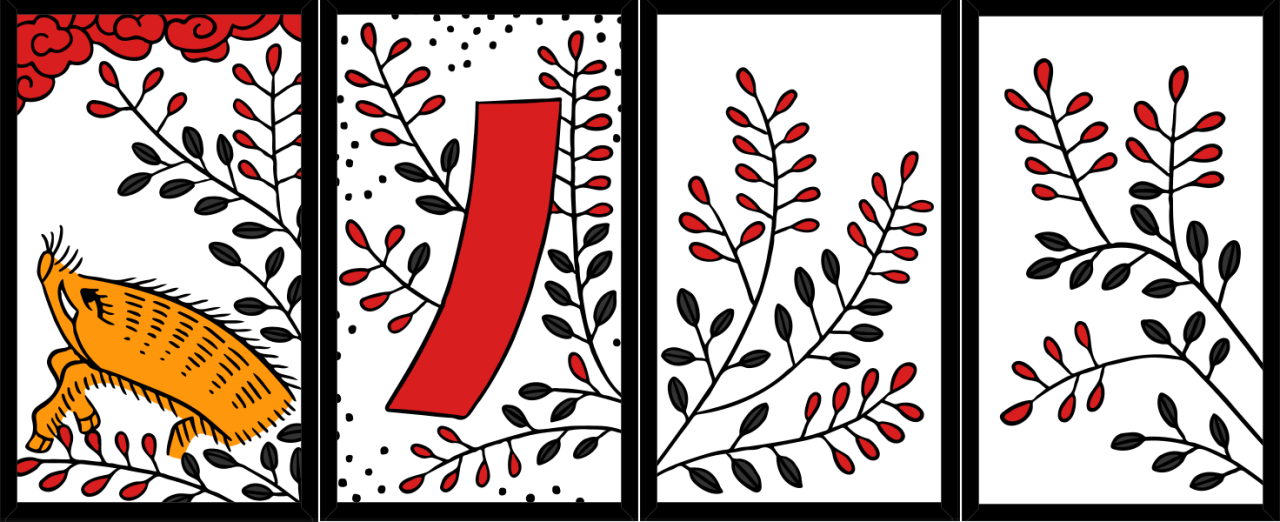 Japanese bush clover, also known as lespedeza or hagi in Japanese, is the month's flower. It has been a favorite motif of Japanese poets for eons and is connected to melancholy and unrequited love. It is one of "the seven autumnal blossoms." In addition, the unusual animal pictured is a young inoshisi, a type of Japanese pig. It is regarded as a dangerous and irresponsible animal in Japan, to the extent that several Japanese idioms that denote irresponsibility mention boars.
August - Pampas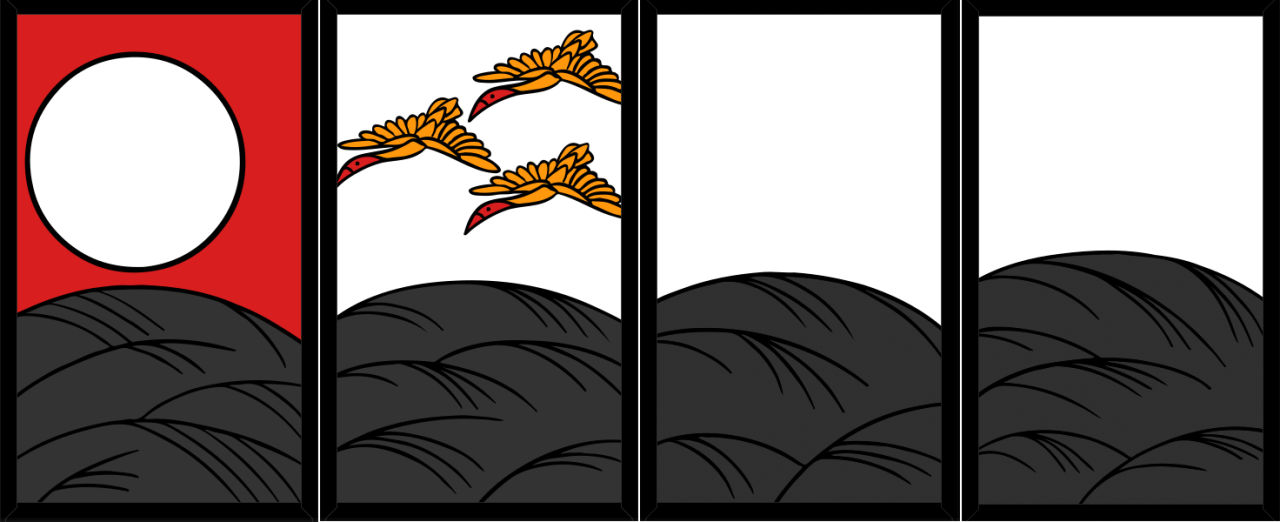 Maiden (or Chinese) silver grass, or susuki grass, is the symbol for August. It is occasionally referred to as "pampas grass," but it is a South American name. Historically, the grass was utilized as both animal feed and to thatch houses. Along with bush clover, it is considered one of "the seven flowers of autumn" and is said to be most appreciated when viewed at night in the middle of the month. The brilliant moon-over-the-grass card is the hanafuda pack's most recognizable design and is commonly taken out for usage on flyers, book covers, and other items. Sometimes it is referred to as "the bald guy."
September - Chrysanthemum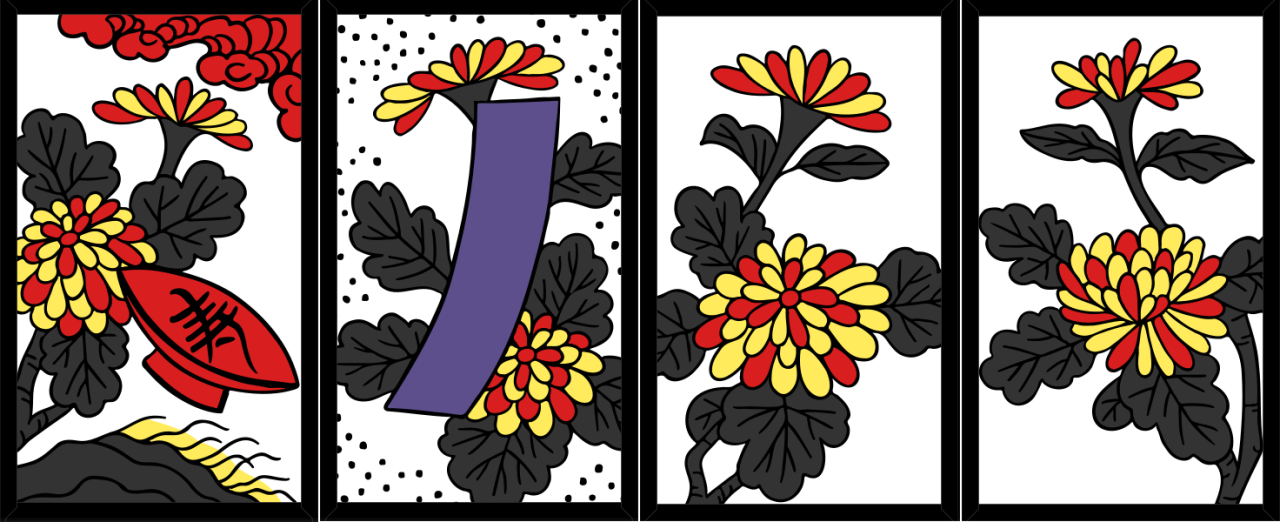 The Chrysanthemum, or Kiku's sixteen petals, serves as the Emperor of Japan's personal emblem. The Sun deity 'Amaterasu' is supposed to be the ancestor of the Emperor. The Chrysanthemum's huge yellow petals are a suitable representation of the blazing sun. Moreover, because the blooms of the Chrysanthemum have a lengthy lifespan, it is also a symbol of longevity. There is a myth about Chrysanthemum Mountain, which is located in Japan. According to legend, if you drink water from a stream where Chrysanthemum petals fall into the water, you will be granted a long life. The "five points" card has a Kiku holding a sake cup (rice wine) while standing next to a stream.
October - Maple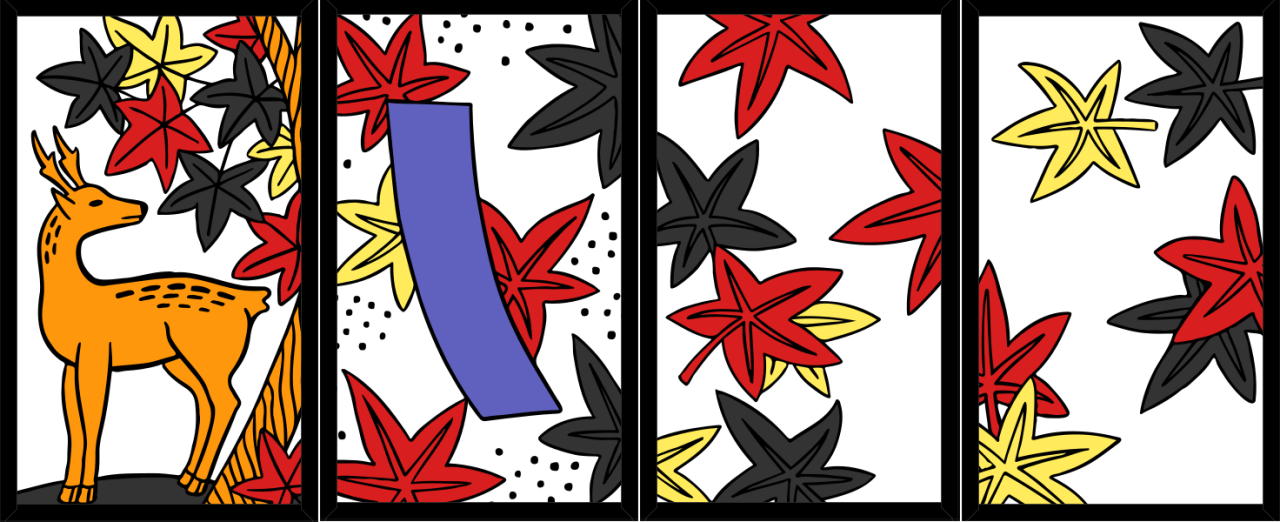 October brings the ky, or autumnal colors, of the departing Japanese maple leaves (Momiji). These stand for serenity, repose, and tranquility. The practice of seeing maple leaves is known as momijigari in Japan, where people seem to view a lot of leaves. Moreover, the Shika deer in the animal card is a youngster (Nihon Ika). A colloquial Japanese term called shikato, which means to snub a person, has developed since the deer appears to be turning away from someone.
November - Willow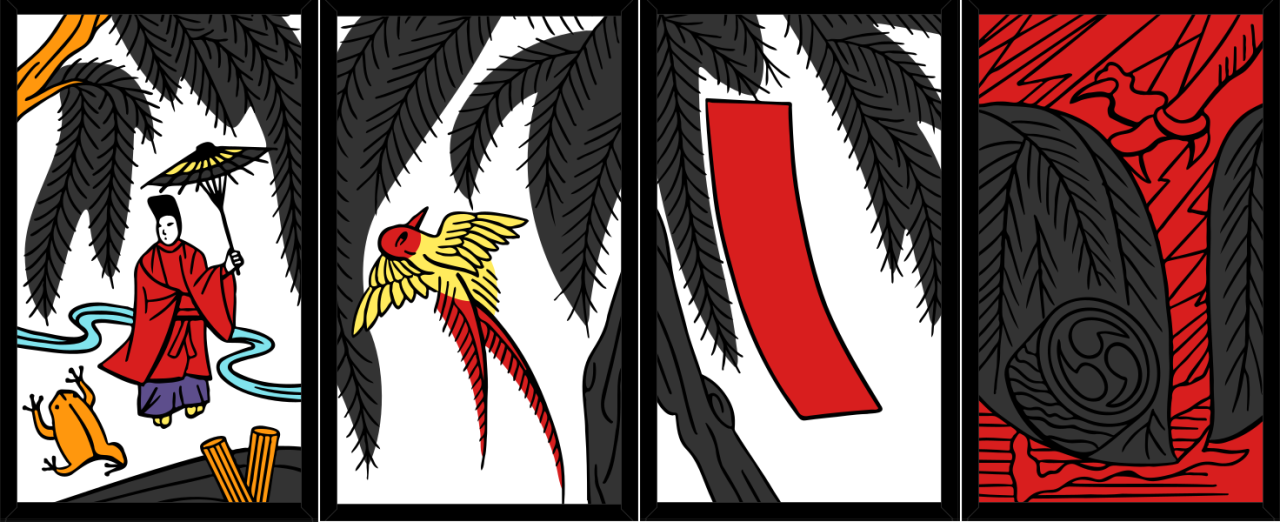 November is referred to as "Yanagi" (Willow). The willow tree represents power and grace. The Willow represents the qualities of the ideal lady in China and Japan, and Geisha are sometimes compared to the Willow. Ghosts are also connected to the Willow. Where a willow grows, a ghost is said to manifest. A young Samurai falls in love with a woman named Green Willow in the Japanese ghost story "Green Willow," who has a strong spiritual bond with a willow tree.
December - Paulownia
Paulownia, also known as the princess tree or empress tree and known in Japanese as Kiri, is this month's emblem. It appears in many Japanese governmental crests and seals. Planting paulownias when a girl is born is an ancient tradition. The trees develop along with her. The trees are chopped down and turned into gifts for her spouse when she is preparing for marriage.
Where to Find Hanafuda Cards?
Hanafuda card decks are widely available on both Western world and Japanese websites. The pictures in the Japanese version range from Mario to Snoopy to Pokemon. Check out the best hanafuda cards in the Sugoi Mart card games collection. They offer a wide range of designs, from Snoopy Hanafuda card game, Mario Nintendo, Japanese Master Hanafuda set, Nintendo Hanafuda, and Minions Hanafuda Sets. If you live in Japan, you can find a set at the Daiso or a bookstore in your area. Hanafuda cards are typically very few, so beware of being fooled by their appearance.