Starbucks Japan lovers out there - this one's for you!
Starbucks is no wonder one of the most popular and in-demand coffee chains in the world. Founded in 1971, Starbucks has been continuously giving everyone a great coffee experience because of its variety of drink and food menus. Wherever you go, there are at least one or two Starbucks branches in a place offering the same quality and taste. Needless to say, Starbucks creations have been serving everyone up until today, whether it's their classic coffees, cold and hot drinks, pastries, or everyone's favorites - limited edition merchandise in every season!
Starbucks Japan: The Birth of Starbucks Sakura
One of the most popular Starbucks franchises is Starbucks Japan. Quick throwback about Starbucks and Japan, the first-ever Starbucks retail in Japan was opened on August 2, 1996, in the heart of Tokyo located at Ginza. Since then, Starbucks Japan has also been dominating the world with its own creations of unique drinks that didn't only revolve around coffee but also around teas, milk, and so on.
Meanwhile, its popularity gained more when Starbucks started to adopt and embrace its very own symbol of Japan - cherry blossoms or sakura. Starting in 2002, Starbucks Japan showed its respect for Japanese culture by creating drinks and collections inspired by cherry blossoms and releasing them during every year's season. Furthermore, the Starbucks pink drinks also became the symbol that these beautiful cherry blossoms bloom again and that spring is yet to arrive.
Each year, they release different themes and new lines of cherry blossoms-designed drinks, coffees, and collectibles. What makes the yearly release special is that Starbucks Japan only releases limited editions for a limited time and is sometimes exclusive only in Japan. Hence, the cherry blossoms season becomes more exciting because of the much-awaited Starbucks Sakura releases.
Starbucks Sakura Famous Releases
When it's sakura's season of the year again, Starbucks Japan lovers highly anticipate the news for what's about to come in the world of Starbucks Sakura. They're overly excited about the new drink creations and flavors to try, such as their famous Sakura Strawberry Pink Tea, new limited edition collectibles, such as their famous stylish stainless steel bottle, and new creative pink designs to watch out for. You can't really deny that when it comes to pink and cherry blossom designs, Starbucks Japan carefully crafted its collections so that locals and even foreigners would totally fall in love with them.
Now, let's take a look at some of the famous releases of Starbucks Sakura over the past years.
Sakura Full Milk Latte and Sakura Full Frappuccino 2019
The 2019's Sakura season beverages are the Sakura Full Milk Latte and Sakura Full Frappuccino. Both drinks used cherry blossoms and strawberries as the base flavor. Sakura Full Milk Latte is a mix of strawberries and milk, giving that sweet and creamy flavor. Meanwhile, Sakura Full Frappuccino is made of sakura, strawberry sauce, and strawberry and cherry blossoms jelly.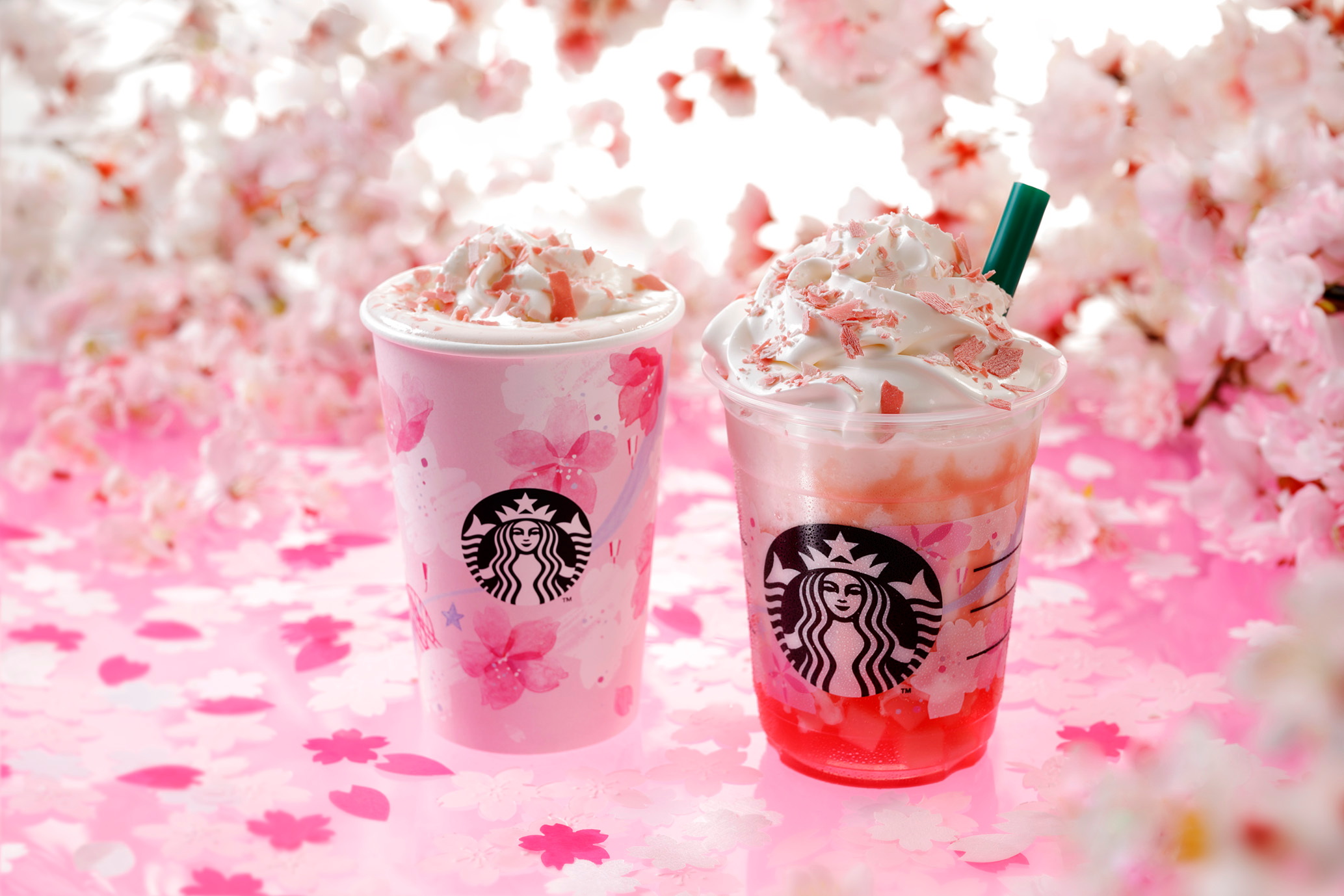 Starbucks Sakura 2018 Variety Petal Stainless Steel Bottle
We all know Starbucks is famous for its tumbler and bottle limited edition collections. In 2018, Starbucks Sakura released a stainless steel bottle with a sakura petal design in a pale pink body bottle. It comes with vacuum double-structure stainless steel, which is great for hot and cold storage case functions.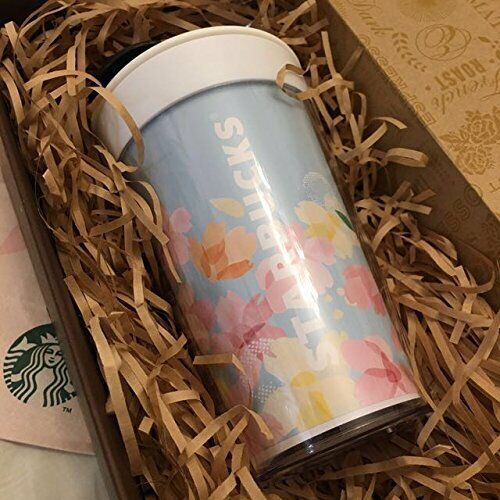 Sakura 2020 Stainless Logo A-Line Bottle
One of sakura's 2020 limited edition items is the Sakura 2020 Stainless Logo A-Line Bottle. It also has a cool and warm function that can last up to 6 hours. The design has a gradient of pink cherry blossoms.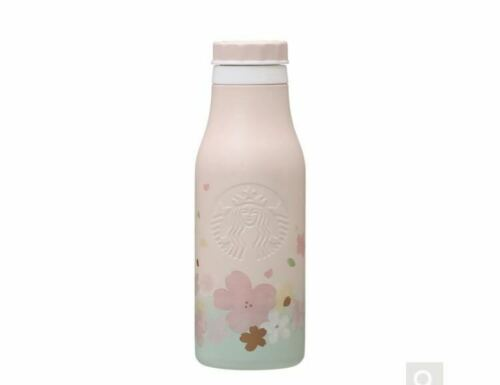 Bonus: 2022 Starbucks Japan Releases
To celebrate Halloween 2022, Starbucks Japan released its seasonal collection last mid-October 2022. This year's Halloween theme is called "Black Cats Get Magic." Aside from black cat designs, expect collectibles and creations like the pumpkin round shape, jack-o-lantern purple Halloween Canister Hoodie Cat, Orange Halloween Mango Passion Tea Frappuccino, and many more with playful design black cat-themed.
Furthermore, you'll surely fall in love with the variety of this year's Halloween collection with their rainbow colors Halloween drinks! The drinks featured are Red Sweet Passion Fruit Tea, Orange Mango Passion Tea, and Purple Sweet Potato. For the frappuccino editions, they have Purple Halloween Frappuccino, Mango Passion Tea Frapuccino, Matcha Cream Frappuccino, and Passion Tea with Vanilla Flavor Syrup. Moreover, latte categories include Starbucks Japan Pumpkin Spice Latte and Starbucks Blonde Latte with Oat Milk. Meanwhile, Starbucks Japan: Toro-ri Raspberry Halloween cake and Basque Pumpkin Cheesecake are also featured for pastries.
Starbucks Collections by Sugoi Mart
Here at Sugoi Mart, we also have some Starbucks Japan collectibles that you can get exclusively and add to your collections. Whether it's a mug, cup, and even cup sleeve, we got you! Check them out below!
Starbucks Reserve Roastery Tokyo: Pink Sakura Glass
If you haven't known yet, there's actually a special brand name under Starbucks that serves an exclusive menu and serves exclusive products. It's called Starbucks Reserve Roastery Tokyo. And this Pink Sakura Glass under the brand represents the full-bloom Sakura of Nakameguro in the daytime. You can see the carefully crafted art details in the glass as it is handcrafted by traditional techniques from Aomoro, Japan.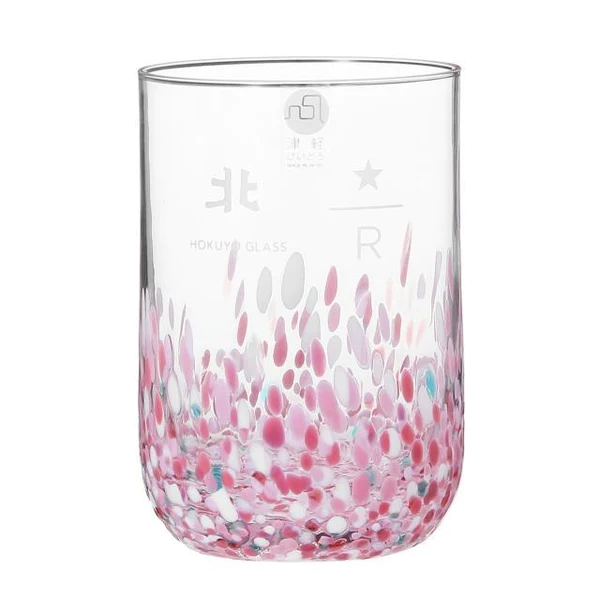 Starbucks Japan Been There Collection: Mug
The huge success worldwide is the reason behind this Starbucks Japan Been There Mug Collection. It's a limited and exclusive stoneware mug that features the iconic symbols and landmarks of Japan, like Sakura, Mount Fuji, and Darumas.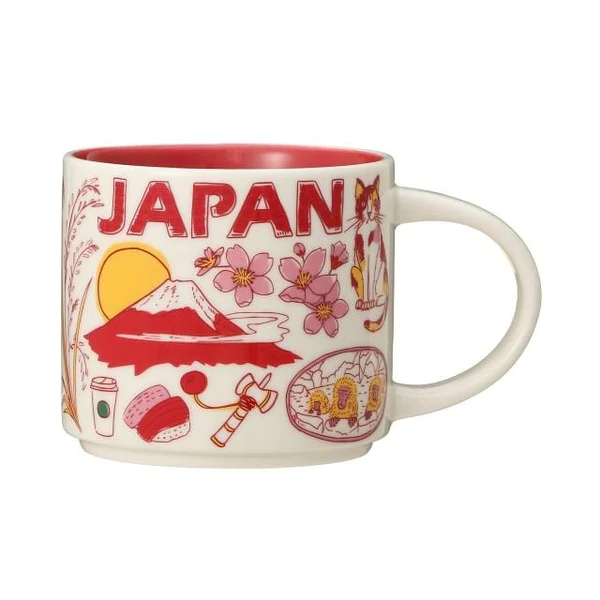 Starbucks Japan Been There Collection: Stainless Bottle
Same with the Starbucks Japan Been There Collection, this stainless bottle is part of the same collection that features the iconic landmarks of Japan, such as Mount Fuji, Sakura, and Darumas.
Final Takeaways
The success of Starbucks Japan is truly on another level. It's not just the brand's name but also the dedication of Starbucks Japan in giving their consumers the worth-the-wait feeling for their most-awaited collections every year. For those who are fond of collecting, Starbucks Japan's strategy of releasing exclusive and limited-editions merchandise is indeed winning the hearts of collectors. Plus, it's admirable how Starbucks Japan seems to have never-ending ideas of what to release and continuously thinking outside the box to surprise its consumers with fresh and unique collections.
Shop Now at Sugoi Mart!
Here at Sugoi Mart, we are passionate about bringing top-notch quality and exclusive products, goods, snacks, and collections from your favorite Japanese brands! We strive harder and better to give you nothing but seamless transactions and the best customer service experiences.
Sugoi Mart offers a variety of exclusive products that range from anime collectibles, sweet goodies, Japanese snacks, children's toys, plushies, and other Kawaii items, kitchen utensils, household goods, Japan-exclusive drinks, collections that feature different characters, and many more. If you haven't checked our website yet, visit and shop now!