Christmas in the United Kingdom is famous for roasted traditional turkey, the magnificent Réveillon is enjoyed in France, many traditional American Christmas food is enjoyed in the US, and outdoor braais, or barbecues, are extremely popular in South Africa. And in Japan, Christmas means the finger lickin' good KFC.
KFC's viral success in America a few years ago led to an unstoppable trend that extended to the rest of the world. Many individuals worldwide often visit KFC with their families or simply order takeaways to eat with friends at home during weekends. However, Japanese families are obsessed with KFC on Christmas Day, unlike others. They put their internet orders years in advance to ensure they can get their chicken on time. But why? Read on and discover the KFC Japan treats and traditions during Christmas!
History of KFC Japan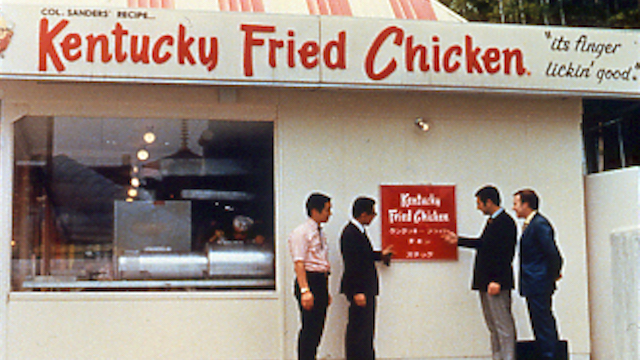 Since December 1974, just four years after the first KFC outlet debuted in Japan, it has been widely accepted that KFC is the best Christmas food in Japan. Some claim that Takeshi Okawara, the first KFC manager in Japan, used a small white lie to promote their fried chicken as a typically American holiday dish to boost sales.
But according to the official KFC Japan article, Okawara went to a Christmas party dressed as Santa Claus, and when the kids enjoyed it, he was inspired to create the KFC Christmas specials. Another urban legend is that Okawara overheard foreigners asking about Japanese Christmas dinner customs. Then Okawara had the brilliant idea to turn KFC chicken into a "party barrel" and sell it for a low, all-inclusive price. Regardless of the genesis tale, KFC is undoubtedly to blame for one of the most well-known Japanese Christmas food traditions. Today, every Christmas, some 3.6 million Japanese people chow down on a feast of the Colonel's Kentucky for Christmas specialties.
KFC Japan's Christmas Campaign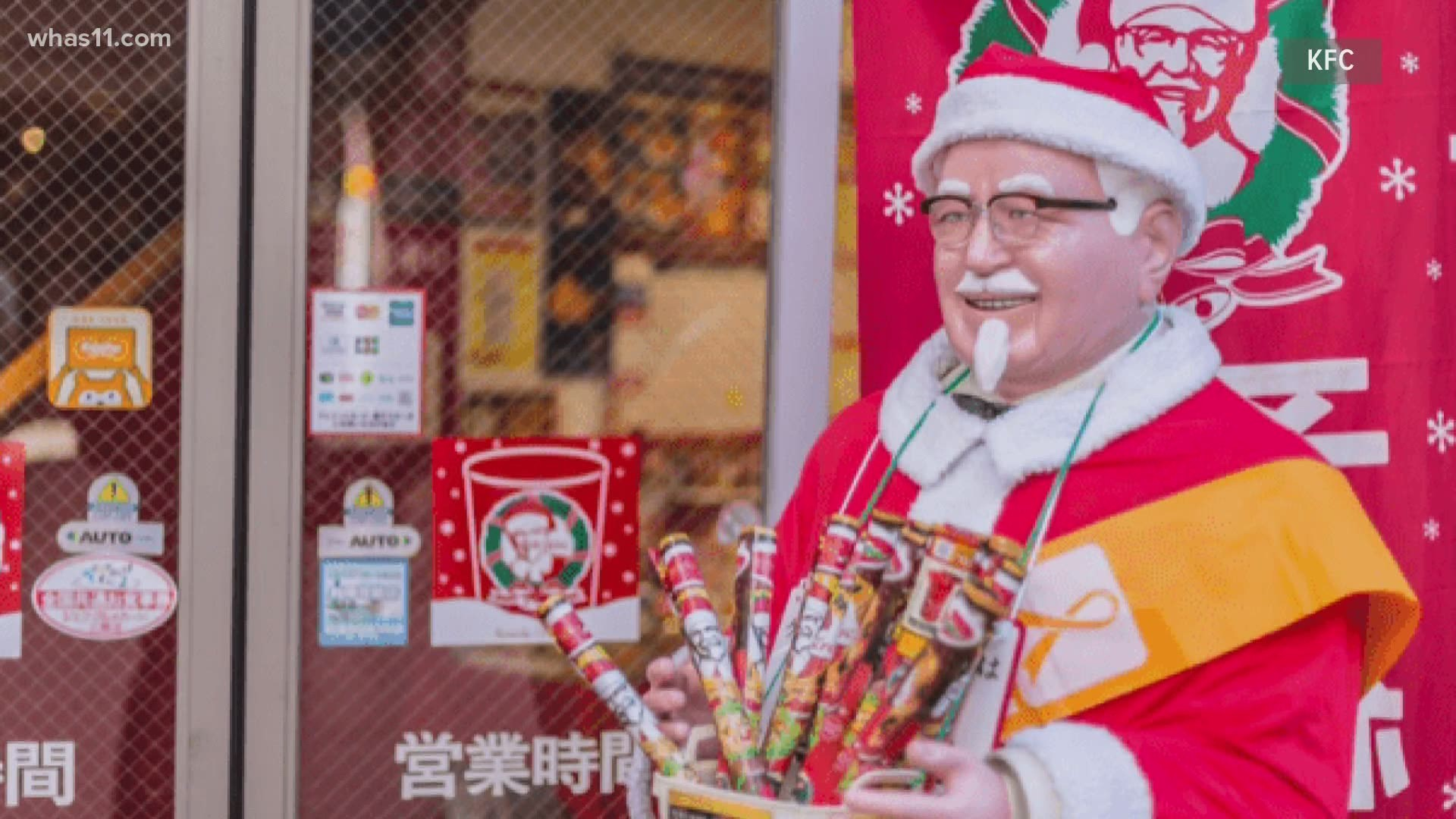 In Japan, Christmas is not even a recognized official holiday. So, it is like a little mystery of how KFC developed into a local Christmas tradition and how it has survived for almost 50 years. KFC Japan starts advertising and using the well-known "My Old Kentucky Home" song as the jingle for its holiday advertisements. People can order festive fried chicken when they hear the song, which signals the start of the approaching holiday season.
Moreover, the similarity between Colonel Sanders and Santa Claus is also a coincidence that helps KFC restaurant to be a star in Japanese Christmas. In Japan, he has transformed into Colonel Santa, who can be spotted all across the nation during the month of December and has a joyful fat belly and white facial hair. Additionally, KFC dressed up its colonel statues dressed in red-and-white Santa Claus costume and came up with the slogan, kurisumasu ni wa kentakkii, Kentucky for Christmas, to further highlight the KFC Christmas campaign.
KFC Japan Famous Party Bucket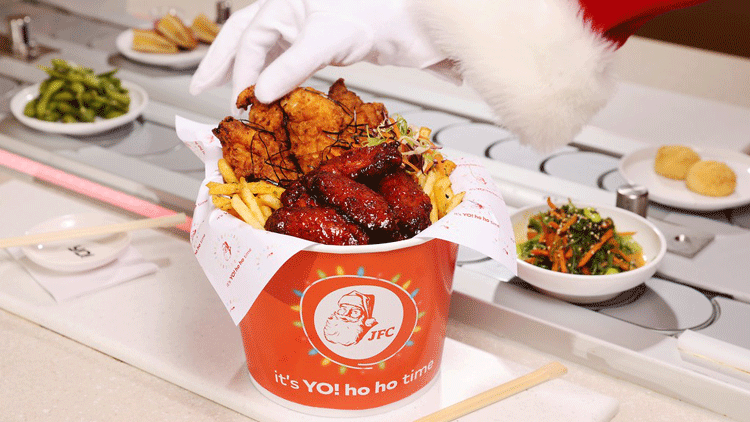 The Christmas promotion for Kentucky Fried Chicken Japan has developed over the years to now feature holiday-specific menu items such as premium roast chicken. But one campaign keeps the fame throughout the join timer. The celebrated party bucket is updated each year with a new festive bucket design, and an inner commemorative plate. The centerpiece of the party bucket and the Japanese Christmas holiday remains KFC's renowned fried chicken, even though its design and sides may alter yearly. A long-standing custom in Japan has Kentucky for Christmas.
Japanese Christmas Fried Chicken Tradition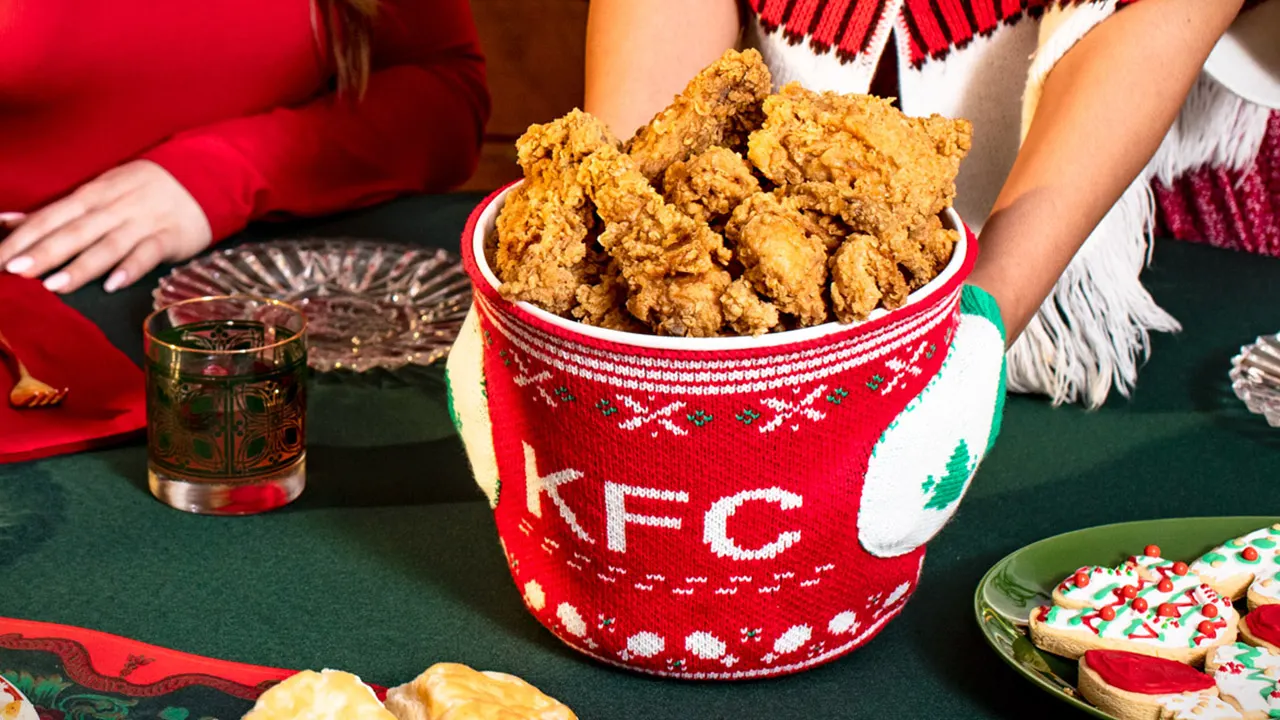 Japanese crowds gather in front of KFC restaurants in Japan during the Christmas season to purchase KFC's famous fried chicken. Around 3.6 million families participate in this ritual each year, which has become so ingrained in the national Christmas celebration that KFC's daily sales during the holiday season are ten times higher than usual.
These days, Christmas Eve is when KFC Japan's annual average sales volume is at its highest point. Presidents, executives, and the KFC Japan sales team from the back office come out to help move the lines along. Christmas and fried chicken have become synonymous concepts in Japan; KFC's commercials feature prominent members of popular culture gorging on drumsticks, and the corporate website even features a countdown to celebrate Christmas.
Christmas in Japan is indeed bizarre compared to other countries. Not only is it a religious season, but also celebrated as a day for lovers and a fried chicken mania. Even while it would seem strange to substitute fried chicken for the traditional roast turkey on Christmas Day, it's not too out of place in Japan! So reserve a time on Christmas Eve to enjoy buckets of the Colonel's finger-lickin' chicken with your family.