Many excellent anime films and family movies have been produced throughout the years, from Satoshi Kon's Perfect Blue to Katsuhiro Otomo's masterpiece Akira. Nevertheless, no film can come close to the stunning and well-known works of Hayao Miyazaki and Studio Ghibli. One of the most well-known and beloved of these films is My Neighbor Totoro, the adorable tale of two sisters adjusting to life in the country when they come across the titular forest monster who helps the girls adjust to their new existence.
Particularly the iconic characters from Studio Ghibli My Neighbor Totoro give the family film a unique quality that keeps viewers interested. Beyond their beautifully painted exteriors, they have rich thematic components that arouse long-lasting memories. Unquestionably a memorable character in Totoro is Catbus, a huge, twelve-legged cat that transports people through the countryside without being observed by adults. Read on to learn about Catbus and discover the best Catbus-inspired merchandise! But first, what exactly My Neighbor Totoro is?
What is My Neighbor Totoro?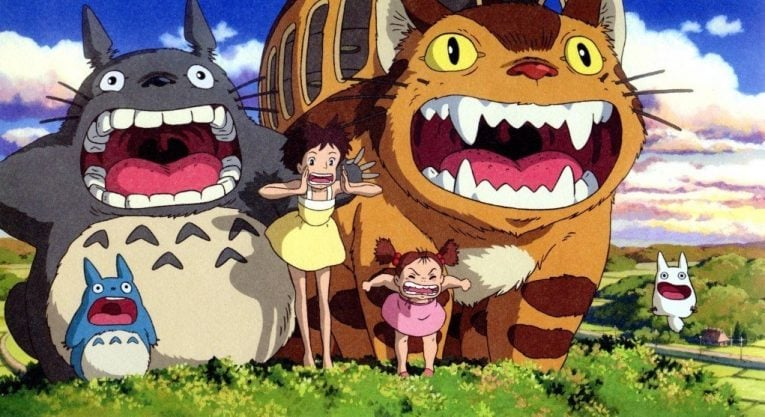 The animated series My Neighbor Totoro or Tonari no Totoro, produced by Toru Hara and animated by Studio Ghibli for Tokuma Shoten, was written and directed by Hayao Miyazaki. It made its debut on April 16, 1988, in a double feature with Grave of the Fireflies. The film, set in Tokorozawa City, Saitama Prefecture, tells the tale of a two girls, Satsuki, the older sister and its younger sister, Mei and their encounters with friendly wood spirits in post-war rural Japan.
Furthermore, My Neighbor Totoro is indeed one of Miyazaki's films. In fact, My Neighbor Totoro received high accolades from film critic and gained a cult following in the years after its release. It addresses subjects including animism, Shinto symbolism, environmentalism, and the delights of country living. The film and its namesake character have become well-known as cultural icons, in addition to making multiple cameo appearances in other Studio Ghibli films and video games. An entirely new English dubbed version of the movie was done by Walt Disney Pictures in 2004, and many distributors worldwide have released the streamline dub Disney version on DVD and Blu-ray.
Who is Catbus?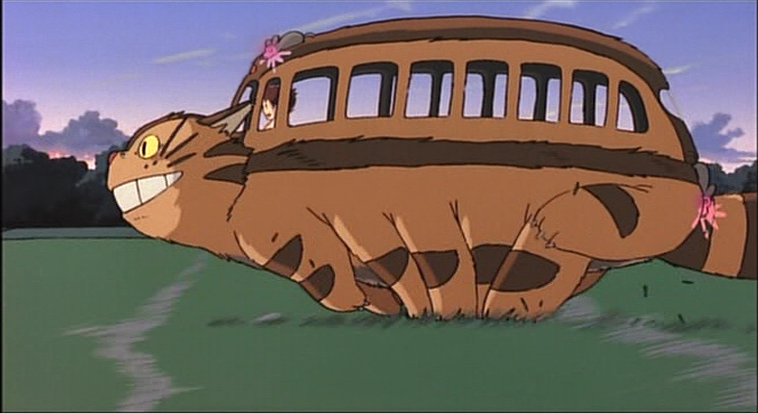 Catbus is one of the most recognizable and endearing Ghibli characters and makes an appearance in the movie My Neighbor Totoro. The Catbus is a character from My Neighbor Totoro who transports animals and looks like a bus in a magical adventure. Catbus has two mice as its headlights and can travel anywhere its passengers choose. The bus accelerates swiftly, turns around, and meows while grinning and having brightly illuminated eyes. With its strange smile and sly floodlight eyes, the Catbus charms its way into the hearts of the viewers and stays there, perhaps forever. Totoro and the characters from the movie are ranked 18th for finest animated characters and play a big role in the Ghibli Museum, including this large Catbus.
Moreover, Satsuki and Mei first encounter Catbus while waiting for their father, Tatsuo Kusakabe, at a bus station with the titular Totoro. In the film's final episodes, Satsuki asks Totoro to help her locate her sister Mei. Satsuki and Mei are joyfully brought together by Catbus when Totoro summons him before the vehicle transports the children to the hospital, where their sick mother is a patient treating her long-term illness.
Best Catbus-inspired Products
1. Cat Bus Stackable Figures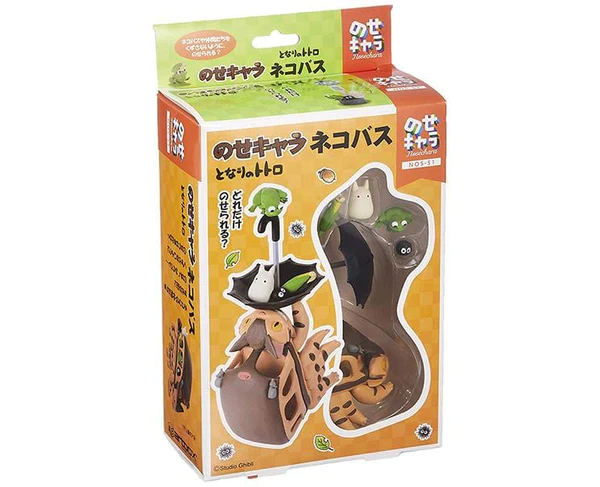 Catbus Stackable My Neighbor Totoro figures include Small White Totoro, Catbus, Bus Stop, Umbrella, King Totoro, and other characters. Characters and pieces can be arranged in a number of different ways. Seven pieces make up the My Neighbor Totoro Catbus set in total. The figures and parts exhibit incredible intricacy. Even those who are unfamiliar with the Totoro universe but are fans of the Ghibli anime will be charmed by these 3D renditions of the characters from Totoro.
2. My Neighbor Totoro Cat Bus Mat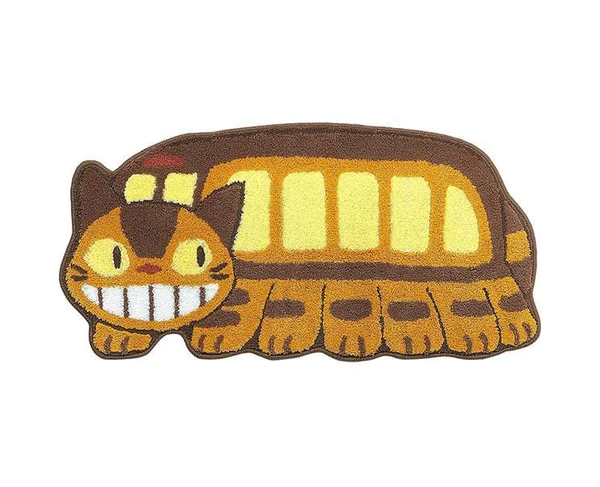 This My Neighbor Totoro Cat Bus Mat has a style that conjures up images of a cat bus tearing through a jungle at breakneck speed. The design, with its vivid yellow color scheme that evokes the night, is ideal for one spot in your space. This adorable cat mat is a lovely, stylish, and versatile addition to your house that can be a doormat, bathroom rug, bedroom rug, living room rug, etc.
3. Ghibli Cat Bus Memory Foam Cushion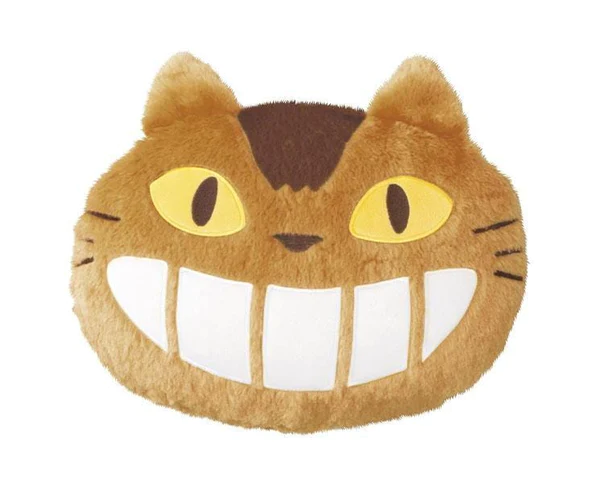 Relive the wonder of Studio Ghibli's works with the aid of this Ghibli Cat Bus Memory Foam Cushion. You'll be delighted to get your very own Cat Bus cushion, the world's most comfortable bus, right away. This pillow is a great gif for any Studio Ghibli fan! In addition, this can be the best decoration for your couch or favorite chair. This Catbus urethane foam-filled cushion is 13.75" wide by 12" tall and is strong and perfect for back support. The Catbus cover is simple to remove and can easily be washed with water.
4. Studio Ghibli DIY Paper Craft: My Neighbor Totoro (Cat Bus)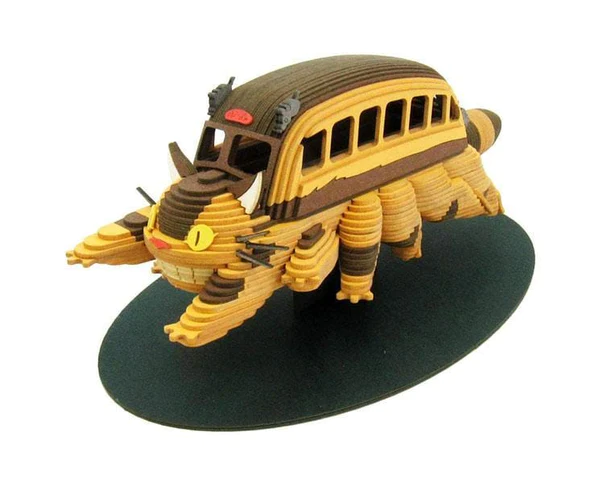 Studio Ghibli's Catbus Papercraft Set displays the magical means of transportation that has been faithfully and amazingly detailed and replicated from its appearance in the film. The model is actually miniatured, which makes it even cuter because it can fit in the palm of your hand. This DIY paper craft set consists of several laser-cut parts on variously colored cards. Moreover, this was an amazing pleasure to put together because of the beautiful details. There are two enormous yellow eyes, two sets of whiskers, a bright red nose, and the well-known Cheshire cat grin. The cat has a dynamic impression of mobility thanks to the way the layers of cardboard come together in smooth, straight lines. A cute Catbus model is the end result after the kit has been put together.
6. My Neighbor Totoro 1000 Piece Jigsaw Puzzle (Ride the Cat Bus)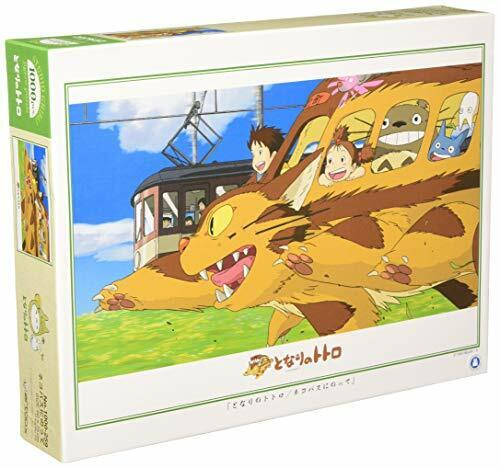 Enjoy assembling this My Neighbor Totoro 1000-Piece Jigsaw Puzzle (Ride the Cat Bus) all year long. Each My Neighbor Totoro 1000 Piece Jigsaw Puzzle (Ride the Cat Bus) is made with recycled puzzle boards. A precise cutting technique ensures that each component will fit snugly. Get this jigsaw puzzle of your choice from Japan, and have a leisurely time together with your children while also educating their minds. This My Neighbor Totoro 1000 Piece Jigsaw Puzzle is a terrific challenge for individuals who like puzzles and Ghibli films. After putting so much effort into completing the 1000-piece jigsaw puzzle, hanging your masterpiece could be a good idea.
Sugoi Mart's Studio Ghibli Collection
There's a reason why Studio Ghibli movies are so well-liked. The best Studio Ghibli movies are filled with remarkably convincing fantastical folklore creatures, lovable main characters, and soaring soundtracks that will make you swoon. There is also a wide variety of cute, cool, must-have products available for Ghibli fans, including items for wearing, displaying, playing with, and lovingly hand-crafted works. They make the ideal gift for you or the person in your life who is a die-hard Ghibli lover. Browse the Sugoi Mart's Studio Ghibli's My Neighbor Totoro collections, then be ready to infuse your house with the magical adventures of the Catbus.