Japan is a nation with a vibrant culture and traditions. Many people adore Japanese cuisine and beverages, but did you know Japan also has some of the best Japanese candies? Japanese candies have gained popularity over time in many different parts of the world, and the Western market just cannot compete with their distinct flavor. In fact, many successful Japanese candy producers have amazing marketing abilities, which attract countless new variants of the most well-known brands. That said, Japan certainly has some of the wackiest and most entertaining candies, and Kracie Popin Cookin is one you should try!
What is Kracie Popin Cookin DIY Candy?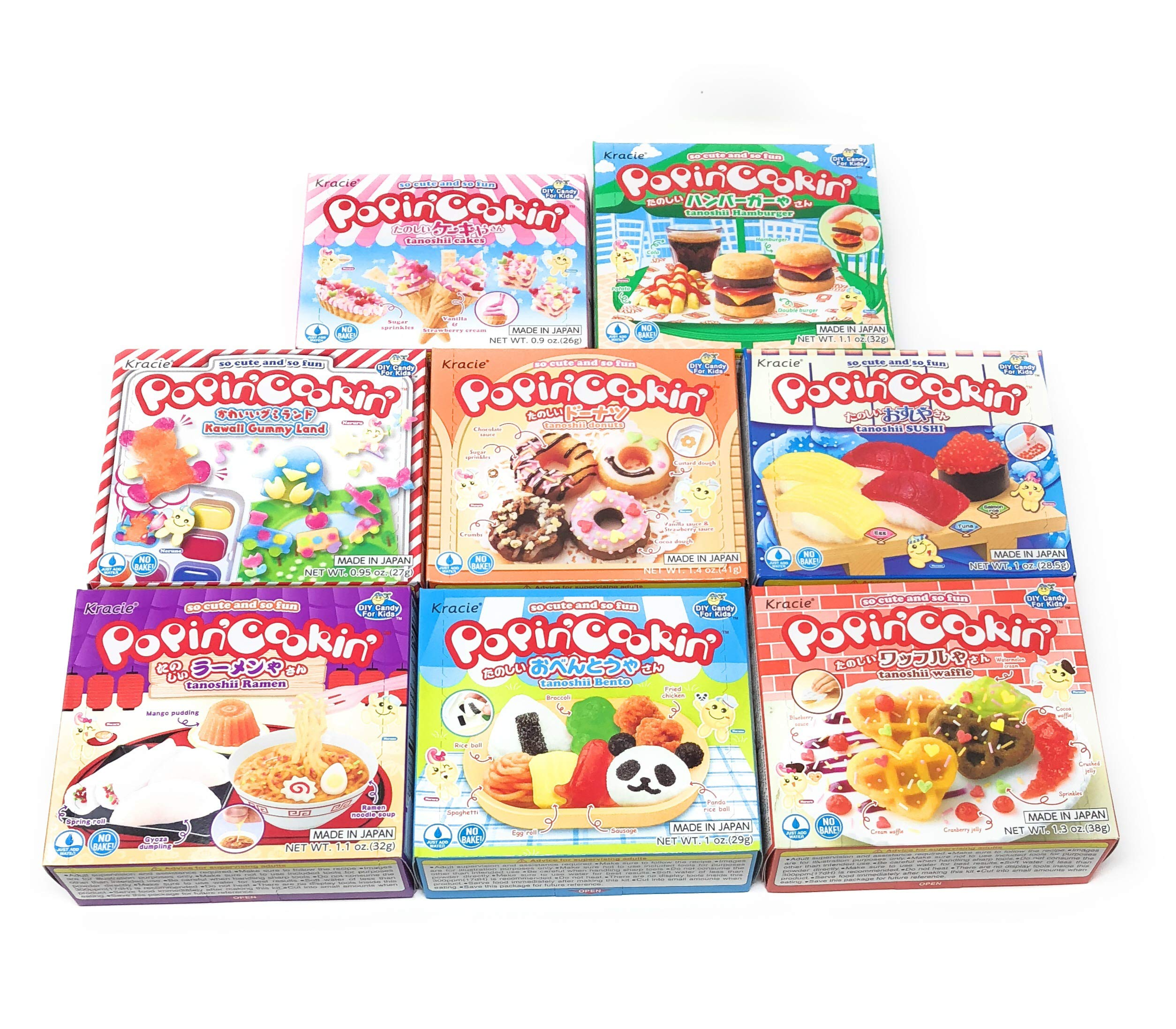 Japanese-made Kracie Popin' Cookin' DIY cooking kits allow you to feel like a real chef by giving you all the ingredients and equipment you need to make delicious and adorable little confections. All their candy kits are simple to create and manufactured with edible materials. With their interactive candy kits, Kracie's Popin' Cookin', snackers are challenged to transform simple ingredients into the lovely candies that can be seen on the front of the packaging.
Additionally, these candy kits promote family bonding and improve creativity to create, blend colors and flavors, make numerous forms, and mimic the texture of relevant Japanese food out of tasty candy ingredients. Most of the time, all that is required to make this enjoyable for adults or children is to combine the right powder with the right amount of water. By combining the parts with water, you may stir and shape this kit into a delightful serving of a classic Japanese dessert or dinner. Teriyaki, sushi, ice cream, hamburger, cookies, bento meals, and many more foods can be made to make your own joys.
Depending on your purchased pack content, the Popin' Cookin candy kits can be a little unusual, but it's a nice strange. The packs are a delightful, sweet, and fruity way to enjoy a box of sweets, but setting them up takes some time and careful attention to the directions. In addition, because you have to assemble the candy, you have to wait a little while before you can truly taste this gummy delicacy. The Popin' Cookin kits are ideal if you have patience and want a treat that gives a little extra pleasure. But don't expect a fine dining experience; the main attraction is the wonder of producing your own candy, not the sweets themselves. Nonetheless, this is one of the very few times you need to allow your kids to play with their food. With these Japanese candy kits, kids of all ages may explore their imagination to create humorous Japanese food-shaped treats!
How Does Kracie Popin Cookin Start?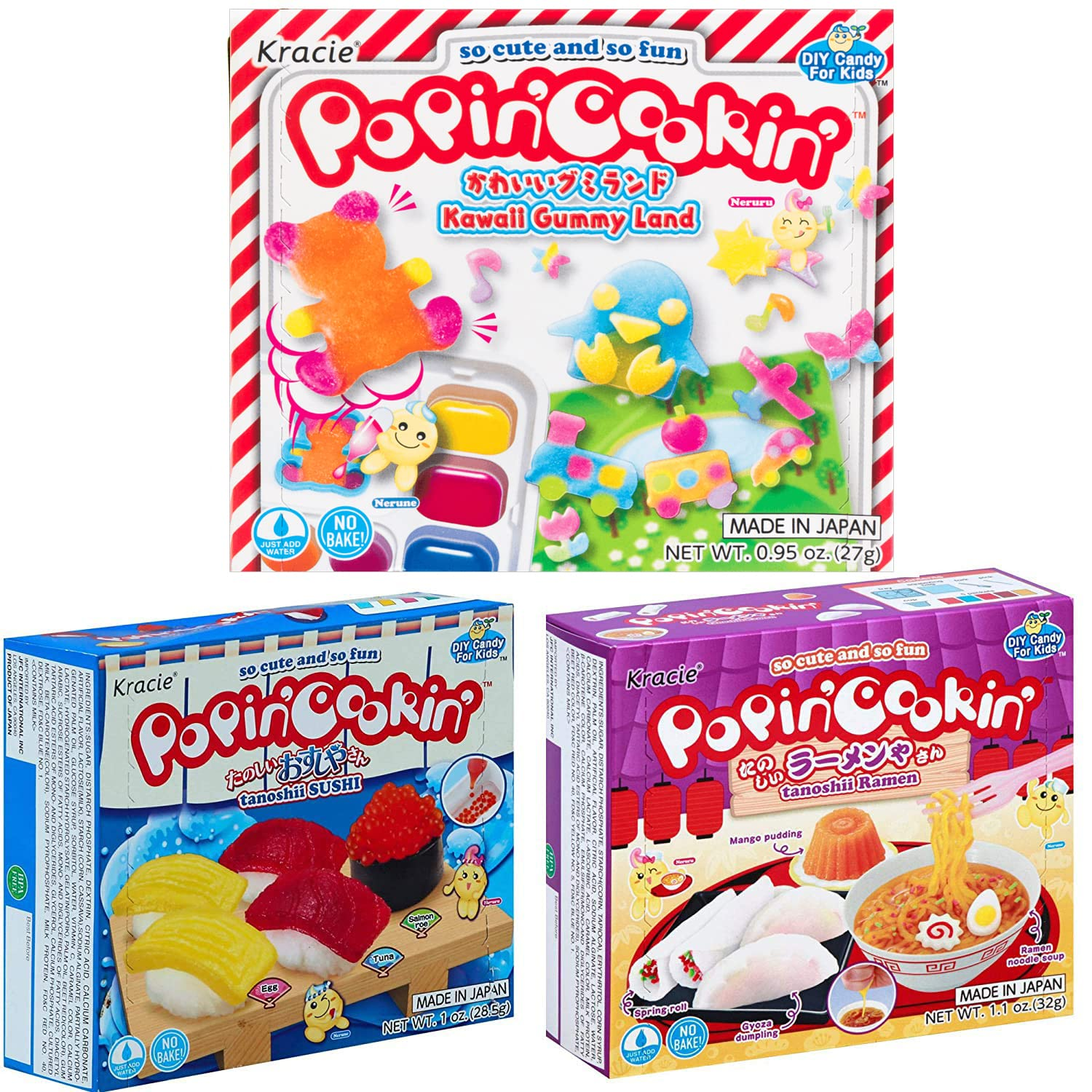 Kracie, the company that created Popin' Cookin', was established in 1887 as a cotton-selling firm. The company successfully extracted silk oil during the manufacture of silk thread, and they then began making high-end, luxurious soap infused with silk oil. And in 1964, Kracie produced chewing gum using the scientific technologies created when creating synthetic fibers. Stick bubble gum was a huge success since chewing gum was novel and in high demand in the confectionery sector.
Kracie's product changed from being a snack that kids created on their own to one that lets parents and kids work together. Kracie aimed to develop a family-friendly brand of goods. In that sense, children would work hard to perfect the process because the snack-making process affected the ultimate result. Kracie then came up with combining the powder and water to create cute small soft-serve ice cream bites, which where kids can act out the role of pastry chefs. Then in 2008, Kracie Popin Cookin was introduced to children and their desire of wanting to enjoy authentic Japanese snacks and experiences eating like an adult.
Best Kracie Popin Cookin DIY Kits
1. Popin' Cookin' Fun Hamburger Kit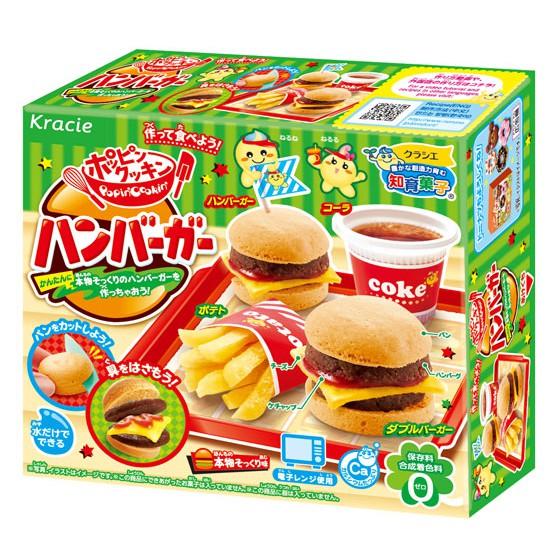 Here is a tasty Popin' Cookin' Fun Hamburger Kit treat that will make you feel like you own a hamburger shop! This inventive candy kit allows you to create your takeout meal in the smallest and cutest possible packaging. This confectionery set has all the components for a traditional hamburger and fries set menu, including powder mixes for each item that can be combined and formed into your favorite fast food dishes with just the addition of water. The packaging includes trays and sheets to construct the bun, savory burger, cheese, and even your own fries. This kit has the ingredients required to make two miniature hamburgers, some fries, and a can of cola.
2. Popin' Cookin' Fun Sushi Kit
Here is a fantastic Popin' Cookin' Fun Sushi Kit that you can make! You may stir, mold, and knead this kit into candy sushi, such as egg rolls, salmon roe, tuna, and chirashi sushi, by simply adding water! This sushi set is full of calcium and enjoyable for kids and adults. Along with the traditional grape flavor, the Popin' Cookin' sushi kit has been updated with sort of fruity flavors of orange and apple. Additionally, you can top up your masterpieces with candy soy sauce. This candy has no synthetic colors or preservatives.
3. Popin' Cookin' Fun Japanese Matsuri Kit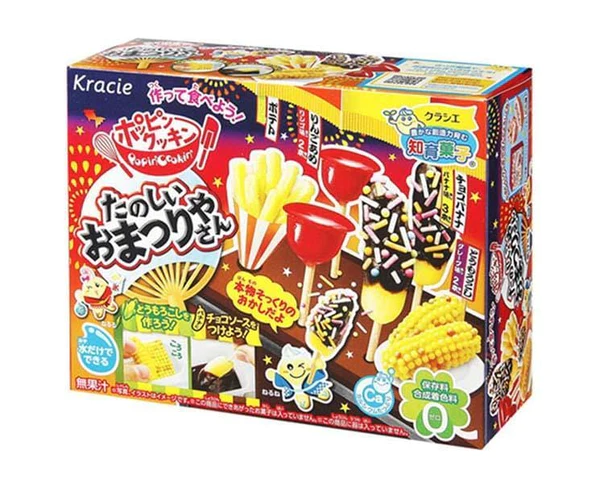 Here's a DIY Popin' Cookin' Fun Japanese Matsuri Kit for creating delicious Japanese Matsuri meals. You can turn this kit into a delightful piece of popular festival meals like grilled corn, fries, candy apples, or choco-bananas by adding water and the provided components. The festival grounds are home to stands selling a variety of flavors, including grape-flavored corn, pineapple-flavored french fries, apple-flavored caramel apples, and choco-bananas. All you will need to complete the matsuri items for your very own Japanese matsuri celebration is a Yukata, an uchiwa-fan, and a bottle of cold ramune soda. Both kids and adults will like this set very much. Get yours now!
4. Kracie Popin' Cookin Whipped Cake Shop Diy Candy Kit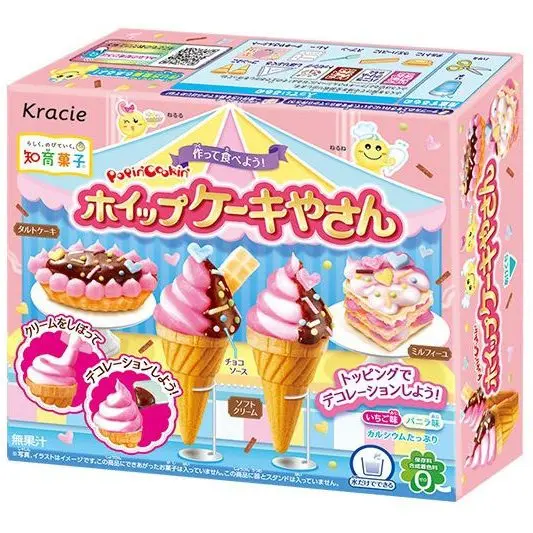 With this Kracie Popin' Cookin Whipped Cake Shop Diy Candy Kit, you can create your own authentic Japanese whipped cake and other delicious delicacies. Simply follow the directions and prepare your own delights using the mold base, powder bags, spoon, and baking things. You can create a cake tart, a wafer, and a few ice cream cones using various strawberry and vanilla-flavored whipped delights. Add adorable toppings and chocolate sauce to your desserts to decorate them. This DIY kit's composition contains calcium, which is great for the bones.
Get Yours Now!
Japanese DIY candy-making kits are now well-known worldwide, and Popin' Cookin' is no exception. Popin' Cookin' is a well-known line of Japanese candy kits by Kracie that enables consumers to make candy versions of authentic Japanese foods like sushi, bento boxes, cakes, and other sweets. Japanese-made Kracie Popin' Cookin' DIY cooking kits allow you to feel like a real chef by giving you all the ingredients and equipment you need to make delicious and adorable little confections at affordable price. All of their DIY candy kits are simple to create and manufactured with edible materials. Order yours now! All of the most recent releases are available in the Sugoi Mart DIY Kit collection!