Have you ever heard of a popular Korean Chinese dish that will satisfy every taste bud on your tongue? Well, you might hear of Jajamgyeon also known as Zha Jiang Mian in China. A jajangmyeon is a Korean Black bean noodle with thick black bean sauce made from chunjang (black bean paste), diced pork, and frequently served with fresh ingredients like julienned cucumber, sesame seeds, a hardboiled egg, or a fried egg on top. The good news is that making this staple at home is simple. Read on to know more about this amazing Korean Chinese dish you will love!
What is Jajangmyeon?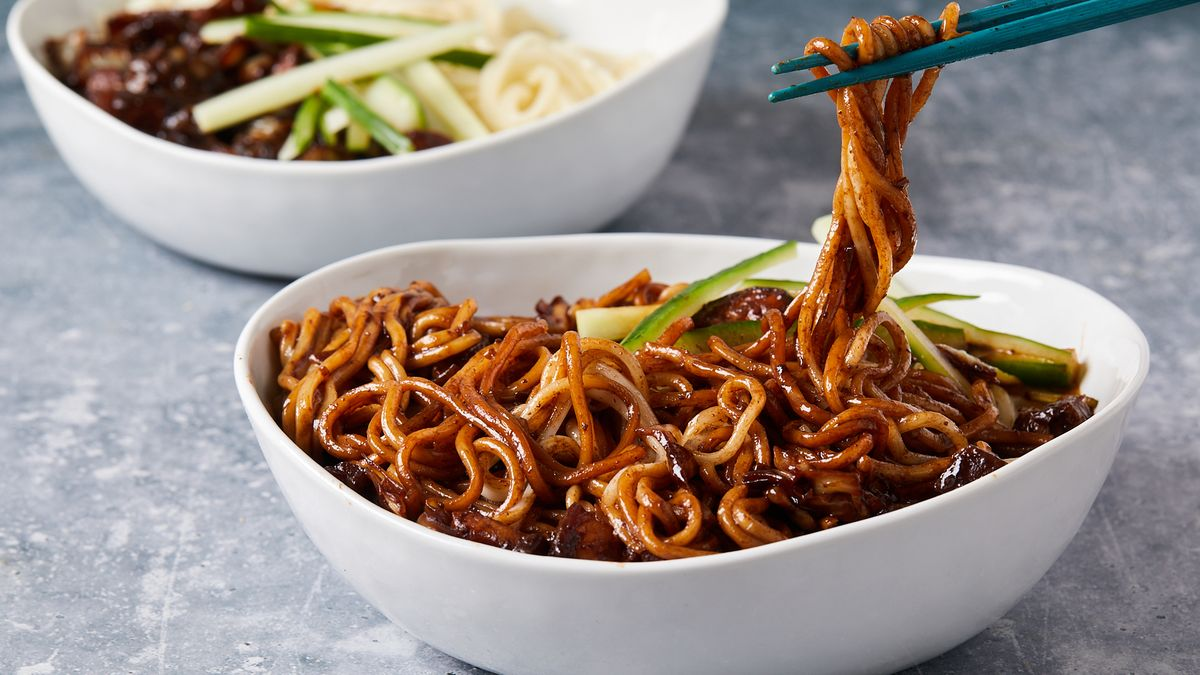 Jajangmyeon is a hearty, informal noodle meal topped with a tasty black bean sauce. It is a part of the well-known hybrid Korean-Chinese dishes developed in the 19th century by early Chinese immigrants to Korea.
Fresh udon noodles, which are substantial noodles made of wheat, are the type of noodles used. Korean black bean paste (chunjang), which is formed from soybeans, flour, caramel, and fermented, serves as the sauce's foundation. Ingredients, including green onion, zucchini, and pork, are sautéed before being combined with the paste, a cornstarch slurry, and water to make a gravy-like coating for the noodles.
Origins of Jajangmyeon
At the turn of the 20th century, early Chinese immigrants settled in what is now Incheon, a port city west of Seoul. Rumor has it that Jajangmyeon was originally served in 1905 at Gonghwachun, a Chinese restaurant. It was influenced by the Chinese noodle dish Zhajiangmian, which may be loosely translated as "fried sauce noodles."
Furthermore, after the Korean War, Jajangmyeon ramen became more and more well-liked across Japan in the 1950s. Wheat became accessible at low prices, and dock workers and merchants loved the dish. They disseminated the dish throughout Korea and it became a staple cuisine in Korean food culture. Jajangmyeon was for a long time considered a special dish and was only consumed on special occasions of great celebration, such as graduation, birthdays, or Children's Day. Nowadays, Jajangmyeon is so inexpensive and accessible that it is estimated that over 7 million bowls are sold each day in South Korea.
What Noodles are used in Jajangmyeon?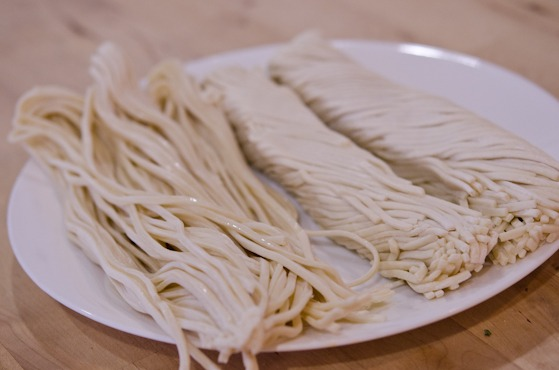 This dish's thick, chewy noodles are produced from wheat flour and salt, which are wider than ramen noodles but thinner than udon noodles. This kind of thick wheat noodles can be purchased in the refrigerated department of Asian stores in fresh tiny bundles. Additionally, you can purchase these Korean black bean noodles dried in supermarkets with an Asian food area. They are also typically identified as udon noodles or jajangmyeon noodles on the packaging.
What is the Jajangmyeon Korean Black bean Paste?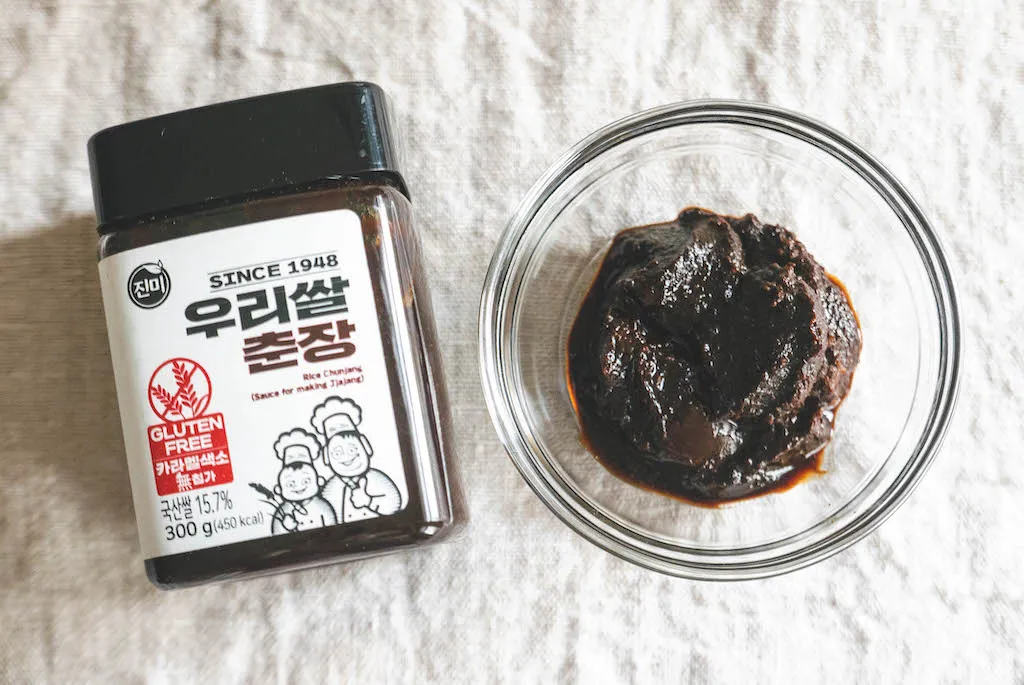 Chunjang, a Korean-style black bean paste made with fermented wheat flour, soybeans, and caramel sauce, is used to make the sauce. Remember, a Chinese black bean paste can't be a substitute to make the jajangmyeon sauce. The Chunjang or jajang sauce is typically available in Korean markets next to doenjang (fermented soybean paste).
Some brands are sweeter, sourer, or saltier than others, depending on the brand. The black bean paste must first be fried in oil to remove the bean paste's sour and harsh flavors. Check the instructions on the packaging, as some are sold pre-fried. A small amount of sugar additionally counters the black bean paste's bitterness, sourness, and saltiness.
Why are Jajangmyeon Noodles Popular?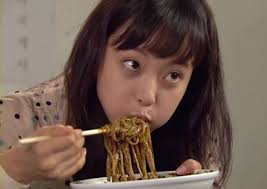 Two factors are mostly the reason for Jajangmyeon's status as one of Korea's popular dishes. First off, it's practical. Jajangmyeon is a popular meal choice for students and busy workers in factories and workplaces. Housewives can also have jajangmyeon delivered if they are too busy to prepare supper themselves. Fast food establishments and restaurants frequently offer it due to how simple it is to prepare. 
Moreover, its cheap price is another reason why it's popular. The ingredients used for this noodle dish are few. It's a tasty dish that most Korean families and even students can afford because all of these ingredients are commonly available and quite affordable.
What are the Nutritional Benefits of Jajangmyeon?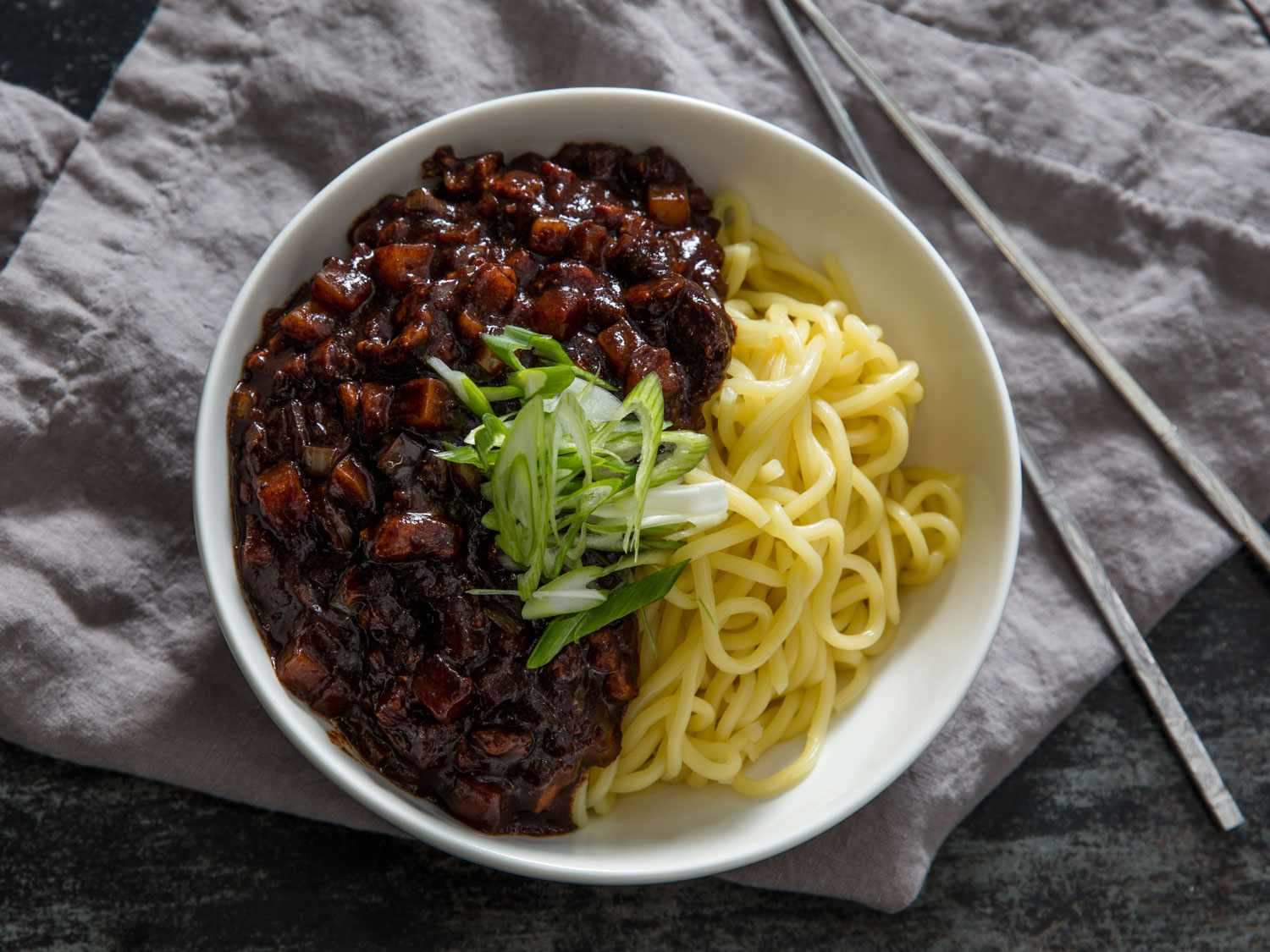 The best reason to try jajangmyeon Korean Chinese cuisine, in addition to cost and accessibility, is its nutritional value. Take into account that the black beans used to make the sauce for these noodles provide the following nutritional benefits:
1. Rich in Antioxidants
Antioxidants, which shield the body from harm from free radicals, are abundant in black beans. Free radicals support the oxidative processes linked to chronic illnesses like diabetes, heart disease, and some malignancies.
2. Lowers Cholesterol Level
Saponins, an antioxidant with cholesterol-lowering effects, are also present in black beans. Additionally, black beans have a lot of fiber, which can decrease cholesterol and triglyceride levels.
3. Improve Heart Health
Due to its high fiber content and capacity to lower cholesterol levels, the flavonoids found in black beans help relax muscles and stop platelet aggregation. Together, these advantages can lower blood pressure.
How to Cook Jajangmyeon?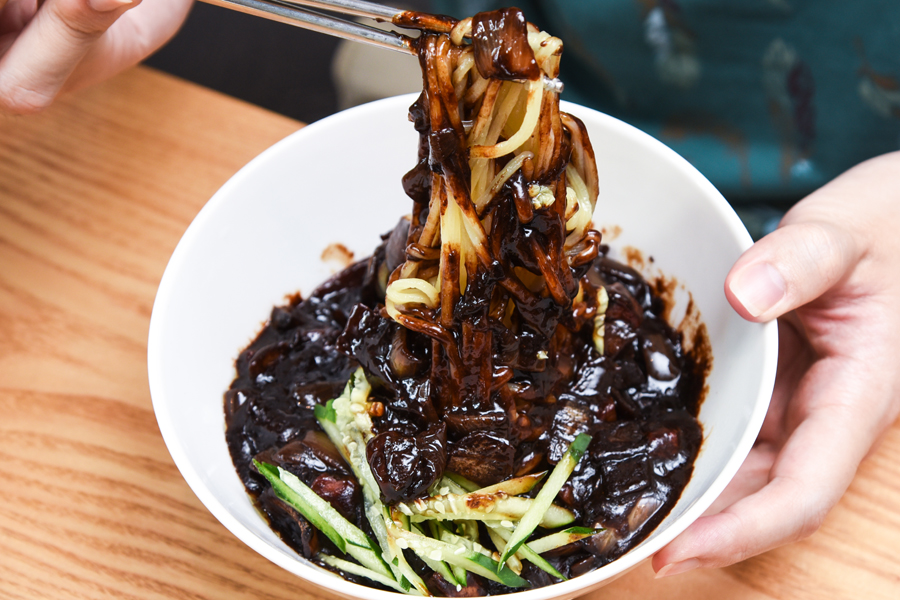 Ingredients:
3 to 4 servings of fresh jajangmyeon or udon dried noodles

5 tablespoons Chunjang

2 tablespoons sesame oil

1 tablespoon sugar

1 tablespoon oyster sauce

1 cup chicken stock

1 tablespoon cornstarch

10 ounces of pork belly

1 teaspoon grated ginger

1 tablespoon rice wine

⅛ teaspoon of salt

⅛ teaspoon of pepper

2 tablespoons cooking oil

1 tablespoon soy sauce

1 extra large onion

green cabbage

zucchini

green onions

cucumber
Cooking Instructions:
Prepare a saucepan of water to boil the noodles in. When you begin cooking the meat, turn on the heat. By doing this, the boiling water for the noodles will be ready by the time the black bean sauce is finished.

Cut the veggies and meat into 1/2 to 3/4 inch cubes to prepare them. While making the veggies, marinate the pork in a tablespoon of rice wine (or mirin), ginger, salt, and pepper.

Add oil, sugar, and oyster sauce in a small bowl along with the black bean paste. Fry it for two to three minutes at medium heat.

Heat 2 tablespoons of cooking oil over medium-high heat in a large pot. Stir-fry until the pork is no longer pink after adding it and adding a tablespoon of soy sauce halfway through. Then, while stirring occasionally, add the onion and simmer until tender. When the vegetables are tender, add the zucchini and cabbage and stir-fry for an additional minute.

Once the meat and veggies are thoroughly coated with the mixture, add the black bean paste and stir everything together. Combine everything until the mixture is evenly distributed throughout the meat and vegetables. Bring it to a boil after adding the stock.

Then cook the mixture for 3 to 4 minutes. Add cornstarch or potato starch slurry, and the sauce should quickly thicken. To taste, add more sugar.

Boil water, then add the noodles. Cook as directed on the package instructions, then drain. The noodles must have a substantial bite (al dente). You may rinse the udon noodles off with cold water to stop the cooking process. Put enough noodles in each large serving bowl to make a serving. Add the cucumber matchsticks to garnish after spooning the sauce over the noodles.

Spread the noodles in black bean sauce. It can be served plain or with garnishes like cucumber slices, green peas, ground meat, sweet corn, yellow pickled radish, diced potatoes, or a hard-boiled egg. Use chopsticks to thoroughly combine the noodles and sauce. Enjoy!
Jajangmyeon isn't the most enticing-looking noodle dish due to its black sauce. But we can assure you that you absolutely must eat this Korean delicious noodle dish! The richness and complexity of Korean cuisine are dramatically portrayed in Jajangmyeon, Tagsuyuk (sweet and sour pork), and Jjampong(spicy seafood noodle soup), which is truly a popular noodle dish. Consequently, whether you're single or not, we urge you to taste this dish. If you want to try it now, visit the Sugoi Mart Nongshim Korean Jajangmyeon Noodles. You can also look for more Korean products that will bring you Korean culture you'll surely love.