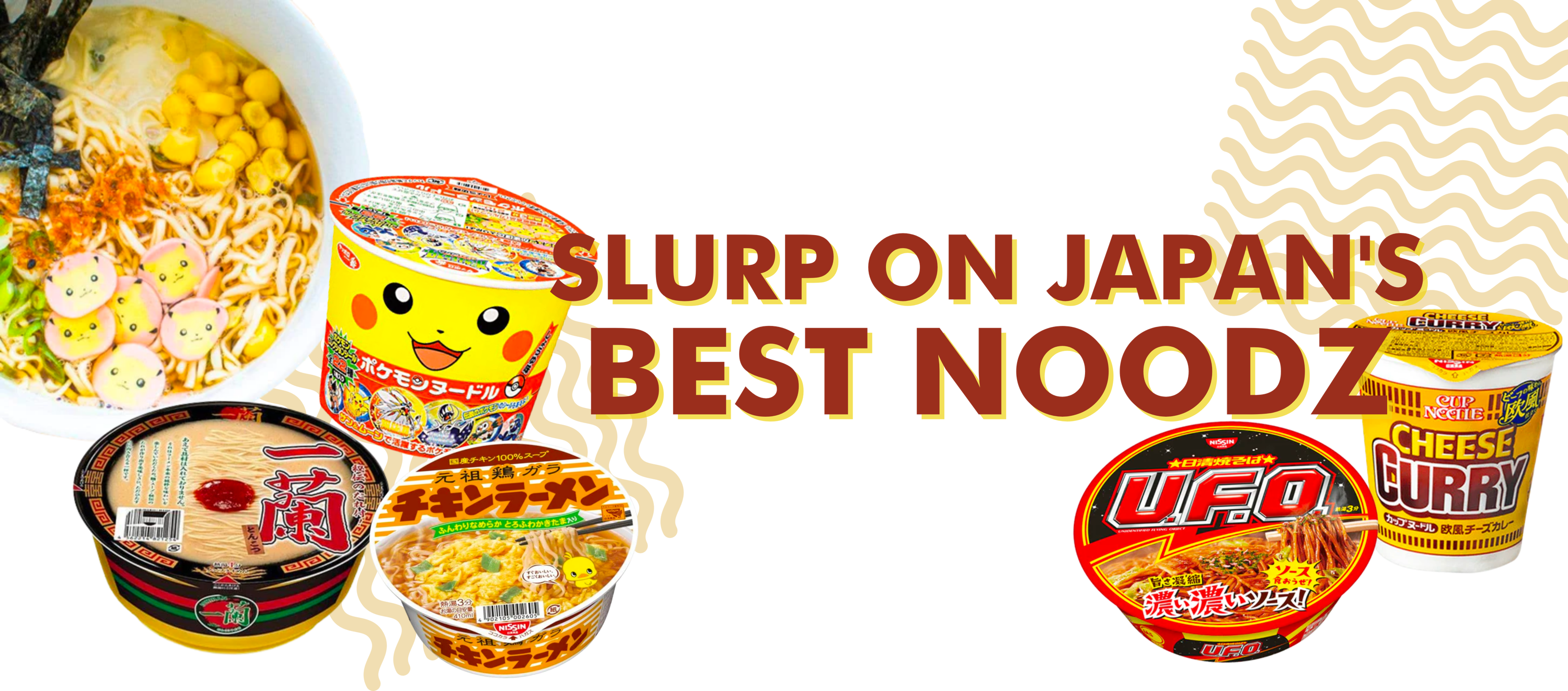 Explore ramen like you never have before! Adventure through all the delicious noodles that Japan has to offer—from household staples to exciting limited edition collab flavors.
Fan-favorite ramen, soba, yakisoba, udon, and many other noodles by Sugoi Mart shoppers worldwide.
Taste the flavors that have been loved time and time again by the SM fam and YOU!
A lucky bag containing 10 capsule toys straight from the latest and greatest vending machines in Japan!
Try your luck and get one mystery item—includes electronics, plushies, arcade prizes, giant snacks & candy!
The Sugoi Mart staff have taste-tested A LOT of noodles!
Check out some of our all-time favs and try some yourself for a slurpin' good time.

Noodles meet adorable animals, anime friends, and game characters to create delicious and
limited collab flavors with Nintendo, Shonen Jump, and many more brands.

Nissin is the OG when it comes to instant noodles.
With their creation of Cup Noodle in 1971, all the yummy noodz you know and love today
like instant yakisoba and udon were made by Nissin!

A famous household name in many countries, Maruchan has gone from making chicken-flavored ramen
to curating extremely flavorful ramen, soba, and yakisoba bowls.


First launched in 1975, the classic Peyoung yakisoba with sauce became an instant hit, and the brand has boomed since then.
Today, large-sized yakisoba bowls can be found in convenience stores nationwide.

Korean brand noodles came to Japan to bring a little spice and cheese flavor to the local palate,
and have become a fan-favorite among ramen lovers everywhere.

VEGAN & VEGETARIAN NOODLES
As veganism began sweeping other nations, Japanese noodle makers wanted to share
the delicious and flavorful fun of eating ramen with everyone. Thus, vegan ramen was born!

WE SHIP ALL ORDERS FROM JAPAN
Express delivery within 5 to 7 business days
Get a tracking number to follow your package
Express delivery within 5 to 7 business days
Get a tracking number to follow your package
"Japan takes pride in crafting the most delicious and most artistic bowls of ramen. While there are more than enough amazing ramen joints around Tokyo, you can be sure to find some of the best inside Tokyo Station's Tokyo Ramen Street."