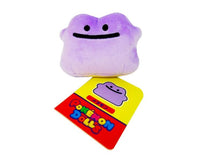 Regular price
$20.00
Sale price
$12.00
Unit price
per
Sale
Sold out
Strap this tiny Ditto plushie onto your favorite bag or keychain! Ditto, the transforming Pokemon, Ditto is a light purple or pink amorphous Pokí©mon with vestigial facial features. The face consists of a simple mouth and beady eyes.
About Ditto: Ditto rearranges its cell structure to transform itself into other shapes. However, if it tries to transform itself into something by relying on its memory, this Pokí©mon manages to get details wrong.
Comes with a clasp ball chain so that you can attach it to any part of your attire or accessory.
Approx Size: 3.5 x 2 x 2 inches
View full details